When it comes to celebrating Thanksgiving with kids I prefer the KISS method- Keep It Simple Silly. That's why I love these two easy Thanksgiving snacks (featuring turkeys) that kids can make with very little help.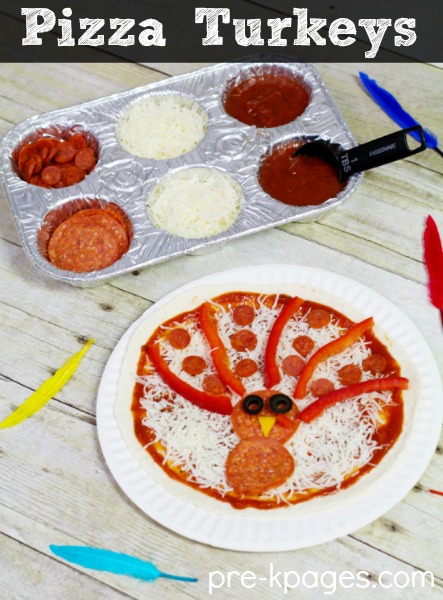 Thanksgiving Snacks For Kids
These snacks aren't just cute and yummy, making their own snacks helps children develop many important skills such as:
Learning how to follow directions
Sequencing skills such as first, next, and last
Fine motor skills when scooping and spreading ingredients
Math (counting and measuring, pouring)
Retelling (after a child makes something have them tell you the steps)
Ordinal numbers (first, second, third)
Independence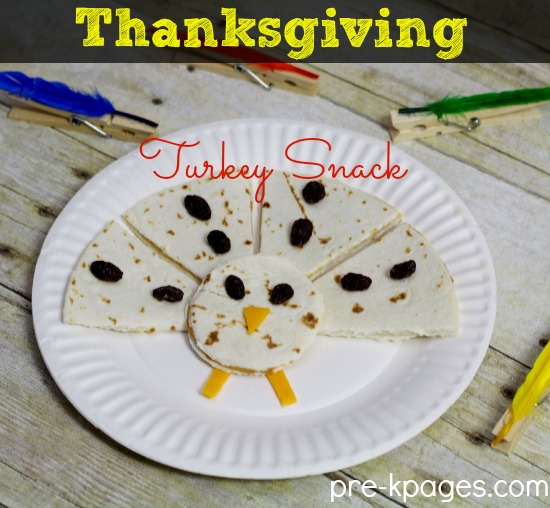 Thanksgiving Turkey Quesadilla Snack
The Thanksgiving turkey quesadilla is so easy to make it hardly needs any explanation! Kids will be able to make this snack with very little adult assistance.
To help kids follow directions, place each ingredient on a table in order from left to right. Fold four index cards in half and write the numbers 1-4, one number on the front of each card. Place a number tent next to each ingredient so kids can see the order in which they will add ingredients to their snack.
Turkey Quesadilla Snack Ingredients
Tortillas
Peanut Butter, nut free substitute, or cream cheese
Raisins
Cheddar Cheese
Circle Cookie Cutter or lid
To prepare, use a lid or circle cookie cutter to cut out circles that will be used for the turkey body. Then, cut triangles and strips from the cheddar cheese for beaks and legs.
Invite children to spread peanut butter (or an alternative listed above) on a tortilla with a plastic knife or a craft stick and have them do the same for the tortilla circles.
Next, children will fold their tortilla in half and an adult will assist with cutting the tortilla in quarters.
Then, invite children to add the turkey body to their plate and put a little dab of peanut butter (or one of the alternatives listed above) on the back of each raisin to decorate their turkey.
Finally, children can add the cheddar cheese beaks and legs.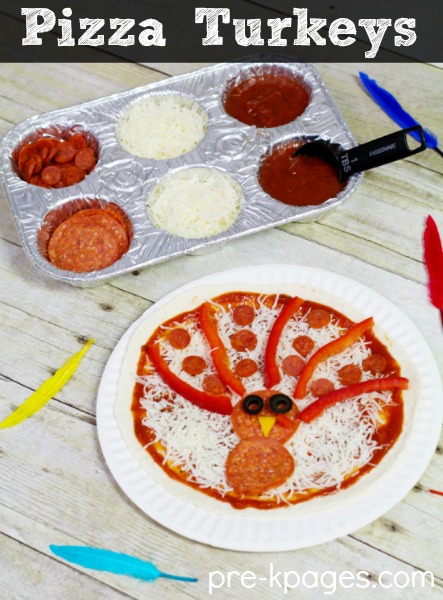 Thanksgiving Snack For Kids: Pizza Turkey
These pizza turkeys are sure to be a big hit with both adults and children!
Turkey Quesadilla Snack Ingredients
Small tortillas
Pizza Sauce
Shredded Mozzarella Cheese
Pepperoni
Red Pepper
Sliced Olives
Cheddar Cheese
Start by placing the pepperoni, cheese, and pizza sauce in a muffin tin.
Invite children to assemble the ingredients from the muffin tin on their tortilla pizza crust.
Add the red peppers, cheddar cheese beak, and olives.
You can cook the small pizza turkeys in a toaster oven or on the bottom rack of an oven.
If you're using these as classroom recipes, both of these snacks could be made in a small group setting or done as math center activities as children follow directions and count out ingredients.
These would make great classroom recipes for the last day before Thanksgiving break.
More Thanksgiving Activities
1. Thanksgiving Bingo (Pre-K Pages) -Free printable bingo game for a Thanksgiving theme or party in your preschool, pre-k, or kindergarten classroom. Includes both a black and white and a color version!
2. Thanksgiving Music for Preschoolers (Pre-K Pages) – Need some fun Thanksgiving songs for kids? You can use YouTube to find fun music to use in your preschool or kindergarten classroom.
3. Thanksgiving Counting Mats (Pre-K Pages) – A set of free Thanksgiving play dough mats to help your kids develop number sense and fluency within ten. Includes 11 printable color mats for you to use in your play dough center with prompts, and 11 without prompts.
4. One-to-One Correspondence Activities (Pre-K Pages) – These hands-on activities with a Thanksgiving twist will make learning how to count fun for all young children.