Color mixing is one of my preschooler's favorite art activities. Combine this color mixing activity with a classic book like Leo Lionni's A Color of His Own and we have a winning combination that kids will love!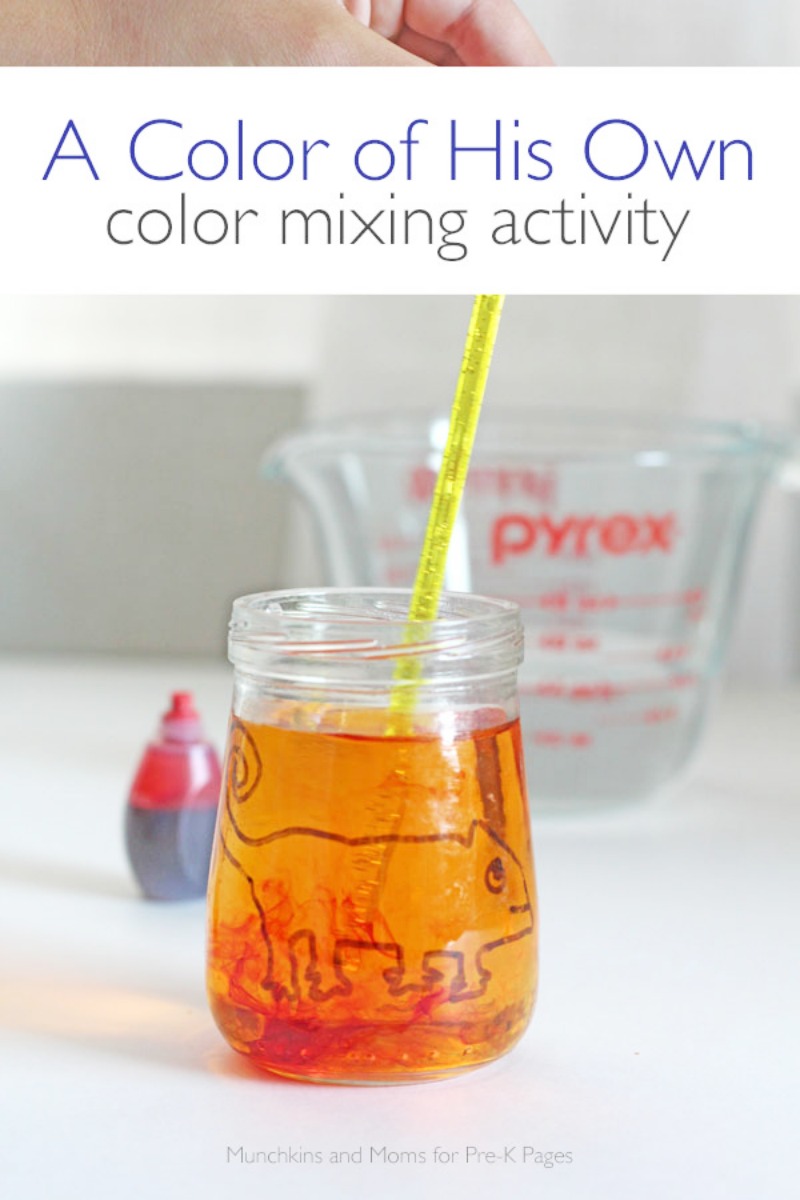 A Color of His Own
A Color of His Own is about a chameleon who changes colors and decides he wants to stay one color – a color of his own – forever. But as the season changes so does he. He then finds out that making a friend who will stick by him through the changes brings more comfort than staying the same color forever. What a great life lesson brought right to preschoolers on a level they can understand!
This activity, based on the book, gives preschoolers a chance to change the chameleon's colors as they please. Kids benefit from mixing colors when the activity is self-directed and done as an experiment. When they direct which colors should be mixed, their interest will be piqued and the learning will be more meaningful (and memorable!) to them.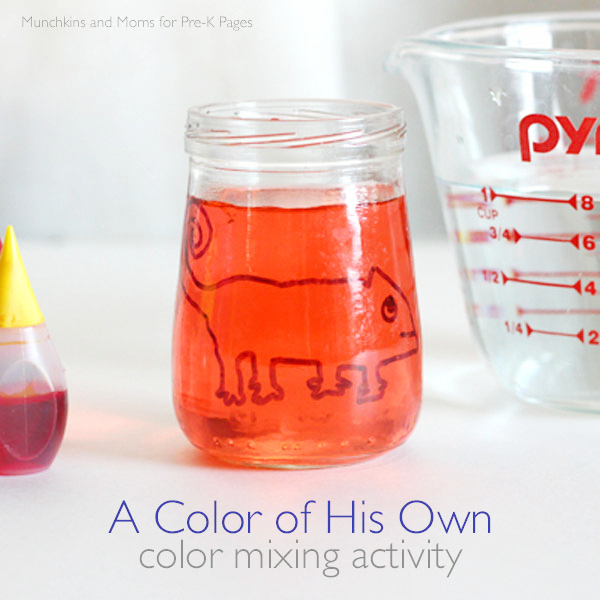 Color Mixing Activity: Predicting Color Changes
Supplies:
Food Coloring
Empty baby food jars
Permanent marker
Stir stick
Water
Start by reading the book A Color of His Own.
Next, I prepared the activity by drawing a chameleon on a clean baby food jar with permanent marker (this can be cleaned off with rubbing alcohol after the activity). I let my preschooler pour water into the container and decide which two of the primary colors he wanted to mix together. Before mixing, I had him predict what color he thought they would change into.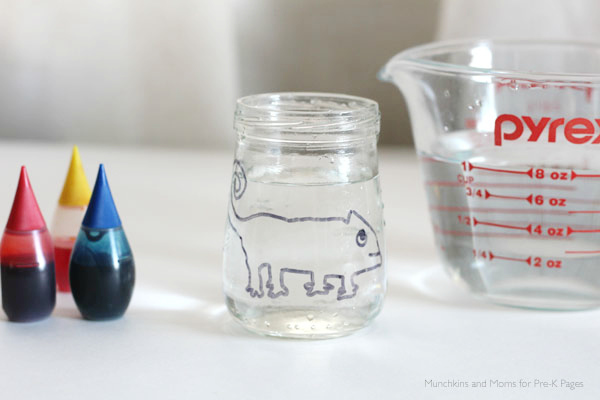 After placing a drop of each color into the water, he used a stir stick to mix the colors together. As he watched the colors combine, he excitedly reported whether his prediction was correct or not. He also experimented with adding more than one drop of food coloring in at a time to observe the colors become deeper shades.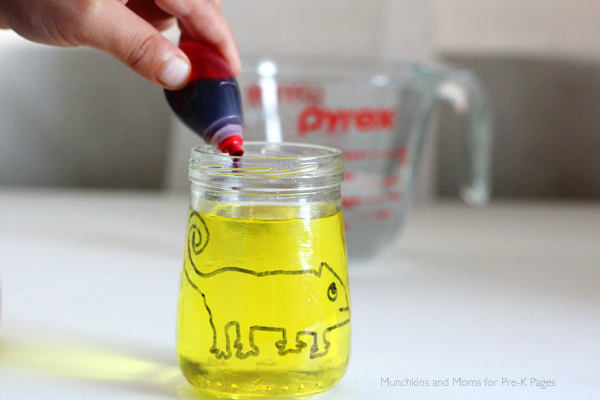 If your students can easily identify what colors the primary colors make when combined, allow them to work on mixing secondary colors as well. Also give them a chance to experiment with questions like:
Does the change depending on the order of colors added? (for example, does adding red to yellow produce the same color as mixing yellow with red?)
What happens when you mix all the primary colors together?
Can the mixing be reversed?
Asking questions like this and experimenting is a great way to explore the steps of the scientific method at a preschool level.
BIO: Clarissa is a former elementary teacher and writer of the blog Munchkins and Moms. She loves to share creative preschool activities that are both playful and educational. Check out some of her popular posts such as The Mixed up Chameleon Paint Mixing Activity, a perfect accompaniment to this activity! Don't forget to follow her on Pinterest, Facebook, Instagram, and Twitter for more creative ideas!
More Science Ideas
Science Center Books for Preschool- Science is exploring and discovering more about the world. Your science center offers hands-on experiences with the world. Investigating, exploring, and using senses are key for preschoolers to learn about science and the world. Books can build knowledge and vocabulary as well as expand the preschoolers' experiences. These books would be great additions to your science center.
Science for Kids: Ice Cream in a Bag- Making ice cream in a bag is the perfect recipe for preschoolers! There is fine and gross motor work involved plus you get a yummy treat! Try this as a team building activity or a fun special science experiment for kids.
Color Changing Flowers Science Experiment- This color changing flowers science experiment is so easy to do and your kids will love watching the flowers change colors! Your kids will love learning about how plants drink water with this simple experiment. Perfect for a plants theme in your preschool, pre-k, or kindergarten classroom.
More Science Ideas