Science is exploring and discovering more about the world. Your science center offers hands-on experiences with the world. Investigating, exploring, and using senses are key for preschoolers to learn about science and the world. Books can build knowledge and vocabulary as well as expand the preschoolers' experiences. These books would be great additions to your science center.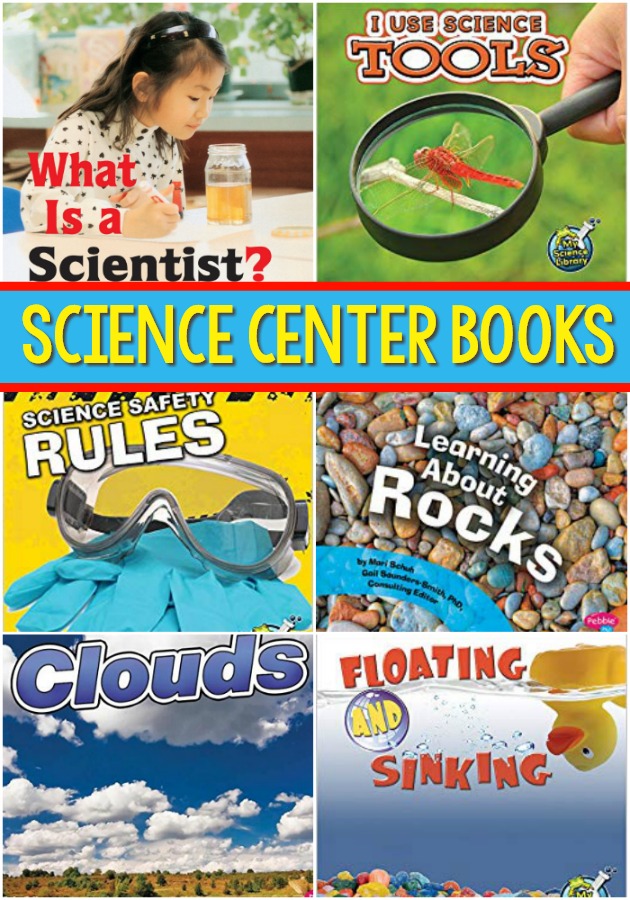 Science Center Books for Preschool
I Use Science Tools by Kelli Hicks
An introduction to simple science tools that scientists use in the laboratory…and preschoolers can use, too.
Science Safety Rules by Kelli Hicks
Learn seven rules that can keep you safe as you explore the world.
What is a Scientist? by Barbara Lehn
The text and photographs show children involved in the scientific process, exploring things in the world.
I Want to Be a Scientist by Dan Liebman
Scientists explore the world and different kinds of scientists study different things. The photographs and text in this book lead kids to think about different types of scientists and the work they do.
Hearing by Rebecca Rissman
Readers learn about different sounds they can hear, how to keep their ears safe, and how hearing aids can help some people to hear.
Seeing by Rebecca Rissman
Readers learn how they use their eyes to see, how to keep their eyes safe, how some people wear glasses to see better, and how some people do not see at all.
Smelling by Rebecca Rissman
Readers learn how their nose can smell different scents, and that some smells can be dangerous.
Tasting by Rebecca Rissman
Readers learn how they use their mouth and tongue to taste different flavors.
Touching by Rebecca Rissman
Readers learn how nerves under their skin help them to feel different things.
Living or Nonliving? by Kelli Hicks
Highlights differences between living and nonliving entities, such as the ability to breathe and move.
Shadows and Reflections by Tana Hoban
Shadows and reflections are all around us — under our feet, over our heads, directly in front of us.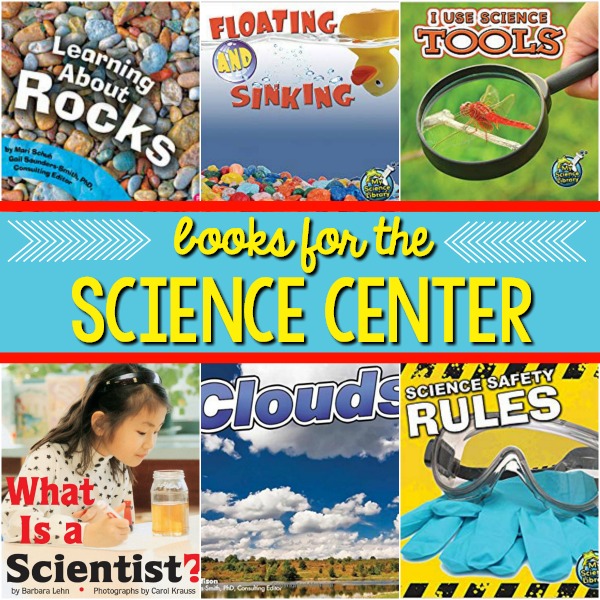 Science Center Books
What Can Magnets Do? by Allan Fowler
A simple straightforward examination of what magnets are and what they do.
Floating and Sinking by Amy Hansen
Examines factors, such as density and shape, that determine whether a material will float or sink in water.
Learning about Rocks by Mari Schuh
Mountains are made of it. Buildings can be too.
Clouds by Erin Edison
See their shapes. Watch for a thunderstorm.
Day and Night by Margaret Hall
Introduces how day and night occur, and explains why they are one of nature's patterns.
Rain by Erin Edison
Jump in a puddle. Carry an umbrella. It's time to learn about rain.
Dirt: The Scoop on Soil by Natalie Rosinsky
Discusses the nature, uses, and importance of soil and the many forms of life that it supports.
Lightning by Erin Edison
Watch it light up the sky. Hear its booms.
Exploring Spring by Terri DeGezelle
Splash! Get out your raincoat because spring showers are here. Watch plants sprout and baby animals take their first steps.
Exploring Summer by Terri DeGezelle
Sizzle! Put on some shorts and try to stay cool in the hot summer season. Watch fruit ripen and baby animals grow up.
Exploring Winter by Terri DeGezelle
Brrr! Even if it doesn't snow where you live, winter is the coldest season. Trees rest and wait for spring. People get out their heavy coats.
Exploring Fall by Terri DeGezelle
Crunch! Put on a sweater and jump in some dry fall leaves. Cheer your favorite football team. Watch squirrels gather nuts.
National Geographic Science Books
National Geographic Kids Look and Learn Series:
To keep your costs down, check used booksellers or your local library.
More Book Lists