The best preschool activities allow children to be interactive and hands on while they explore new concepts. We've developed a fun, easy to prepare ocean theme counting activity to do just that.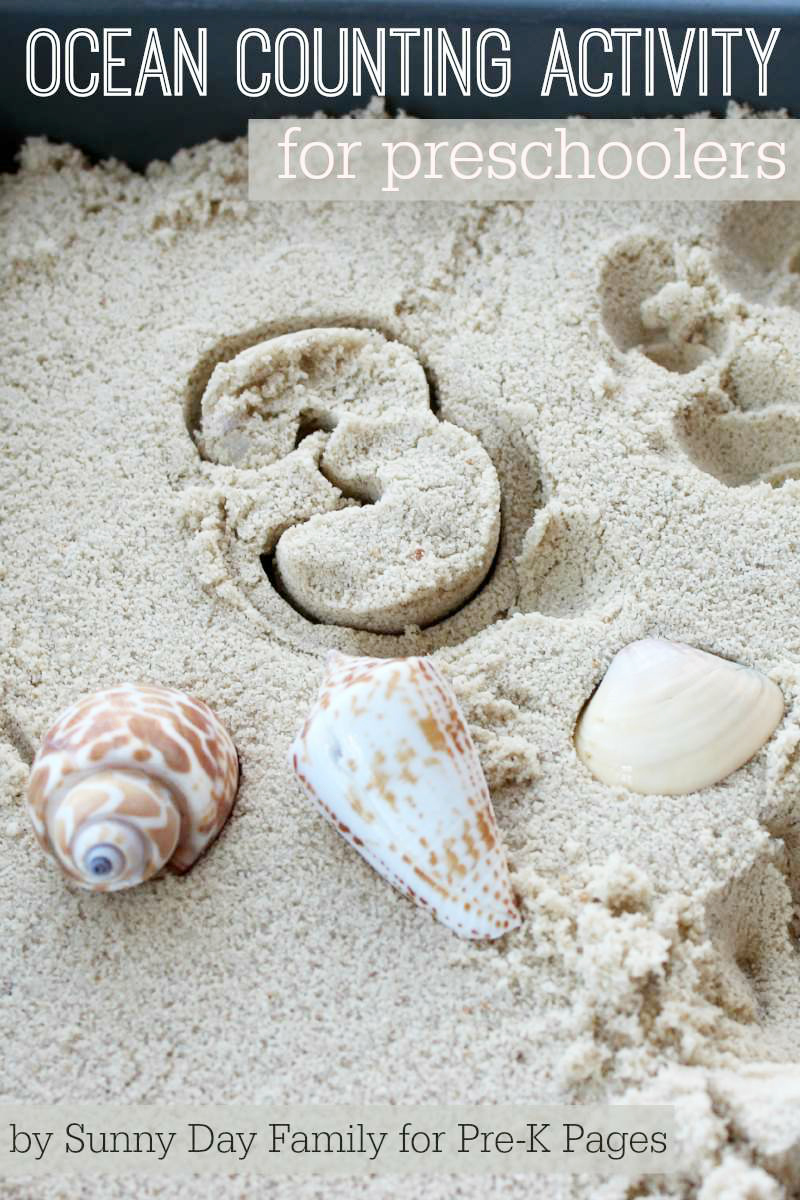 Exploring and Counting
This ocean theme counting activity gives preschoolers the opportunity to explore natural textures and shapes while reinforcing numeral recognition, number sense, and counting. While doing this activity, children will:
learn to recognize numerals
learn to associate numerals with corresponding amounts
practice counting
explore natural properties of sand and shells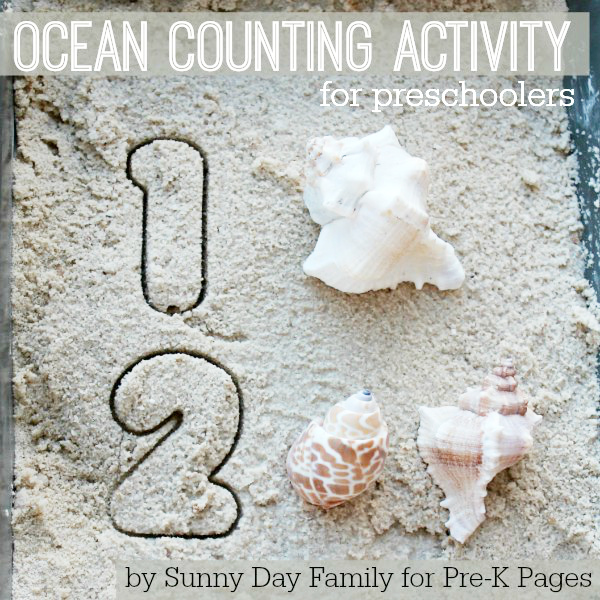 Ocean Theme Activity Set Up
The set up for this activity is simple. You will need:
a shallow tray or dish (we used a cake pan)
play sand
sea shells

Fill your tray about half full with a layer of play sand. Set out your numeral cookie cutters and sea shells and invite the children to play. This activity can be done taking turns as a group or individually.
Say a number. The child can find the cookie cutter. Then invite him to press the cookie cutter into the sand. Remove it to make an impression in the sand. If your sand is very dry, you may need to dampen it with a small amount of water for best results when making the impression.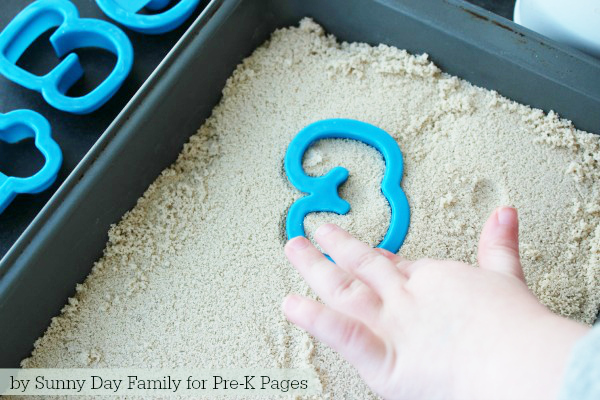 This part of the activity is wonderful for allowing children to see how the cookie cutter makes the shape in the sand. You can take this a step further for children who are learning to write numerals by allowing them to draw in the sand instead of using the cookie cutters.
Next, invite the child to count out the number of sea shells that corresponds to the numeral in the sand and press them into the tray. This part of the activity helps children to not only count but also explore the natural colors and textures of the shells. Encourage the child to talk about these properties.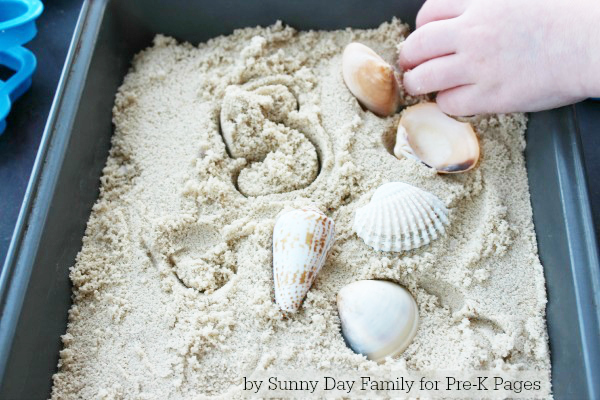 For further learning, choose numerals in order and line them up as you continue this activity. This reinforces counting order and allows children to see how the number of shells increases as the numerals increase.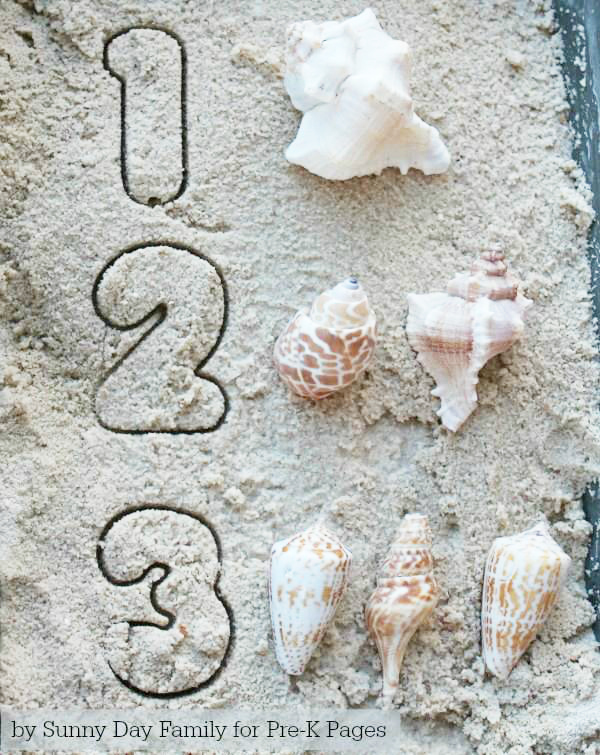 This ocean activity is easy to set up and provides many ways to teach children number and counting concepts, while also allowing them to explore and interact with natural shapes and textures. And of course, it is a lot of fun!
BIO: Laura is a mom to twin boys and the author of Sunny Day Family, where she shares easy and engaging activities and crafts. She has a passion for early literacy and makes books come alive with activities like her Little Blue Truck Sensory Bin! Connect with her on Facebook, Pinterest, Instagram, and Twitter.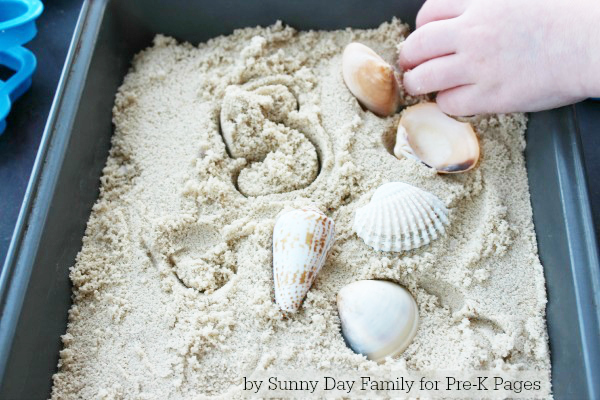 More Ocean Activities For Kids
1. Ocean Play Dough Surprise Game (Pre-K Pages) –  Combine play dough with ocean creatures to give your little ones a fun surprise! You can even add an alphabet twist for children who are ready.  This hands-on activity is an awesome way to get children excited to learn about the ocean, and I found that my own children wanted to do it over and over again.
2. Ocean Sensory Bin (Pre-K Pages) – Learning and sensory play is a wonderful combination. After many days of rain in our part of the world we took advantage of a lovely sunny day and did an ocean sensory play activity.
3. Ocean Picture Books for Preschoolers (Pre-K Pages) – These books will not only help develop critical vocabulary about the ocean and ocean life, but also include many opportunities for literacy, math, and science.
4. Ocean Theme Fine Motor Play (Pre-K Pages) –  Our ocean theme sensory and fine motor invitation to play is the perfect way to motivate children to work their hand muscles as they explore!
5. Ocean Theme Snack: Sea Turtles (Pre-K Pages) – Sea turtles are amazing creatures to learn about during an ocean theme. Here is a simple (and healthy) recipe for a bread and fruit sea turtle snack that you can assemble with your kids at home or in the classroom.