In our area right now the weather is unpredictable. We've had a few days of really nice spring-type weather. And we've had some really cold days. One day we even had snow on the ground when we woke. It's technically still winter, but we are seeing the signs of spring. Recently my preschoolers thought about spring as we made murals using only green materials. These preschool mural ideas are perfect for Spring using green materials!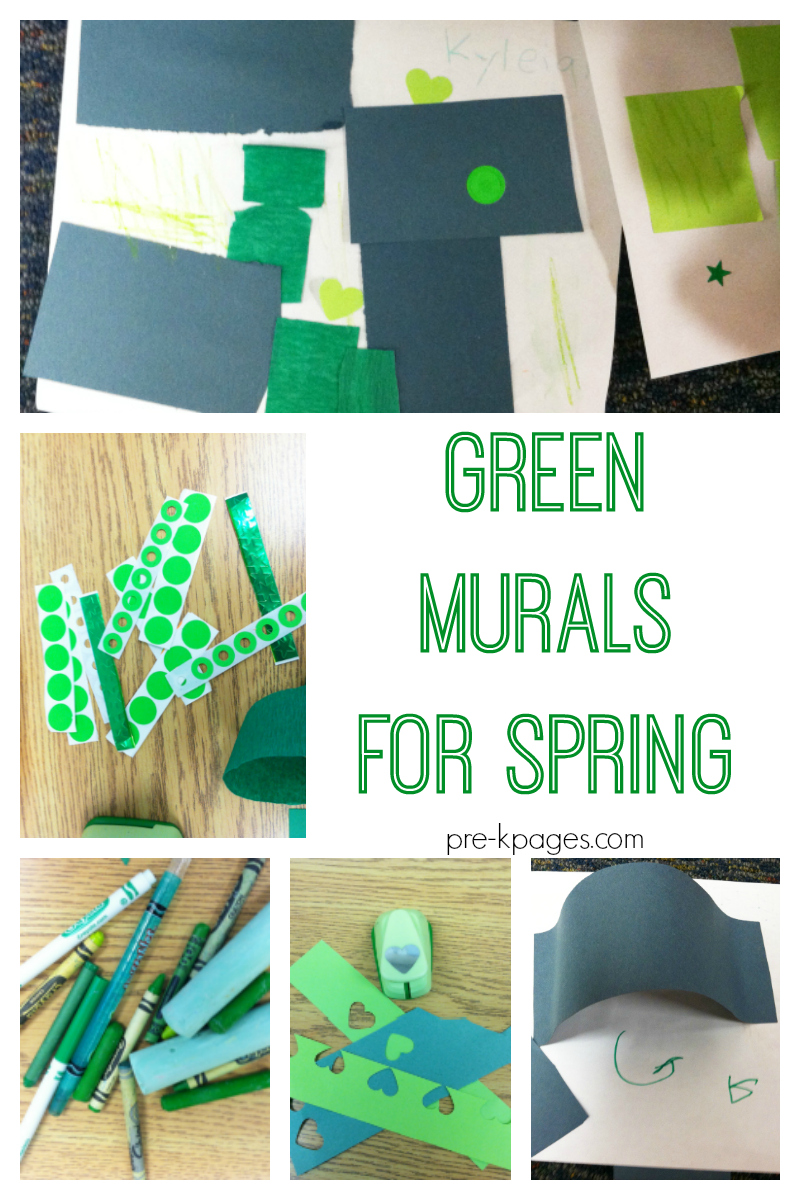 Spring Green Murals
Materials we used:
White paper (as a base/background)
Green paper strips – dark green and neon light green as well as traditional green construction paper
Green markers, crayons, chalk
Green stickers of various shapes
Green crepe paper streamer (cut into pieces)
Paper punch, scissors
Glue sticks
The great thing about a one-color mural is that you can use whatever you have on hand that is the appropriate color. I looked at my resources and pulled what I could easily find that was green. For my stickers, I cut off the green circles and stars from the sheets of stickers I purchased at the office supply store. (We like these basic shaped stickers as well, or more than any other kind.)
Arrange the materials on a table and encourage your preschoolers to experiment making a picture. Some of my kids like to create specific pictures or designs. Others begin to place things on the paper and then build out, creating designs as they go and modifying their preschool mural ideas with what is taking shape on the page.
We talked about springtime and the fact that things were beginning to grow and turn green around us. At one point, we talked about things we like to do in warmer weather and things we like to do in colder weather.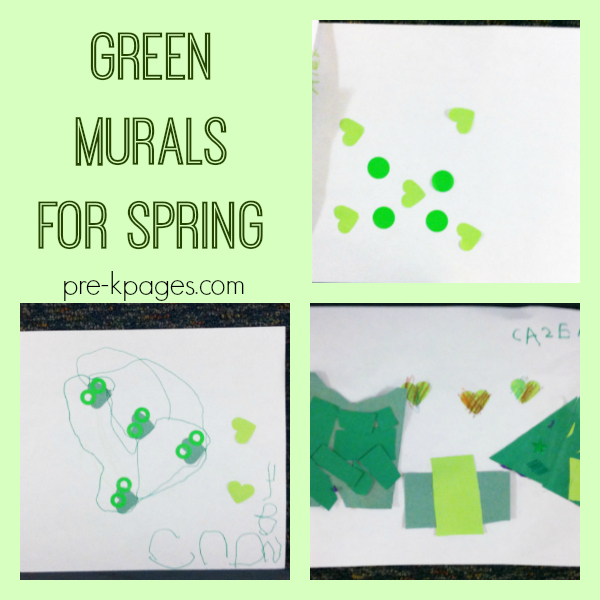 More Preschool Mural Ideas for Spring
Here are a few other preschool mural ideas for your spring green murals:
Make one large mural by taping a long piece of paper to the wall. Children can work together to create one big celebration of spring to display in your classroom.
Add green stamp pads and letter or spring-related stamps.
Brushes and green liquid watercolor (or other paint) would add more art exploration possibilities.
Add green masking tape or washi tape. (My roll was completely used up or we would have had it!)
Add leaves, grass pieces, or other green from outside to your mural. Glue sticks won't hold these items so you'll need white school glue or tape to attach these items.
Read books like Exploring Spring by Terri Gezelle or Green by Laura Vaccaro Seeger.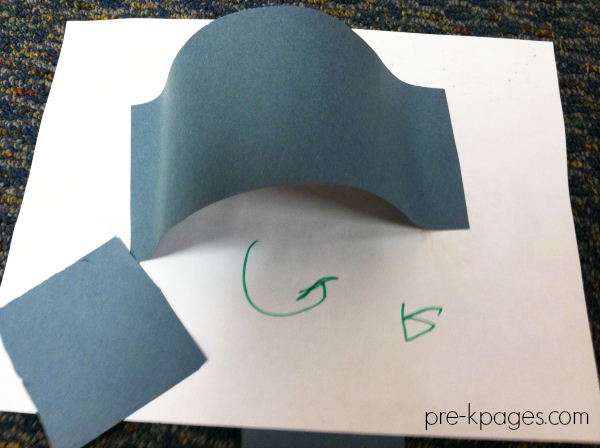 Taking Turns and Working Together
The heart-shaped paper punch was the favorite tool. I had to help the children learn how to use it. ("Place the paper in this slot and push until it stops. Then press down very hard.") Since we only had one punch, we had to take turns and ask friends for an opportunity to use it. I only had four glue sticks for 8 kids, so this activity became a lesson in cooperation and patience as well as an art exploration. The group of older four-year-olds did well, using words and waiting patiently.
Each mural was as individual as the child that created it. Cutting, gluing, and drawing are not often used in the same art experience, so the preschoolers investigated a little more in how to use the mixed media together. As I've noticed before, children will watch what others are doing and try some new ideas they see. One child used a paper strip to make a "handle" on the back of her mural. Another saw this and tried it as well.
Is it spring yet around you? Create your own bit of spring by exploring green art materials in your classroom with one of these preschool mural art ideas.
More Spring Activities
Spring Sand Process Art – Springtime is a time to investigate all kinds of themes–Mother's Day, flowers and plants, life cycles, butterflies and insects. Using colored sand and glue, you can provide a fun and easy process art activity that can be adapted for all of these themes (or is just fun to explore). Sure, it can be messy but with a little planning sand pictures can become a great spring exploration.
Spring Movement Games– Spring is in the air. It's time to get outside, soak up the sunshine and get the kids moving while learning. Incorporating outdoor play into learning is a win-win for kids' health and academic growth.
Spring Splat Art – Gather your kids together, cover as many surfaces as you can, lay out the supplies and stand back. Splat art might be messy, but it's fun and beneficial in many areas of your preschoolers development.
More Spring Activities