The story of the Little Red Hen is a great one for expanding with different types of activities. As you explore fall, harvest, farm, or cooperation themes, use these activities to supplement and support learning through this traditional story.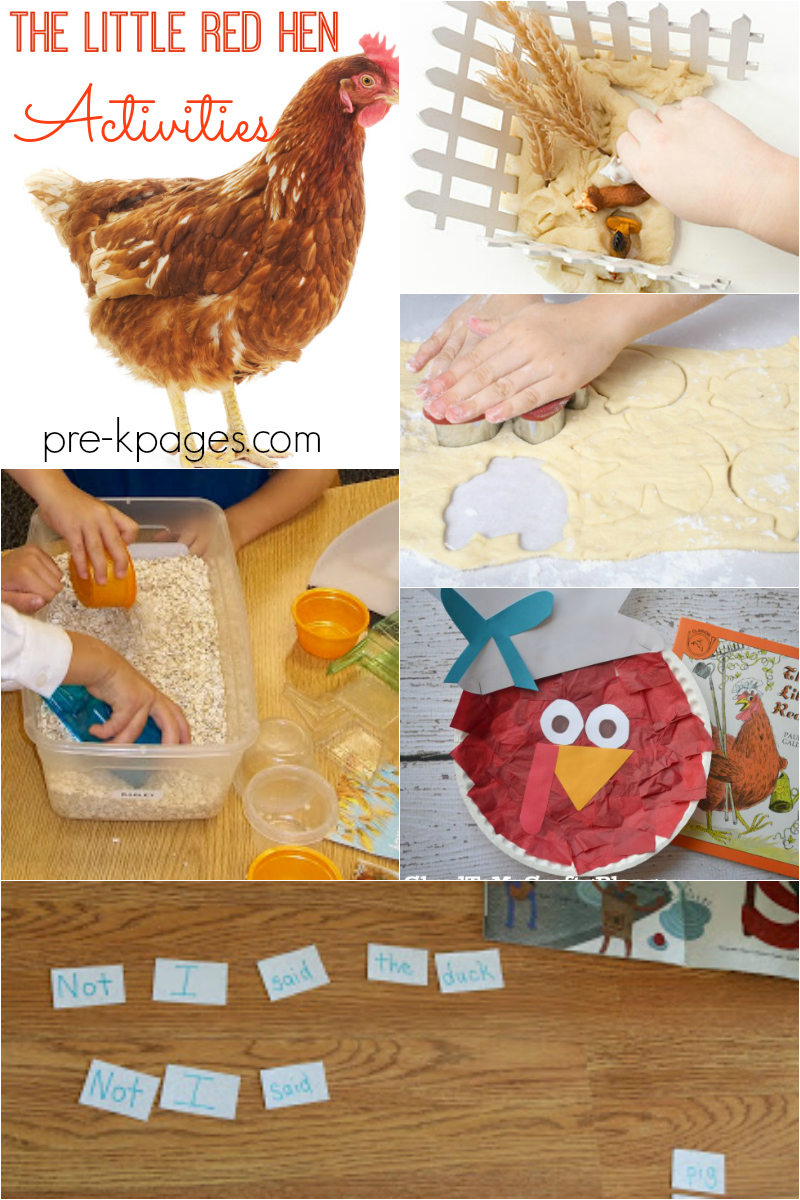 Little Red Hen Activities for Preschool
Little Red Hen Play Dough Activity (Pre-K Pages) – This Little Red Hen play dough activity is an engaging extension to the popular book. It gives children the opportunity to connect with the book on a deeper level while practicing story retelling and more!
Painting with Wheat (Pre-K Pages) – While enjoying the popular story, The Little Red Hen, let kids get their hands on some wheat for a wonderful process art activity. This art project is something the kids can enjoy doing all by themselves with little to no help from adults – which is perfect for letting them explore colors, textures, and creativity.
Little Red Hen Sequencing (Pre-K Pages) – We have all probably read the story of the Little Red Hen. You may have used it while studying economics, farm life, or maybe even feelings. It can also be used to work on sequencing skills. This activity explores two different ways to sequence this story.
Little Red Hen Printable Picture Recipes (Pre-K Pages) – One of the benefits of reading traditional tales such as The Little Red Hen is that there are often several different versions available. Here are some fun versions of The Little Red Hen and a few printable picture recipes to help your kids learn to follow directions.
Little Red Hen Theme Activities (Pre-K Pages) – Little Red Hen Learning Activities for preschool, pre-k, and kindergarten.
Retelling Through Sensory Play (Fun-a-Day) – This activity combines sensory play and literacy all in one!
Sensory Bin (Fun-a-Day) – Create harvest wheat play dough and then have fun retelling the story using sensory materials. Inspired by the retelling activity, this is a simple sensory bin for further exploration.
Small World Play (Fun-a-Day) -This Little Red Hen version encourages kiddos to retell the classic story, and they can also make up their own versions.
Interactive Writing Display (Fun-a-Day) – Explore the book with an interactive bulletin board and work on your preschoolers writing skills.
Paper Plate Little Red Hen (Glued to My Crafts) – This is another kid friendly craft that goes along perfect with the book!
Harvest Play Dough (Fun-a-Day) – You can use this harvest play dough recipe after reading the book or with a harvest them in your classroom!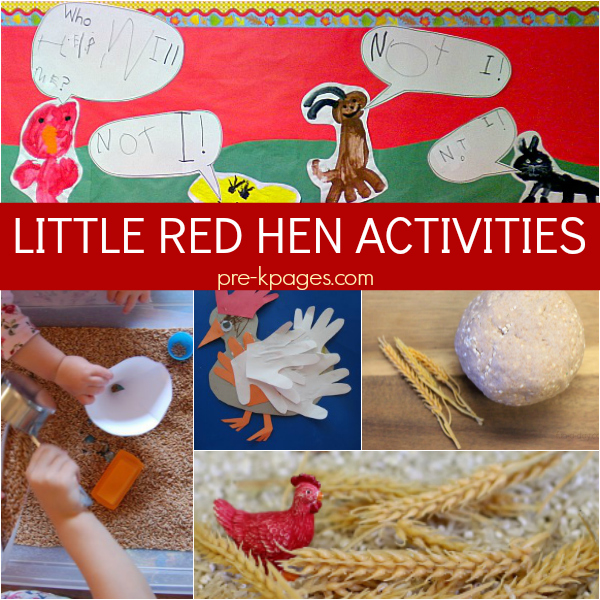 Fall and Harvest Activities Related to The Little Red Hen
Little Red Hen Activities (Little Pinch of Perfect) – Have fun with these activities like planting some grain, making some bread, and enjoy fun free printable activities. The printables work on sequencing, counting, pre-writing, visual discrimination, and has a page to color on.
Wheat Stalk Fork Painting (3 Dinosaurs) – Use a fork to have fun painting the wheat stalks from the book!
The Little Red Hen Song (Mrs. Jones Room) – Here are the lyrics for this song so the whole class can sing along!
Scooping Barley (Brick by Brick) – Have fun with this barley sensory bin after reading the book!
Handprint Hens (No Time for Flash Cards) – Students will enjoy tracing and cutting out their hand prints and then using them to create these fun paper hens!
Sentence Building and Sight Words (Still Playing School) – Your pre-k students will work on sentence building and sight words after they read the book and build those literacy skills.
Easy Bread Baking Recipe for Kids (Fantastic Fun and Learning) – This is a fun activity as a follow up to the book. Kids will love making bread with this easy recipe.
Wheat Berries Sensory Play (TinkerLab) -Sensory activities like these can fully engage the minds of young children as they test the limits of materials and build imaginary worlds through pouring, filling, and building wheat berries in this sensory play activity.
Bread in a Bag (Motherhood on a Dime) – Your preschoolers will all enjoy making bread in a plastic bag with this easy recipe.
Whole Wheat Pumpkin Muffins Recipe (Fun at Home with Kids)  This is a fun healthy muffin recipe to share with your students after reading Little Red Hen.
Bread Science Experiment (TotSchooling) – Explore bread science in this fun and easy bread science experiment!
Also check out our Little Red Hen Bundle for lesson plans, including literacy and math ideas.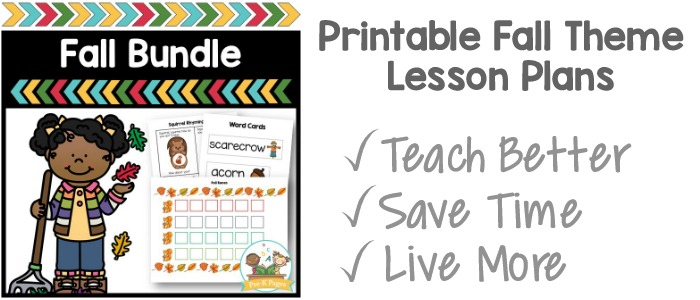 More Ideas for Fall