Learning about the ocean and sea creatures is a popular topic in preschool. But without real life experiences, it can be difficult for young children to understand sea life and sea creatures.  Today I'm sharing one way I like to bring real world experiences into my classroom to help my students question, learn, and explore with these octopus lesson plans.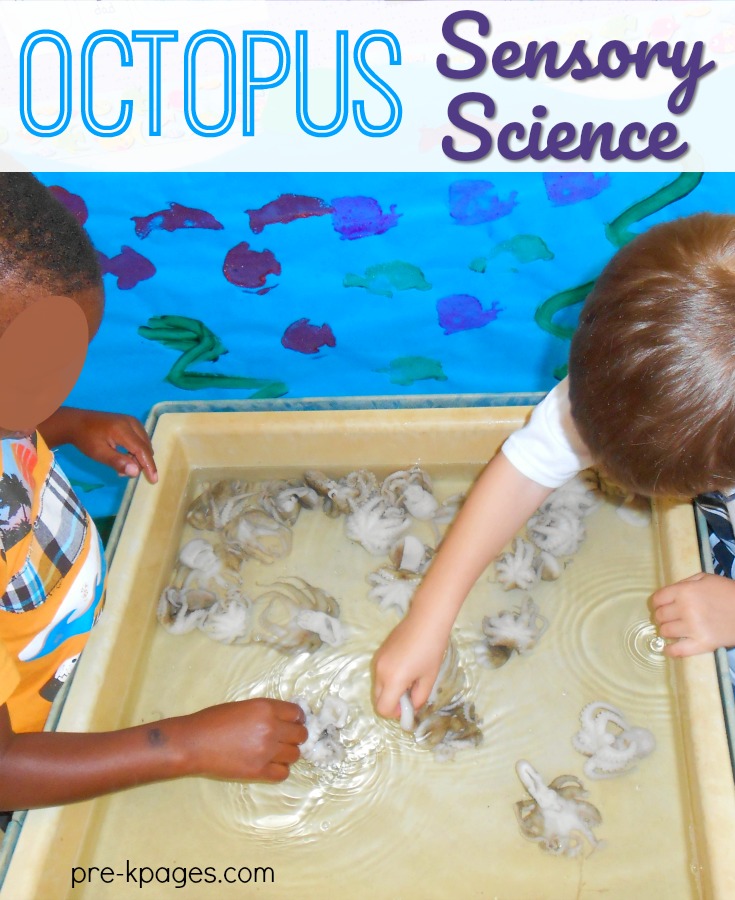 Octopus Lesson Plans in the Preschool Classroom
I create an octopus sensory bin so my children can explore with all their senses. I buy a package of frozen octopus at the Asian market for about $8. Fill the sensory bin or a large plastic bin with water and add the thawed octopus.
Children can touch and move the octopus in the water. They can use magnifying glasses to look at the tentacles and other parts of the octopus.
After a child finishes his exploration, help him wash his hands.
The octopus can be a little smelly but this activity has been a fascinating experience to see what they look like up close. (And, after all, the smell does add to the sensory experience!)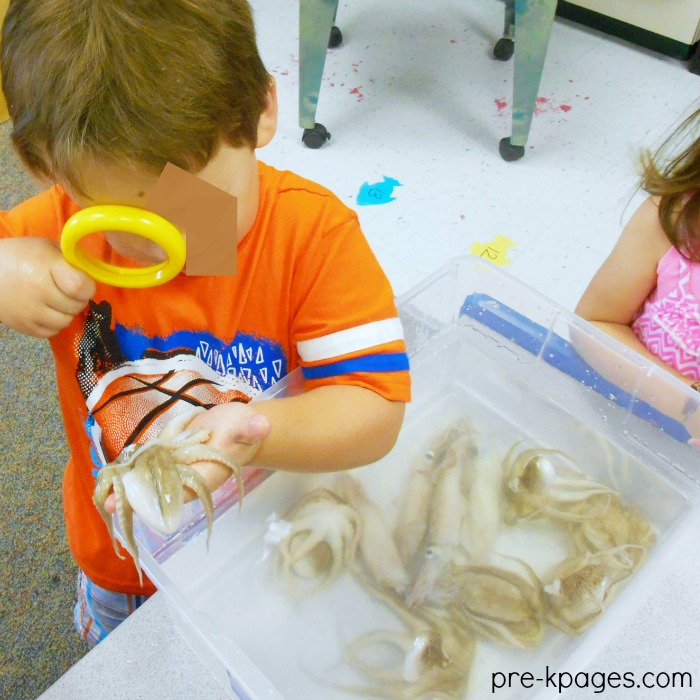 Extend the Learning
Before or after exploring the octopus sensory bin, read a book about octopuses. Choose a simple nonfiction book, such as Octopuses (Under the Sea) by Carol K. Lindeen. Introduce or reinforce vocabulary words (such as "tentacle").
After exploring octopus in the sensory bin, encourage children to talk about their observations. List words they use to describe the octopus. Suggest additional descriptive words (to build the children's vocabulary).
Connect what the children experienced with information in the books you read. Making connections between life and book text is an important literacy skill for proficient readers. Help preschoolers make these connections to build foundations for future literacy skills.
Offer paper and crayons or markers for children to record their observations and exploration. Recording observations is an important science skill and an important skill in general problem-solving. Plus, an important part of literacy development is connecting writing and drawing to ideas. Children can begin to convey their own thoughts into written form.
Real World Experiences
A child truly begins to understand something when she has real world experiences related to it. Many children live far away from an ocean and may not travel to see one. Bringing experiences, such as the octopus sensory bin, into the classroom allows children to broaden their experiences and understand more about ocean life. Look for other ways to bring real world experiences to your children. Look for ways to encourage your preschoolers to learn as much as possible through their own senses.
BIO: Kristy Pulcher is currently a Pre-K Teacher in Plano, Texas. She has worked in the early childhood education field for 23 years. Kristy was a recipient of the Teacher of the Year award from CCAEYC. She is very passionate about working with young children and they delight her daily as they explore and learn about the world around them.
More Ocean Ideas