Learning and sensory play is a wonderful combination. After many days of rain in our part of the world we took advantage of a lovely sunny day and did an ocean sensory bin.
Set Up Your Ocean Sensory Bin
Choose a large tub or bin and place it in a safe area for water play. I moved our bin outside in the shade so that any water spillage would not be an issue. Besides my preschooler, I also have a toddler who loves to join in on the action and we all know how messy toddlers can be (and even the kids at preschool age!).
Fill the tub with water, just enough to cover the ocean theme items you are placing inside. Add a few drops of blue food coloring until the water is a lovely blue.
Now you can add items to the bin. I added 2 corals, various crabs, a lobster, turtle, shark, whale, dolphin, and a bunch of pebbles. I did not have sea shells or I would have added those, too!
Similar ocean animals can be found in the ocean theme and the coral reef TOOBs.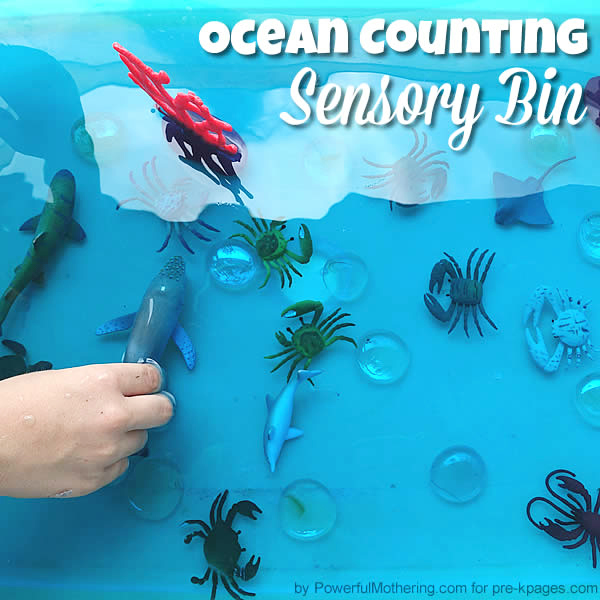 Talk About Ocean Life
Here comes the learning part! Ask your preschoolers to name the ocean life as you add it to the water. Grab a sheet of paper and write down the names of the items in the bin.
Have some fun playing for a bit. Then go on an item hunt! How many crabs did you find? How many blue rocks did you find? Invite your preschoolers to sort the ocean animals they discover.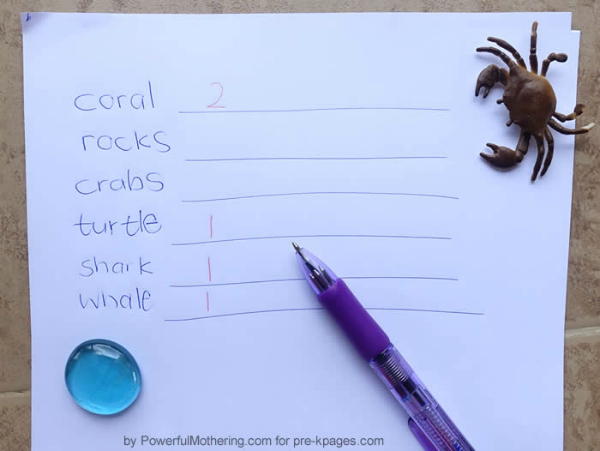 Ocean Sensory Play And Fine Motor Skills
My preschooler seemed to think the lobster was rather tasty for the whale. This was the perfect opportunity to impart knowledge on what a whale eats and learn about the ocean. If you do not know, do a little research and talk about it the next time.
You can also incorporate fine motor into this sensory bin. Add scoops, spoons, or tongs. This Helping Hands fine motor tool set would be the perfect addition to this play scenario for your toddlers and preschoolers!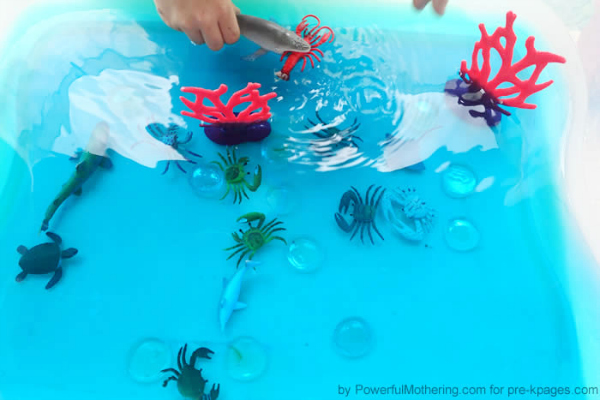 All in all this was an awesome sensory experience. My preschooler practiced his counting. His little sister also came along and dipped her hands in hunting for crabs (ocean life recognition!) They are learning without even noticing!
I hope you enjoyed this little ocean life sensory bin!
BIO:Do come visit Nicolette on her blog at Powerful Mothering. She loves to share simple and easy crafts, activities, printables, and learning ideas for babies, toddlers, and preschoolers! You will love her latest printable where you can add your child's name to a printable name tracing sheet! She is also the author of: Rice Play and 99 Fine Motor ideas for Ages 1-5.
More Ocean Themed Ideas
Ocean Play Dough Surprise Game (Pre-K Pages) –  Combine play dough with ocean creatures to give your little ones a fun surprise! You can even add an alphabet twist for children who are ready.  This hands-on activity is an awesome way to get children excited to learn about the ocean, and I found that my own children wanted to do it over and over again.
Ocean Picture Books for Preschoolers (Pre-K Pages) – These books will not only help develop critical vocabulary about the ocean and ocean life, but also include many opportunities for literacy, math, and science.
Ocean Theme Fine Motor Play (Pre-K Pages) –  Our ocean theme sensory and fine motor invitation to play is the perfect way to motivate children to work their hand muscles as they explore!
Ocean Theme Snack: Sea Turtles (Pre-K Pages) – Sea turtles are amazing creatures to learn about during an ocean theme. Here is a simple (and healthy) recipe for a bread and fruit sea turtle snack that you can assemble with your kids at home or in the classroom.
Ocean Theme Counting Activity (Pre-K Pages) – The best preschool activities allow children to be interactive and hands on while they explore new concepts. We've developed a fun, easy to prepare ocean theme counting activity to do just that.
More Sensory Bin Ideas
Sensory Table Ideas For Preschool And Pre-K – Are you looking for sensory table ideas for your preschool or pre-k classroom? Then you're in the right place! The sensory table is a very popular place in most early childhood classrooms.
Halloween Sensory Bin With Spaghetti- Need Halloween sensory play ideas for your preschool classroom? You can make this easy colored spaghetti for a super fun Halloween themed sensory bin. This squishy Halloween sensory spaghetti is sure to be a big hit with your kids!
Halloween Black Bat Sensory Bin – Your little learners will have a blast with this black bat sensory bin for Halloween! It's super quick and easy to set up for your preschool classroom or in your own home.
Easter Sensory Bin For Preschool – This Easter sensory bin is super quick and easy to set up at home or in your classroom. With plastic eggs and fun shredded colored paper your students will love this!
Dinosaur Sensory Bin – This super simple kinetic sand recipe is easy to make for the sensory bin or table in your classroom. Your little paleontologists will love roaring and stomping their dinosaurs through the sand!
Christmas Water Beads Sensory Bins – This Christmas sensory bin uses green, red, and white water beads. Children will enjoy handling, scooping, and pouring the beads to enhance their fine motor skills and improve hand-eye coordination.
Fall Sensory Bin –  No matter where you live, your little learners will have a blast with this fall themed sensory bin! It's super simple to set up at home or in your preschool classroom.