Digging for the alphabet in the sand using shells shells is an engaging sensory experience that will give children a chance to learn and play with the alphabet. Preschoolers will enjoy digging in and discovering  these shells in this ocean theme seashell alphabet activity.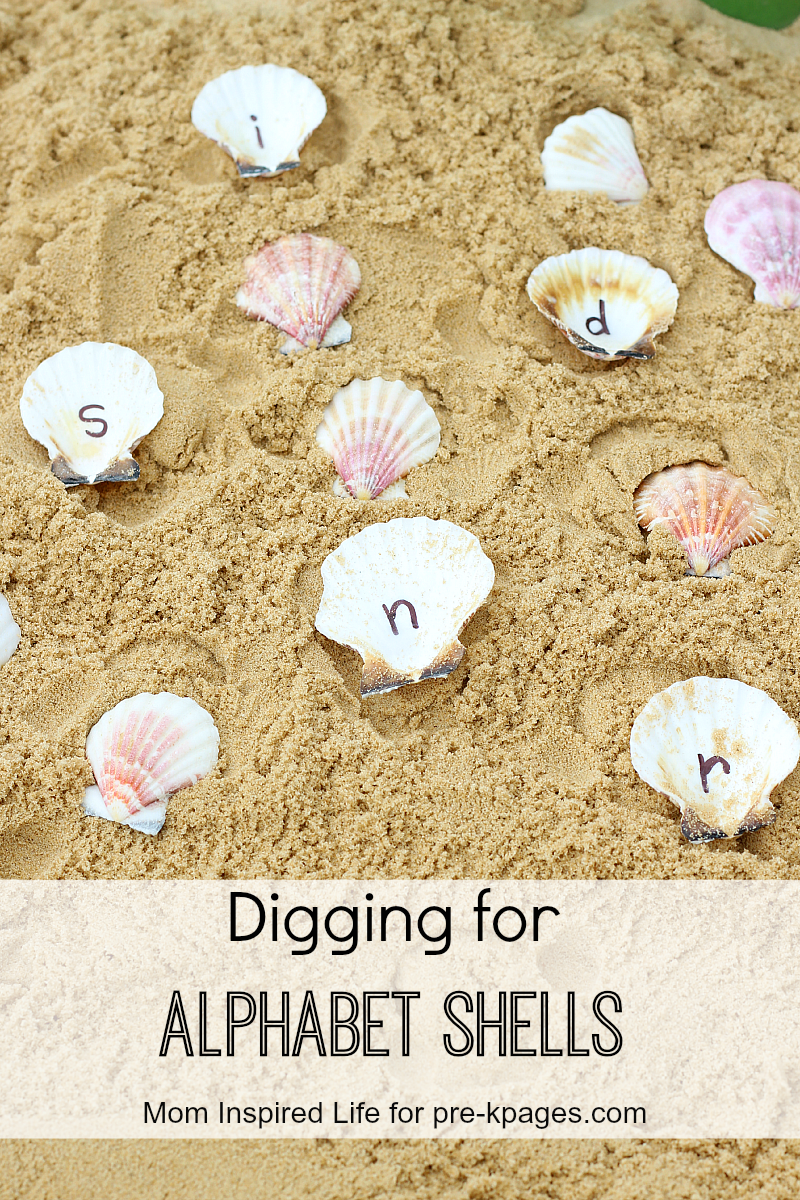 Amazon links included below.
Engaging with the alphabet during sensory play is fun learning activity to expose children to letters. It opens the door for discussion about letter names, letter sounds, and more while keeping the environment fun and playful. It takes the pressure off the child and the teacher and allows them to simply enjoy the multi sensory activity.
Educational Benefits to Playing with Alphabet Shells
While engaging in this sensory experience, preschoolers may:
Identify letters by name
Identify letter sounds
Spell their names
Put the letters of the alphabet in order to form words
Match uppercase and lowercase letters
Count sea shells
Develop fine motor strength while digging, scooping, and pouring sand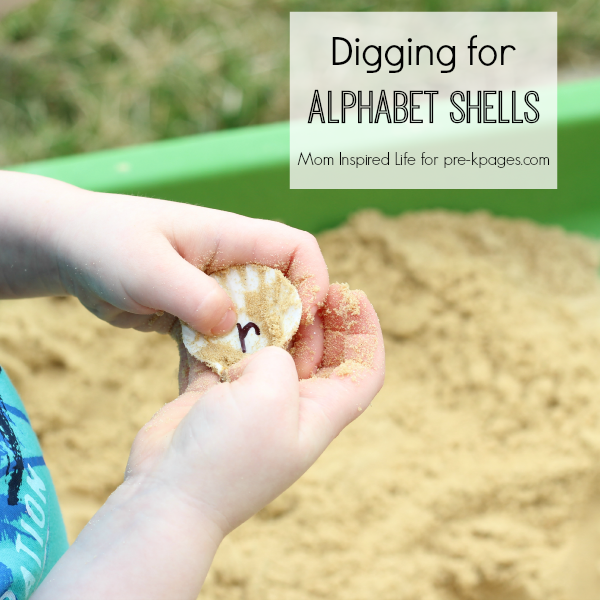 Setting Up the Seashell Alphabet Activity
Materials Needed:
Play sand
Shells (You can buy bags of them at the dollar store)
Permanent Marker
Shovels, spoons or scoops
1. Write letters of the alphabet on the backs of your shells with permanent marker. I chose to do all of the lowercase letters of the alphabet. You could also do both uppercase and lowercase letters so that you can do matching activities. You may also want to include enough letters to spell each child's name.
2. Pour the sand in your sand table or sensory bin.
3. Bury the shells in the sand.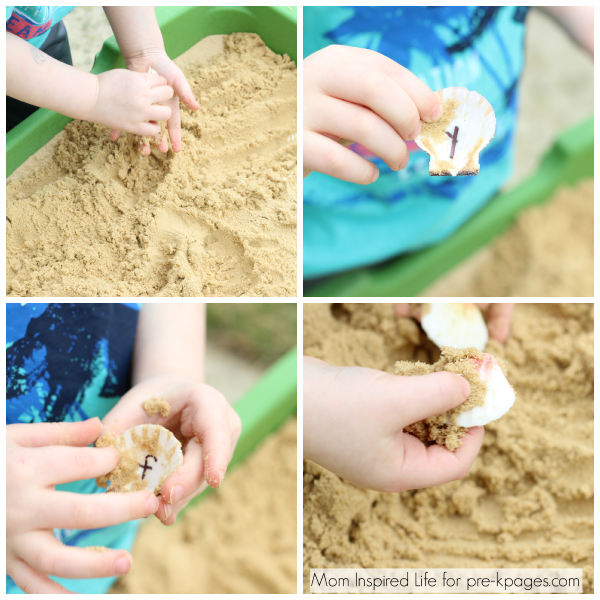 Digging for the Alphabet In The Sand Using Shells
Invite the children to dig in the sand and search for shells. As they are searching for them, you can point out the letters written on the backs of them.
From there, you can engage them in conversation about the letters they are finding. You may say things like "Wow, you found a shell with the letter 'B' on it!" My son even started naming the letters as he found them without any prompting for me.
When doing this activity with children who are able to identify letters already, you may encourage them to tell you the sound or you may simply say the sound when they find a shell with that letter on it.
You can also encourage children to find all the letters in their names and put them in order. Or to keep track of all the letters and see if they can put the entire alphabet in order. If you included uppercase and lowercase letters, you can say things like "That is an uppercase 'B.' Can anyone find the lowercase 'b'?" Preschoolers love digging in and rushing to find the letter before anyone else does!
It's also a great idea to step back and let your children discover the shells and come up with their own ways to play with them. You may be surprised by the things they come up with!
BIO: Danielle is a former elementary teacher, a mom of two and now writes at Mom Inspired Life. She enjoys doing playful alphabet and math activities while integrating science, sensory, and fine motor experiences as well. You can connect with her by subscribing to her newsletter or following her on Facebook, Pinterest, or Twitter.
More Ocean Themed Ideas
1. Ocean Play Dough Surprise Game (Pre-K Pages) –  Combine play dough with ocean creatures to give your little ones a fun surprise! You can even add an alphabet twist for children who are ready.  This hands-on activity is an awesome way to get children excited to learn about the ocean, and I found that my own children wanted to do it over and over again.
2. Ocean Sensory Bin (Pre-K Pages) – Learning and sensory play is a wonderful combination. After many days of rain in our part of the world we took advantage of a lovely sunny day and did an ocean sensory bin.
3. Ocean Picture Books for Preschoolers (Pre-K Pages) – These books will not only help develop critical vocabulary about the ocean and ocean life, but also include many opportunities for literacy, math, and science.
4. Ocean Theme Fine Motor Play (Pre-K Pages) –  Our ocean theme sensory and fine motor invitation to play is the perfect way to motivate children to work their hand muscles as they explore!
5. Ocean Theme Snack: Sea Turtles (Pre-K Pages) – Sea turtles are amazing creatures to learn about during an ocean theme. Here is a simple (and healthy) recipe for a bread and fruit sea turtle snack that you can assemble with your kids at home or in the classroom.
6. Ocean Theme Counting Activity (Pre-K Pages) – The best preschool activities allow children to be interactive and hands on while they explore new concepts. We've developed a fun, easy to prepare ocean theme counting activity to do just that.