Sea turtles are amazing creatures to learn about during an ocean theme. Here is a simple (and healthy) recipe for a bread and fruit sea turtle ocean themed snack that you can assemble with your kids at home or in the classroom.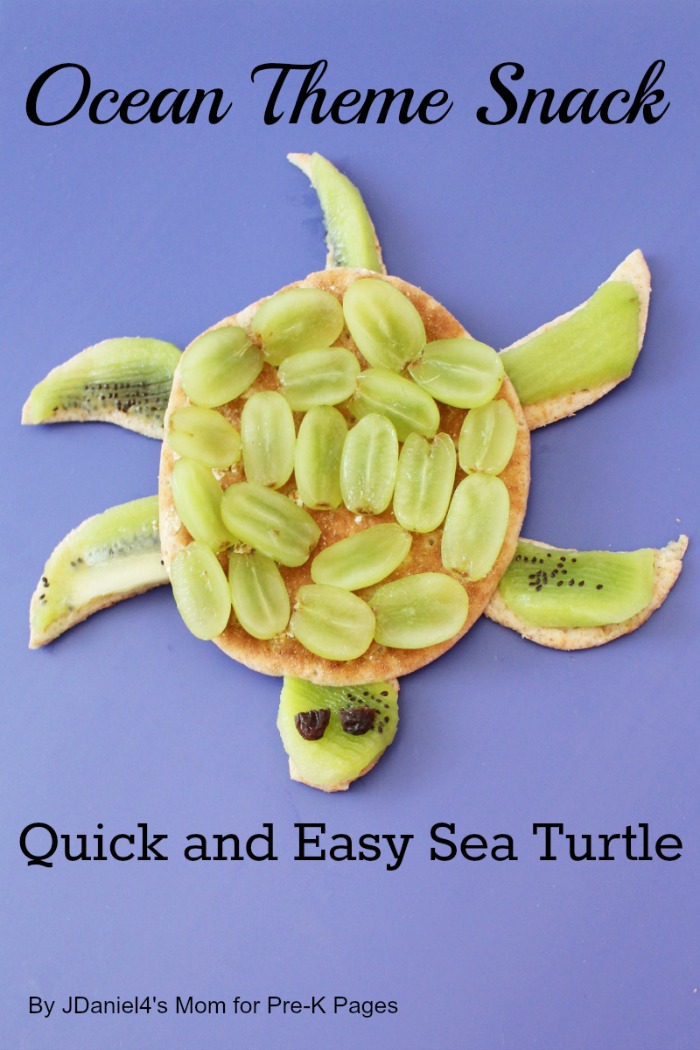 Amazon links included below.
Learning About Sea Turtles
This activity will give your children a truly hands-on, fun and educational experience. Start by reading a book about sea turtles to your children to build background knowledge. Sea Turtles by Carol K. Lindeen is perfect for preschoolers and full of age-appropriate information and colorful pictures.
Ocean Themed Snack Idea
When making this snack, your kids will be tracing, cutting, and placing food onto the sculpture base- all great ways to practice fine motor skills!
They will also enjoy eating a fun and healthy snack they have created themselves.
Here are the supplies you will need to create your own sea turtle snack:
thin bread rounds
green grapes
peeled kiwi
raisins
scissors or a dull knife
wax paper, optional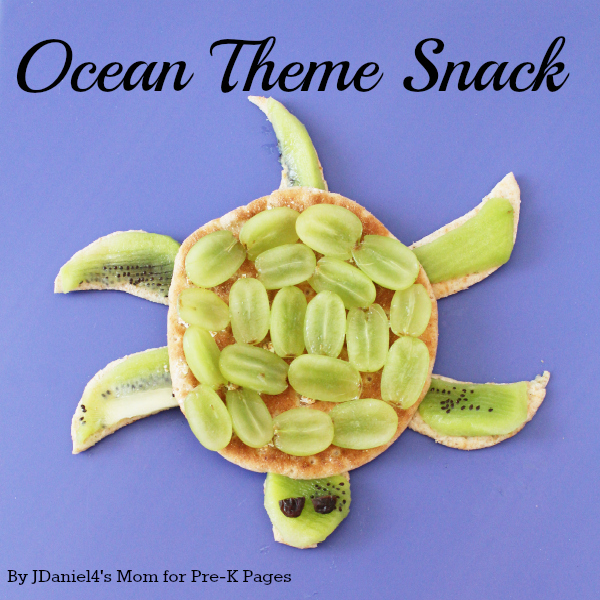 Assembling the Snack
The turtle's body (the shell area) is one whole bread round. The head and flippers are cut out of other pieces of thin bread rounds.
For the head, invite a child to cut an oval from a piece of bread. The child can cut it out with scissors or a dull knife.
For the flippers, cut a flipper-shaped template from wax paper. Invite a child to lay the template on a piece of bread and cut around it. (Use a little dab of water on the wax paper to help it stay on the bread while cutting.) Cut four flippers from bread.
Hint: Use food scissors or sterilize scissors in the dishwasher before children use them to cut food.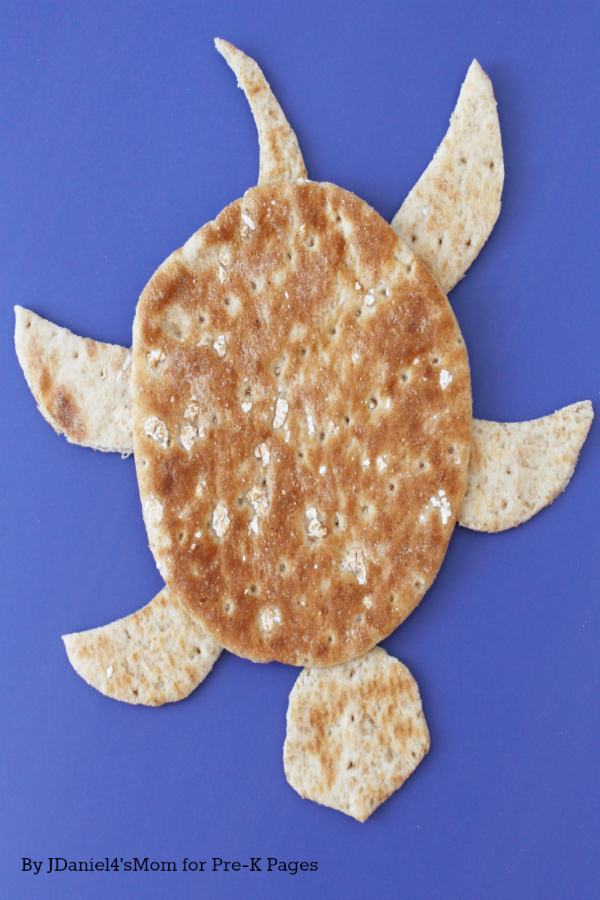 When the bread pieces are cut out, cut up the peeled kiwi and green grapes. (You can cut the fruit ahead of time if you choose.)
Cut the kiwi into slices. Trim a slice to fit the head. Cut the slices in half or use the flipper template to cut kiwi for the flippers. Cut grapes in half, along the length of the grape.
On a plate, arrange the bread pieces to make a sea turtle. Then add the fruit pieces. Each bread flipper has a kiwi flipper on it. Place grapes halves all over the body/shell. Children can place the grape halves randomly (as in the photo) or they can create triangle or pentagon shapes with the grapes.
The last food element to add is a raisin. Cut one raisin in half for the turtle's two eyes. Add the raisin eyes to the turtle's head.
Finally, invite your kids test taste their creations. Getting to eat what you made is the best part of food creating!
BIO: Deirdre is the author of JDaniel4's Mom where she shares other learning activities, printables crafts, and food creations. She loves growing and learning beside her son. You can find her on Pinterest, Facebook and Instagram.
More Ocean Ideas