Exploring the natural world underwater and on the beach can be fun and exciting. This list of over 40 ocean themed activities will engage your preschoolers in lots of learning and discovery.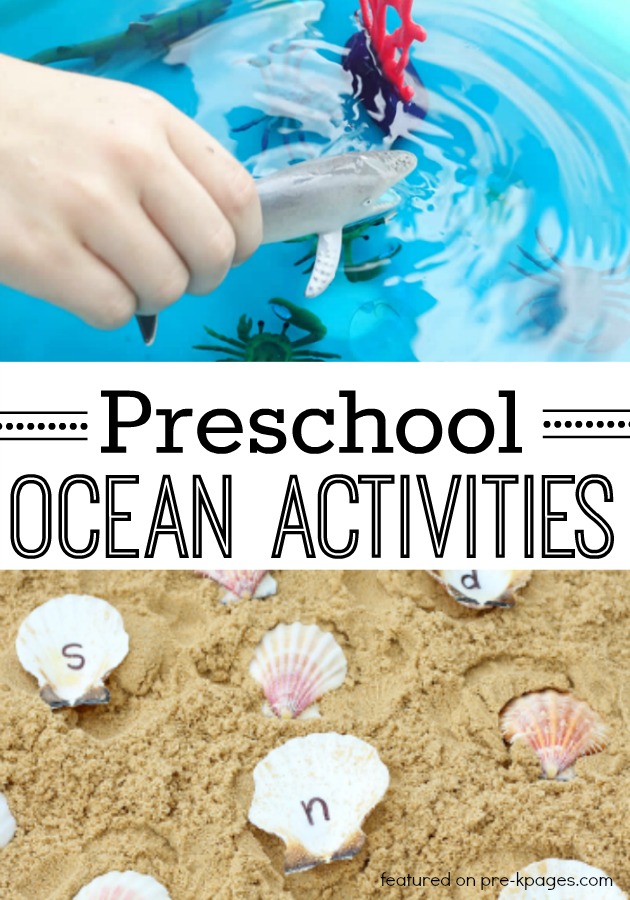 Ocean Theme Activities
1. Ocean Play Dough Surprise Game (Pre-K Pages) –  Combine play dough with ocean creatures to give your little ones a fun surprise! You can even add an alphabet twist for children who are ready.  This hands-on activity is an awesome way to get children excited to learn about the ocean, and I found that my own children wanted to do it over and over again.
2. Ocean Sensory Bin (Pre-K Pages) – Learning and sensory play is a wonderful combination. After many days of rain in our part of the world we took advantage of a lovely sunny day and did an ocean sensory bin.
3. Ocean Picture Books for Preschoolers (Pre-K Pages) – These books will not only help develop critical vocabulary about the ocean and ocean life, but also include many opportunities for literacy, math, and science.
4. Ocean Theme Fine Motor Play (Pre-K Pages) –  Our ocean theme sensory and fine motor invitation to play is the perfect way to motivate children to work their hand muscles as they explore!
5. Ocean Theme Snack: Sea Turtles (Pre-K Pages) – Sea turtles are amazing creatures to learn about during an ocean theme. Here is a simple (and healthy) recipe for a bread and fruit sea turtle snack that you can assemble with your kids at home or in the classroom.
6. Ocean Theme Counting Activity (Pre-K Pages) – The best preschool activities allow children to be interactive and hands on while they explore new concepts. We've developed a fun, easy to prepare ocean theme counting activity to do just that.
7. Alphabet Shells Sensory Bin (Pre-K Pages) – Digging for alphabet shells is an engaging sensory experience that will give children a chance to learn and play with the alphabet. Preschoolers will enjoy digging in and discovering shells in this ocean theme activity.
8. Squishy Fishy Aquariums (Teach Preschool) – Learn how easy it to make these squishy gel bags in this fun sensory experience.
9. Wave Storytelling on the Easel (Teach Preschool) – Explore waves in the ocean through literature, art, water play, and other experiences with this storytelling easel activity.
10. Sponge Painted Fish (Teach Preschool) – After reading the book, Mister Seahorse by Eric Carle, your little ones will love using sponges to paint their own fish in this activity.
11. Ocean Websites for Kids (Prekinders) -Ocean theme activities, lessons, and printables for Pre-K, Preschool, and Kindergarten.
12. Ocean Word Cards (Prekinders) – Here's a set of Ocean/Beach picture word cards that can go with an Ocean Theme Unit.
13. Fish Play Dough Counting Mats (Prekinders) – These play dough mats are perfect for an ocean theme in your classroom.
14. Small World Ocean Play…Without Water (Powerful Mothering) – These activities are fun to explore the ocean (without any water involved!)
15. Ocean Science Activities (Little Bins for Little Hands) – The fun ocean science activities are perfect for your preschool classroom.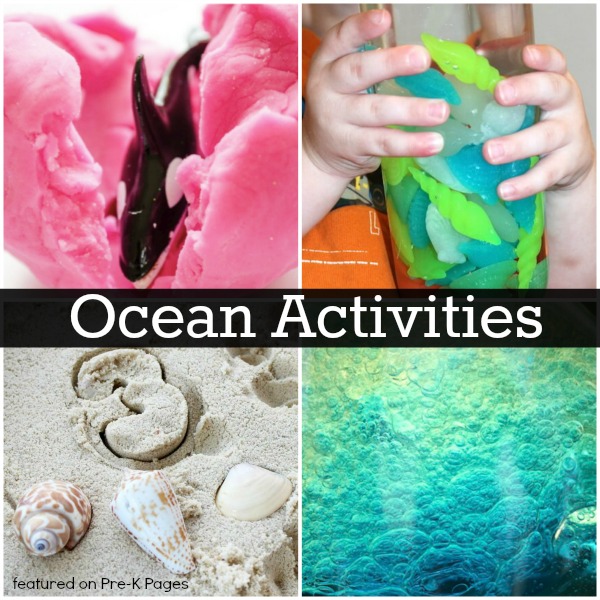 16. Shell Painting (Fun-A-Day) – Painting sea shells is simple, but fun, ocean art for kids!
17. Ocean Play Dough Invitation (Mom Inspired Life) – This ocean play dough invitation is a hands-on way for preschoolers to explore and learn about the ocean habitat.
18. Paper Plate Jelly Fish Craft (Simply Today Life) – With paper plates and streamers, your toddlers will love making these jelly fishes.
19. Ocean Sensory Table (Stir the Wonder) –  No water needed for this fun ocean themed sensor table.
20. Glow in the Dark Ocean Bottle (Sunny Day Family) – Take your sensory bottle to the next level by making it glow in the dark!
21. Beach Cloud Dough (Craftulate) – Make this simple cloud dough from just oil and flour and make it beach themed for your classroom.
22. Five Little Starfish (JDaniel4's Mom) – A fun kids song or chant becomes even more fun when kids can make a craft to go with it.
23. Suspended Ocean Creature Discovery Bottle (Preschool Inspirations) – Make this easy ocean creature discovery bottle! And the ocean creatures actually stay suspended!
24. Jello Ocean Exploration on the Light Table (Still Playing School) – Use animal figures, light, and gelatin to explore this science concept in a hands on sensory activity for kids.
25. Bubble Wrap Jellyfish (Crafty Kids at Home) –  Gather some bubble wrap and googly eyes and give your little ones the task of creating their own Bubble Wrap Jellyfish craft.
26. Ocean Themed Sensory Play (Playground Parkbench) – A fun silicone mold, and some Jello is all you need for this ocean themed sensory play activity.
27. Ocean Play Dough (My Mundane and Marvelous Life) – Make your own ocean blue play dough, then use shells to make imprints into the dough.
28. Storytelling Sea Shells (Educators' Spin on It) – Spin a tale with these cute kid-made storytelling sea shells.  They are a great literacy activity extension to fairy tale chapter books.
29. Ocean Inspired Monoprints (Munchkins and Moms) – A little bit of paint goes a long way to create these ocean inspired art prints.
30. Underwater Small World Under the Table (Little Worlds) – Create a whole world under the sea…under the table in this fun activity your toddlers will fall in love with.
31. Shark Attack Punch (Parenting Chaos) – Your little ones will love this punch made with different juices and gummy sharks!
32. Ice Painting with Sea Creatures (Parenting Chaos) – This Ice Painting with Sea Creatures activity could not be easier or more FUN! It only uses two ingredients & the kids have an absolute ball creating with a new medium!
33. Stapling Fish (Brick by Brick) – Your preschoolers will work on their fine motor skills as they staple these fish together in this fun ocean themed activity.
34. Ocean in a Bottle (Happy Hooligans) – Make an ocean in a bottle with 3 easy ingredients.  One of the fastest and easiest-ever science activities for preschoolers.
35. Paper Roll Fish Craft (No Time for Flash Cards) – Save those toilet paper tubes and use them for this easy fish craft.
ADDITIONAL IDEAS–
36. Ocean Animal Printable Clip Cards (A LIttle Pinch of Perfect) – Use these fun printables along with some of our favorite Ocean Themed Activities for a fun day of learning under the sea.
37. Make Ocean Slime (Little Bins for Little Hands) –  Here are 5 basic homemade slime recipes which are quite simple to make for wonderful science and sensory play.
38. Paper Plate Starfish (JDaniel4's Mom) – Use a paper plate to create this super cute starfish!
39. Free Shark Facts Printable (Natural Beach Living) – Learn all about sharks with these fun shark printables!
40. Lego Brick Ocean Animals (Little Bins for Little Hands) – Come under the sea with LEGO ocean animals for a fun summer LEGO building project the whole family can get into!
41. Ocean Counting Mats (Mom Inspired Life) – These ocean counting mats are such an inviting way to practice counting and number recognition this summer! It's the perfect addition to an ocean theme.
More Ocean Ideas