Do your kids love the water? Are they fascinated by all things that swim and live in the ocean?  The unknown mysteries of the underwater world make young children very curious about marine life. Learning about the ocean and animals that live there is a great way to capture and hold their attention.  Below are some of my favorite ocean books for preschool. These books will not only help develop critical vocabulary about the ocean and ocean life, but also include many opportunities for literacy, math, and science.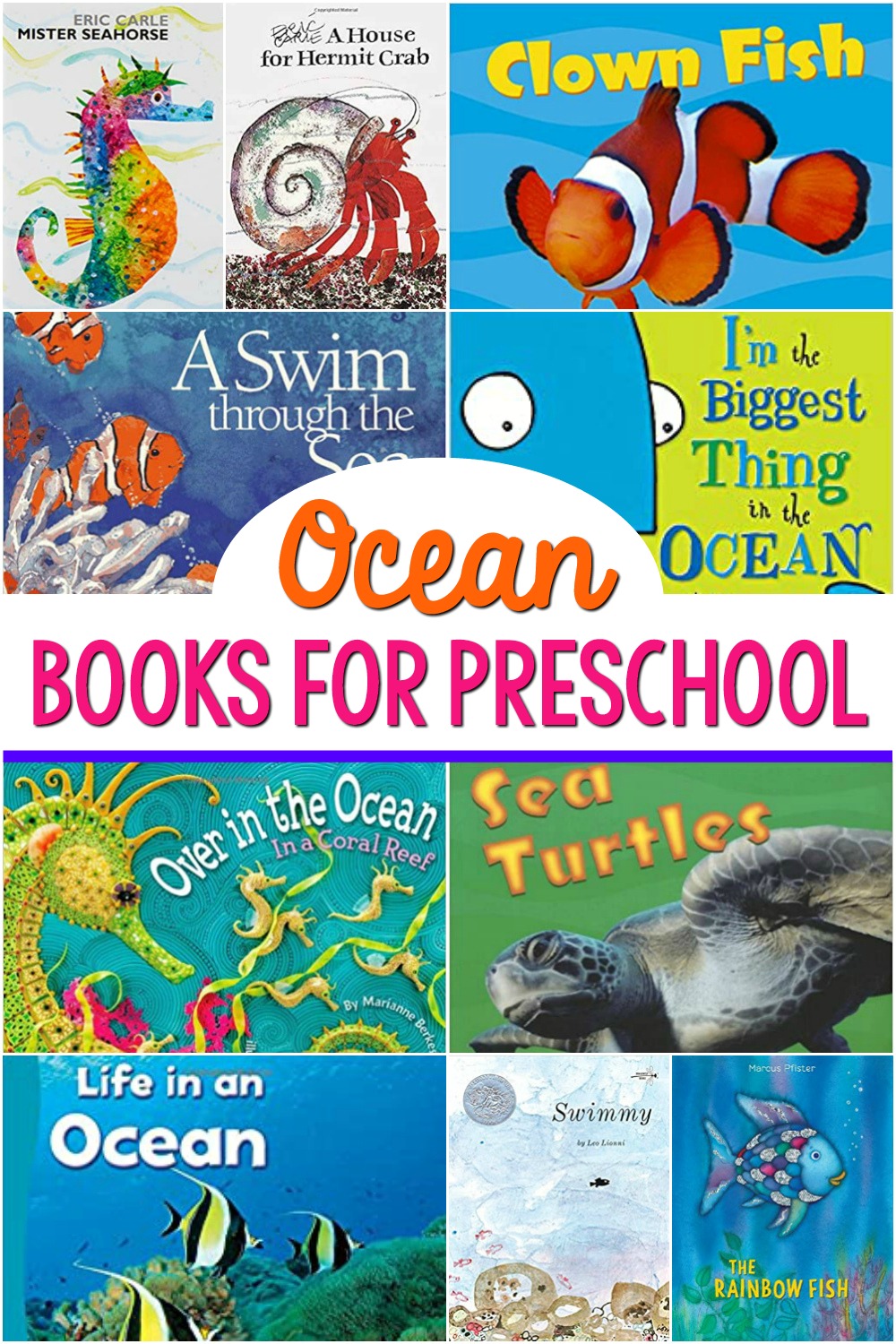 Ocean Picture Books For Preschool

Swimmy by Leo Lionni – A classic Caldecott Honor Book that deserves a place on the bookshelf of every classroom, library, and home! Generations of children have searched for Swimmy on the pages of the book while learning important life lessons about sharing and getting along with others.

A House for Hermit Crab by Eric Carle – Carle, the master of cut-paper collage has created an endearing and uplifting story about embracing change. This would be the perfect story to read at the end of the school year as children are preparing to move to a new grade level or classroom.

The Rainbow Fish by Marcus Pfister – An international best-seller and modern classic, The Rainbow Fish addresses the pitfalls of arrogance and vanity and the virtues of sharing with others. The beautiful liquid watercolor illustrations and addition of shiny foil scales make this a favorite with young children year after year.

Mister Seahorse by Eric Carle – A tribute to fathers everywhere, Mister Seahorse encounters five other marine fathers who also take part in caring for their offspring in the form of eggs. The gorgeous cut issue paper and watercolor paint illustrations create a colorful, almost magical undersea journey on the pages of this book.

I'm the Biggest Thing in the Ocean by Kevin Sherry – A lighthearted and clever story about a giant blue squid who proudly boasts that he is bigger than every other sea creature he encounters on his journey through the ocean. Your kids will roar with laughter when the blue squid finally meets a creature who is bigger than he is. Not to be discounted due to the cartoonish pictures or light subject matter, this book is not only suitable for an ocean theme, but perfect for supporting the development of mathematical thinking and vocabulary.

Over in the Ocean: In a Coral Reef by Marianne Berkes and Jeanette Canyon – An adaptation of the classic song Over in the Meadow coupled with stunningly creative and beautiful illustrations bring this counting and musical masterpiece about the coral reef to life. Sure to engage and educate your aspiring marine biologists with factual information about marine life such as the seahorse, pufferfish, and octopus.

A Swim Through the Sea by Kristin Joy Pratt – An alphabet and alliteration book that is always a favorite of kids, parents, and teachers everywhere! Each page features a single marine species with full-color illustrations and interesting facts. A frame full of extra creatures and vocabulary surrounds each page.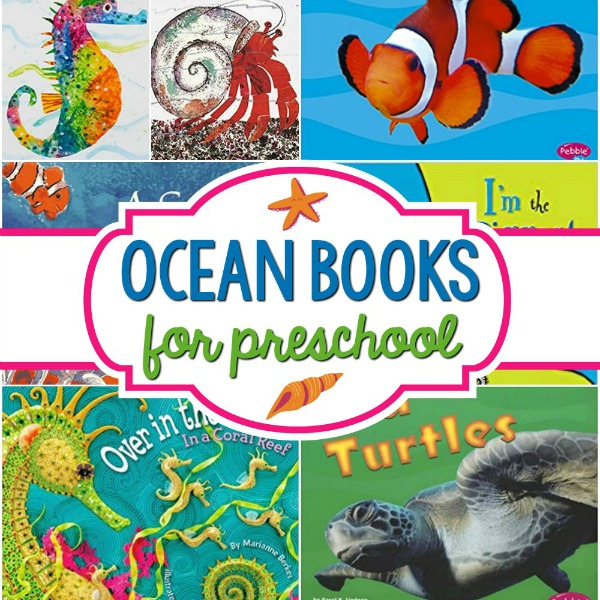 Non-Fiction Ocean Books For Kids
Need some non-fiction books to go along with your ocean theme? Here are a few of my favorite non-fiction ocean books for preschool.


National Geographic Little Kids First Big Book of the Ocean by Catherine D. Hughes – A one-stop animal reference guide for your little oceanographers.

Life in an Ocean (Capstone Press) by Carol K. Lindeen

Clown Fish (Capstone Press) by Carol K. Lindeen

Sea Turtles (Capstone Press) by Carol K. Lindeen
More Ocean Ideas
1. Ocean Play Dough Surprise Game (Pre-K Pages) –  Combine play dough with ocean creatures to give your little ones a fun surprise! You can even add an alphabet twist for children who are ready.  This hands-on activity is an awesome way to get children excited to learn about the ocean, and I found that my own children wanted to do it over and over again.
2. Ocean Sensory Bin (Pre-K Pages) – Learning and sensory play is a wonderful combination. After many days of rain in our part of the world we took advantage of a lovely sunny day and did an ocean sensory bin.
3. Ocean Theme Fine Motor Play (Pre-K Pages) –  Our ocean theme sensory and fine motor invitation to play is the perfect way to motivate children to work their hand muscles as they explore!
4. Ocean Theme Snack: Sea Turtles (Pre-K Pages) – Sea turtles are amazing creatures to learn about during an ocean theme. Here is a simple (and healthy) recipe for a bread and fruit sea turtle snack that you can assemble with your kids at home or in the classroom.
5. Ocean Theme Counting Activity (Pre-K Pages) – The best preschool activities allow children to be interactive and hands on while they explore new concepts. We've developed a fun, easy to prepare ocean theme counting activity to do just that.