It's important to remember and honor the memory of Dr. Martin Luther King, Jr., but finding preschool books on this topic that are appropriate for young children can be a real challenge.
Here are some of the picture books of Martin Luther King Jr that I have used in my own classroom that help children understand and relate to this great leader who fought for civil rights.
Picture Books about Martin Luther King Jr.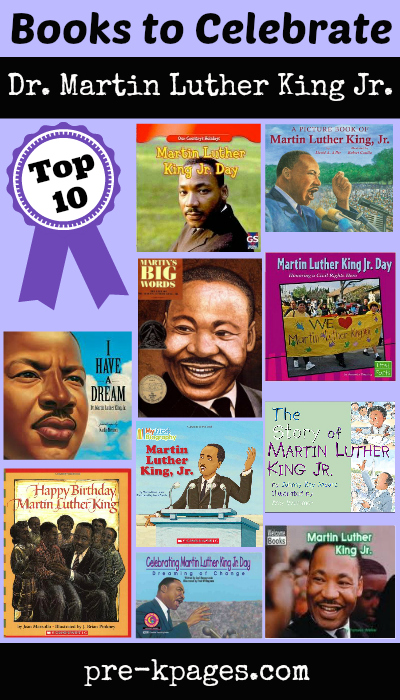 This picture book provides an introduction to his life and his dreams.

This is one of my favorites because all children can relate to birthdays! And with beautiful scratchboard and oil pastel photos!

Dr. King's famous speech beautifully illustrated and turned into a picture book. It also includes a CD recording of the speech.

An elegant and beautifully illustrated biography that includes some of Dr. King's most famous quotes. Please note this book includes the words shot and died.

Books with real photographs are important because young children sometimes think that something is pretend when they see an illustration and "real" when they see a photograph.
Provides a description of the U.S. holiday Martin Luther King Jr. Day, including how it started, and ways people celebrate this cultural holiday.
Readers will learn about his crusade to ensure that all people were treated equally.
The MY FIRST BIOGRAPHY series brings the biggest life stories to the smallest readers.
This is a great introduction to Martin Luther King Jr. Includes a timeline of important dates and beautiful illustrations.
This little boardbook uses only approximately 200 words to tell about the life of Martin Luther King, Jr. and to explain, in simple terms, how he ended segegation in America.
Here are the questions I am asked most often about this holiday:
How do you handle his violent death?
I don't believe mentioning a violent act such as this is appropriate for young children, they may become scared. After all, the holiday is about celebrating his life and his achievements. Instead I focus on the simple message of kindness and friendship that they can easily relate to.
What do you do if the children already know how he died and they bring it up?
I say something reassuring because guns and violence can be scary for young children. Something along the lines of "Yes, that happened a long time ago and it was very sad. Let's remember Dr. King and all the good things he did for us." Then I move on to a discussion of those good things.
Tip
Make sure to preview any book you are planning to read aloud for the mention of his death and how it is addressed.
More Dr. Martin Luther King Resources:
Activities for Celebrating Dr. Martin Luther King, Jr. Day
Ideas for Learning About Dr. Martin Luther King, Jr. Day