During the holiday season, it seems that the sound of bells are everywhere. Jingle bells are great tools for exploration, too. Bells make a great sound; they are shiny; and they stick to magnets! Check out these 25 Jingle Bell activities that your preschoolers can use to explore during the Christmas season (and even at other times of the year, too!).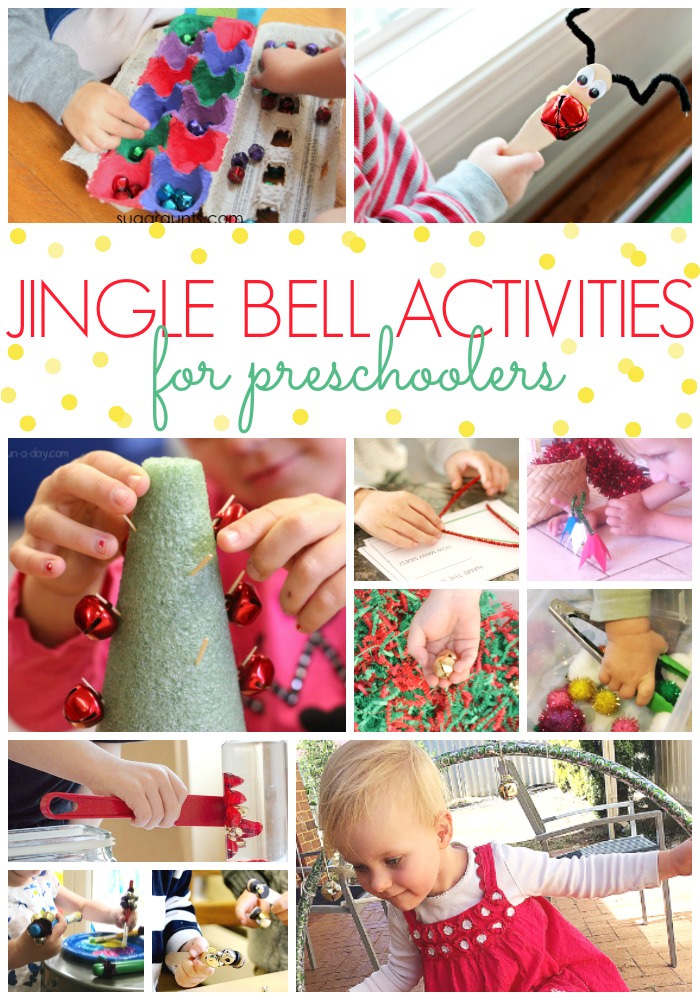 Activities with Jingle Bells
1. Reindeer Jingle Bell Sticks (Pre-K Pages) – Learning and playing music is one of the great joys of the season for kids, and my preschoolers are really getting into it this year. To help them enjoy Christmas music even more, we made our own instruments inspired by one of our favorites – Rudolph the Red Nosed Reindeer!
2. Jingle Bell Discovery Bottle (Preschool Inspirations) – Let's combine three of my favorite things! Christmas. Discovery bottles. And easy. Throw them together and you get a jingle bells discovery bottle.
3. STEM Challenge: Can You Quiet a Bell? (Little Bins for Little Hands) – Take the jingle Bell STEM challenge with the whole family this holiday!
4. Jingle Bell Toss Game (Playground Parkbench) –  Use red cups and turn them into a holiday version of cup and ball or a Jingle Bell toss game.
5. Christmas Math Game with Bells (Fun-a-Day) – This simple Christmas math game was inspired by last year's geoboard Christmas trees, as well as And Next Comes L's threading bells activity. Based on the preschoolers' reactions, it was a hit!
6. Egg Carton Bell Ornaments (Powerful Mothering) – Recycle old egg cartons and create these easy bell ornaments to adorn your Christmas tree this year!
7. Jingle Bell Shapes (Little Bins for Little Hands) – Holidays are the perfect opportunity to put a fun twist on a simple math concept. Add jingle bell shapes Christmas math activity to your calendar this season. Math, part of STEM, can totally be hands-on.
8. Jingle Bell Necklace (Prekinders) – This Christmas make jingle bell necklaces! Use the necklaces to practice fine motor skills, math skills, and to enjoy them with music.
9. Magnet Jump (Prekinders) – Try these 7 fun magnet experiments with your Pre-K and Preschool children!
10. Magnet Science with Jingle Bells (Fun-a-Day) – Your students will absolutely love this easy preschool magnet science activity with jingle bells.
11. Jingle Bells Math Station (Preschool Inspirations) – Make this inviting and simple jingle bells math station in a cinch!
12. Jingle Bell Painting (Happily Ever Mom) – Shake things up and use jingle bells this year for an easy and fun art process activity.
13. Jingle Bell Sensory Bin (Mama OT) – December means lots of opportunities for playing with jingle bells, and simple jingle bell Christmas sensory bin will be something all your preschool children will adore!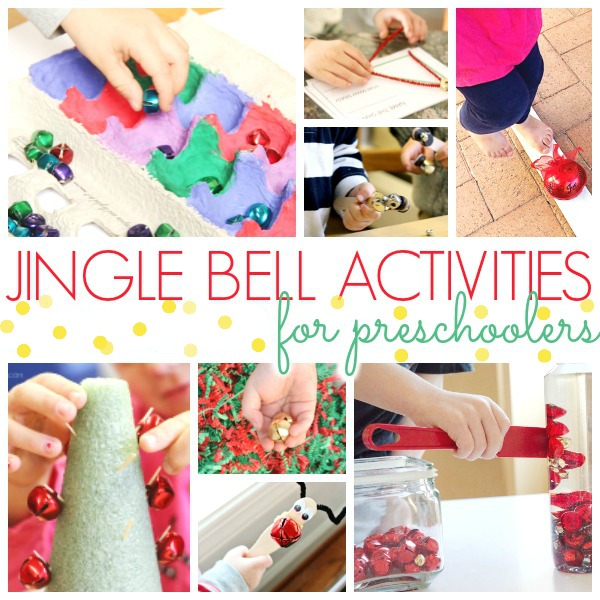 Jingle Bell Activities
14. Find the Jingle Bells (Science Sparks) – This easy fine motor, sensory activity is super simple to set up and has a lovely Christmassy feel to it.
15. Jingle Bell Nerf Games (Frugal Fun 4 Boys) – Here are two fun Nerf games that will keep your children busy in a somewhat constructive way!
16. Jingle Bell Ribbon Sticks (Playground Parkbench) – Use wooden sticks, ribbons, and jingle bells to create these fun jingle bell ribbon sticks that your preschool children will love playing with.
17. Jingle Bell Color Sorting (Sugar Aunts) – Paint a recycled egg carton and have your children engage in this jingle bell fine motor sorting activity
18. Montessori-Inspired Bell Activities (Pre-K and K Sharing) – Use bells to have your little ones learn Jingle bells and other fun bell activities.
19. Painting with Sound (No Time for Flash Cards) – Your preschoolers will have fun painting with these paintbrushes adorned in jingle bells.
20. Create a Play Dough Wreath (Mom Inspired Life) – This invitation to create a wreath with play dough is a fun, open-ended Christmas activity that sparks creativity and develops fine motor skills!
21. Don't Ring the Bells Obstacle Course (Childhood 101) – Set up this fun obstacle course with hula hoops and jingle bells. Your children will love trying to get through the course and not ring the bells.
22. Five Ways to Use Jingle Bells (Brick by Brick) – These activities are great to use any time of the year! Here are a few ideas to use jingle bells in the classroom.
23. Jingle Bell Sensory Bin (Resourceful Mama) – Are you looking for a fun activity to keep your preschoolers busy during the Christmas season?  This Jingle Bells Sensory Bin will provide lots of fun for your kids as they go digging for the hidden jingle bells.
24. Christmas Bell Ringing Songs (Prekinders) – Get those jingle bells ready and let your kids enjoy these Christmas Bell Ringing Songs! Make sure you have a class set of jingle bells so that each child has one to ring.
25. Holiday Bell Sensory Bin and Scavenger Hunt (Living Montessori Now) – If you're looking for an easy sensory bin to prepare and not messy, check this out!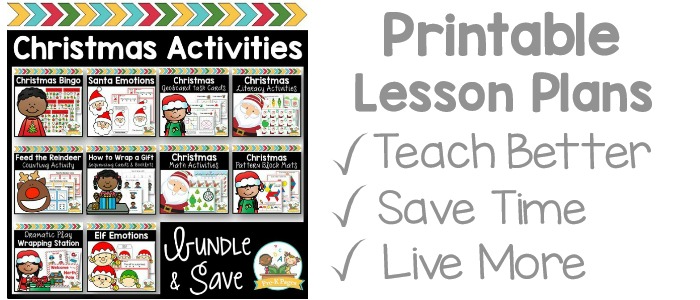 More Christmas Ideas