Do you need age-appropriate sorting books to help teach your little learners how to sort? Finding those "just right" books to teach important math concepts in your early childhood classroom can be difficult. That's why I put together this list of my favorite books about sorting just for you!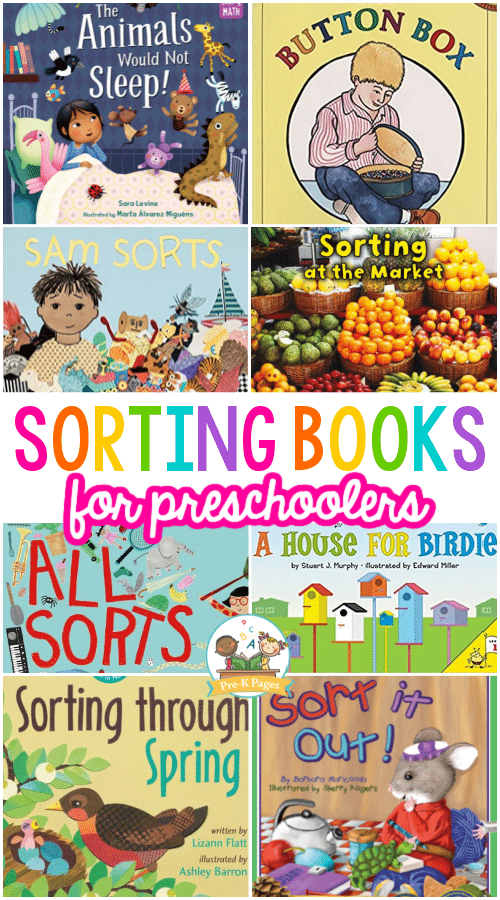 Sorting Book List to Teach Preschool Math Concepts
There are so many math skills to teach and so little time, am I right? It's no secret that young children have short attention spans, and we know that reading picture books aloud is one way to reach them. So when it comes to teaching preschool math skills, why not read picture books that reinforce math concepts?
One way you can do this it to read a picture book about sorting aloud to your class to introduce the idea of sorting. Then, you can follow the read aloud with a sorting activity that will allow your students hands-on practice with this new concept.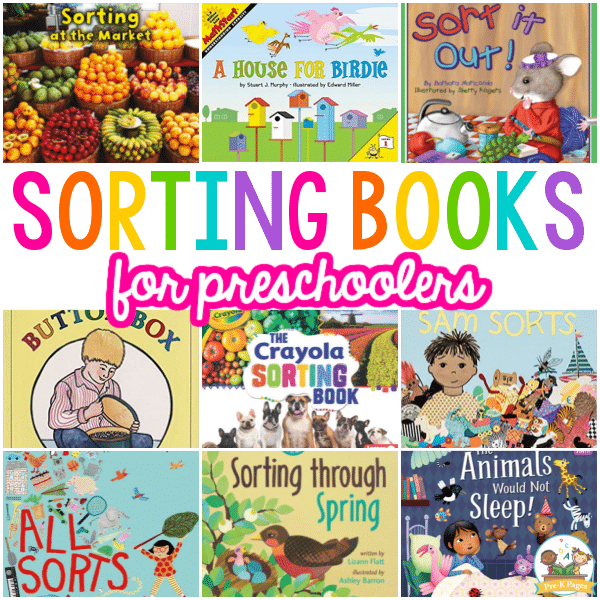 Sorting Books for Preschool
Of course, just reading one picture book about sorting to your kids isn't going to be enough, math concepts develop over time and each child will learn them at their own pace. This means you will need to read several books about sorting to your students over an extended period of time.

Sort it Out!
by Barbara Mariconda — Packy the Packrat's mother has had enough! It's time that he sorts through his ever-growing collection of trinkets and puts them away.
Sorting at the Market
, by Tracey Steffora — This title uses simple text and vivid photos to introduce readers to different ways objects can be sorted.
Sorting
, by Henry Pluckrose — The illustrations will spark discussions and encourage further investigation. The book also contains helpful notes for teachers and parents.
The Button Box
, by Margarette S. Reid — An imaginative little boy explores the many treasures that can be found in–and made from–his grandmother's button box.
The Best Books to Teach Sorting in Preschool
A House for Birdie
, by Stuart J. Murphy — Poor little Birdie doesn't have a house. But Birdie does have friends. Birdie's friends want to help him find a house of his own. Will they find a house that's just right before the rain falls and the wind blows?
The Crayola Sorting Book
, by Jodie Shepherd — Did you know there are many different ways to group similar things together? Try sorting by color, shape, or size. The bright and colorful photographs will encourage your little learners to think about how they can sort objects in their world.
Books About Sorting for Kids
Sorting Through Spring
, by Lizann Flatt — The gorgeous cut-paper collages along with the lyrical, rhythmic text in this book will captivate your kids. The perfect seasonal read-aloud you can use to reinforce sorting and problem-solving skills.
The Animals Would Not Sleep!
by Sara Levine — A diverse picture book that also teaches important early math concepts?
Yes, please!
It's bedtime, but Marco's stuffed animals have other ideas. When he tries to put them away, the animals fly, swim, and slither right out of the bins! A playful exploration of sorting and classifying with bright, vivid illustrations and easy to understand text told through storytelling.
Sam Sorts
, by Marthe Jocelyn — Sam is trying to organize his things, but he's having some trouble figuring out the best way to do so. Does the penguin belong with the things with wings pile, the black pile, or the white pile? How will he ever sort all his things?
All Sorts
, by Pippa Goodhart — Frankie loves to organize! She can sort flowers and classify the contents of the fridge – but the one thing Frankie can't seem to sort is
herself!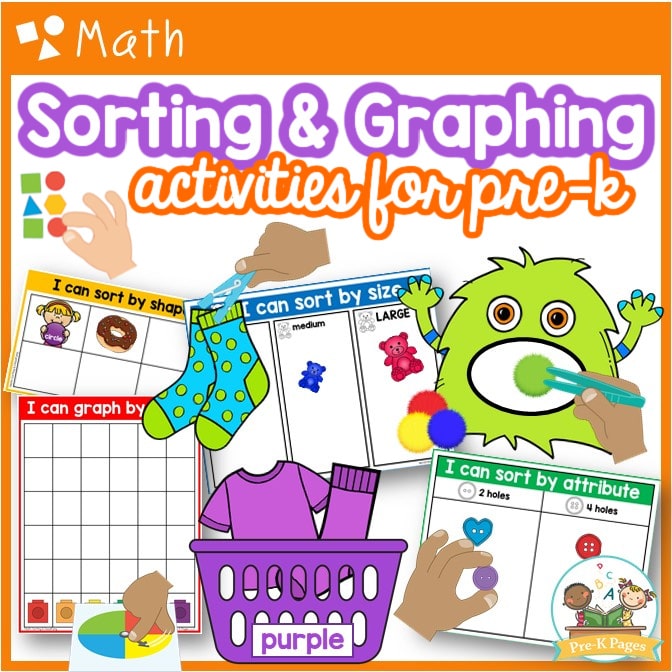 Sorting Activities
Books about sorting are certainly helpful, but you'll also need to provide your preschool or pre-k students with lots of hands-on sorting practice throughout the school year. Your kids will learn and understand how to sort with the fun, hands-on activities provided in the Sorting and Graphing Activity bundle.
More Math Ideas