Every week, my kids look forward to a new batch of homemade play dough. This Spider Play Dough would be perfect for Halloween or after teaching the children The Itsy Bitsy Spider.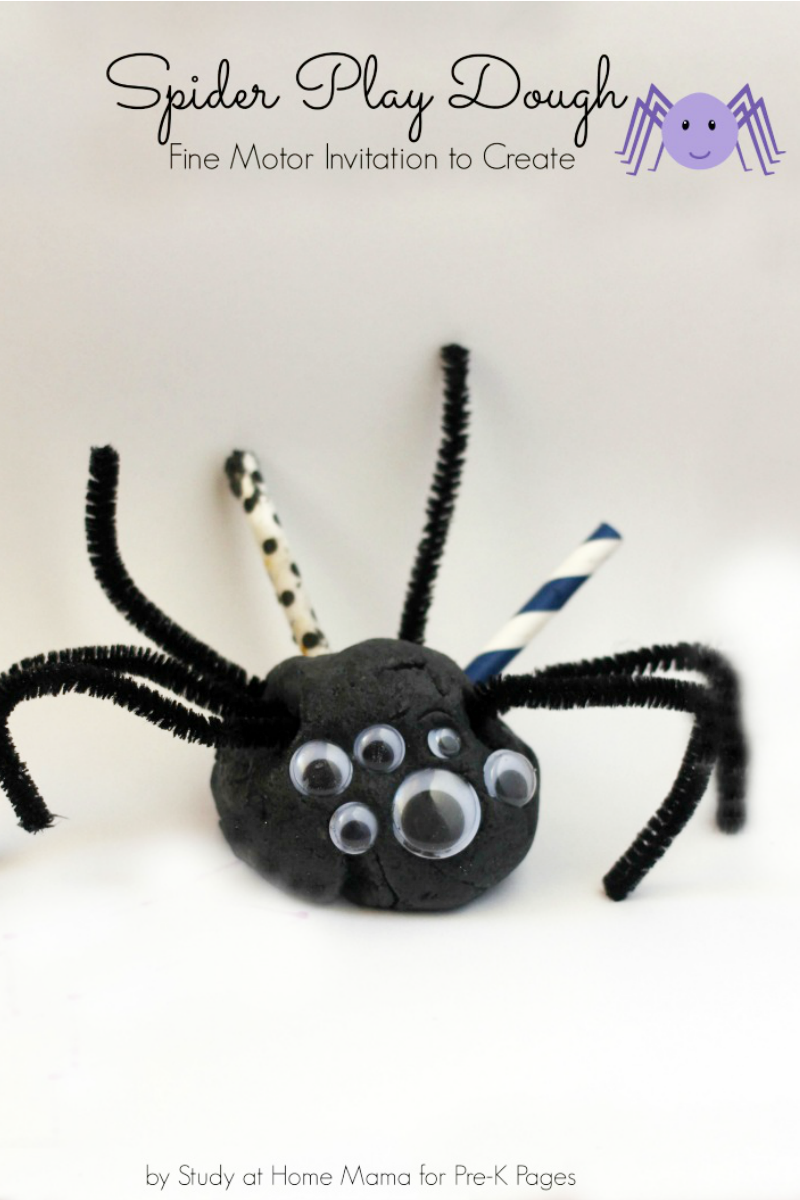 I made black glitter play dough, but you could also just add a bit of glitter to store-bought play dough. In fact, next time, I'll probably go the store-bought route, as homemade black play dough uses a lot of food coloring.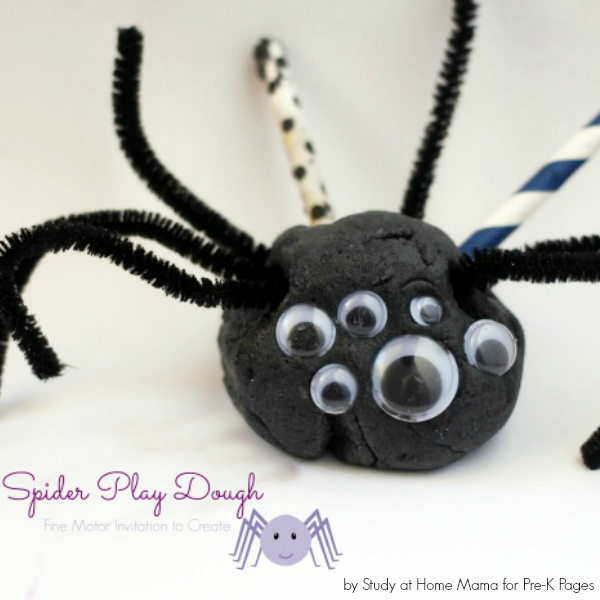 How to Make Black Glitter Play Dough
To make your Easy DIY Homemade Playdough Recipe, for this spider activity is simple to make.
Stir the flour, salt, and cream of tartar together while you are boiling the water.
Measure the boiling water out into a measuring cup and add the oil and food coloring. Pour into the dry ingredients and stir to fully mix.
Fold the dough out onto a floured surface and knead, adding handfuls of flour as needed to reduce the sticky texture. Knead for at least three minutes before cooling and giving to the children.
Usually I only need 2.5 cups of flour for homemade play dough, but this dough was sticky so I kept adding more handfuls of flour. As a result, the dough wasn't as black as I would have liked.
When we made the dough using black food coloring, the result was more like a very dark navy blue.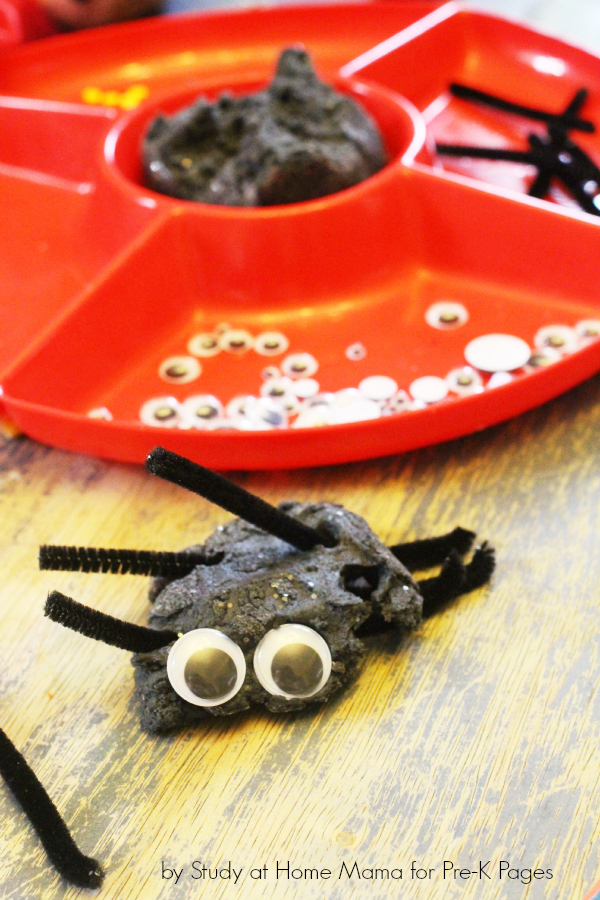 Spider Play Dough Invitation
We did this spider play dough invitation after looking at some real spiders with magnifying glasses and discussing the parts of the spider. We found it fascinating that spiders had little hairs on their legs for feeling, several eyes, and sometimes patterns on their backs.
Your kids might be interested in reading a non-fiction book with photographs of real spiders too, such as Spiders are Not Insects by Allan Fowler.
When I presented the play dough invitation, it was really cool to see how much of the children's observations from real spiders came into their spider models.
Along with the play glitter play dough, I included: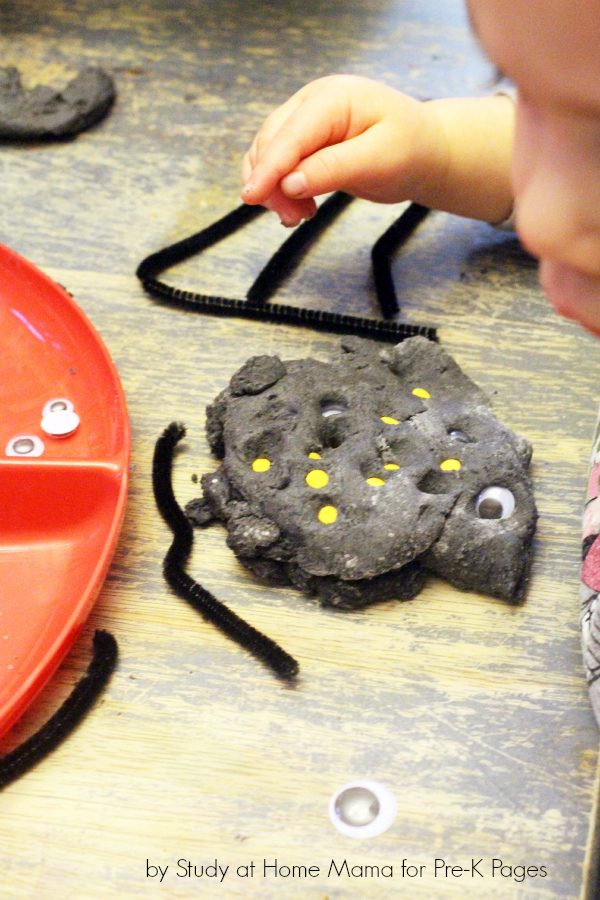 Developing Fine Motor Skills
Inserting the spider's legs and eyes with their fingers helps children develop hand strength and practice their pencil grasp, which helps prepare them for learning how to write. Building hand strength and dexterity allows children to be successful in controlling their hand movements when learning how to write letters.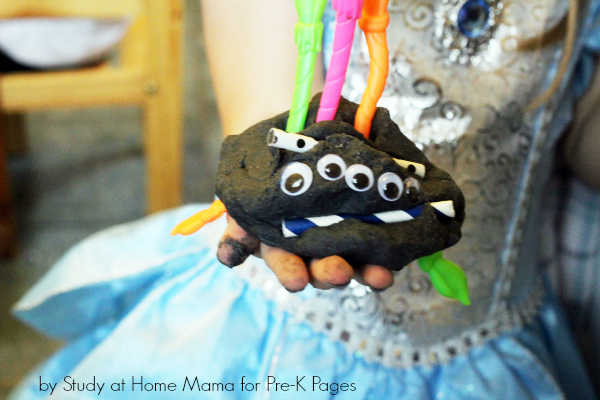 Would your kids love to play with this creepy spider play dough?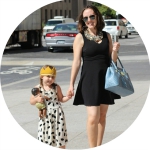 BIO: Jennifer Tammy writes at Study at Home Mama where she shares hands-on learning activities, easy recipes, and parenting inspiration. She is a single mom of one, a trained psychologist, and Montessori-certified preschool owner. You can connect with her on Facebook, Pinterest, or Instagram.
More Spider Activities—
Spider Hunt Dramatic Play
Making Patterns with Spiders
Itsy Bitsy Spider
Spider Web Activity Tray
More Spider Activities