Here are 30+ fun and inviting spider activities for children. Spiders are exciting to learn about at halloween and all year round, and the more children (and adults) know about them, the more they will understand the many benefits that spiders provide.
Here are some wonderful spider activities to enrich your learning or lesson plans!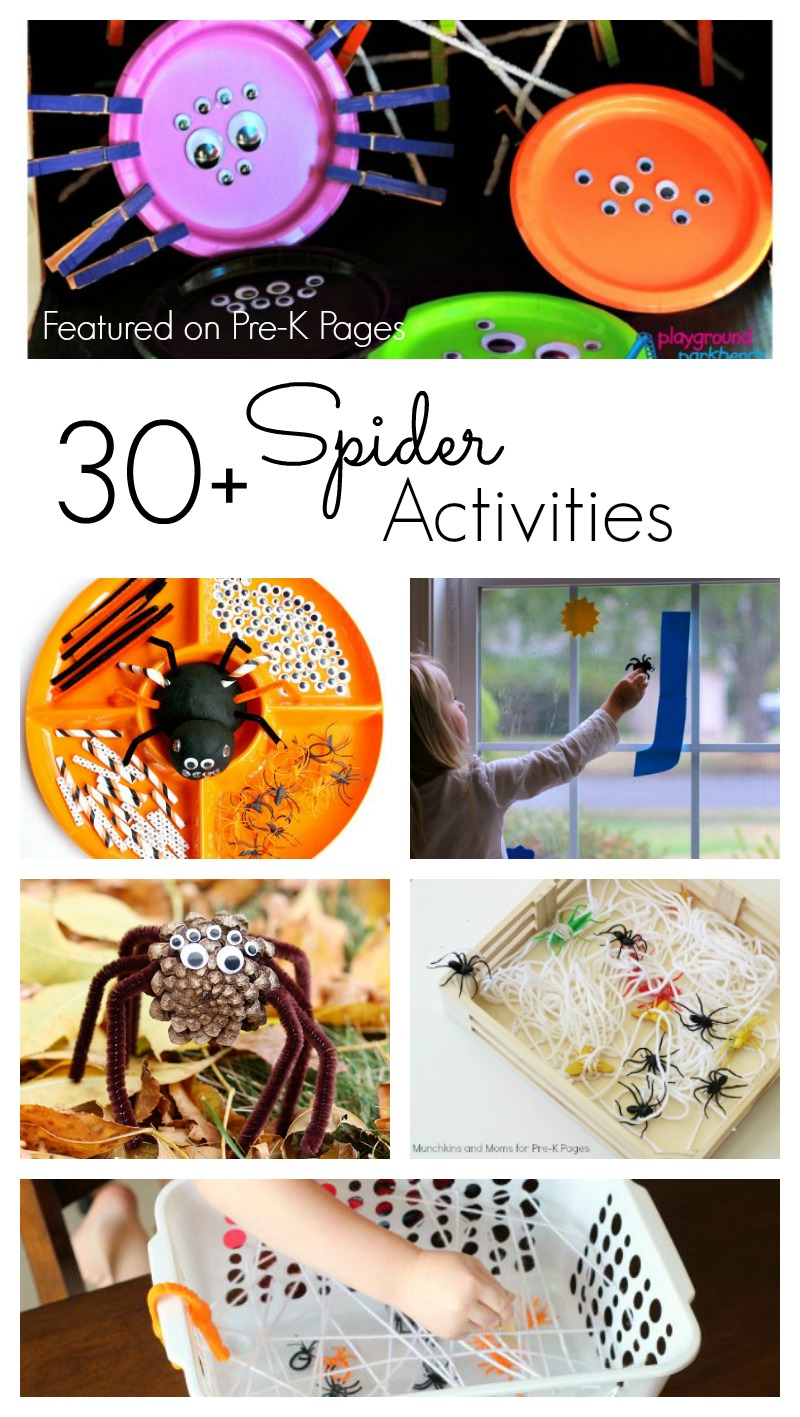 Spider Art Activities
These Spider art activities will have your preschooler getting very creative. With some simple materials, like pom poms and string, your kids will be creating great spider-themed art.
Spider Web Yarn Painting | Pre-K Pages – This yarn painting spider web activity is quick and simple to set up and is sure to end with some surprising results. (This can be a great Halloween activity or a fun activity for any spider-related theme.)
Pinecone Spiders | Fireflies and Mud Pies (featured in photo) – Kids of all ages will enjoy collecting pine cones to create Pine Cone Spiders for Halloween. This creepy-cute nature craft is perfect for home, school, or camp.
Mason Jar Lid Spider | Fireflies and Mud Pies –  This adorable fine-motor Spider Craft for kids is created with old mason jar lids, clothespins, and torn paper. This simple recycled craft is perfect for home, school, or daycare settings. Plus, kids think it's fun!
Sticky Eye Spider | Sunny Day Family – This was a fantastic fine motor activity for my toddlers, and a great way for them to work on spatial relations too
Little Miss Muffet Paper Plate Craft |Crafty Kids at Home – Have fun making this Little Miss Muffet inspired Bouncing Spider craft with your kids.
Spider Web String Art | A Little Pinch of Perfect – This string art activity is simple to set up with white paint, black construction paper and perfect for a Halloween themed classroom.
Pom Pom Spider | Buggy and Buddy – This cute pom pom spider craft is perfect for Halloween! This simple craft for kids would make a great activity for a classroom Halloween party and would also be a fun activity to do together as a family to decorate for Halloween!
Spider Circle Time Activities
Here are some fun circle time activities when you have a Fall or Halloween theme in your classroom.
Fun Spider Facts | Preschool Inspirations – Spiders are a great topic to learn about for kids, especially since they are all around us. Here are 20 fun spider facts for preschoolers and kids.
Spider Rhyming Song | Growing Book by Book – This preschool song about spiders is a great opportunity to work on rhyming skills during your themed classroom.
The Itsy Bitsy Spider Play | Teach Preschool – Your preschoolers may be familiar with the Itsy Bitsy spider song, so these activities will expand on the song and explore it in a fun, new way.
Books About Spiders | Fantastic Fun and Learning – Whether you're looking for spider books for preschoolers during a preschool spider theme week, spider books for kindergarten Halloween themes, or just some fiction and nonfiction books about spiders to ready any time  with kids interested in these creepy crawly creatures, you'll find tons of great spider book ideas in this list.
Spider Fine Motor Activities
These spider fine motor activities are great practice for your preschoolers to work on their fine motor skills and work the muscles in their hands.
Spider Web Rubbing | Pre-K Pages -This spider web activity for preschoolers is also a fun way to get your kids to exercise the muscles in their hands, fingers, and arms that are necessary for holding a pencil and writing- or fine motor skills.
Spider Fine Motor Activity | Pre-K Pages – This spider-themed activity is a perfect example as they get to cut, thread, bend, and glue with the extra bonus of having a rather cool spider to play with when they are done!
Spider Web Fine Motor Activity | Mom Inspired Life (featured in photo) – This fun and simple spider activity will work on fine motor skills as your preschooler works on holding the tweezers.
Spider Web Jumble | Playground Parkbench (featured in photo) – Looking for a little spooky, learning fun this Halloween? This is a great fine motor skills challenge, and the simple set up makes for easy holiday STEM games for kids too.
Spider Gross Motor Activities
Spider Web Gross Motor | Pre-K Pages – Use this activity for a Halloween theme or a theme that includes spiders and insects.
Don't Get Caught in the Spider Web | Teach Preschool – A spider web game is a fun game to play during a Halloween party.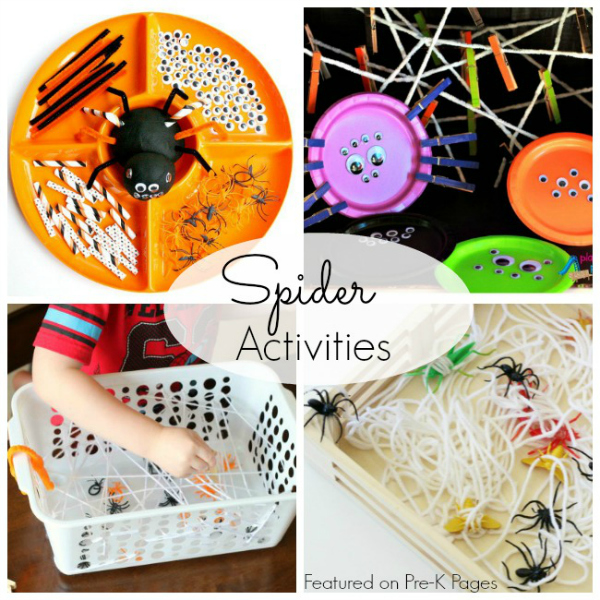 Spider Sensory Activities
Spider Web Activity Tray | Pre-K Pages (featured in photo) – A simple Spider Web Activity Tray that can be incorporated into several different preschool themes (Halloween and spiders naturally go together, but this would also be a great in the spring or for any spider/insect unit!).
Spider Play Dough Invitation | Pre-K Pages – This Spider Play Dough would be perfect for Halloween or after teaching the children The Itsy Bitsy Spider.
Spider Squishy Bag | Preschool Inspirations – This orange sensory squishy bag filled with plastic spiders is a fun sensory activity for your preschoolers to enjoy during a Halloween or insect theme in your classroom.
Spiders in the Sensory Table | Preschool Inspirations – Grab some yarn and plastic spiders and add them to your sensory table for a fun new sensory table experience.
Incy Wincy Spider Playdough | Crafty Kids at Home – Make your own Homemade Playdough Recipe, and turn them into itsy bitsy spiders.
Spider Play Dough | Fantastic Fun and Learning (featured in photo) – Combine black play dough with some loose parts, and watch your kids come up with creative spider creations.
Spider Math Activities
Have your preschoolers practice their math skills with one of these spider-themed activities.
Making Patterns with Spiders | Pre-K Pages – Making spider patterns is a fun and effective way to teach patterning skills to your preschool or kindergarten kids. It adds an element of excitement to this hands-on math activity!
Spider Web Number Matching | Pre-K Pages – In this activity, children will identify and match numerals. This fun lacing activity can be used for Halloween or other spider-related themes.
Spider Counting Book | Fun-A-Day – This printable spider counting book will be perfect for a preschool spider theme. It's also a wonderful addition to any Halloween activities for preschoolers you have planned.
Spider Web Counting Mats | Mom Inspired Life –  These spider web counting mats make learning the numbers 0-10 hands-on and engaging. Your kids will get a kick out of learning to count with spiders!
Spider Dramatic Play Activities
Get your preschoolers moving with one of these fun spider dramatic play activities.
Itsy Bitsy Spider Window Play | Where Imagination Grows (featured in photo) – Looking for a nursery rhyme activity your kids will love? This Itsy Bitsy Spider window activity is so simple to make and kids can't wait to play with it!
Spider Science Activities
Science is always a fun subject your kids love exploring. And science activities with a spider theme will definitely be enjoyed by your preschoolers!
Frozen Fizzing Spider Science Experiment | Pre-K Pages – Make science fun with a neat chemistry activity with a spider theme. This kitchen science experiment uses simple supplies but delivers an awesome learning experience for young kids.
Spider Web Slime | Little Bins for Little Hands – Homemade spider web slime is awesome fall and Halloween science, or it's perfect anytime if you have a kid fascinated by spiders!
Spider Oobleck | Little Bins for Little Hands – How about a spider oobleck for Halloween? Fun science, fine motor, and sensory play in one easy activity!
Spider Literacy Activities
Have your preschoolers work on rhyming and learning the alphabet with one of these spider literacy activities.
Itsy Bitsy Spider Rhyming Activity | Growing Book by Book -A learning investigation with a little science, a little engineering, and a little dose of literacy activities.
Chalkboard Spider Web | Sunny Day Family – Create an easy spider web out of tape and then have your kids brainstorm words inspired by the book.
Weaving a Spider Web Alphabet Activity | Mom Inspired Life – This weaving a spider web alphabet activity is super simple to set up and tons of fun! It is an excellent way to develop fine motor skills and learn letters!
Check out the Itsy Bitsy Spider Literacy and Math Packet, too.
BIO: Katie writes at Preschool Inspirations. Connect with Katie through Facebook, Pinterest, or Instagram.
More Spider Activities