Spiders fascinate children! Our kids love learning all about arachnids include how they make and move on their webs. We created several gross motor activities for our preschoolers to try on a larger than life spider web! Our active play extended the learning about these captivating (pun intended) creatures!
Kinesthetic learners retain information best when they are moving. All preschoolers learn best through play. Opportunities for themed gross motor activities extend the classroom learning outside on the playground. Use this activity for a Halloween theme or a theme that includes spiders and insects.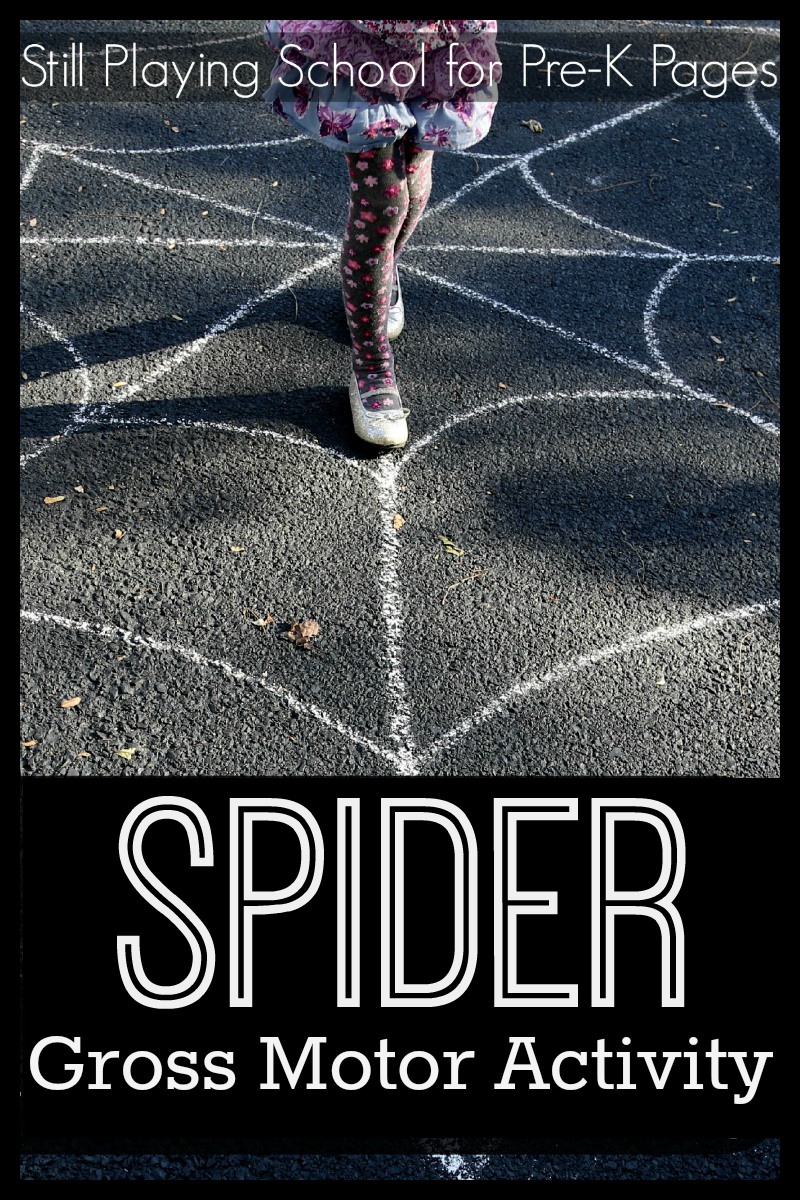 Spider Web Activity Set Up
This spider activity for preschoolers is super simple in terms of materials!
You will need:
Draw a chalk spider web by writing a large X. Next draw another X perpendicular to the first one. You will end up with what looks like an eight lined snowflake. Beginning in the middle, connect the lines with arches increasing in size to create the finished web.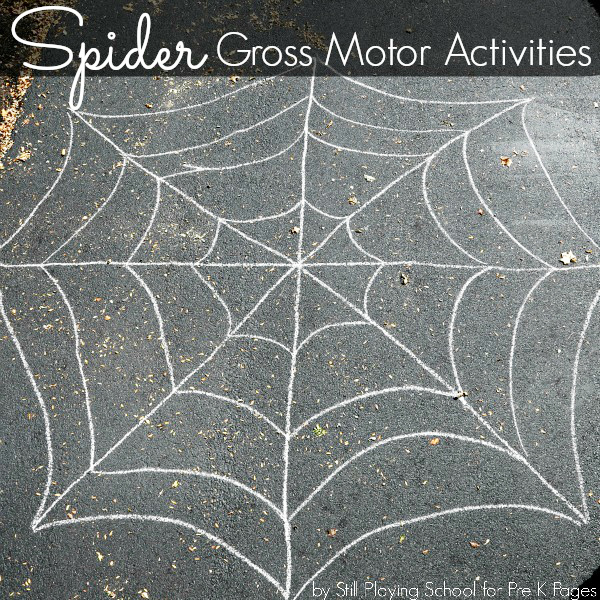 Alternatively, if you want a more permanent web you could use painters tape or masking tape indoors (test on carpeting and hard flooring first to make sure the tape won't leave sticky residue when removed) or outside. We've used duct tape in our driveway and our kids enjoyed pulling it back up when we were finished!
Play!
Now that you have a kid-sized spider web there are several games you can play!
– Use the web as a balance beam. Our kids walked on the lines with our pretend spider on their heads challenging themselves not to drop it!
– Throw the spider into a space on the web to play spider hopscotch. Pretend the children are insects as you ask them to navigate from one side of the web to the other without stepping on the sticky web lines or the space of the web with the spider in it!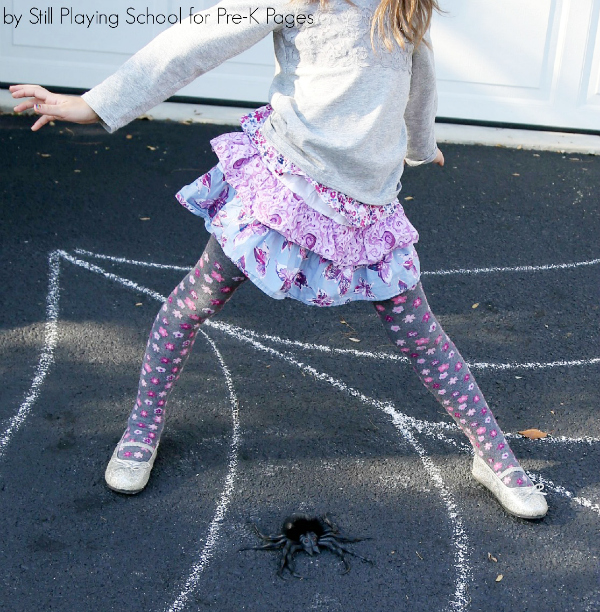 – Write numbers, letters, shapes, or sight words inside each space of the web. Invite children to identify the information for you as they step on each space. You can also toss the pretend spider into the web and ask the child to name the letter, number, shape, or sight word that it landed on.
As you can see there are so many creative variations for playing with our gross motor spider web! We'd love to hear what other ways to play you and your children create in the comments!
BIO: Devany LeDrew is a former kindergarten teacher who writes at Still Playing School where she shares play based learning activities. She's also hosted a Gross Motor from A to Z Series to keep your kids active and learning every day! Follow Still Playing School for more engaging educational ideas on Facebook, Instagram, Pinterest, and Twitter!
More Ideas for a Spider Theme—
Making Patterns with Spiders
Fine Motor Spider Activity
Spider Web Tray Activity
More Spider Activities