Have you bought your bag of (terrifyingly realistic) plastic spiders yet? It's the perfect time of year to stock up on them since we use them in activities year-round (preschoolers love spiders!).
Today I'm sharing a simple Spider Web Activity Tray that can be incorporated into several different preschool themes (Halloween and spiders naturally go together, but this would also be a great in the spring or for any spider/insect unit!)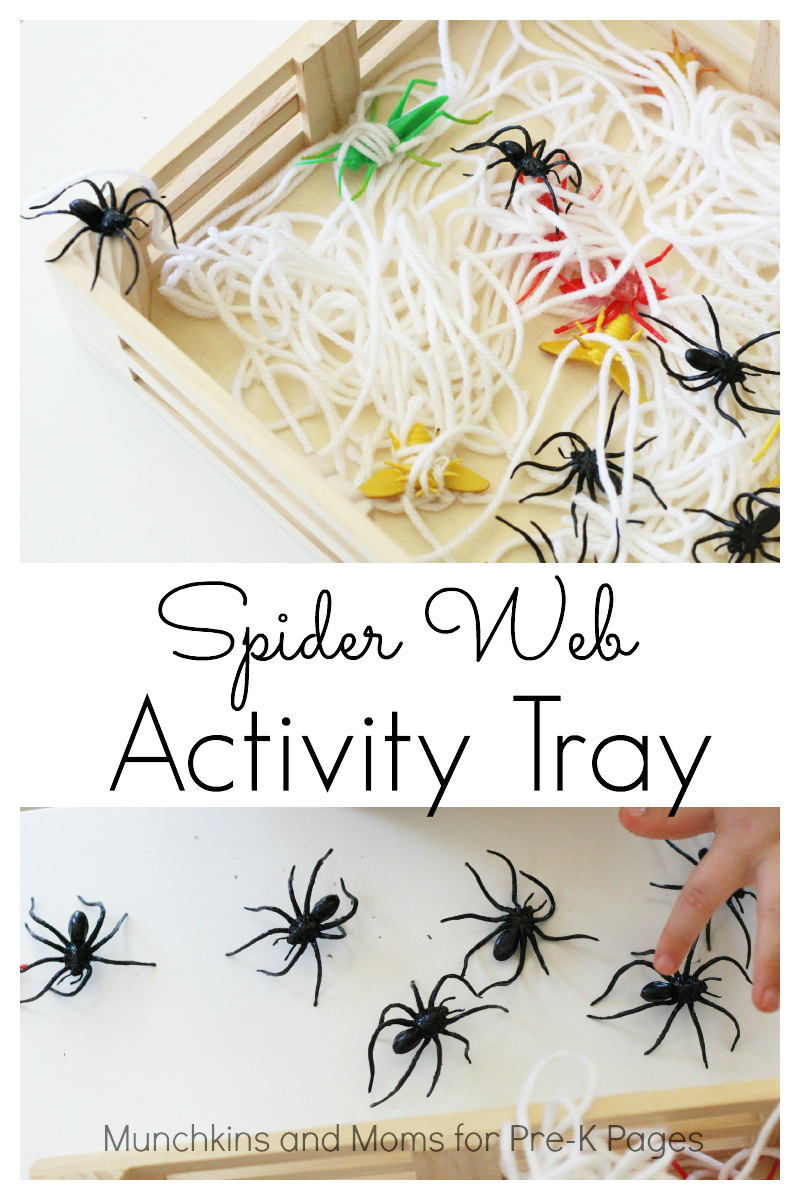 Spider Web Tray Preparation
This preschool spider activity is simple to make in terms of the materials you will need to round up.
Supplies:
Plastic spiders
Yarn
Various other insect toys
Tray to contain the activity
Prepare the activity tray by cutting the yarn in several different lengths. Use as much yarn as you'd like, but don't feel like the tray needs to be overflowing with it. The amount shown in the picture was plenty for my preschooler (if several students will be sharing the same tray, you may want to include more). Mix the yarn and plastic insects into your desired tray, then top with spiders.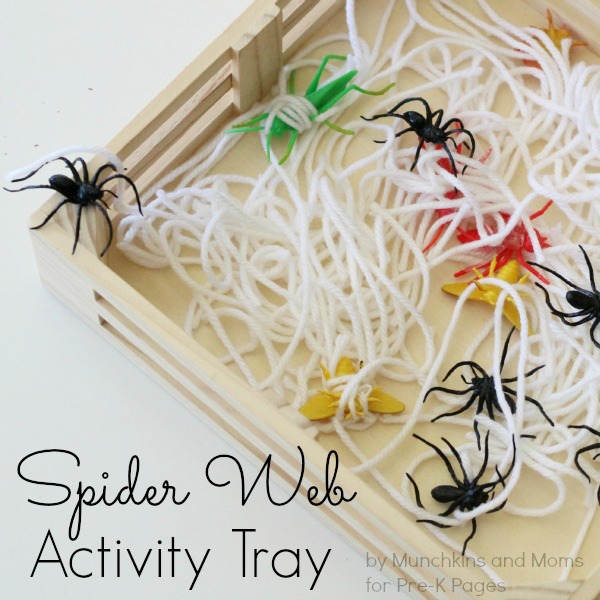 I like to start new activities by letting my kids first have time to just explore the materials without any direction or instruction. They may start their own creative play scene that way and I enjoy seeing where their own creativity takes them!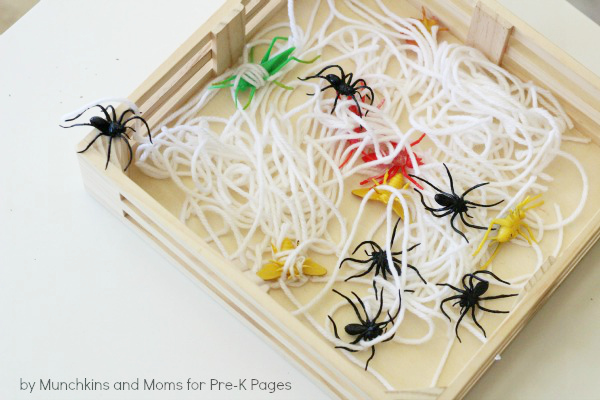 After some time exploring, I like to talk to my preschooler about the items in the tray. I start with simple questions like "What kind of creatures do we see in the tray?" and "How may legs does a spider have?" Priming the children with simple-to-answer questions develops their confidence and comfort with the activity. After those questions, I like to move into more open-ended questions, such as "How do you feel about spiders?" Many kids will use these types of questions as a jumping off point to tell story upon story of their spider encounters! This is a great time to listen to and assess any prior knowledge they have on the subject.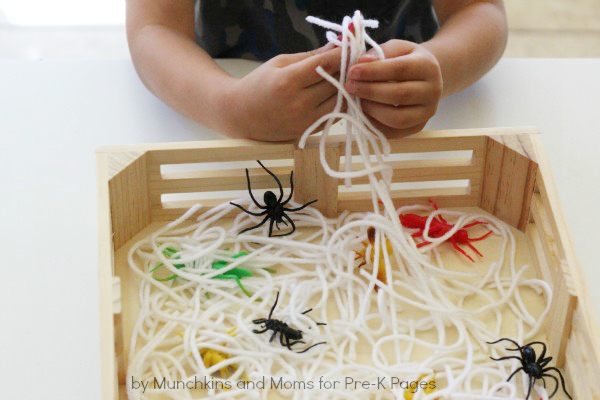 Through discussion and play, I begin to incorporate any information that I plan to teach about spiders. We count spider legs and compare it to the number of legs an insect has. We wonder aloud if all types of spiders have 8 legs (this can lead into a great preschool research project), we talk about how spiders have a special part on the body called "spinnerets" which the webs come out of, and so forth.
I also use the tray for mini math lessons on comparing lengths ("Can you find a shorter string than this one I'm holding?"), counting (number of spiders, spider legs, etc.), and practicing one-to-one correspondence (the ability to match one object to one number).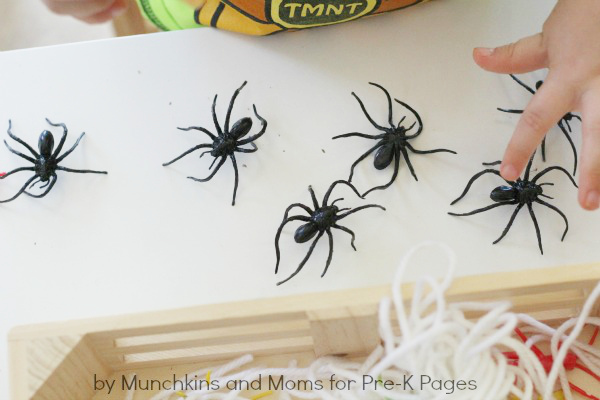 A simple activity tray like this can offer countless opportunities for pretend play and learning! Make the tray available to multiple students at once and watch a whole new set of learning experiences develop, too!
BIO: Clarissa is a former elementary teacher and writer of the blog Munchkins and Moms. She loves to share creative preschool activities that are both playful and educational. Check out some of her popular posts such as The Very Busy Spider Cutting Tray, a perfect accompaniment to this snack! Don't forget to follow her on Pinterest, Facebook, Instagram, and Twitter for more creative ideas!
Try these spider-themed activities, too—
Making Patterns with Spiders
Spider Fine Motor Activity
Fine Motor Spider Web Activity
More Spider Activities