St. Patrick's Day is a popular holiday often celebrated in homes and classrooms around the world.
There are plenty of ways to develop fine motor skills with a thematic twist. Here are some fun fine motor activities you can do with your kids at home or school for St. Patrick's Day!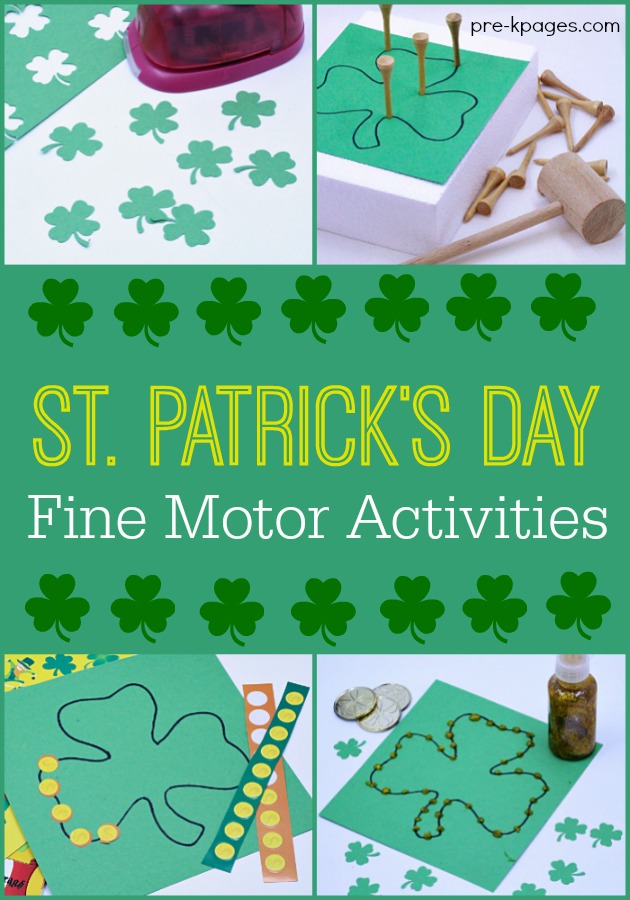 What Are Examples Of Fine Motor Skills?
Fine motor skills refer to the small muscles in children's hands that are used for cutting practice and holding writing tools like pencils, crayons, and markers.
Well developed fine motor skills will also help children with important self-help tasks like buttoning, zipping, snapping and more.
Young children learn best through play and the use of hands-on materials. Activities that are playful and fun will hold the attention of young children for longer periods of time while helping to develop their fine motor skills.
What's The Difference Between Gross And Fine Motor Skills?
Gross motor skills are the larger movements that are made using their arms and legs. Activities like running, crawling and jumping.
Fine motor skills are those smaller actions using the muscles in their hands and finger movements. These learning activities will have your child using those small muscles and their developing fine motor skills that they will absolutely love.
Fine Motor Activities for March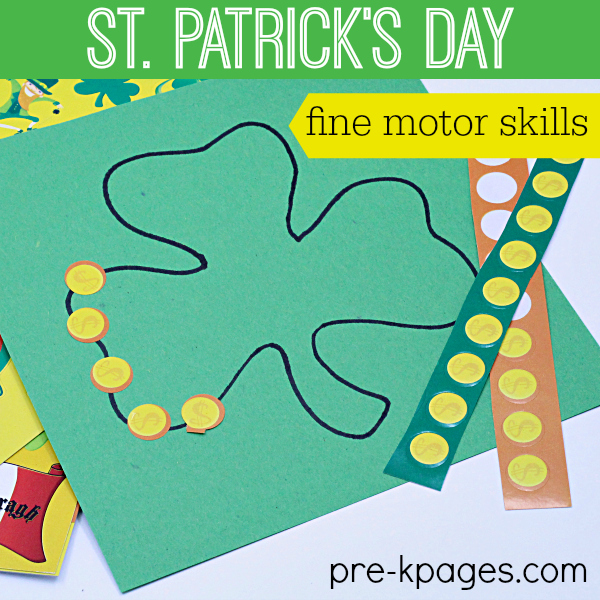 Develop Fine Motor Skills with Stickers
Did somebody say stickers? I don't even have to tell you how much your kids are going to love this activity!
Supplies Needed
Start by tracing a shamrock shape on green construction paper with your marker. Next, invite children to place small St. Patrick's Day stickers around the outline of the shamrock shape.
I found this booklet of St. Patrick's Day stickers for a dollar at, you guessed it, the dollar store!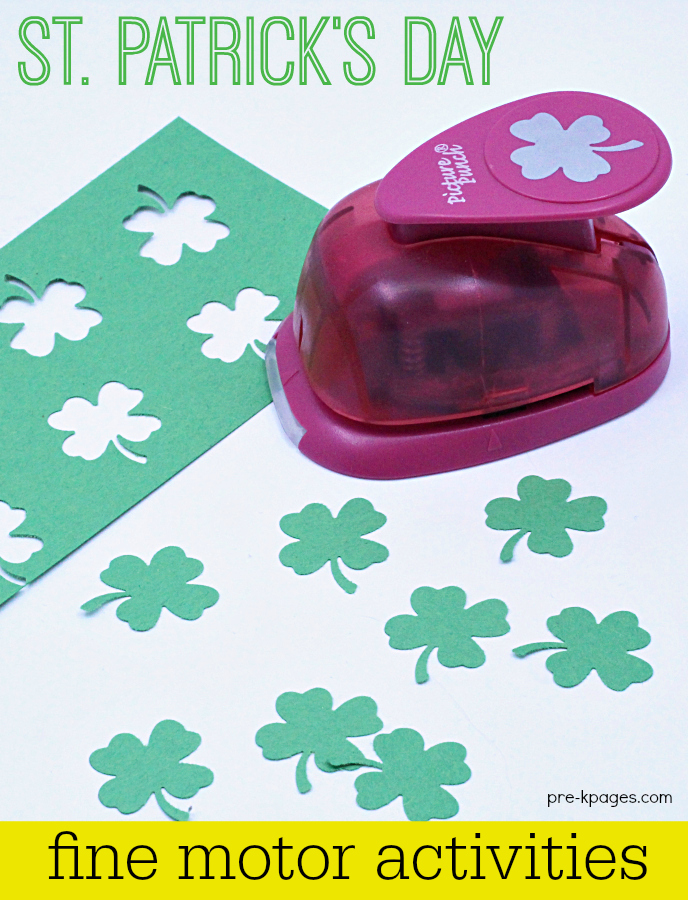 Shamrock Paper Punch Activity
Paper punches are super fun for kids to use!
Supplies Needed
First, show the kids how the paper punch works if they're not familiar with it. Next, place the punch and paper in a designated area such as your writing center or art center and invite your kids to start punching out shamrocks!
Add some glue and white paper to your punching station and invite the children to glue the shamrocks on the paper for extra fine motor practice.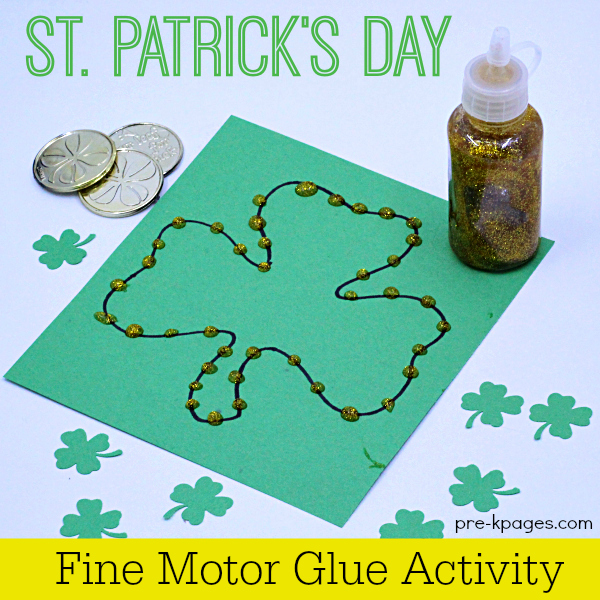 Fine Motor Glue Activity
Kids love glue! But, learning to squeeze just the right amount of glue can be challenging for some young children. Squeezing a glue bottle is one way you can help kids feel the pressure needed for not only squeezing glue, but also gripping a pencil.
Supplies Needed
First, trace a shamrock shape on the construction paper with a stencil. Next, invite students to squeeze small dots of gold glitter glue around the shamrock outline.
Your children may squeeze too hard and create giant blobs instead of dots, that's normal. Some children may not squeeze hard enough and their dots may hardly be visible, that's normal too!
When your children are squeezing the glue they are exercising the muscles in their hands and practicing how to squeeze the glue bottle to achieve the desired pressure.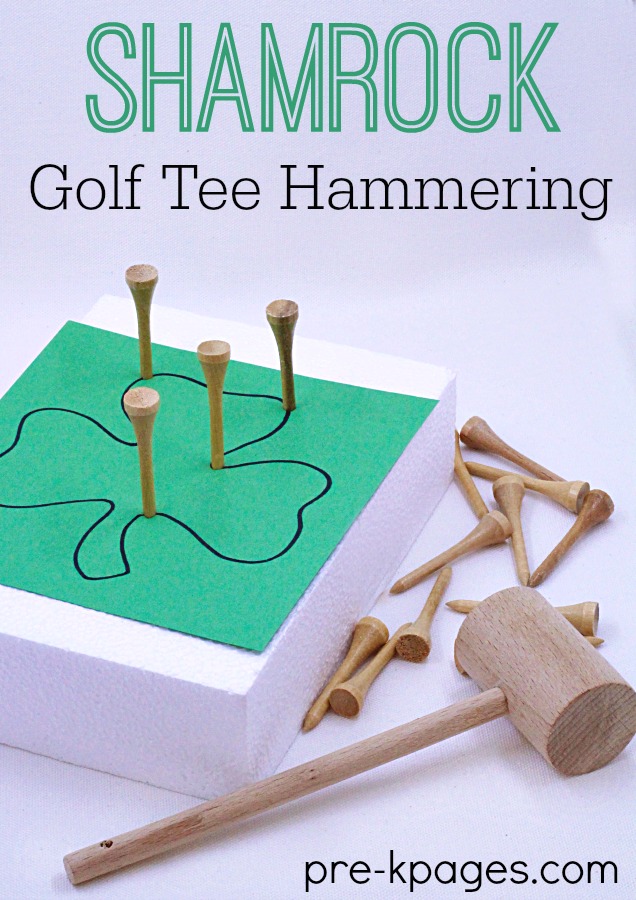 Pounding Shamrocks with Golf Tees
Pounding golf tees is a great way to develop the tripod grasp which is most effective way to hold a pencil.
As children hold the tee they are gripping it with their fingers and exercising that grasp again. Pounding the golf tees with the hammer provides great eye-hand coordination practice too!
Supplies Needed
Place an image of a shamrock over the styrofoam and invite children to pound golf tees into the outline. I often receive refrigerated packages in the mail that have thick, styrofoam packaging which I re-purpose in the classroom.
More St. Patrick's Day Ideas
If you are celebrating St. Patrick's day theme in your classroom then you might also enjoy these other activities.
St. Patrick's Day Bingo – Free printable bingo game for a St. Patrick's Day theme or party in your preschool, pre-k, or kindergarten classroom. Includes both a black and white and a color version!
St. Patrick's Day Play Dough Counting Mats – Free St. Patrick's Day theme play dough mats to help your kids develop number sense and fluency within ten. Includes 11 printable color mats for you to use in your play dough center.
Books for St. Patrick's Day– Here are ten of my favorite St. Patrick's Day books to read aloud to young children in preschool or kindergarten.
St. Patrick's Day I-Spy Activity – Your kids are going to love this Rainbow I-Spy bottle for St. Patrick's Day! Shaking the bottle and searching for the objects hiding in the rainbow is only half the fun, I also created a printable that will help your kids practice identifying beginning sounds.
Growing Green Shamrocks for St. Patrick's Day– Here is a fun St. Patrick's Day book and a science activity to help children learn about what seeds need to grow.
Fool's Gold: St Patrick's Day Science Experiment– Fool's Gold is a simple science experiment that is guaranteed to have your preschooler squealing with glee.