STEM is a popular word in education circles today. STEM stands for science, technology, engineering, and math. (You may also see STEAM, which adds art into the mix.) STEM activities encourage preschoolers to think about problems or ideas and work on ways to solve them. STEM activities use hands-on learning and creativity in problem=solving. These picture books can support STEM opportunities in your classroom or home.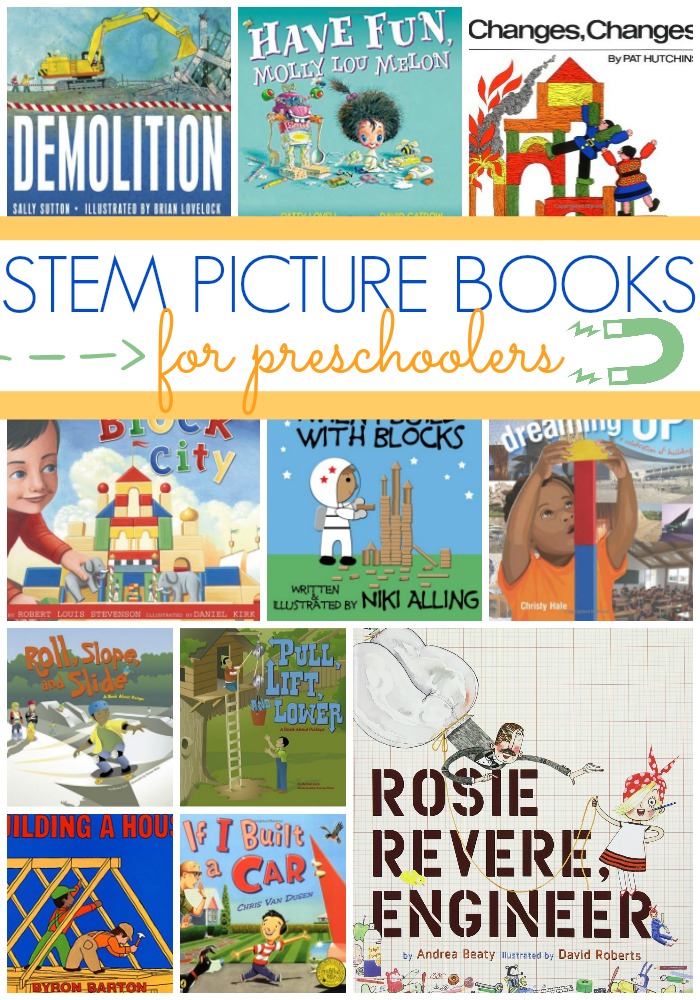 STEM Picture Books for Kids
These STEM books for kids will help encourage your preschoolers to engage in STEM skills, encourage creativity, and problem solving.

Changes, Changes by Pat Hutchins
This picture book shows creativity when a wooden couple turns their house into a fire engine after it caught fire.

Demolition by Sally Sutton, Brian Lovelock
What's more exciting than watching things get built by machines? Watching the bigger machines tear it all down!

Rosie Revere, Engineer by Andrea Beaty, David Roberts
The beloved New York Times bestselling picture book about pursuing one's passion with persistence and learning to celebrate each failure on the road to achieving one's dreams.  Rosie Revere dreamed of becoming a great engineer. Where some people see rubbish, Rosie sees inspiration.

Have Fun, Molly Lou Melon by Patty Lovell, David Catrow
A creative companion to Stand Tall, Molly Lou Melon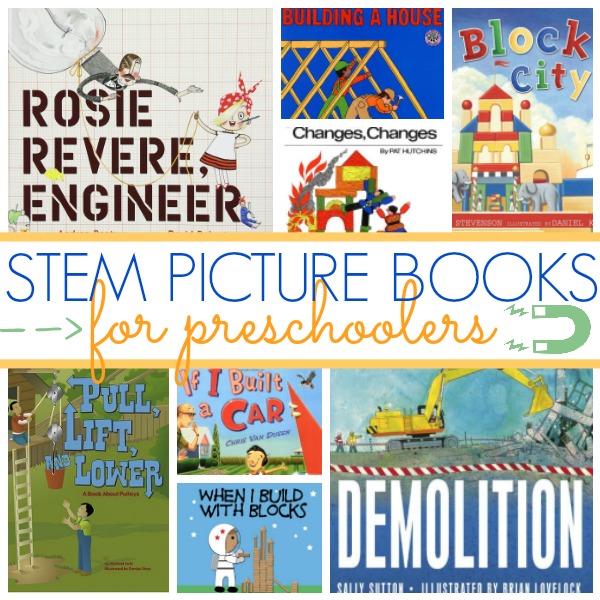 If I Built a Car by Chris Van Dusen
After a tour of the ritzy interior, robert the robot starts up the motor . . . and Jack and his dad set off on the wildest test drive ever!

Pull, Lift, and Lower: A Book About Pulleys by Michael Dahl, Denise Shea
Introduce young scientists to the basics of pulleys. Through charming illustrations and simple, easy-to-follow text, this nonfiction book introduces pre-readers to the benefits of these engineering marvels, providing everyday examples of a flagpole, a crane, an elevator, and window blinds.

Roll, Slope, and Slide: A Book About Ramps by Michael Dahl, Denise Shea
Skateboards, roller coasters, and playground slides, all of these are ramps. From award-winning author Michael Dahl, this nonfiction picture book provides an introduction to one of the most important machines humans rely on. With fun facts and bright illustrations, find out how people use ramps every day.

Dreaming Up: A Celebration of Building by Christy Hale
Combining images of preschoolers at play with famous buildings all over the world, this lively picture book is great for sharing.

When I Build With Blocks by Niki Alling
When I Build With Blocks, transports an everyday classroom into various imaginative scenes – from outer space to the ocean.

Block City by Robert Louis Stevenson, Daniel Kirk
It is a joyous look at playtime that will encourage toddlers to build dreams all their own!

Building a House by Byron Barton
Byron Barton, the celebrated creator of numerous picture books for very young children, including Trucks, My Bus, and My Car, builds a house, step by step, right before your eyes!
More Science Ideas