A marble run by itself is great fun all children, but add water beads and water into the mix and you've got a recipe for success!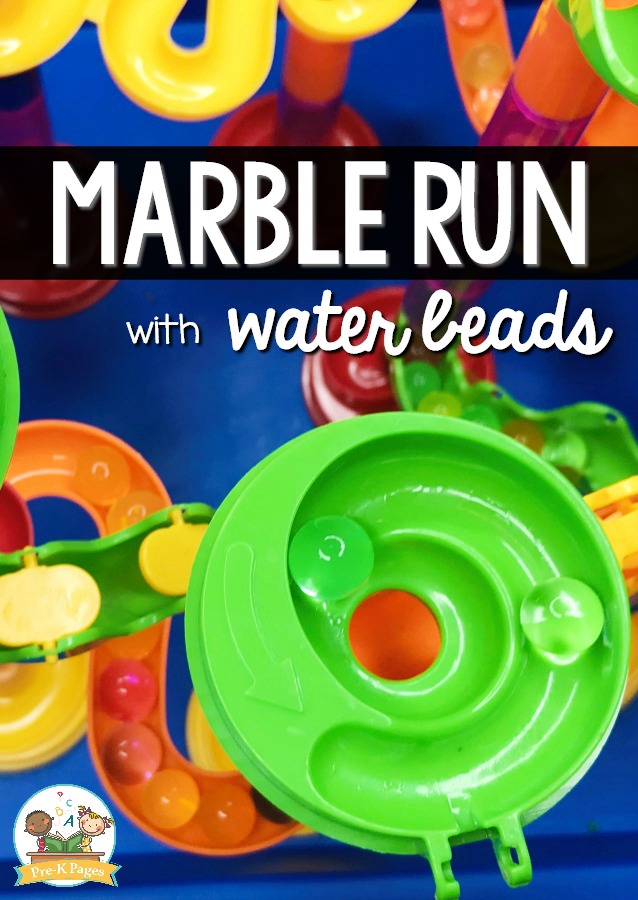 Science Activity: Water Beads Marble Run
This activity is more than just fun, it also has many educational benefits.
Creativity
Force and Motion
Fine Motor
Hand-Eye Coordination
Problem Solving
S.T.E.M. – Science Technology Engineering and Math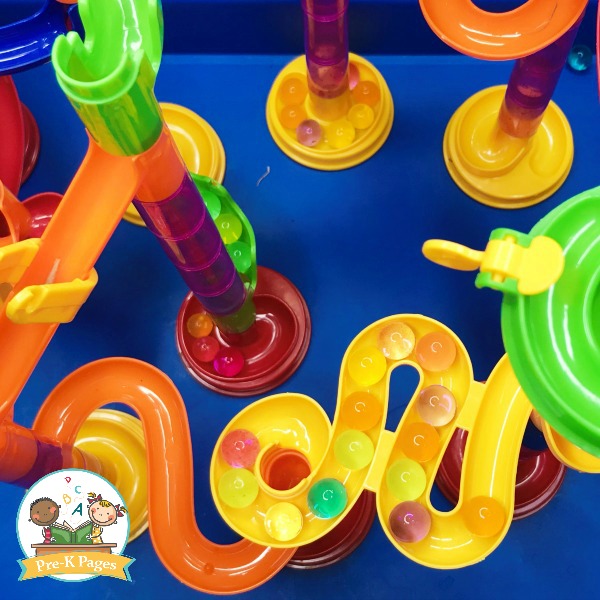 Supplies
Here are the supplies you will need to set up this fun sensory experience in your own classroom. You can also use the turkey basters again in this Turkey Baster Color Mixing Activity for Preschool.
Turkey Basters (Dollar Store)
Water
Tub or Container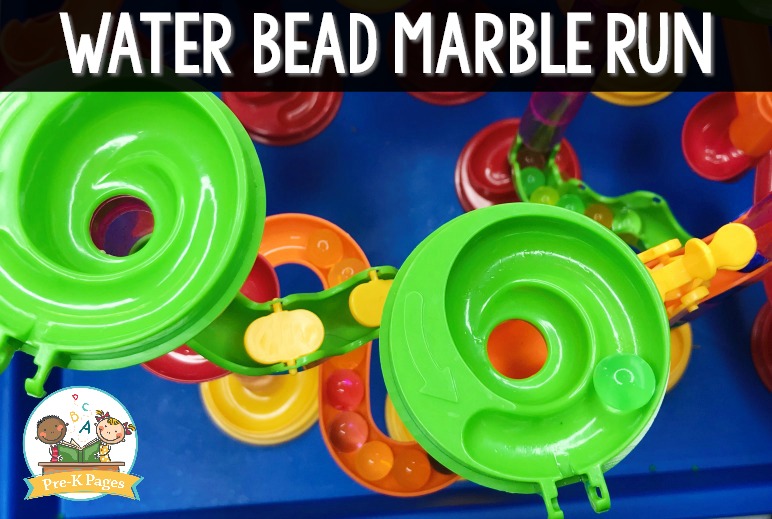 What Are Water Beads?
Water beads are super-absorbent polymers used by florists to keep flowers fresh. When you first open a package of water beads they look like nothing more than tiny beads, but when you add water and let them soak, they will gradually begin to expand.
For this activity you'll need the larger ones, not the tiny beads, but not the gigantic ones.
If you use the tiny ones they'll clump together and get stuck inside your marble run – ask me how I know.
Invite your kids to add water to the beads and watch them grow, this process usually takes several hours so leaving them to soak overnight usually does the trick.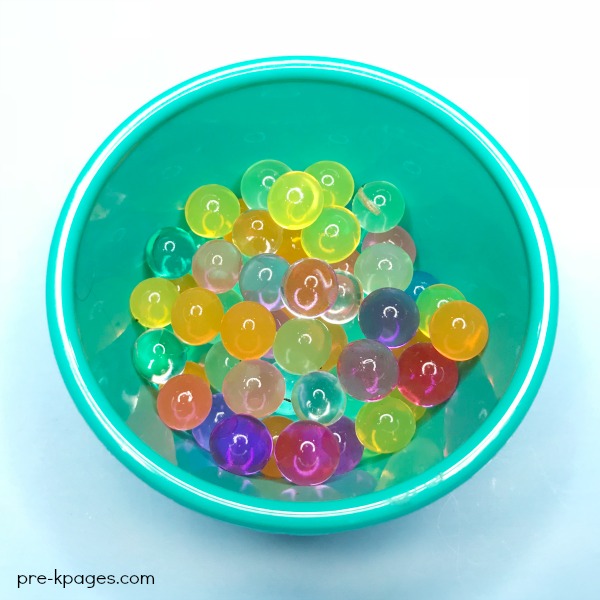 Choosing Your Tub
When selecting your tub or container, be sure it is large enough to hold your marble run.
Choose your tub carefully, you want a deep tub because the water beads will bounce. If you choose a shallow tub, your beads will bounce everywhere. By bounce I mean everywhere, seriously, everywhere. Save yourself the headache and get the deep tub, you'll thank me later.
If you're worried about the water beads getting squashed into your carpet or the bottoms of your shoes, then you'll probably want to take this activity outdoors. The materials are portable and you can easily carry them outside to cut down on clean-up.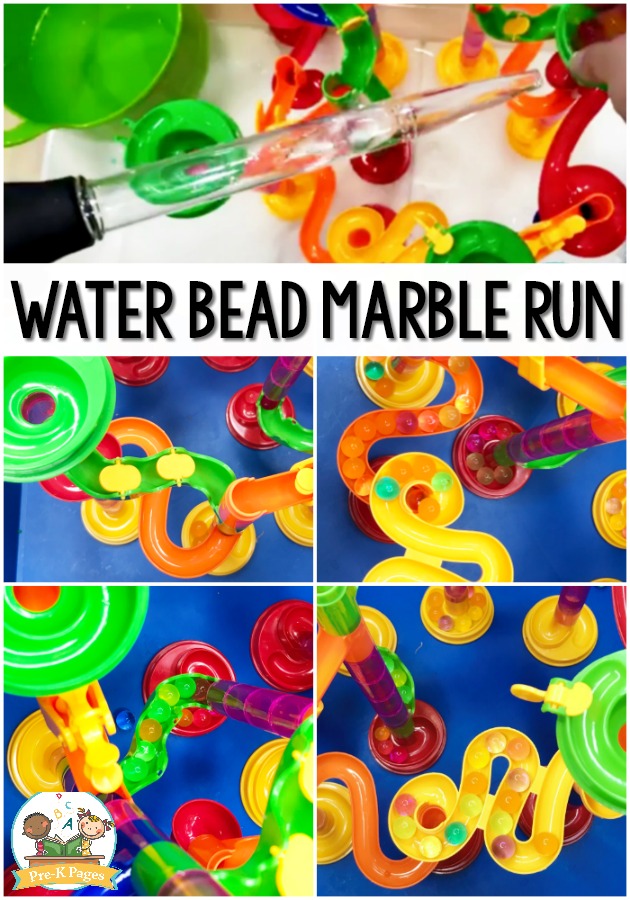 Finally, assemble, or invite your kids to help you assemble the marble run. You'll need to determine if the assembly process is too difficult for your students or not. If they're too young then putting it together will become frustrating and unproductive.
Once your marble run is assembled, place it inside your tub. You'll also need some shallow containers of water and the turkey basters.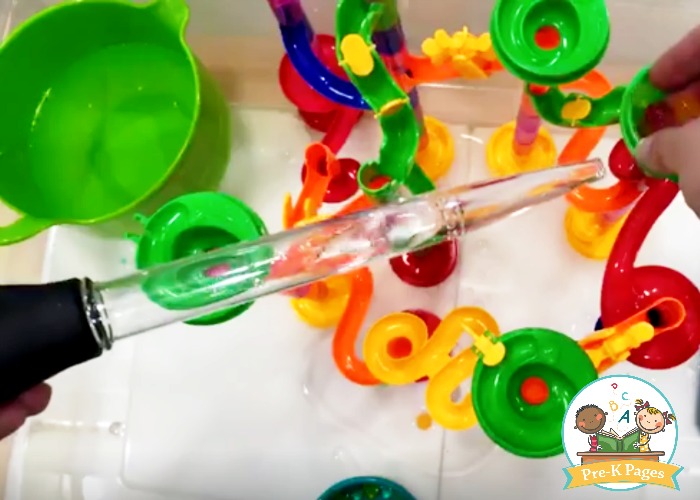 Invite your children to place water beads on the marble run and squirt water from the turkey basters onto the run to get them moving.
Squeezing turkey basters is excellent fine motor practice that will help strengthen the small muscles in the hands that will eventually be used for writing and pencil control. And you can use those turkey basters in so many more engaging activities, such as this Frozen Fizzing Spider Science Experiment or this Valentine Bubble Science Activity.
Watch the Video
More Sensory Bin Ideas