Do you need a super simple and quick winter sensory bin idea? Bring the snow inside to create a fun sensory experience for your kids! Your little learners will love playing with real snow in this winter themed sensory bin when it's too cold to go outside.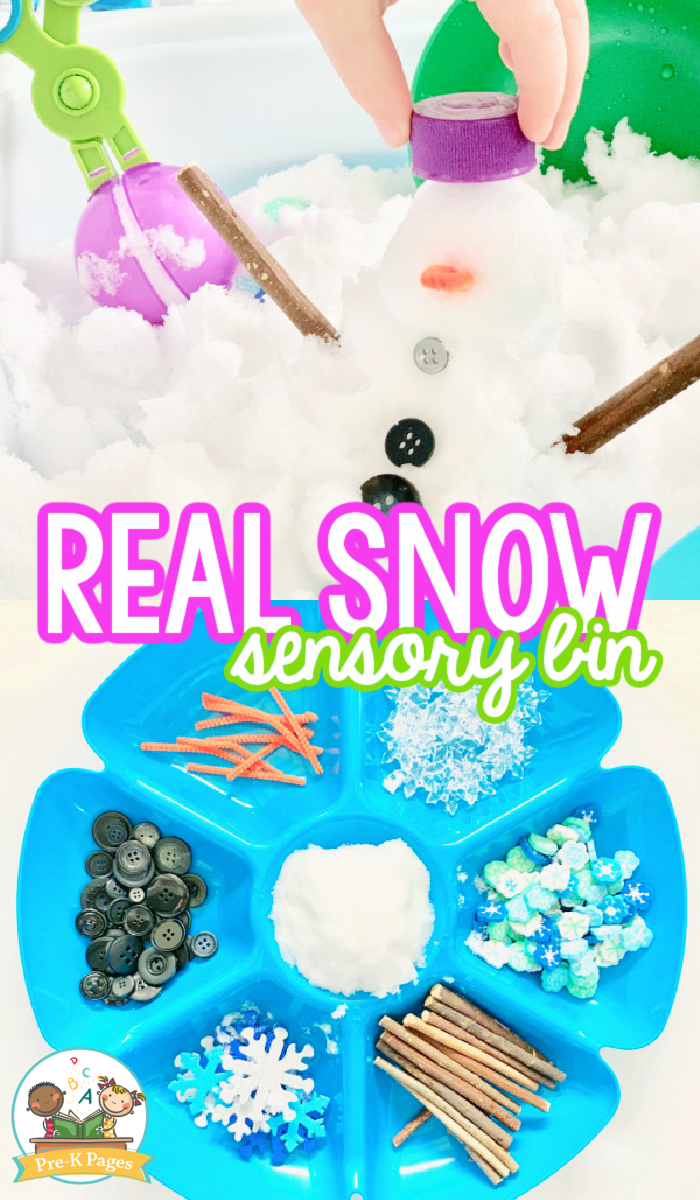 Winter Sensory Bin with Real Snow
Winter can be challenging for toddlers and preschoolers. Young children need to move and burn off excess energy frequently. They can quickly become stir crazy if they're indoors for prolonged periods of time.
Sometimes, just getting outdoors and playing in the snow is enough, but what can you do if the temperatures are too extreme to go outdoors? Real snow sensory bins to the rescue! This is by far one of the most popular winter activities I've ever done in my classroom. Another benefit of this sensory play experience is that snow is free!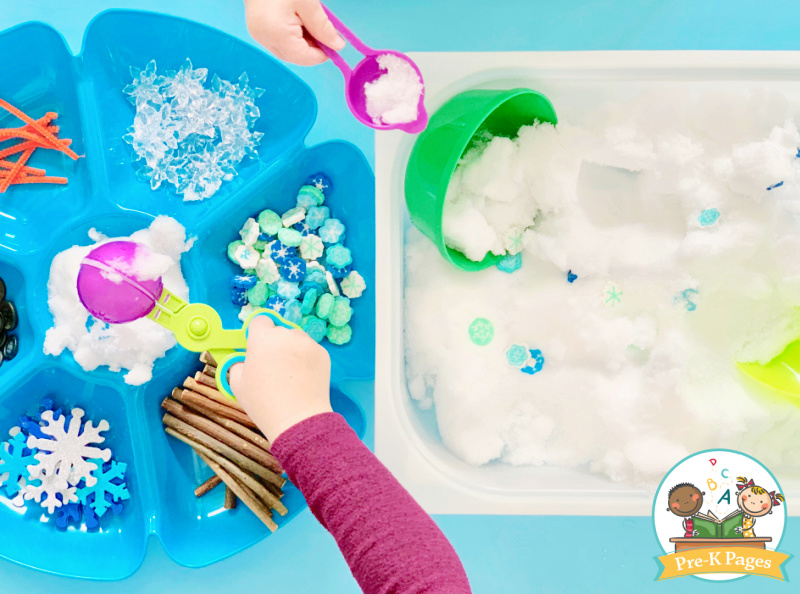 Sensory bins are perfect for little learners. They allow young children to explore, play, and discover without any set expectations. All you have to do is invite them to explore the materials inside the bin however they like (within reason, of course!)
Exploration and discovery naturally leads to pouring, scooping, and transferring. When they pour, scoop, and transfer, your kids are really being introduced to important academic skills like volume, weight, more and less etc. It's kind of like hiding vegetables in their mac and cheese, they have no idea they're learning, they just think they're having lots of fun!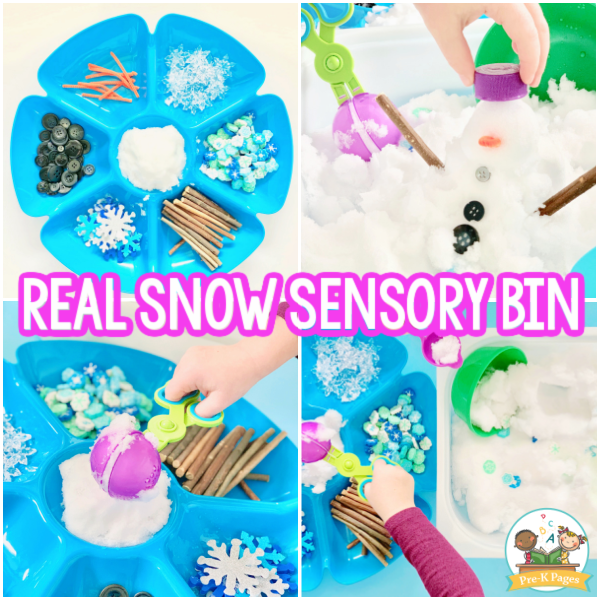 Snow Sensory Bin Supplies
Start by gathering the materials you'll need to set up a fun and engaging snow sensory bin in your classroom. Here are some suggestions below, but you can get creative and add more materials, or just use whatever you have available.
Pipe Cleaners
Buttons
Bottle Caps
Scoops (dollar store)
Sticks
Mini-Erasers (dollar store)
Gems (dollar store)
Of course, most of the things listed here are optional, you can use whatever items you have at your disposal. I found the cookie buttons, sticks, mini-erasers, and gems at my local dollar store.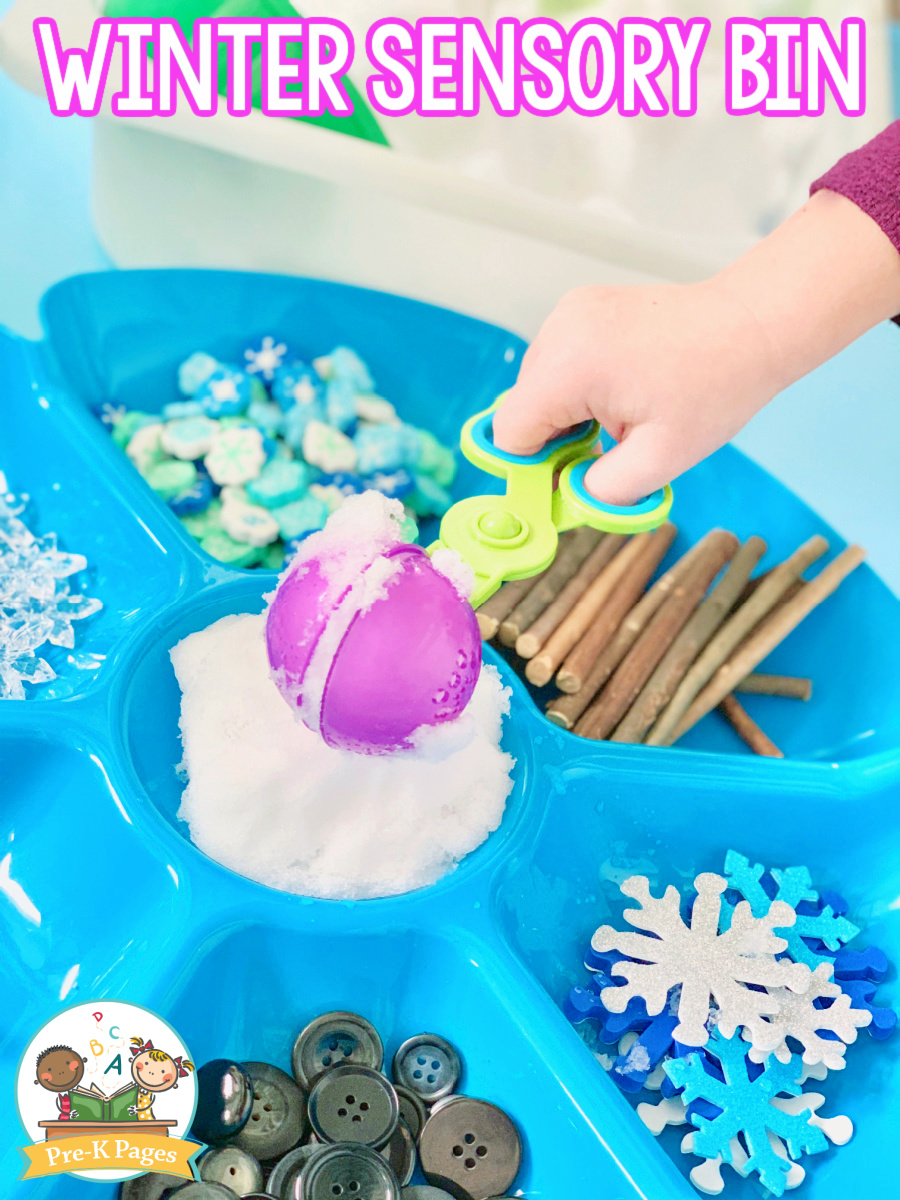 How to Make a Snow Sensory Bin
Place your supplies and some snow on a tray so you can easily introduce them to your children.
Next, you'll want to read a winter theme book aloud during your whole group time. And if you've got a good snowman or winter song, sing it too.
After you've finished reading the book and singing the song, introduce the tray of items to your students. Pass the tray around the group so they can touch and feel the materials.
Ask questions about the items on the tray such as, "How does it feel?" or "What can you do with that?"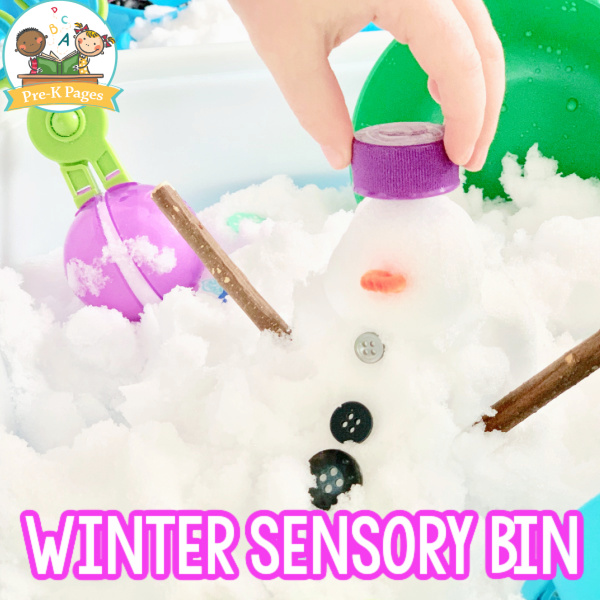 Real Snow Sensory Bin for Winter
Don't forget to invite your students to use mittens as they play in the sensory bin to protect their hands.
You can also demonstrate how to use some of the materials. Show your kids how they can pick up the snow with the tongs. Using tongs is a great fine motor practice.
When they use the scoops to shovel the snow they'll also be practicing those important fine motor skills.
Don't get discouraged if your kids just want to play in the snow instead of creating fabulous masterpieces. They'll be getting plenty of fine motor practice as they use the scoops and tongs, and pick up the items on the tray.
Open-ended sensory experiences like this allow your kids to learn through play while having lots of fun!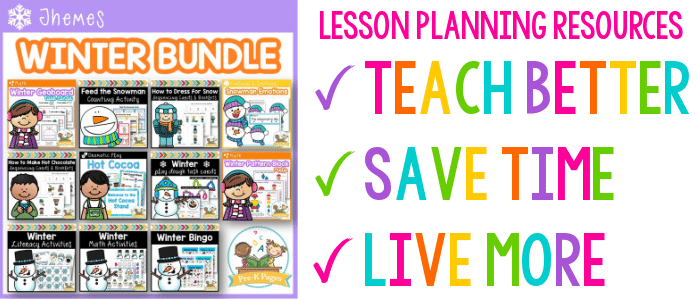 More Winter Activities for Preschool