5 Little Pumpkins is a classic Halloween rhyme that your preschoolers will love. This rhyme is so much more than just a fun song or rhyme, it's also a valuable teaching tool that can help your kids develop math skills such as number sense, one-to-one correspondence skills, and mathematical fluency. Keep reading to see a video of this activity in action and grab your free pumpkin printable!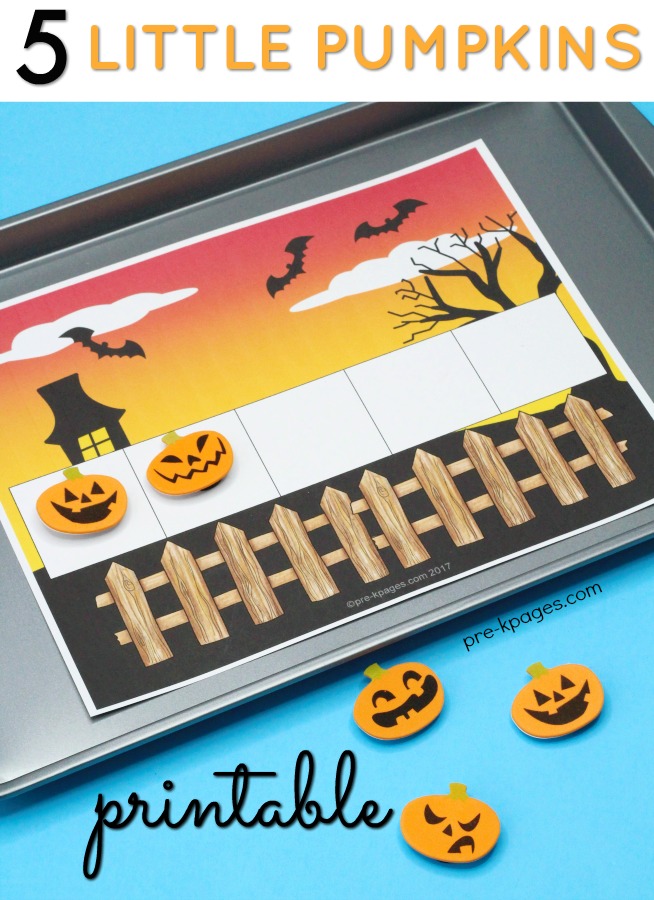 Free Pumpkin Printable
Here are the supplies you will need to introduce this activity to your own kids:
Five Little Pumpkins book
Metal Cookie Sheet
Five Pumpkin Foam or Felt Stickers (craft store)
Magnetic Tape
Printable 5 frame (see below)
First, print the mat and laminate for durability. Do the same for the printable pumpkins if you're using them, or add the magnet tape to the back of the foam stickers.
Next, tape the mat to your metal cookie sheet.
Place the pumpkins on the back of the cookie sheet so you can easily add them to the five frame as you say the rhyme.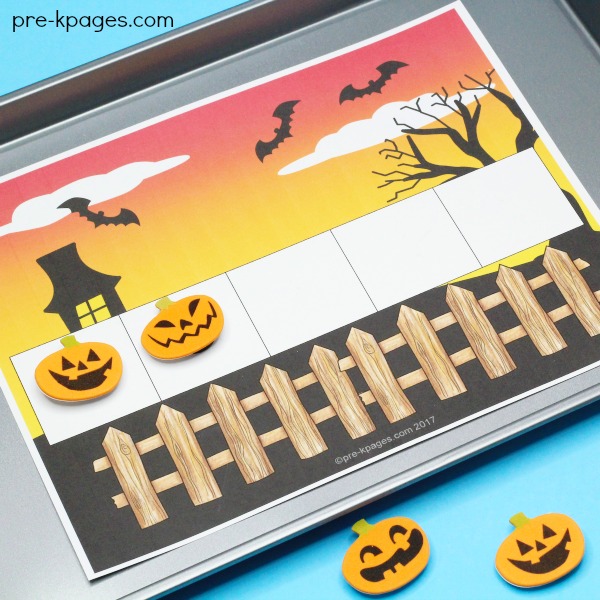 Pumpkin Printable – 5 Little Pumpkins Counting Activity
To introduce this activity, start by reading the book Five Little Pumpkins by Dan Yaccarino. You will want to read this story for several days, once or twice each day, or as long as it holds the children's attention.
Next, invite the children to act out the story using their hands as the pumpkins.
Then, invite five children at a time to act out the rhyme during your whole group time. You can use painter's tape to create a five frame on the floor.
Finally, use the printable below to help the children visualize the quantities of pumpkins as you recite the rhyme together.
Watch the Video

Download your free pumpkin printable below.


You could also put the pumpkins on the ends of clothespins and clip them to a paint stick for some fine motor fun!