Have you seen all the beach buckets at the dollar store? Beach buckets are a great way to send home end of the year gifts for children in preschool and kindergarten.
You can fill the beach buckets with inexpensive items that encourage summer fun and learning. I created some (fr*ee) printable tags to attach to your beach buckets, keep reading to grab your copy!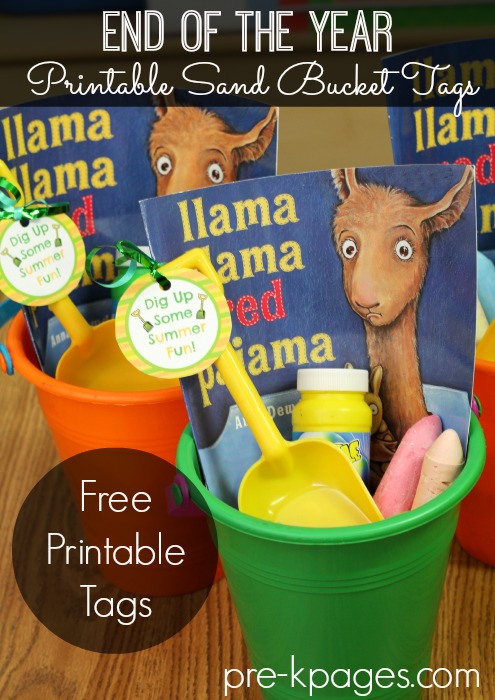 End of the Year Beach Bucket Gifts
It's kind of a tradition for teachers to send home something fun and cute on the last day of school. These beach buckets are only one dollar at the dollar store each year and they are perfect for holding fun little trinkets to kick off summer vacation.
If you have a large class, or two classes I don't recommend going hog wild on these gifts because a dollar here and there can really add up fast!
I recommend keeping the costs down by limiting the items in the bucket. The kids are still very happy with their buckets even if they aren't loaded to the gills with trinkets. Less is more, right?
Here is what I included in my sand buckets:
One Scholastic book (purchased with bonus points)
One container of bubbles
Two pieces of sidewalk chalk
You can also make your own chalk or bubbles to keep costs down. Another idea is to include a zip top plastic bag with homemade play dough in the bucket. I've included links to all three ideas for you below.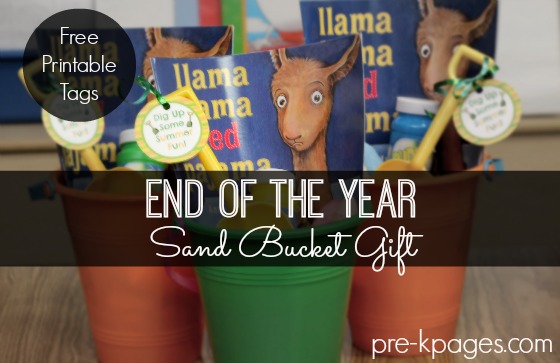 Printable Beach Bucket Tags
To make the tags for your beach buckets you will need the following supplies.
Cardstock
Scissors
Hole punch
Ribbon
How to Prepare the Beach Bucket Tags
First, print the tags on cardstock paper- print as many pages as you need, I included 12 tags on the page. The text on the tags says "Dig Up Some Summer Fun!"
Next, cut out the tags and use the hole-punch to punch one hole in the top of each tag. Finally, cut your ribbon and tie the tags to the shovel.
Click on the picture below to download your free printable sand bucket tags.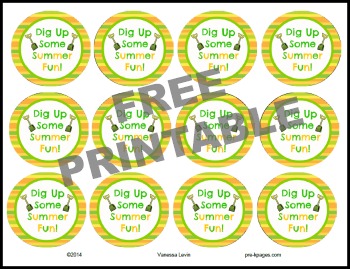 More Graduation Ideas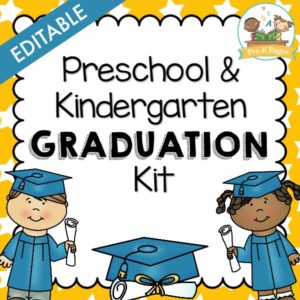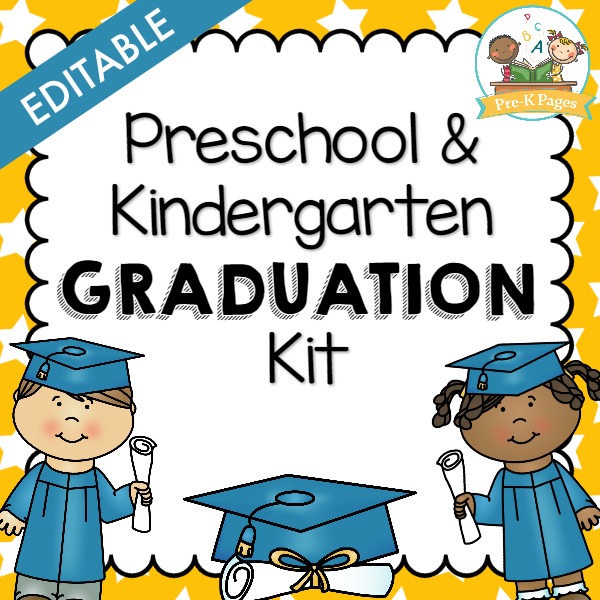 Need help planning for a preschool or kindergarten graduation? Check out my Printable Graduation Party Planning Guide for step-by-step directions and editable printables to make planning for a graduation a breeze!