Whether you have a full-blown Graduation ceremony or a simple End of the School Year celebration, the end of the year is a time to have some fun. These preschool graduation ideas can help you plan just the right experience for your children, from simple treats and gifts to an art show! How will you wrap up your year of learning?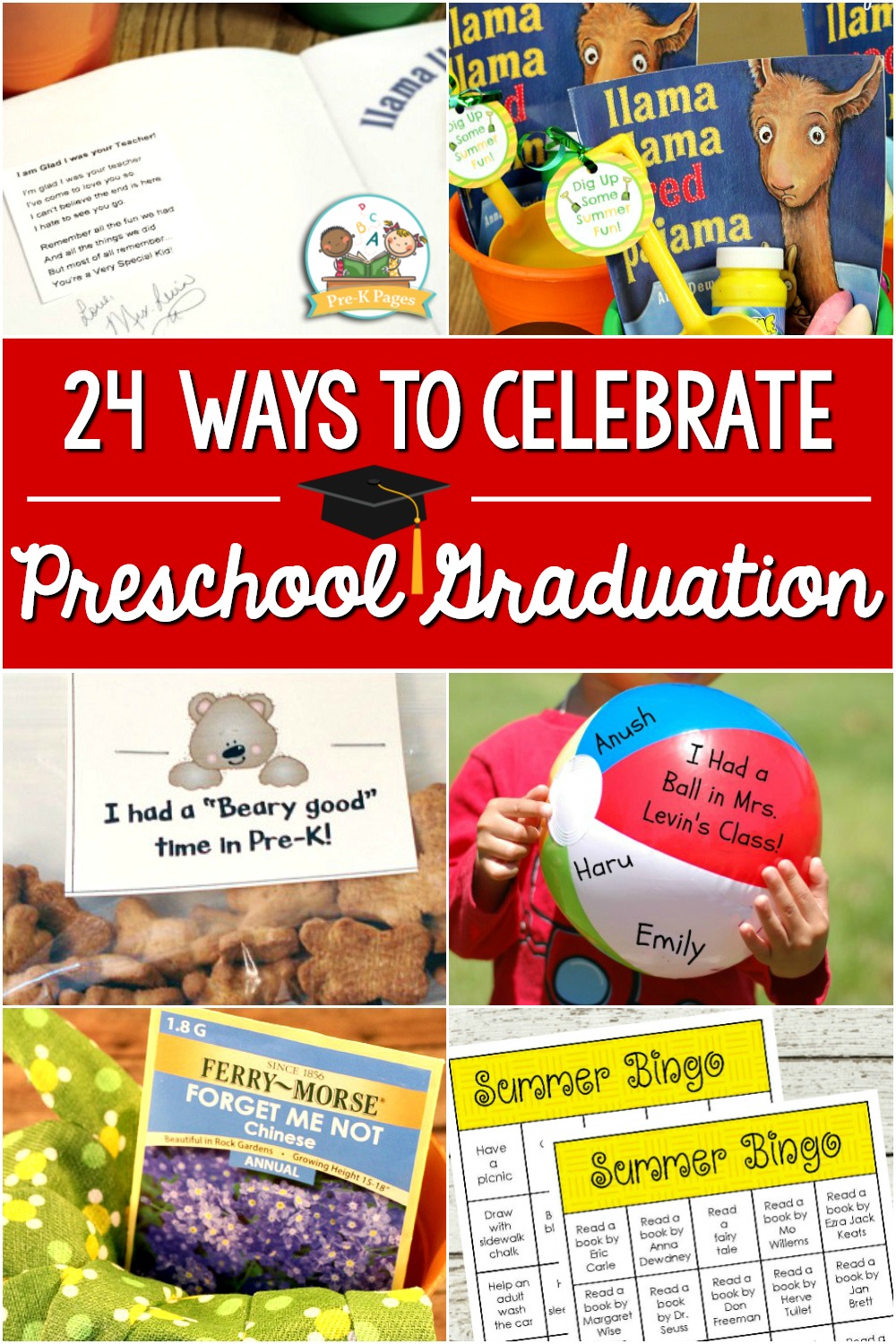 Preschool Graduation Ideas
1. We Had a Beary Good Year (Pre-K Pages) – If you're looking for a fun and unique way to celebrate the end of the year or graduation in your preschool or kindergarten classroom then look no further, this is a great alternative to a graduation party or diploma.
2. End of Year Beach Bucket Gifts (Pre-K Pages) – Have you seen all the beach buckets at the dollar store? Beach buckets are a great way to send home end of the year gifts for children in preschool and kindergarten.
3. Forget-Me-Not Seed Packets (Pre-K Pages) – This printable forget me not seed packet is the perfect graduation gift for kids to give to teachers or teachers to give to kids.
4. How to Make an Easy Picture Slideshow (Pre-K Pages) – Creating a picture slideshow is a great way to share precious memories with kids and parents, but it can be a big job- especially at the hectic end of the school year.
5. Graduation Ideas (Pre-K Pages) – Graduation poems and gift ideas for preschool, pre-k, transitional kindergarten, or kindergarten classrooms.
6. End of Year Packing Tips (Pre-K Pages) – Today I'm sharing my favorite tip for packing up your classroom without upsetting the young children in your preschool or kindergarten classroom.
7. Summer Reading and Activities Bingo (Pre-K Pages) – I'm sharing a printable summer reading bingo and printable summer activity bingo for preschool and kindergarten.
8. Celebrating Graduation Day in Preschool (Teach Preschool) – Here is a great guide on how to celebrate graduation day in preschool.
9. Preschool Art Gallery (Teach Preschool) – The art gallery also gave the children something special to share with their parents and was a terrific way for each child to feel recognized by all of us.
10. End of Year Activities (Prekinders) – I'm sharing our Pre-K End of Year Celebration, along with printable certificates.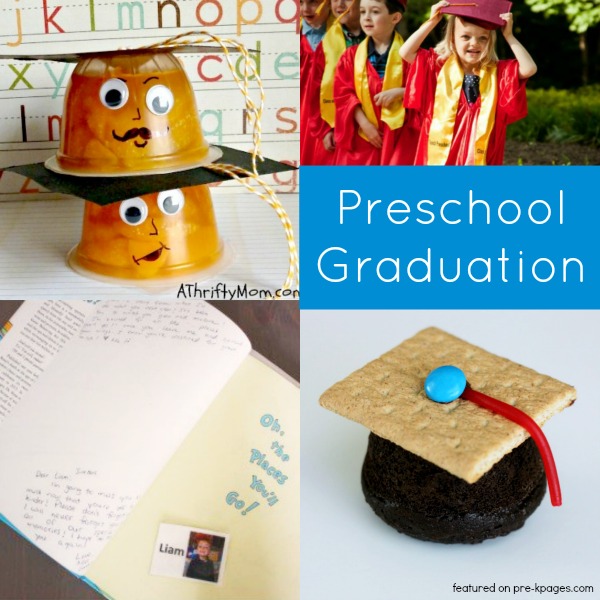 Ways to Celebrate the End of the Year in Preschool
11. End of Year Cleanup (Prekinders) – When it's the end of year, have your students get into the cleanup and help you!
12. End of the Year Song Playlist (Fun-a-Day) – These preschool graduation songs are just what you're looking for when making end of the year slideshows.
13. Class Project for the End of School (Educator's Spin on It) – Are you looking for a fun, engaging way to celebrate the end of the school year with your child's class? This ice cream themed class project for end of year is sure to be a big hit in your classroom!
14. End of Year DIY Bookmark Gift (Mama Smiles) – These DIY bookmark gifts for the end of year are super easy to make and make a great gift for teachers or kids.
15. Simple Memory Book Keepsake (Little Bins for Little Hands) – Plan to have a school memory book keepsake ready for the end of this coming school year!
16. Graduation Poem with Handprints (Fun Handprint Art) – Here's a precious graduation poem with handprints printable keepsake for your preschooler or kindergartner to mark their special day!
17. End of School Celebration (I Can Teach My Child) – What better way to kick off Summer than to have this Frozen-inspired End of School Celebration featuring Olaf, who loves summer as much as anyone?!?! 🙂
18. End of the Year Teacher Tips for Staying Positive (Kathy Griffin's Teaching Strategies) – Teachers can become overwhelmed and stressed at the end of the school year. This "Bright Ideas" blog post contains a "How To List" of teacher tips to help make your end of the school year a more positive experience.
19. End of Year Self Portraits (She Lives Free) – Grab a mirror and start having your students make end of year self portraits!
20. DIY Preschool Graduation Caps (Stay at Home Educator) – With a few simple supplies your preschoolers will love creating and wearing these homemade graduation caps.
21. Printable Literacy Certificates (Growing Book by Book) – These editable and printable certifcates are great for an end of year
22. Printable End of the Year Treat Toppers (Prekinders) – These adorable bags of swedish fish with a sweet message if the perfect way to end the year with your preschoolers.
23. Graduation Cap Fruit Snack (A Thrifty Mom) – Do you have a kindergartener this year?  Why not have something cute, and at least somewhat healthy too?!
24. Easy Graduation Cap Cupcakes (Coffee Cups and Crayons) – Graduation cap cupcakes are such a sweet way to celebrate a graduation!  Make them for preschool or kindergarten graduation or even at a high school graduation party.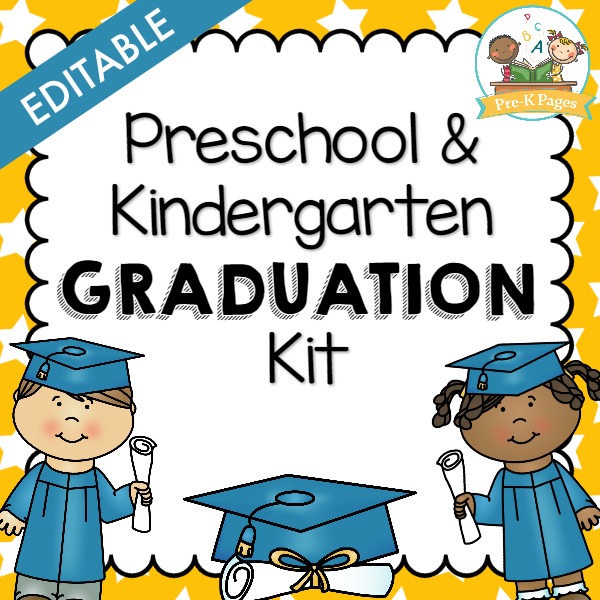 Need help planning for a preschool or kindergarten graduation? Check out my Printable Graduation Party Planning Guide for step-by-step directions and editable printables to make planning for a graduation a breeze!
More Graduation Ideas