I don't know about where you are, but it's getting cold here!
Bears and hibernation are popular topics for a winter theme in preschool and kindergarten.
Why do bears hibernate? Do all bears hibernate? Do other animals hibernate?
These are all great questions that can be answered when reading age-appropriate books about bears to kids.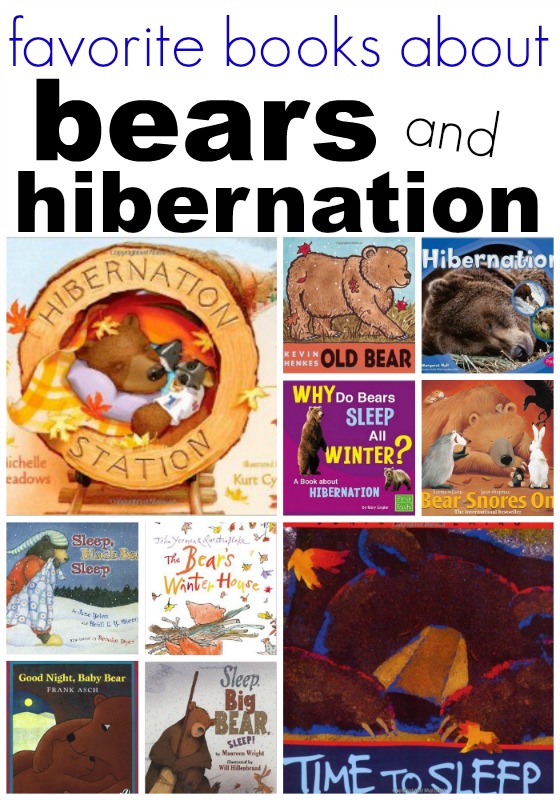 Books About Bears
Here are some of my favorite fiction and non-fiction books about bears and hibernation to read-aloud to young children.
Bear Snores On
Bear Snores On by Karma Wilson is my favorite book about bears and hibernation; I just had to put it first because I love it so much! The rhyming text is so engaging it draws the reader (and listeners) into the story and holds their attention throughout as they anticipate and join in reading the repetitive text. The beautiful illustrations also play a big part in capturing the attention of the kids. The animals are busy making tea and popping corn but… Bear Snores On!
Time to Sleep
Perfect for introducing hibernation and seasons to young children Time to Sleep by acclaimed children's author and illustrator Denise Fleming is a must read for all teachers of young children. It's time to hibernate but first, bear must tell her friends winter is coming!
Hibernation Station
A charming, imaginative story, Hibernation Station by Michelle Meadows includes many types of animals that hibernate in addition to bears. The beautiful full-page illustrations coupled with the rhyming text are sure to make this an instant hit with all kids. Perfect for discussing the change of seasons too! The animals are headed for hibernation on a train made of logs and a track of sticks, but will they ever fall asleep?
Old Bear
Old Bear
dreams through the seasons in this endearing tale by award-winning children's author Kevin Henkes.
The Bear's Winter House
Your kids will fall in love with
The Bear's Winter House
by John Yeoman. This kind tale of friendship and sharing is sure to warm your heart on a cold winter's day! Bear is busy preparing his winter den while his friends laugh, but being a kind bear he invites them in to escape the cold.
Why Do Bears Sleep All Winter?
Why Do Bears Sleep All Winter
is a non-fiction book that offers kid-friendly information about bears and other animals that hibernate. Reading non-fiction books is an important of the literacy process. Non-fiction books can be used to introduce genre and text features.
Good Night, Baby Bear
In
Good Night, Baby Bear
by Frank Asch it's time to hibernate but baby bear doesn't want to go to sleep! This sweet bedtime story is perfect for getting kids to talk and develop oral language skills as they recount their own bedtime rituals. Not just for bedtime, it's also a great way to introduce the topic of hibernation to young children.
Sleep, Black Bear, Sleep
Sleep, Black Bear, Sleep by Jane Yolen offers many opportunities for developing phonological awareness skills as children listen and respond to the rhyming text. Fluency, rhythm and rhyme are all supported in this sweet winter lullaby with charming and detailed illustrations.
Sleep, Big Bear, Sleep!
Sleep, Big Bear, Sleep! by Maureen Wright is a fun read aloud that will have your kids giggling from cover to cover! Not just funny, this book provides excellent opportunities to point out and discuss rhyming words.
Hibernation
Hibernation by Margaret Hall is published by Capstone Press, one of my favorite publishers of developmentally appropriate non-fiction books for young children. This book includes factual information about animals that hibernate, not just bears. It's the perfect mix of simple text and high-quality photographs to introduce the concept of hibernation.
If you're like me and have a huge picture book collection you might find my printable book box labels helpful.
If not, your local library is an excellent place to find the best children's books.
More Bear Ideas