Calendar time tips for Pre-K Teachers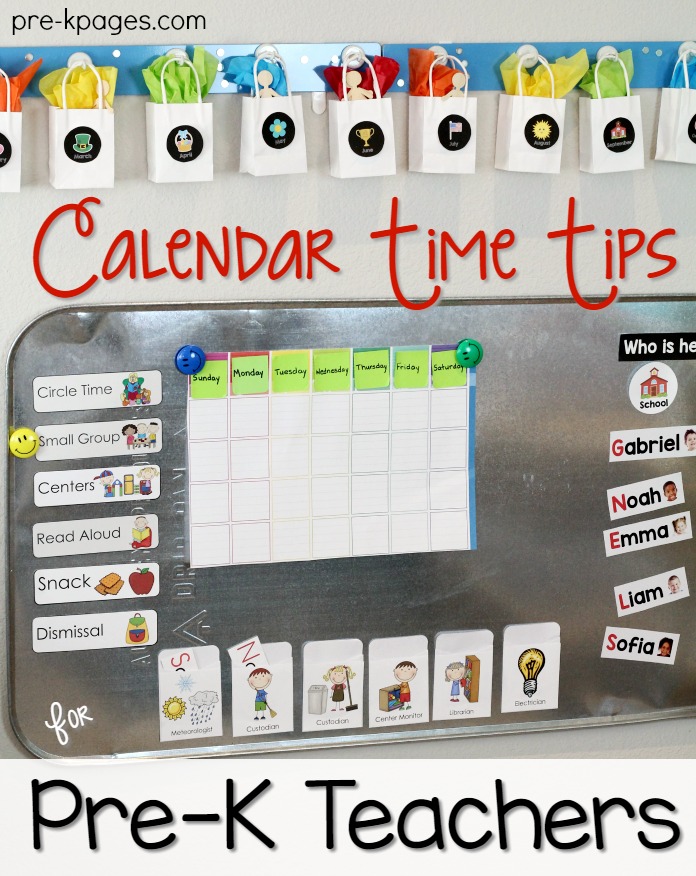 Calendar Time Tips for Pre-K Teachers
Calendar time in the Pre-K or Preschool classroom can be challenging for many reasons. Sitting still and listening isn't something that comes naturally to many children.
The ideal Calendar Time is very short, to match the attention spans of young children. The activities during this time are balanced and alternate between active and passive.
Here's my own sequence of calendar time activities:
Transition to calendar time using the picture schedule
Sing a good morning song that includes movement
Attendance graphing activity
Sing – Invite children to choose a song that includes movement
Calendar (this linear calendar is my favorite)
Sing a weather song and participate in weather graphing activity
Read aloud
Transition to the next activity using the picture schedule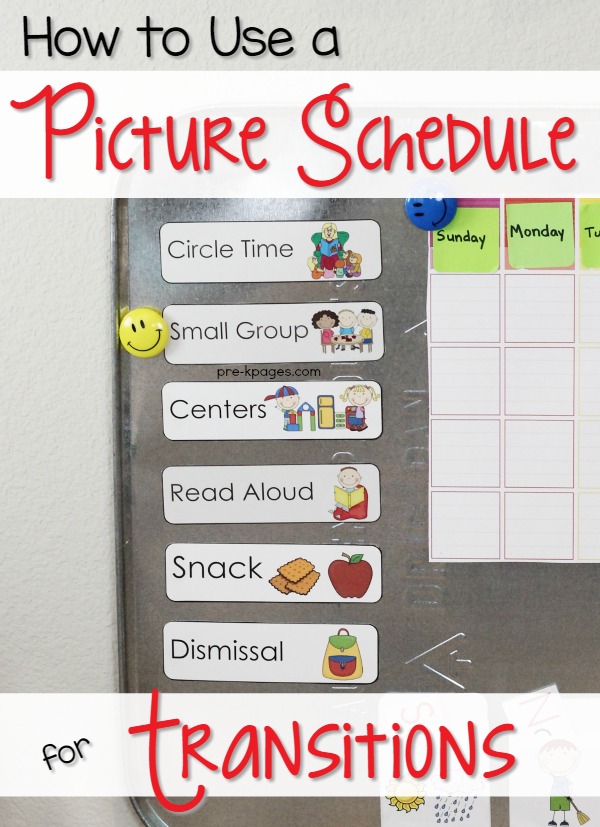 Using a Picture Schedule in Pre-K
My first tip is to always use a visual picture schedule. You can see our daily schedule above. I use an oil drip pan for my calendar and circle time area. The lightweight pan is attached to the wall with Command Strips.
A picture schedule will help you create smooth transitions by giving your students a visual reminder of what is happening or will happen next in the classroom. You can learn more about how and why to use a picture schedule HERE.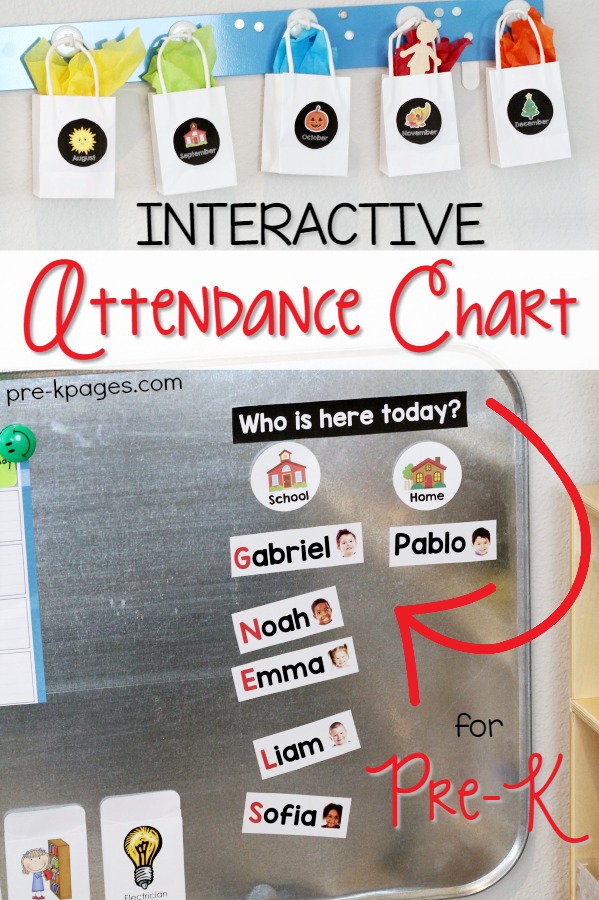 Attendance Chart
When the children arrive they locate their name card, seen here printed on Avery Magnetic Sheets, and place it on the graph to indicate if they are at school. I choose somebody to retrieve the name cards of the absent students and place them on the graph under the picture of "home".
During our Calendar or Circle Time we count the number of children who are present and the number of children who are absent using the name cards on the graph. While it might seem very simplistic, this activity is actually providing kids with an introduction to data analysis skills. When kids have the opportunity to participate in daily graphing activities they are developing important math concepts such as more and less, how many, how many more and so much more! These concepts are the basis for developing number sense.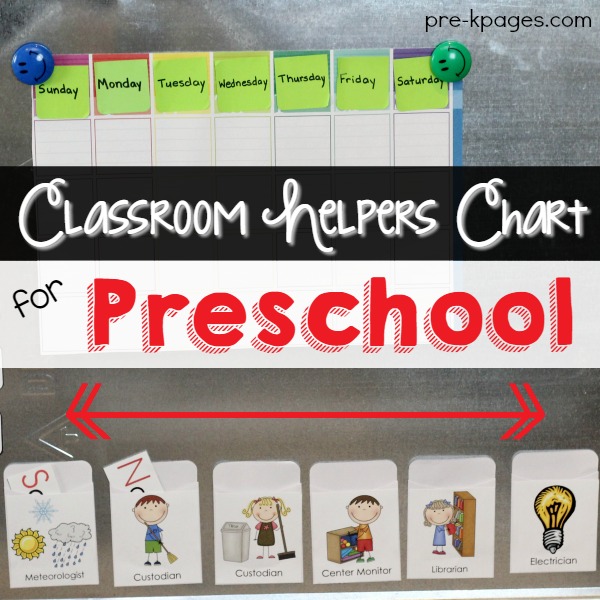 Classroom Helpers
Above you can see our Classroom Helpers chart in action. The chart is made with library pockets attached to the magnetic oil drip pan with magnets. Each week the student's name cards are moved to a different pocket. You can also use popsicle sticks with the children's names written in permanent marker if you prefer.
You can have one job per student, or just a few depending on your needs or your program. I typically assign each student one job for an entire week.
Calendar Time in Pre-K
Calendar time in Pre-K and Preschool is a long held tradition that many teachers and children adore. While the research has always pointed away from calendar time, many schools still require that teachers incorporate calendar into their daily routines.
Here are some of the reasons why I no longer believe traditional calendar concepts such as yesterday, today, tomorrow, the date, days of the week, months of the year etc. are relevant to young children:
Children learn from the concrete to the abstract, time is an abstract concept.
The concept of time, such as 5 days from now, next month, or next year are abstract concepts that most children develop much later, far beyond the preschool years.
Our time together in the classroom is short, to make that time as meaningful and productive as possible it is not in the children's best interests to sit through traditional calendar routines.
You may be wondering what to do instead of calendar time that is meaningful to children. Karen from Prekinders has some fantastic information about how she transformed her calendar time to be more meaningful for her students. You can read all about how she did this HERE. I wholeheartedly agree with this idea and have incorporated it into my daily routine.
Here are the reasons why I prefer this method instead of traditional calendar time:
Young children do need to develop number sense and one-to-one correspondence skills, marking the days off a desk calendar helps them develop these skills.
Although young children can't yet read, they do recognize symbols and pictures. Drawing symbols and pictures of events on the desk calendar is meaningful to children.
Time spent on this activity is very short and meaningful, making room in our daily schedule for more meaningful activities.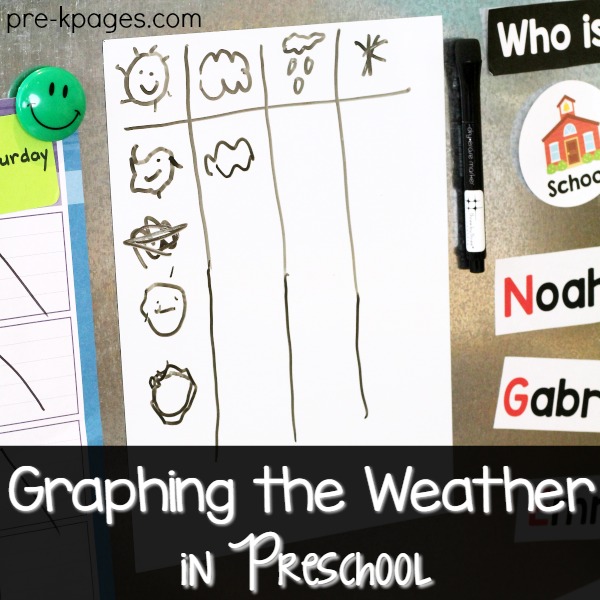 Graphing the Weather in Preschool
Graphing the weather is very exciting for Preschoolers! You can do this quick activity with kids during your calendar time, or even during math or science since it incorporates both skills.
We have a weather helper who looks out the window to report the weather, then draws a picture on this simple dry erase graph. We also like to sing a fun song about the weather at this time.
Since time is an abstract concept for young children, we just graph the weather for one week. We can also have the same types of discussions for the weather graph as we did for the attendance graph. You could also create a graph with regular paper and markers.
The dry erase area was created by placing a sheet of dry erase contact paper on the oil drip pan.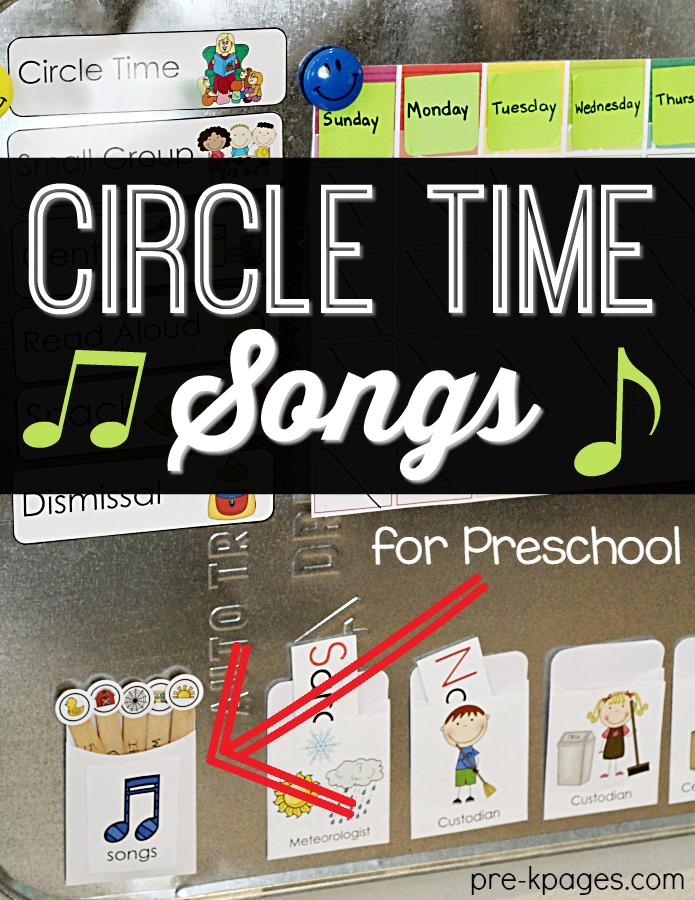 Circle Time Songs for Preschool
When it comes to choosing songs, the song sticks pictured above are a great way to provide children with choices and a visual cue. Simply cut out and glue the pictures to popsicle sticks, write the name of the song on the stick with a permanent marker, and place the sticks in a library pocket. Then, invite children to come up and select a stick when it is time to sing a song.
Allowing children to make choices whenever possible allows them to feel empowered, research shows that empowered children learn more.
You can find the free printable song sticks on the blog HERE.
If you're wondering about the little gift bags with the months of the year, those are our method of tracking birthdays. You can read all about how the Birthday Bags work HERE.
The Teaching Tribe
Circle time is only one small part of your preschool day. The best place to get all the support you need is in the Teaching Tribe. We have many printable lessons and on-demand video trainings to help you be the best teacher you can be! If you want to get on the waiting list for the Teaching Tribe, do it soon so you don't miss the next open enrollment period!
More Teaching Tips from Pre-K Pages