'Tis the season for candy canes! But kids really love slime, so why not combine them both for extra fun?  This a fun activity you can do with your kids for Christmas at home or in the classroom. It's perfect for those cold winter days when you can't get outside as much as you (or the kids) would like!  The best thing about this Christmas slime activity is that most of the ingredients are things you will already have on hand and they won't break the bank.
Your kids are going to love this stuff. I'll admit, it can be messy, so be sure to put down a plastic tablecloth (or a trash bag works well too) so it doesn't get all over the place.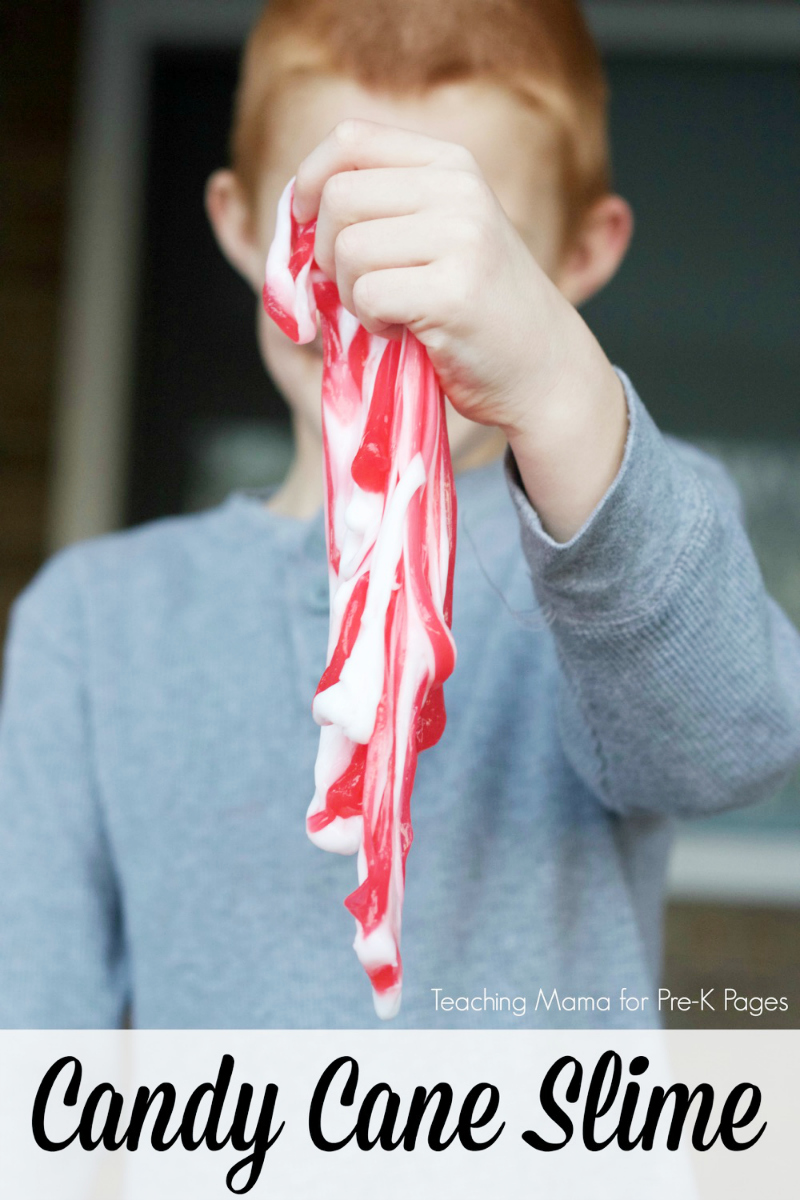 Playing with slime encourages children to use their sense of touch and smell and provides an opportunity for sensory play. Sensory play is an important component of any preschool day, it enhances hands-on learning while also stimulating the child's senses.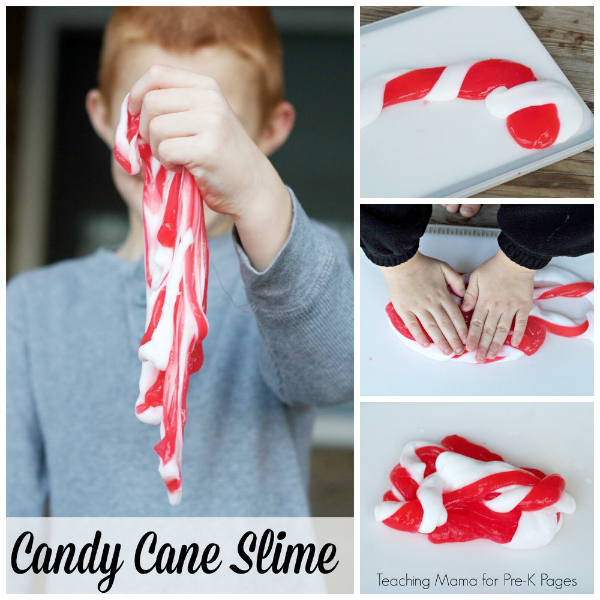 Easy Slime Recipe
For candy cane Christmas slime, you'll make two colors of slime. The slime ingredients below are for one color. Make sure to use white glue for the color white and clear glue for the red color.
1 (4 oz.) bottle of Elmer's glue
1 (4 oz.) bottle of clear Elmer's glue
1/2 cup warm water
1/2 cup liquid starch, such as Sta-Flo
red gel food coloring
few drops of peppermint extract
bowl
spoon
You'll want to follow the directions below carefully. If the directions aren't followed carefully, even slight changes can affect the outcome.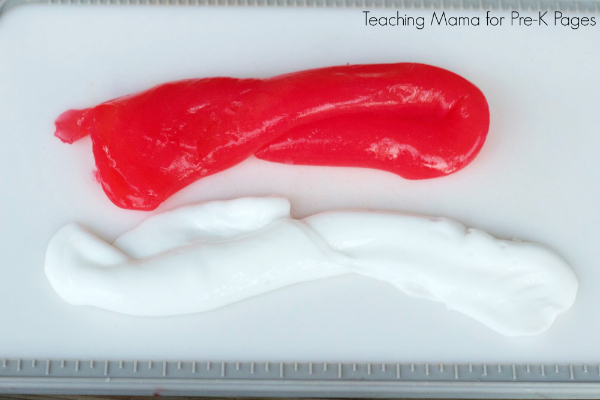 How to Make Homemade Slime
Making your own homemade slime is so easy! And your youngsters will have a blast. First, squeeze the bottle of glue into a mixing bowl, preferably one you don't mind getting all slimed.
Then, fill the empty glue bottle with warm water, pour into the bowl with the glue and mix the water mixture with a spoon.
Next, add a few drops of peppermint extract. Be sure to mix it well!
Finally, slowly pour in the 1/2 cup of liquid starch into the bowl while stirring. Continue to stir until the slime is formed, then knead the slime with your hands.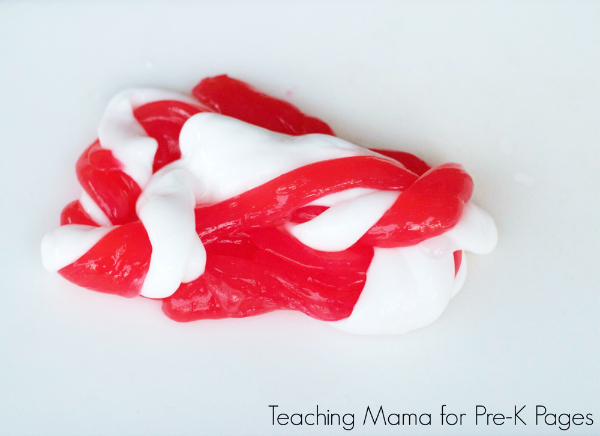 Red Slime
To make the red slime, you're going to follow the directions above but replace the white glue with the clear glue.
Mix the bottle of clear glue with warm water in a bowl. Then, drop in the red gel food coloring and mix. Slowly pour in the 1/2 cup of liquid starch while stirring. Continue to stir until the slime is formed.
If the slime is too sticky, add just a little bit of liquid starch to the slime. Don't add too much or the slime will be too slippery! I also like to let the slime sit for about 5 minutes before playing with it.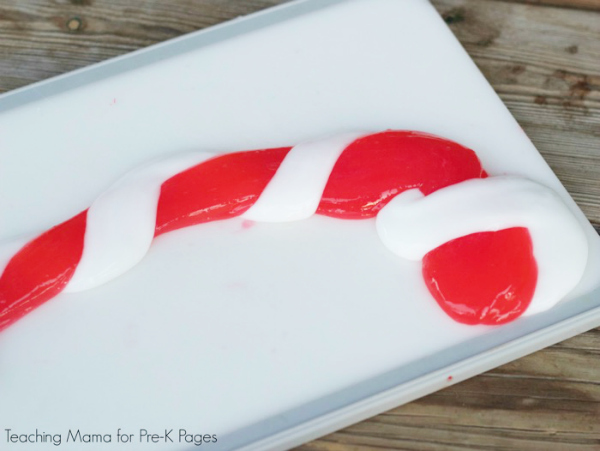 Exploring Candy Cane Christmas Slime
After you have both colors, you can play with them individually, or you can twist the slimes together to make them look like a candy cane!
Kids will have fun feeling and smelling the slime. Slime is unique because it's slippery and slimy, yet addicting to play with!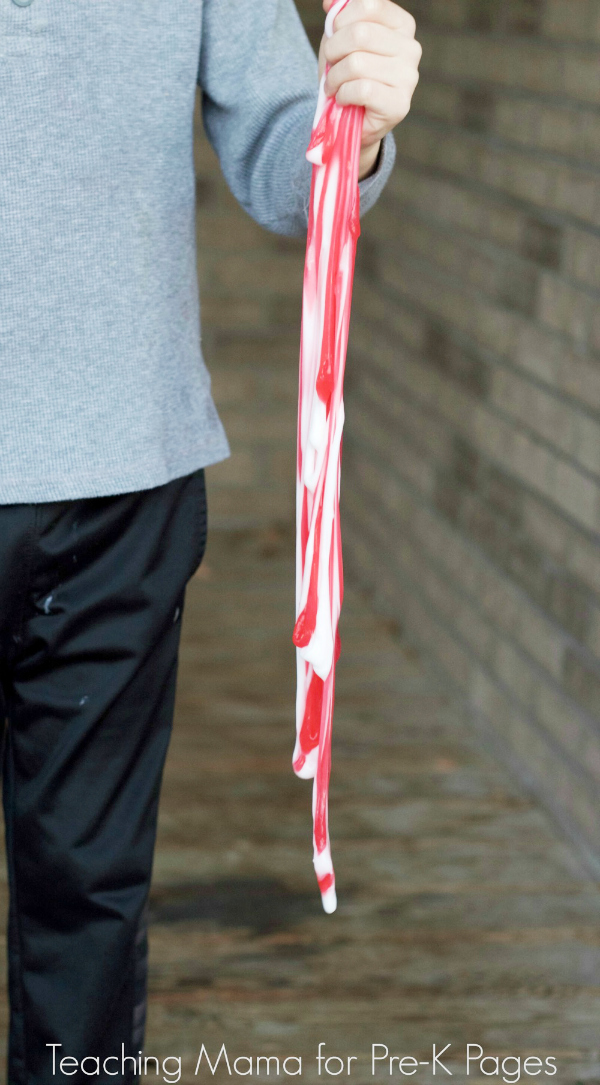 It's very neat that the two colors stay separated! Makes it really look like a candy cane!
My kids love playing with slime and this was one of their favorites because it smelled like peppermint!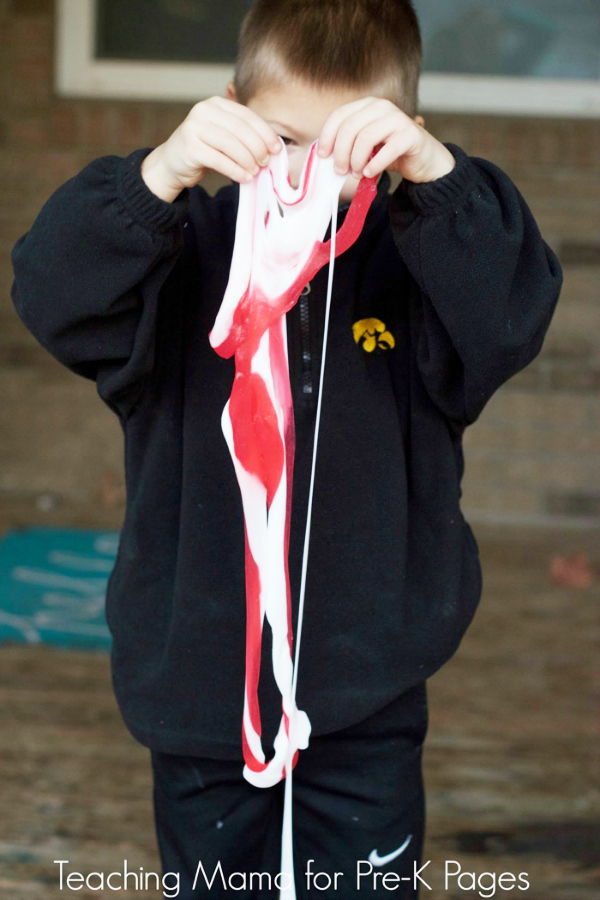 After you're done playing, store the slime in an airtight container with lid, or in a zip top bag. It will last for about a week.
This is the best slime recipe because it so super quick and easy to make, I hope you'll try this slime recipe this holiday season!
Can I make this a glittery Christmas slime?
If you would like to stir some glitter into the one or both of the colors when making the slime to make this a fun, glittery version!
BIO: Angela is the writer and creator at Teaching Mama, where she shares hands-on learning activities for babies, toddlers, and preschoolers.
More Christmas Ideas
Christmas Tree Sensory Bin Printable– Sensory bins are great ways to engage preschoolers in exploring and to build conceptual knowledge. This Christmas sensory bin builds pre-literacy skills. Children can find and match alphabet letters. They build visual discrimination skills, identifying the differences among letters. And they have so much fun digging in the bin to find the letters.
Five Senses Activities for Christmas – The five senses are key tools for preschoolers to explore and understand the world around them. When teachers can engage one or more of the senses, the learning experience becomes more concrete and more memorable. Here are over 20 activity ideas that will engage the senses as you invite preschoolers to learn more about Christmas.
Salt Dough Christmas Ornaments Kids Can Make- Salt dough ornaments are a classic Christmas craft, but they're also tons of fun for kids and super easy to make.  The best part? You probably already have the ingredients you need sitting in your pantry at home!