The five senses are key tools for preschoolers to explore and understand the world around them. When teachers can engage one or more of the senses, the learning experience becomes more concrete and more memorable. Here are over 20 five senses activities that will engage the senses as you invite preschoolers to learn more about Christmas.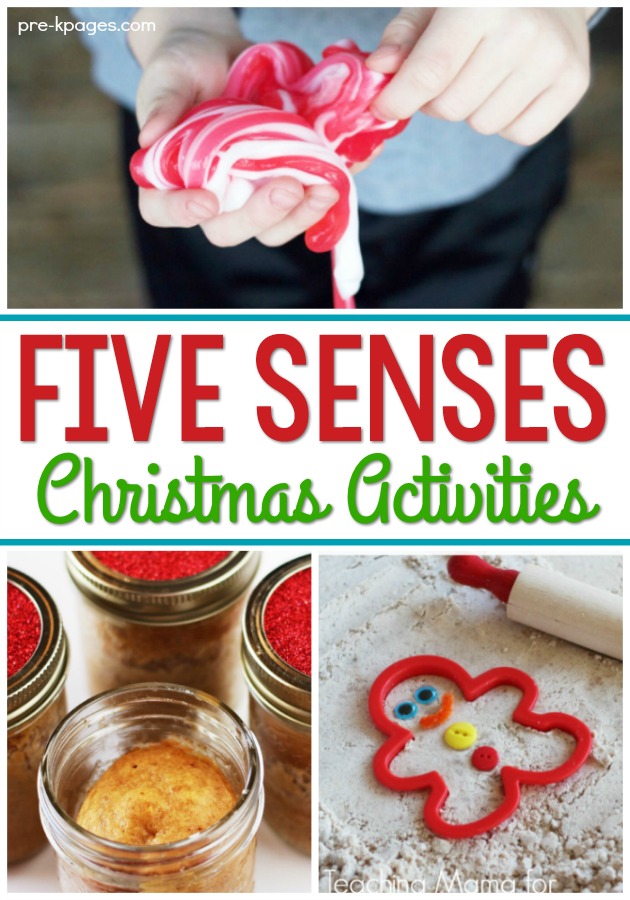 Five Senses Activities
Candy Cane Slime (Pre-K Pages) – This a fun activity you can do with your kids for Christmas at home or in the classroom. It's perfect for those cold winter days when you can't get outside as much as you (or the kids) would like!
(touch and smell)
Christmas Jingle Bell Sticks (Pre-K Pages) – Learning and playing music is one of the great joys of the season for kids, and my preschoolers are really getting into it this year. To help them enjoy Christmas music even more, we made our own instruments inspired by one of our favorites – Rudolph the Red Nosed Reindeer!
(hearing)
Making Patterns with Holiday Items (Pre-K Pages) – Now that the holiday decorations have been pulled from boxes, it's time for some easy seasonal fun with all these trimmings. One of my favorite ways to interact with holiday decorations is with patterning activities.
(seeing)
Gingerbread Jar Cakes (Pre-K Pages) –  My kids want to bake all of the time, so one of the ways I avoid having too many baked goods in the house is to allow them to make individually portioned treats. Recently, we made these Gingerbread "Mug" Cakes and they were just the right size for a single serving snack!  In a classroom setting, kids could also make these as homemade gifts for mom and dad.
(taste)
Gingerbread Cloud Dough (Pre-K Pages) – Certain smells, such as the classic scent of gingerbread, remind us of the holidays. We love this smell and decided to add it into our holiday sensory activity! Today, I'm sharing our recipe for Gingerbread Cloud Dough.
(touch and smell)
The Sweet Smell of Christmas Book and Activity (Teach Preschool) – "The Sweet Smell of Christmas" by Patricia M. Scarry is one of those books that I just love for many reasons. Then gather items from the book and have your toddler explore their smells.
(smell)
Exploring Things That Are Not Alike (Teach Preschool) – Have your toddlers discover that no two nests, birds, tracks, snowflakes and more are alike as they read this wonderful new book titled, "No Two Alike"
 by Kieth Baker….
(seeing)
Jingle Bell Water Play (Teach Preschool) – Make a fun sensory water bin for the holidays with jingle bells.
(hearing)
Candy Cane Sensory Tubes (Teach Preschool) – Use those plastic candy cane tubes to create these fun holiday sensory tubes.
(seeing)
Christmas Guessing Game (Prekinders) – Your little ones will love this guessing game where they can feel and touch these random wrapped gifts.
(touch)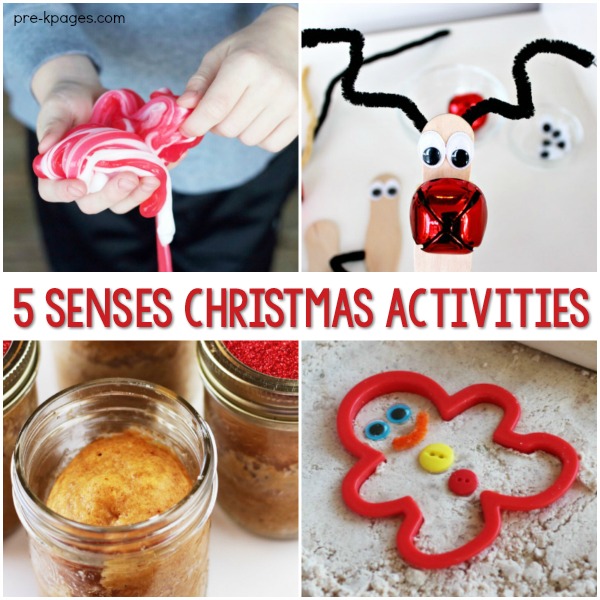 Five Senses Christmas Activities
Christmas Senses Book (Fun-a-Day) – Let the preschoolers explore their senses through art and literacy while making this Christmas five senses book.
(all senses)
The Five Senses of Christmas (Preschool Toolbox) – Explore all 5 senses with this Christmas activity, such as use smelling jars filled with vanilla extract, and a shaker filled with jingle bells.
(all senses)
Christmas Science Labs (Little Bins for Little Hands) – This collection of Christmas science labs just goes to show how fun and easy setting up creative and inexpensive science experiments can be.
(all senses)
Photo Christmas Tree (Toddler Approved) – This photo Christmas tree activity is a fun way to talk about your favorite family Christmas traditions and even help babies learn family member's names.
(seeing)
Sound Obstacle Course (Childhood 101) – Set up this fun obstacle course with hula hoops and jingle bells.
(hearing)
Draw and Listen Game (Picklebums) – You can play this Christmas drawing and listening game with your little ones. Have them use the free printable and then describe what they drew.
(hearing)
Embossed Ornaments (Babble Dabble Do) – There is nothing like filling a Christmas tree with handmade treasures, and making your own ornaments with the kids is one of the best ways to create a tree full of memories.
(touch)
Candy Cane Sensory Tub (Nurture Store) – A candy cane sensory tub is easy to put together and smells just like Christmas. The more you play, the more the air fills with the lovely scent of peppermint.
(smell)
Pine Needle Small World (Picklebums) – Use needles and pine cones and create your own Christmas imaginative play tub.
(smell)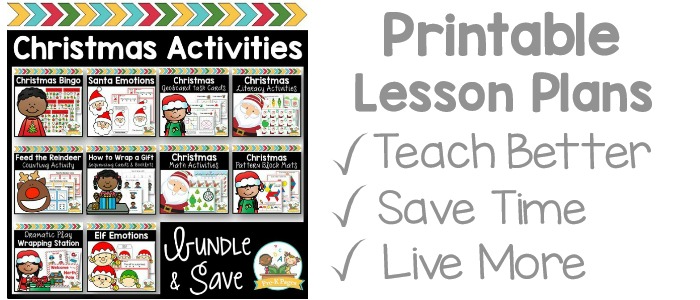 If you are looking for more resources and ideas, check out my membership site, The Teaching Tribe, where teachers just like you are connecting to save time, teach better, and live more.
More Christmas Ideas