Are you looking for an easy Christmas ornament your preschool kids can make? Beaded candy cane ornaments are one of the easiest crafts you can make with your kids, and they're loaded with educational benefits too!
Your kids will have so much fun stringing beads on pipe cleaners they won't even know they're practicing counting, patterning, and fine motor skills.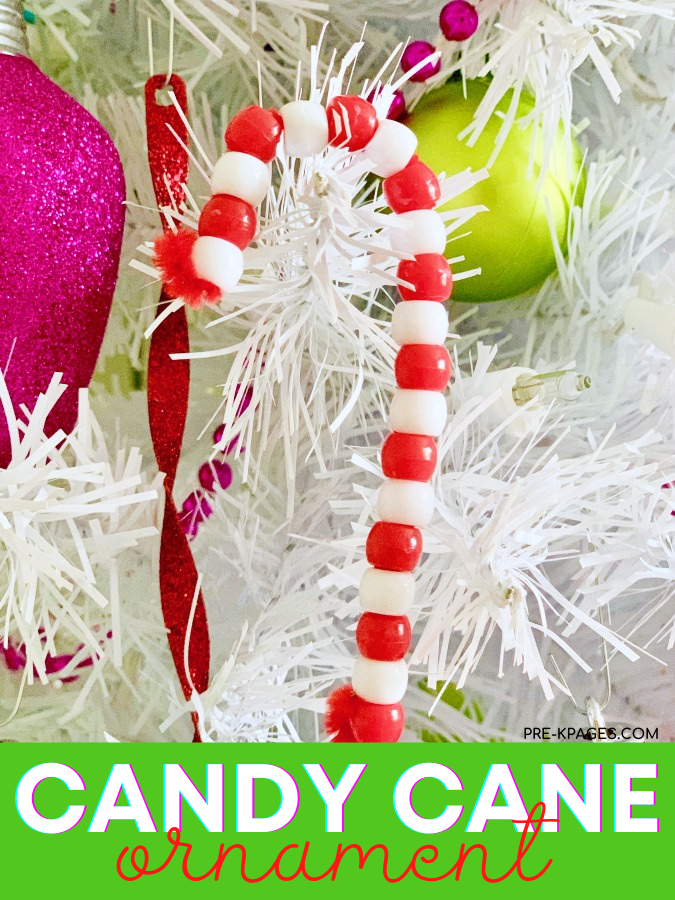 Pipe Cleaner Candy Cane Ornaments
When it comes to homemade Christmas ornaments this classic craft is perfect for little learners. Parents just love these keepsake pipe cleaner ornaments too, my mom still has mine!
Just in case you have to align fun activities in your classroom with standards, here the educational benefits of making these beaded candy cane ornaments:
Picking up beads: hand-eye coordination and pincer grasp
Stringing beads: concentration, fine motor skills, counting, and patterns
Don't you just love it when you can meet so many educational objectives with one simple activity?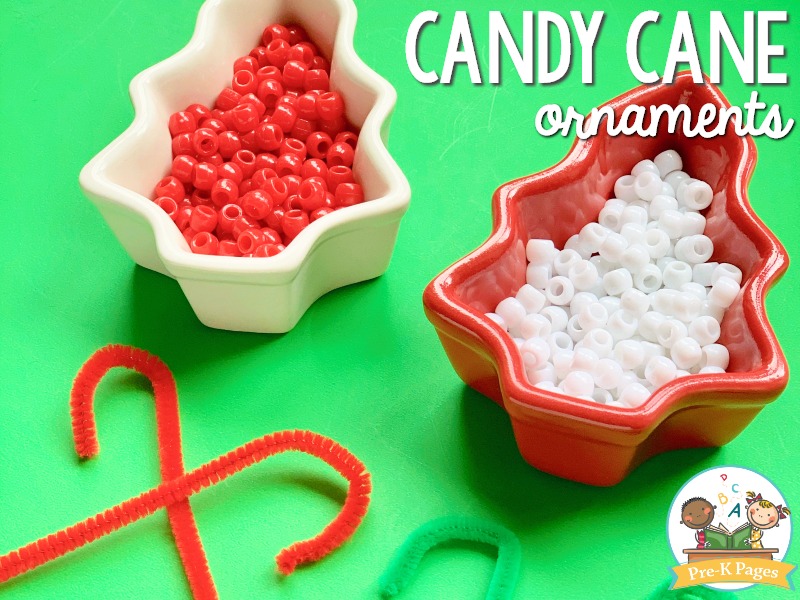 Handmade Beaded Ornaments for Christmas
Here are the few supplies you'll need for making homemade candy cane pipe cleaner ornaments at home or in the classroom.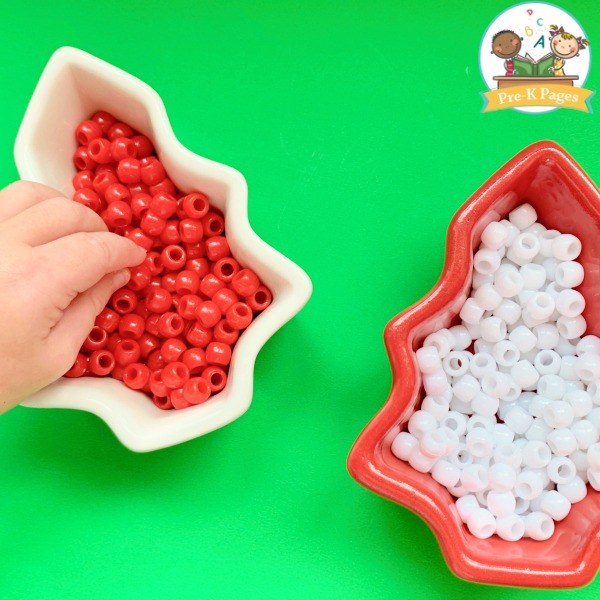 Candy Cane Ornament Prep
To prepare this craft, start by cutting your regular length pipe cleaners in half. Next, place your pony beads in two separate containers, one for white beads and one for red beads.
Then, twist one end of each pipe cleaner to ensure that the beads don't fall off when they're added.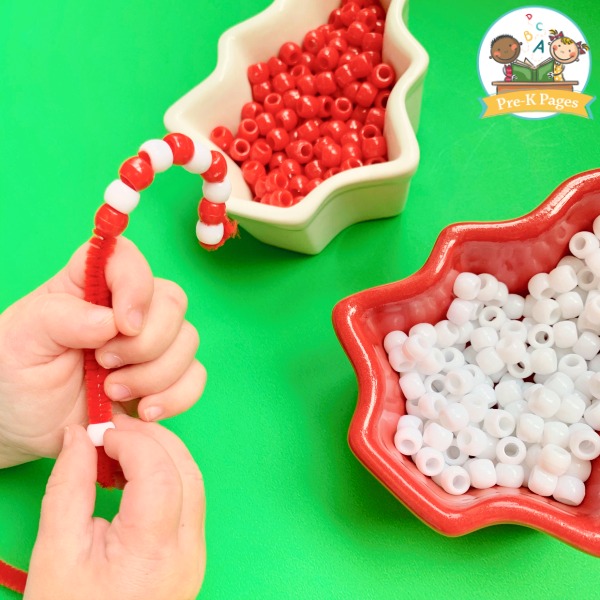 How to Make Beaded Candy Cane Ornaments with Kids
When your activity is set up, you can invite your kids to select a pipe cleaner. You can demonstrate how to put beads on the pipe cleaner, alternating between red and white beads.
Don't stress if your kids decide to place beads on their candy canes randomly instead of in a pattern. It's always best to follow their lead and allow them to be creative.
When they're finished stringing the beads on their pipe cleaners, you can bend each one into a candy cane shape and twist the other end to secure the beads.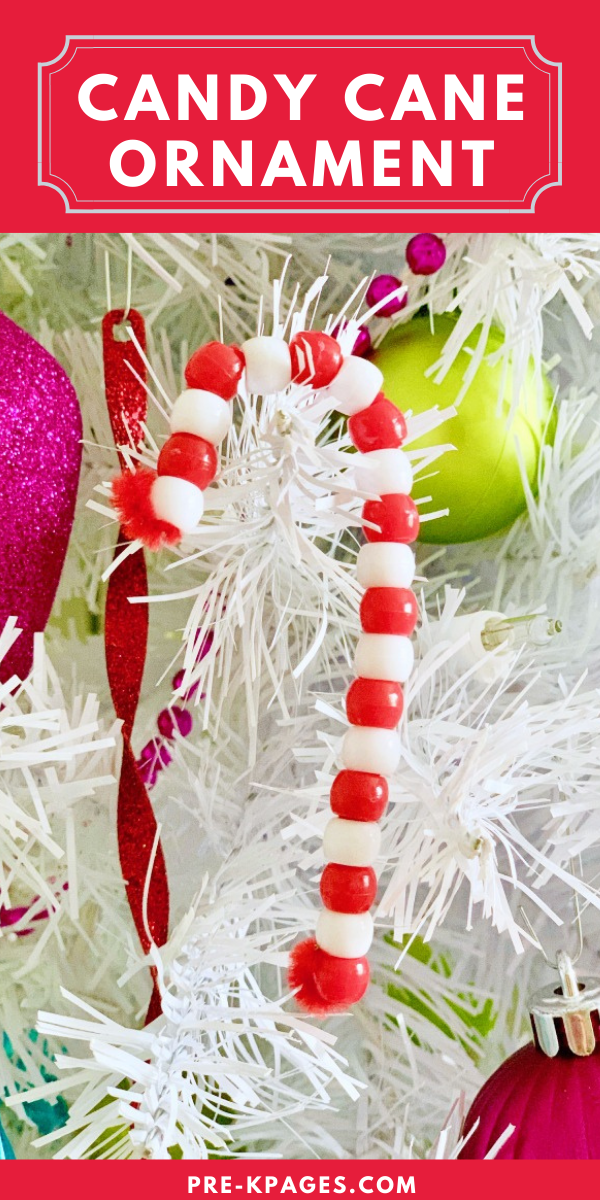 For an extra educational twist, you can put out different lengths of pipe cleaners and have your students compare the sizes of their candy canes. You can also invite your students to count the number of beads they used to make their candy canes.
You may notice that some students will have more difficulty stringing beads than others. Make a mental note of those students who struggle so you can be sure to provide them with more opportunities to develop their fine motor skills.
You can wrap these candy cane pipe cleaner ornaments in festive tissue paper, tie with ribbon, and give to parents as a holiday gift. They look great hanging on any Christmas tree and parents will treasure them for years to come.
More Christmas Ideas
Christmas Tree Sensory Bin Printable– Sensory bins are great ways to engage preschoolers in exploring and to build conceptual knowledge. This Christmas sensory bin builds pre-literacy skills. Children can find and match alphabet letters. They build visual discrimination skills, identifying the differences among letters. And they have so much fun digging in the bin to find the letters.
Five Senses Activities for Christmas – The five senses are key tools for preschoolers to explore and understand the world around them. When teachers can engage one or more of the senses, the learning experience becomes more concrete and more memorable. Here are over 20 activity ideas that will engage the senses as you invite preschoolers to learn more about Christmas.
Salt Dough Christmas Ornaments Kids Can Make- Salt dough ornaments are a classic Christmas craft, but they're also tons of fun for kids and super easy to make.  The best part? You probably already have the ingredients you need sitting in your pantry at home!