Candy canes are everywhere during the Christmas season. We decided to create a candy cane beads fine motor skills activity.
This easy beaded candy cane ornaments activity is loaded with educational benefits, for example picking up beads helps improve hand-eye coordination, holding beads lets kids practice their pincer grasp, and stringing beads improves concentration and fine motor skills. I just love it when one activity can facilitate learning other skills. You can also add some mathematics to the activity and when they are done they can hang their candy canes on the Christmas tree.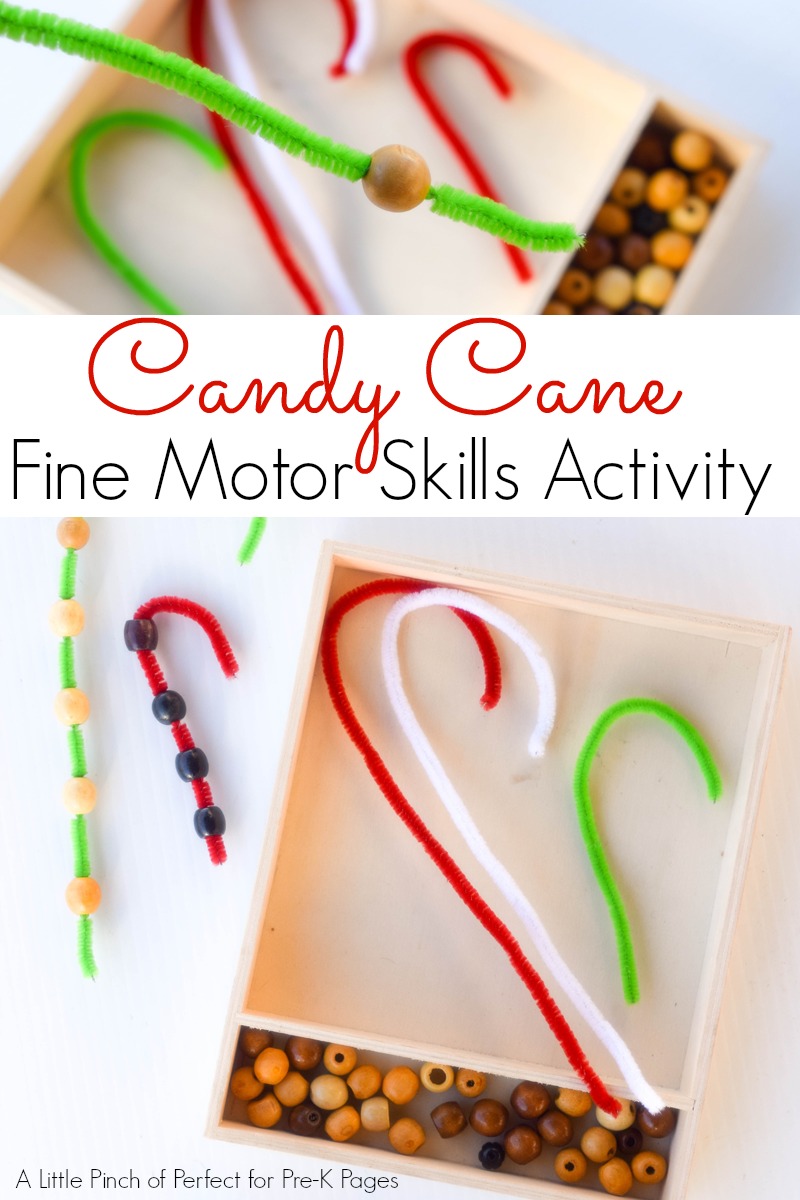 Preparing the Candy Cane Beads Activity
Bend the top of each pipe cleaner (that you can easily pick up at a craft store) to make a candy cane shape. You can cut some of the pipe cleaners to make different-sized candy canes or leave them all the same size. My kids enjoyed having "baby" candy canes because everything small to them is, "so cute." The smaller candy canes also allowed the kids to compare sizes; they put lots of beads on the large candy canes and fewer beads on the smaller candy canes.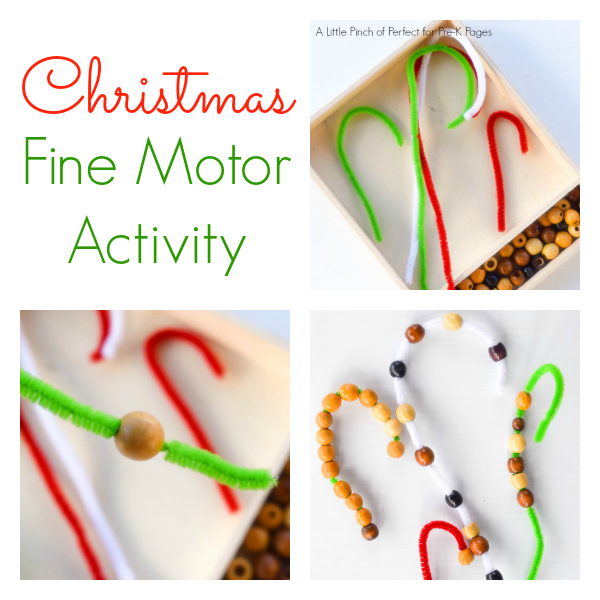 Fine Motor Skills Practice
Give children beads and invite them to string them on the pipe cleaners. You may want to fold one end of each candy cane over so the beads don't fall off. We used wooden beads because they are a little larger than pony beads. You can use whatever you have on hand. Pony beads would be fun to use because they come in so many different colors.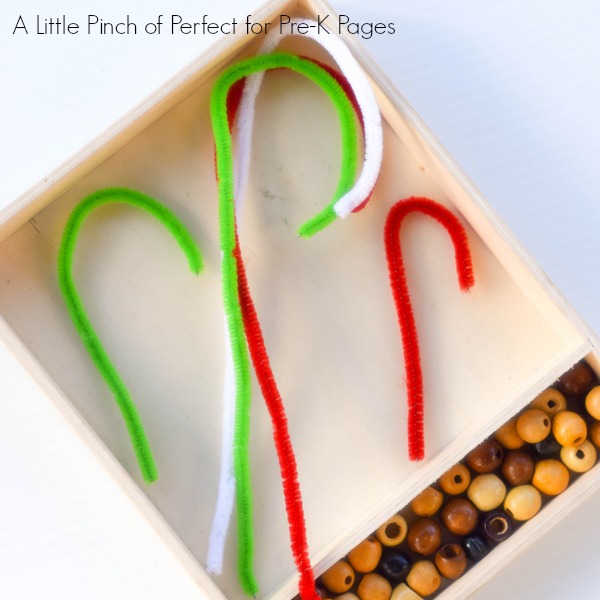 My 3-year-old son found some beads harder to string then others. He learned to sort the beads that didn't work into a different pile. As he was stringing beads, I would hear him stop and count to find out what number bead he was adding next. As he counted, he touched each bead which demonstrated his ability to count with one-to-one correspondence- a parenting win!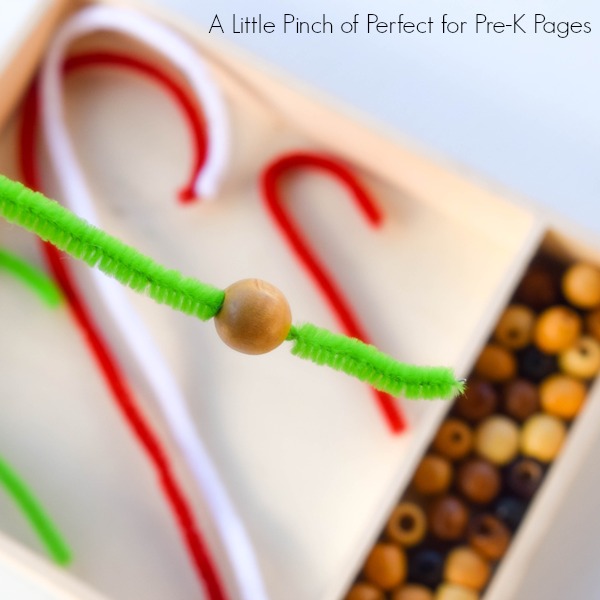 My 5-year-old daughter preferred to put her beads on the pipe cleaners in a pattern. When kids are done placing beads on their candy canes invite them to hang their candy canes on the Christmas tree as ornaments. They won't even notice that they were practicing valuable life skills.
If you use red pipe cleaners and red and white pony beads these look even more like "real" candy canes!
BIO: Katie stays busy homeschooling her two kids and sharing their fun educational activities, cute crafts, and free printables at A Little Pinch of Perfect. One of her kids' favorite shapes activities can be found here, Sorting Shapes Activity + Free Printable. Join her community of parents, caretakers, and educators who enjoy having fun and spending time with kids on Pinterest, Facebook, and Instagram.
More Christmas Ideas
Christmas Tree Sensory Bin Printable– Sensory bins are great ways to engage preschoolers in exploring and to build conceptual knowledge. This Christmas sensory bin builds pre-literacy skills. Children can find and match alphabet letters. They build visual discrimination skills, identifying the differences among letters. And they have so much fun digging in the bin to find the letters.
Five Senses Activities for Christmas – The five senses are key tools for preschoolers to explore and understand the world around them. When teachers can engage one or more of the senses, the learning experience becomes more concrete and more memorable. Here are over 20 activity ideas that will engage the senses as you invite preschoolers to learn more about Christmas.
Salt Dough Christmas Ornaments Kids Can Make- Salt dough ornaments are a classic Christmas craft, but they're also tons of fun for kids and super easy to make.  The best part? You probably already have the ingredients you need sitting in your pantry at home!