Do your kids love hands-on sensory activities? Then they'll love this cloud dough sensory bin. This sensory play recipe is super easy to make and perfect for any theme.
Your sensory bin doesn't always have to be related to your theme. Cloud dough offers your preschool, Pre-K, or Kindergarten kids plenty of opportunities to practice important fine motor and math skills at any time of the year.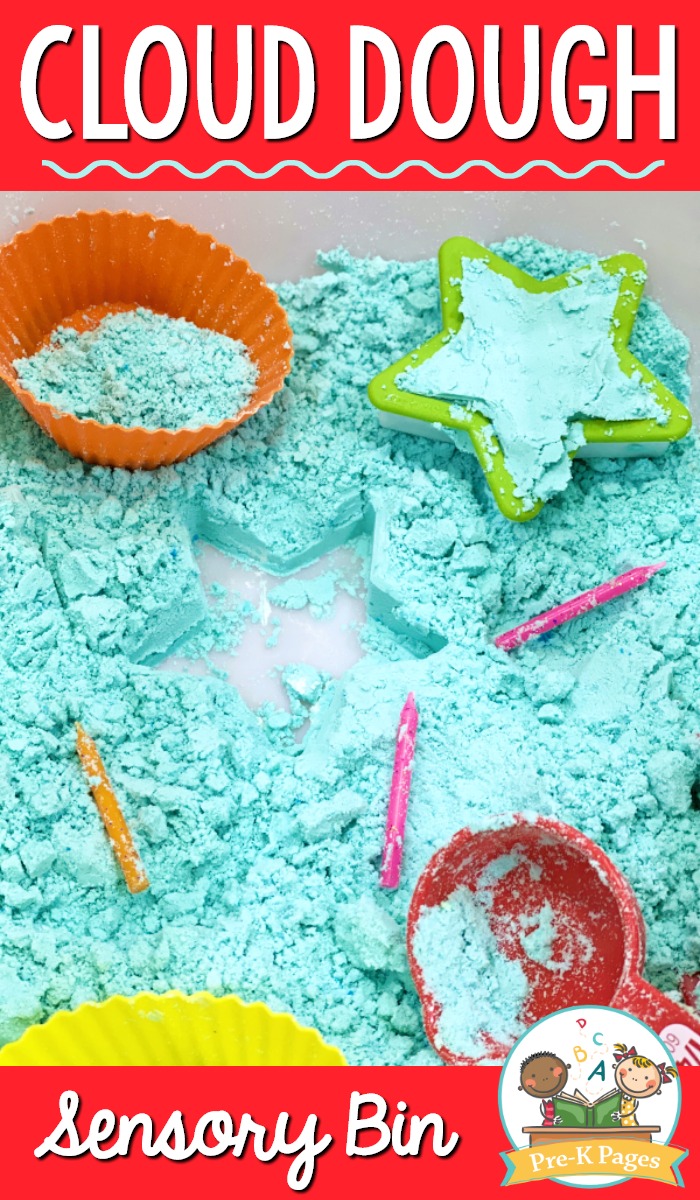 Cloud Dough Sensory Bin
Just in case you're new to the sensory bin scene, you can learn everything there is to know about them here.
Some teachers are hesitant to use sensory bins because of the potential for messes. But hear me out – because the educational benefits of sensory bin play far outweigh any messes that may occur. I like to refer to messes as "the cost of doing kid business."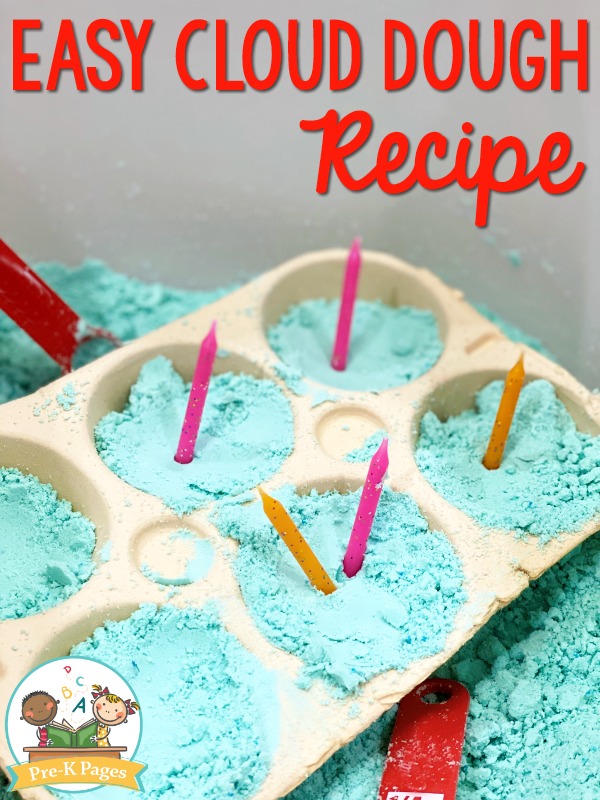 What is Cloud Dough?
If you're tired of just having plain old sand in your sensory bin, cloud dough is a great alternative. Cloud dough is super soft to the touch and can be molded, just like moon sand or kinetic sand.
The best thing about cloud dough is that it only has 3 ingredients, or just 2 if you're not coloring your dough – and it's taste safe! It's super easy to whip up a batch of cloud dough.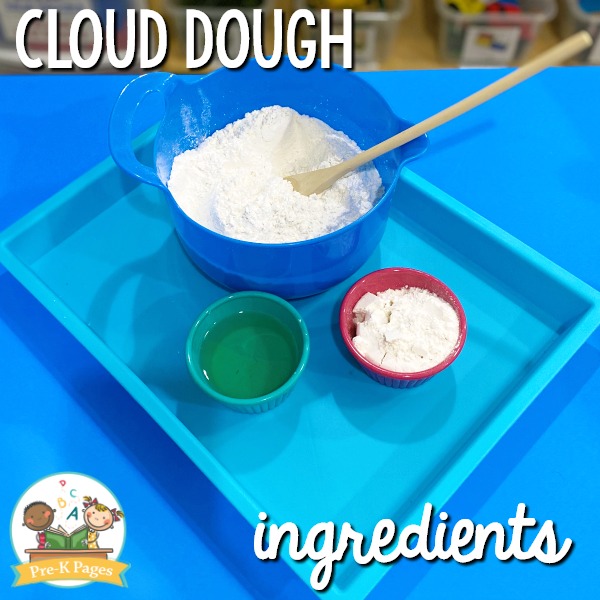 Cloud Dough Sensory Bin Ingredients
To make just one batch of cloud dough you'll need the following ingredients. If you'd like to fill a large sensory table with cloud dough, I suggest doubling or even tripling the recipe so you'll have enough.
If you have any children with gluten sensitivities or allergies you'll need to fill your sensory bin with something else. I haven't tried this recipe with rice flour, but if you do please let me know how it turns out!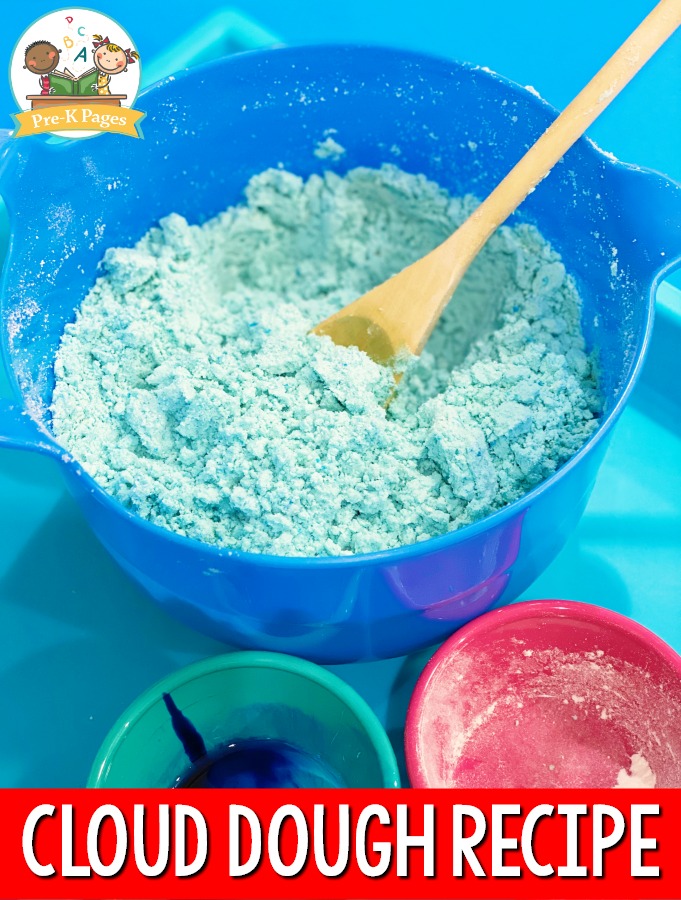 Cloud Dough Recipe
You'll probably want to add some fun baking tools to your cloud dough sensory bin to enhance the play experience for your kids. Here are some suggestions for sensory bin tools you may consider adding to your bin, but you can use whatever you prefer or have on-hand.
Silicone Cupcake Liners
Candles
Cookie Cutters
Measuring Spoons
Measuring Cup
Wooden Spoon
Bowls
Muffin Tin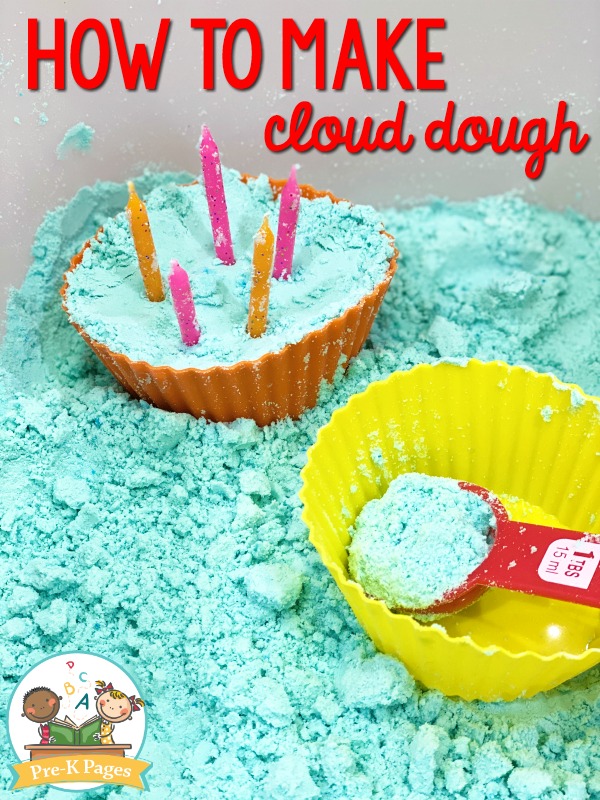 How to Make Cloud Dough
Now that you've gathered your ingredients and your tools, it's time to get started making your cloud dough.
Start by measuring out your flour and dumping it into a big bowl, or you can dump it directly into your bin or sensory table.
Remember, you can double or even triple this recipe if you have a larger sensory bin or sensory table.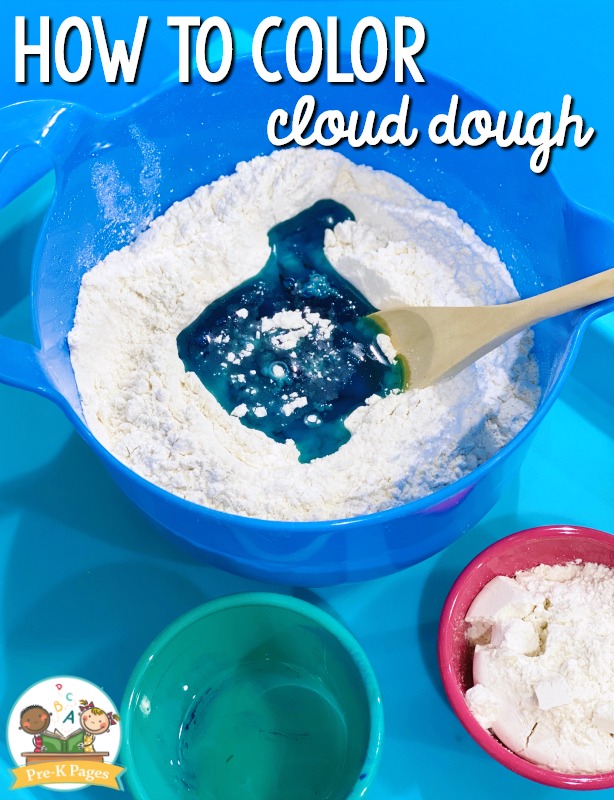 How to Color Cloud Dough
Next, using a separate bowl, add your vegetable oil and oil-based food coloring and stir until they're mixed thoroughly. It's important to use oil-based food coloring if you want your dough to have color because regular food coloring won't work to color cloud dough. Of course, if you want your dough to be color-free, then just omit the food coloring entirely and you're good to go!
After you've mixed your oil and food coloring, pour the mixture into your flour and begin mixing everything together with your wooden spoon. Eventually, you'll need to roll up your sleeves and start kneading the dough by hand to mix the color into the flour completely. At this point, it's fun to invite the kids to continue mixing up the cloud dough.
If you're wondering if the food coloring stains little hands, the answer is no. If you mix up the oil-based food coloring and vegetable oil first, and then mix it all with a wooden spoon, it shouldn't stain little hands. I played with this batch along with the kids for 30 or more minutes and there were no stained hands or fingers afterwards.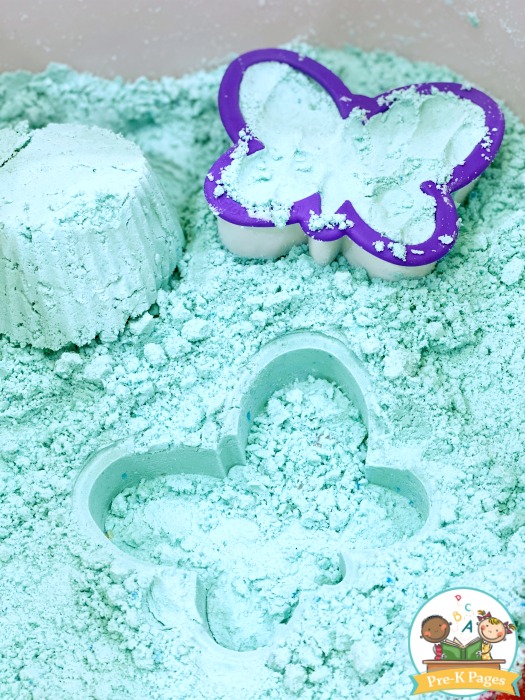 Sensory Play with Cloud Dough
The end result should be a dry dough that you're able to easily mold with your hands. You don't want big clumps of flour and you definitely don't want your cloud dough to be sticky.
If your dough is too dry, add a little more oil. If your cloud dough is too wet, add a little more flour. It's not an exact science, it's more of an experiment. You need to be patient and understand that your dough may need a little tweaking to get to that "just right" texture.
Cloud Dough Sensory Bin Clean Up
You can set yourself and your students up for success by putting measures in place in advance to contain the mess and make it easier to clean-up. Here are a few ideas that may help put your mind at ease:
Put your sensory bin outdoors, as long as you have a secure cover on top you don't have to worry about any messes
Put a cheap plastic tablecloth from the dollar store down on the floor underneath your sensory bin or sensory table
Place small hand brooms near your sensory bin to encourage sweeping up after play
Provide your students with paint smocks to protect their clothing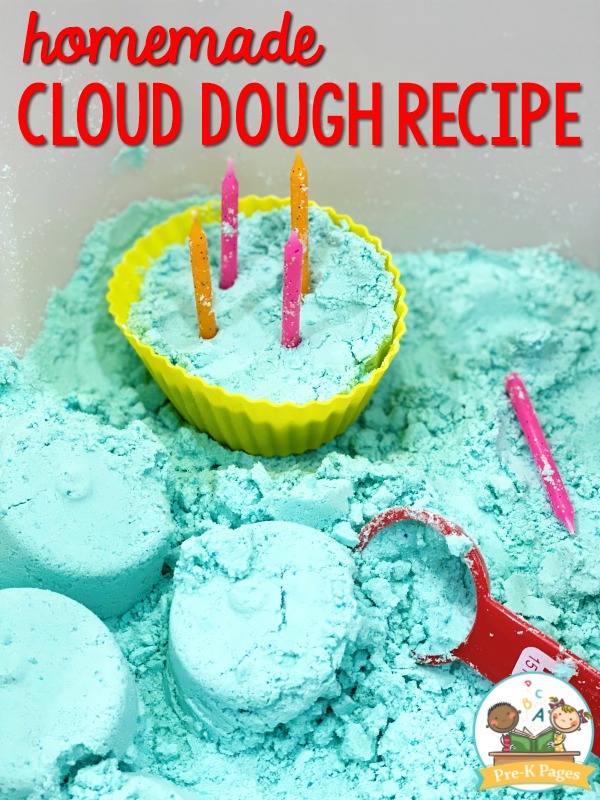 Homemade Cloud Dough Recipe for Kids
Any good early childhood teacher knows that young children learn best when they're touching and exploring things with their hands.
That's why sensory bins are perfect for little learners! They allow young children to explore, play, and discover without any set expectations. All you have to do is invite them to explore the materials inside the tub however they would like (within reason, of course!)
Exploration and discovery naturally leads to pouring, scooping, and transferring. When they pour, scoop, and transfer, your kids are really being introduced to important academic skills like volume, weight, more and less etc. It's kind of like hiding vegetables in their mac and cheese, they have no idea they're learning, they just think they're having lots of fun!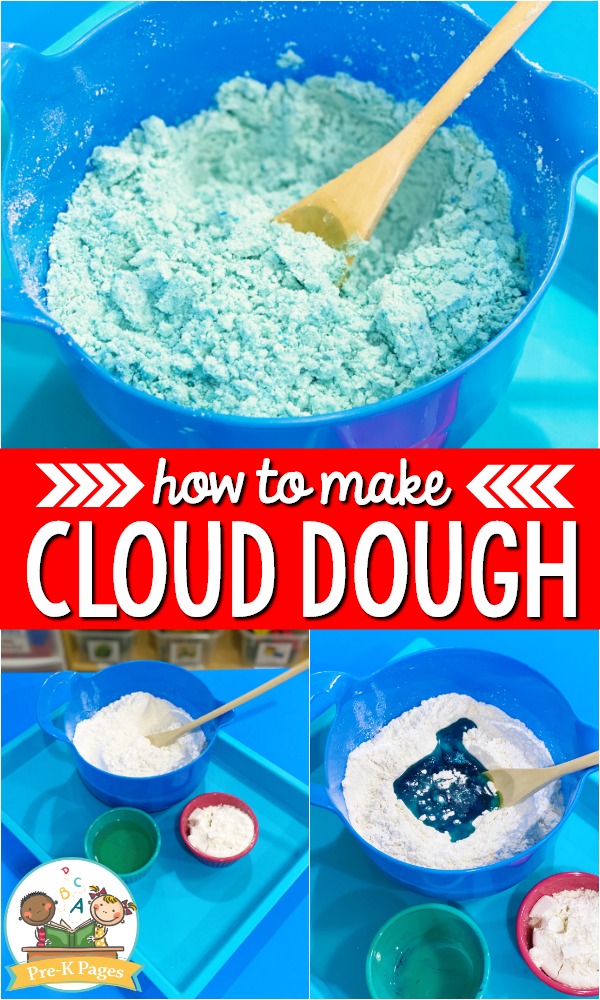 The Best Cloud Dough Recipe
If you're wondering how long your cloud dough should last, you're not alone! Some folks say theirs lasts for an entire month, others say just a week. But it really depends on how often it is used and how many kids are using it. The more kids using it and the more often it's used, then it won't last as long.
A general rule of thumb in the Preschool or Pre-K classroom is to keep it out for a week or two, then dump it. Since it's food based, you don't want to keep it and store it for an entire year – unless you like little critters!
More Sensory Ideas