Are your kids fascinated by dinosaurs? You can use their natural interest in dinosaurs to your advantage by implementing a dinosaur theme in your classroom.
Introduce your children to the job of a paleontologist. Start by explaining that paleontologists are scientists who study fossils. Then, invite your kids to create fossils with this simple salt dough recipe. Afterwards, they can hone their paleontology skills by digging for the fossils in a sensory bin!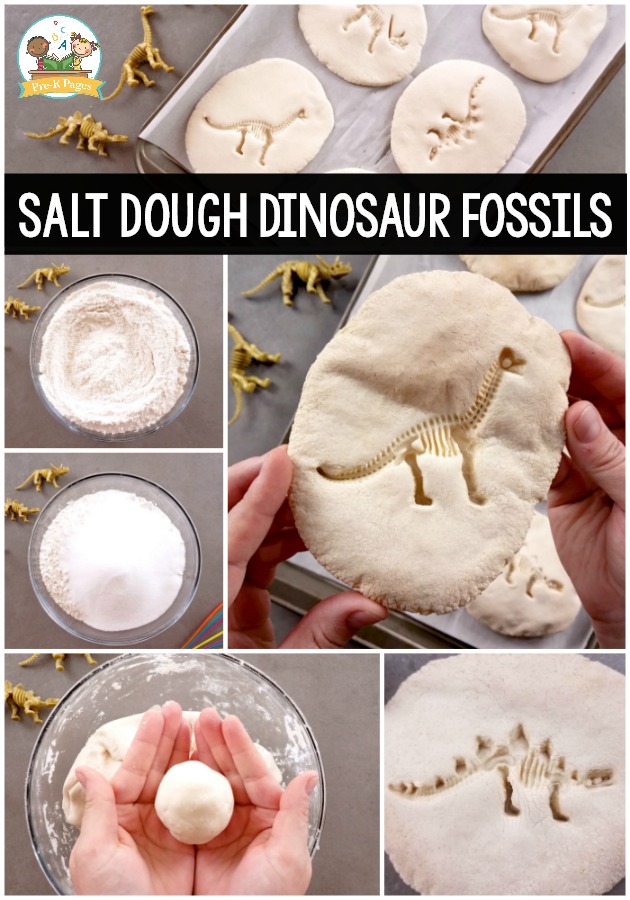 What Is Salt Dough?
Salt dough is basically a homemade playdough recipe made with just 3 simple ingredients! All you will need is salt, flour, and water to make this dough.
Salt Dough Recipe
Here are the supplies you will need to create your own fossils with salt dough.
1 1/4 Cups Salt
5 Cups All-Purpose Flour
2 Cups of Water
This recipe makes enough for 10 fossils. For larger classes you will need to adjust the ingredient amounts.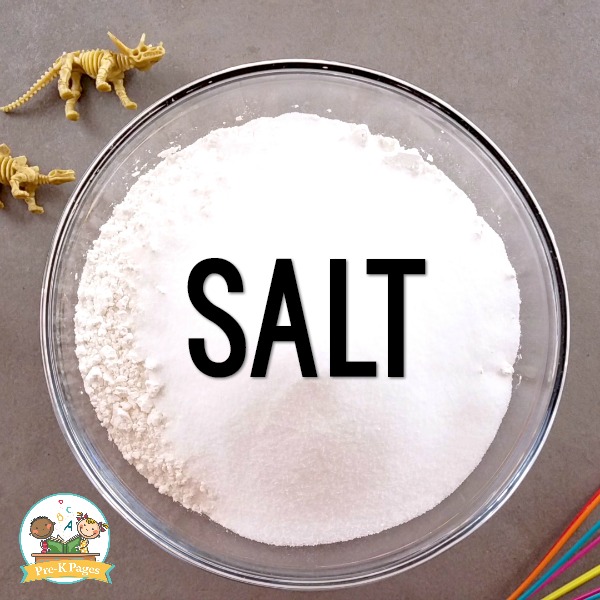 How Do You Make Dinosaur Bones With Flour?
Add the salt and flour to your bowl.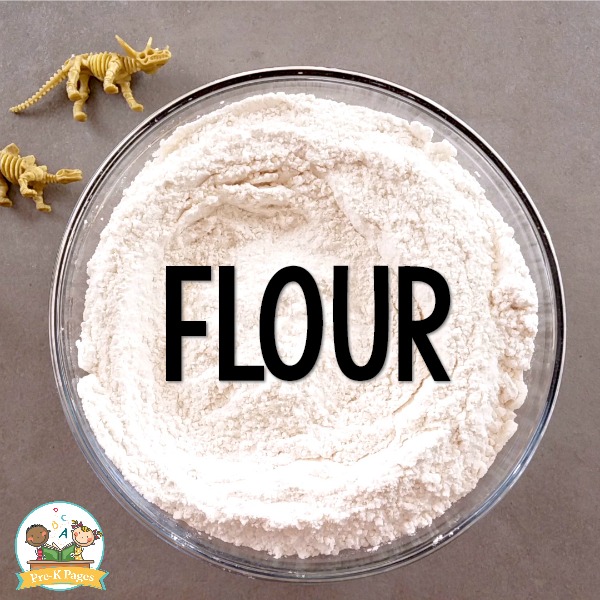 Mixing the Salt Dough Recipe
Then, mix and knead your dough thoroughly. Start by using a spoon, then switch to your hands to work out any lumps.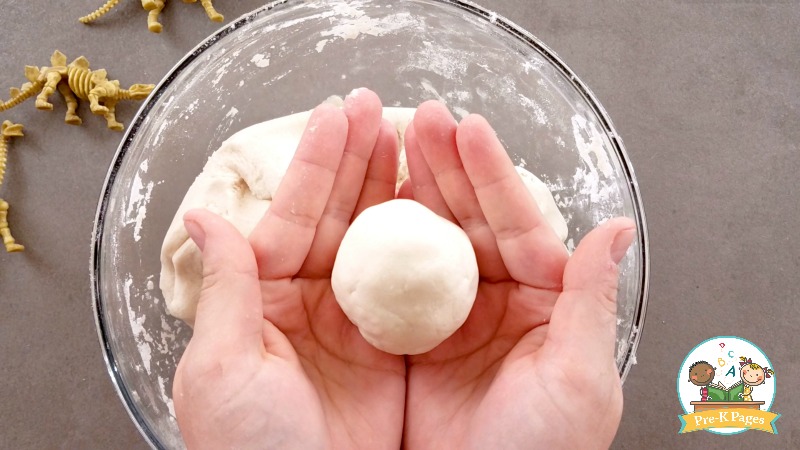 Salt Dough Dinosaur Fossils
When the dough is ready it will resemble bread dough in your bowl. If your salt dough recipe is too sticky, try adding a bit more flour. If your dough is too crumbly, try adding a bit more water.
Remember, play recipes are not an exact science, you may need to tweak your ingredients a bit to get your dough "just right."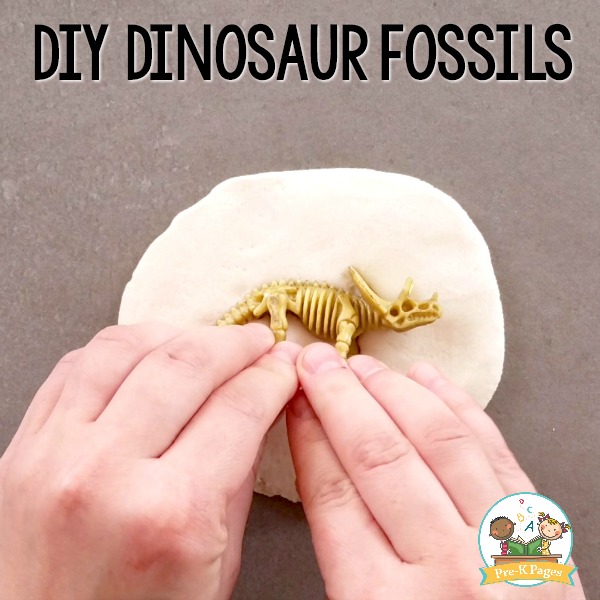 Making DIY Dinosaur Fossils
Next, roll out some balls of dough and invite your kids to press the dinosaur toys into the dough.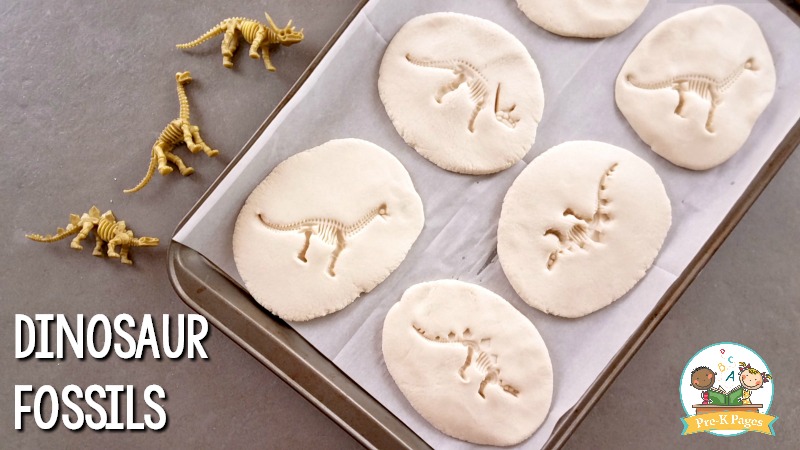 How Do You Dry Salt Dough?
Finally, remove the plastic dinosaur toys and place your fossils on a cookie sheet. Bake the fossils in the oven at 350 degrees for 45 minutes.
After your fossils have cooled, bury them in your dinosaur sensory bin or table and invite your little paleontologists to a dinosaur dig and find the fossils!
Take It Outside!
If you want to keep sand off the floor, you can move this activity outdoors. Just move your bin or tub of sand outside and let the kids have fun on the playground or in the backyard. Kids don't care where they hunt for dinosaur fossils, it's the experience that's more meaningful to them.
There is nothing better than watching your kids dig for pretend fossils, then squealing with delight each time they find one. And it's not just hours of fun, you're creating a meaningful learning experience that will also create fun childhood memories for your kids.
What Else Can I Use Salt Dough For?
The possibilities for using salt dough are endless, you're only limited by your imagination!
You can use salt dough to make almost anything, like thumbprint necklaces for Mother's Day, keepsake handprint plaques, Christmas tree ornaments, press flowers into the dough for a Spring activity, and Father's Day gifts.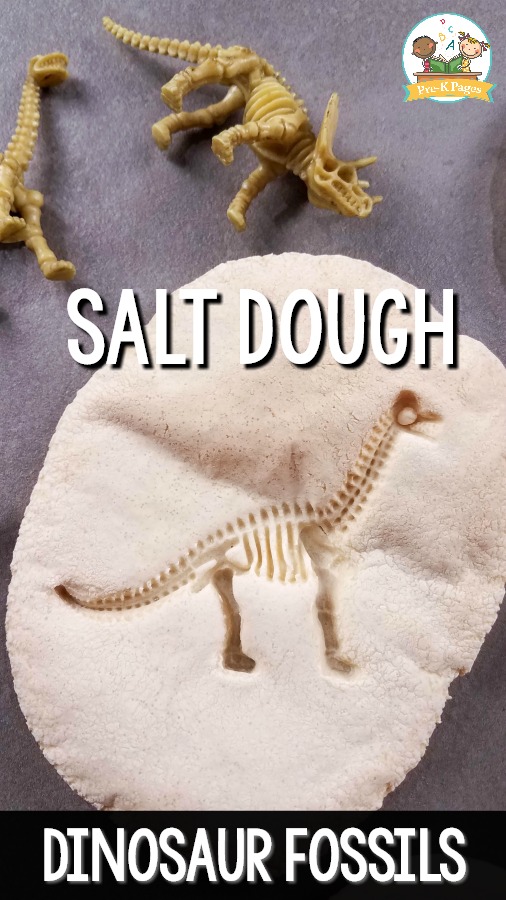 Dinosaur Dig Dramatic Play
If your kids like dinosaurs, they'll LOVE this Dinosaur Dig dramatic play kit!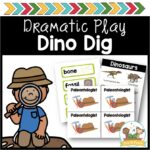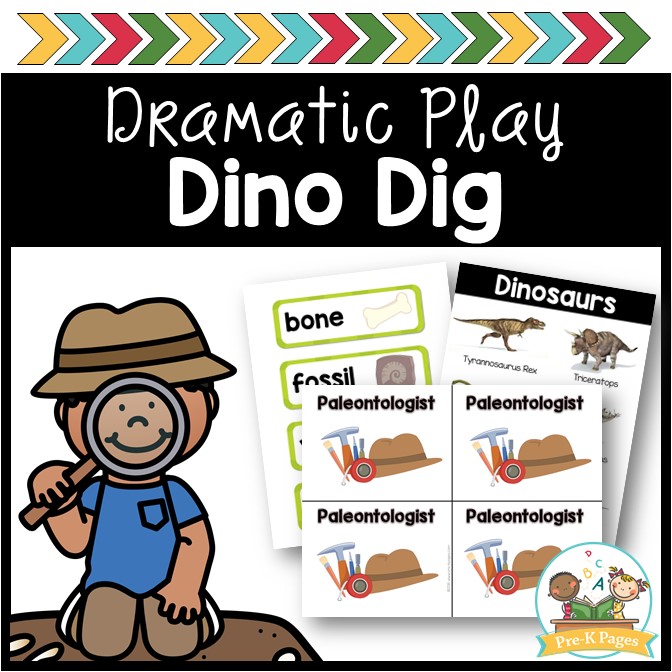 129 pages of printable props to help you easily transform your dramatic play center into a dinosaur dig. Includes literacy, oral language, and writing opportunities that align with current learning…
More Dinosaur Ideas