Animals are a vital part of planet Earth and it's a wonderful idea to celebrate them on Earth Day. This sensory play activity for Earth Day, on April 22, is a great way to engage the senses while also talking about creatures that live on Earth.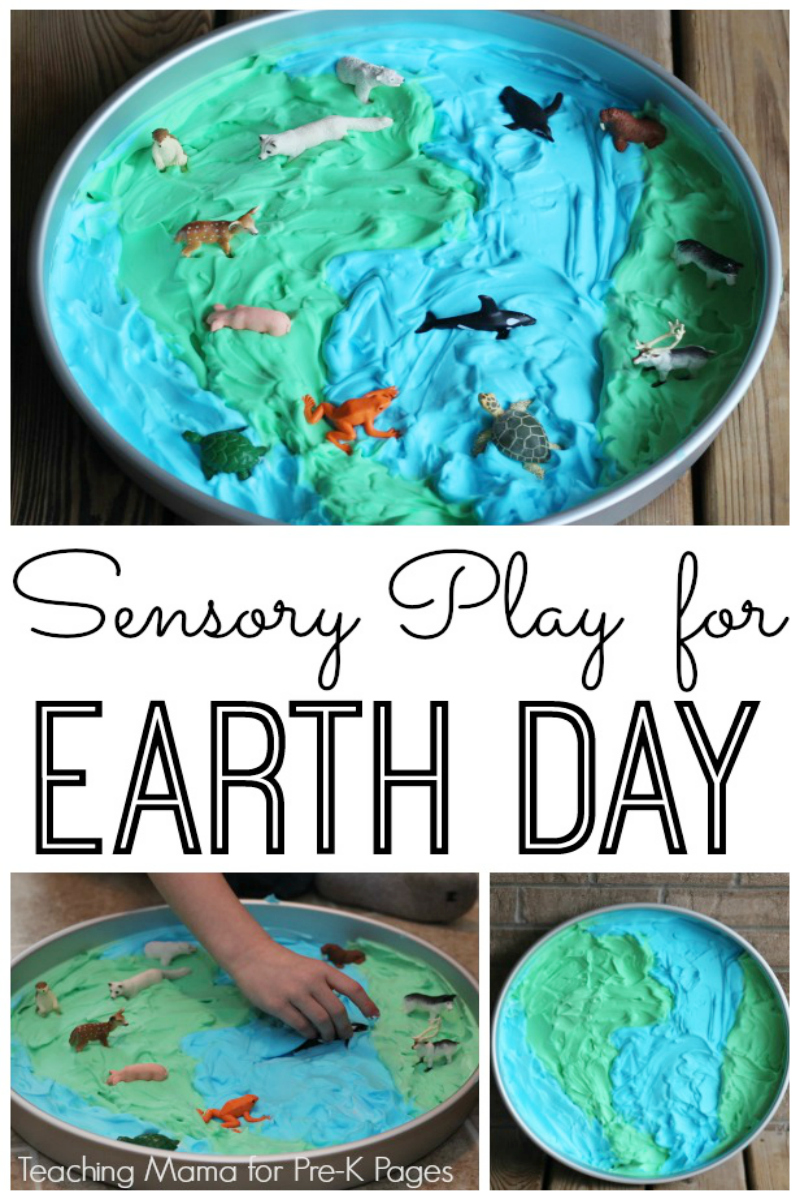 Sensory Play
Sensory play is so important for preschoolers. Starting at birth, children learn about their world using their senses, such as seeing, smelling, hearing, feeling, and tasting.
As they grow, children's senses are their most familiar and most basic way to explore and process new information. Sensory play enhances learning through hands-on activities that stimulate the child's senses.
This Earth day sensory play activity uses shaving cream, which is great for tactile sensory learning.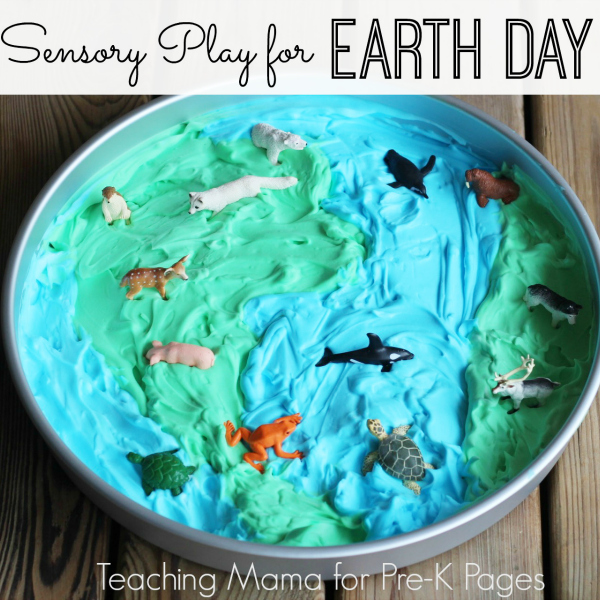 Earth Day Sensory Play
Here's what you need for this hands on activity:
round pan (this one is from Hobby Lobby in the cake section)
1 can of shaving cream
blue and green food coloring
animal figures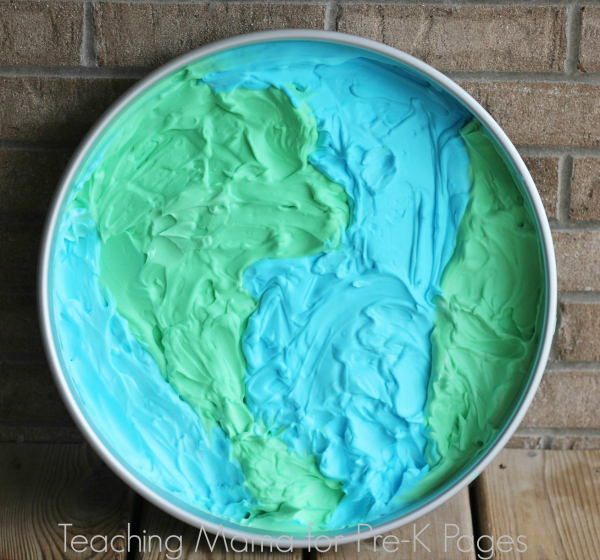 How to Set it Up:
Divide the shaving cream into 2 bowls. Stir in blue food coloring in one bowl and green in the other.
Spread the shaving cream in the round pan to make it look like planet Earth.
Set the animal figures around the pan.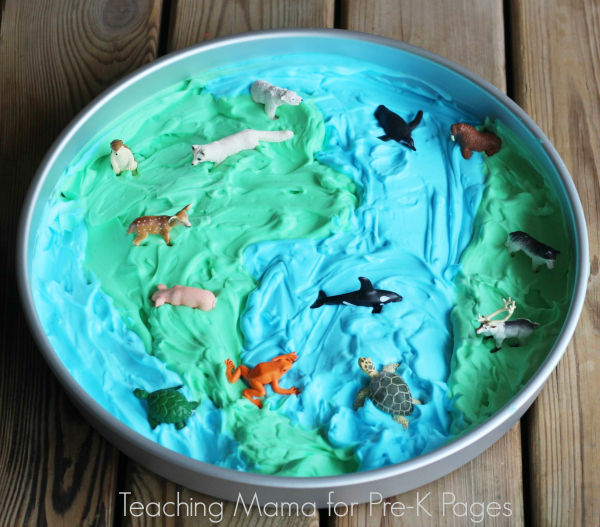 Animal Play in the Sensory Tray
Invite the children to explore the sensory tray. Encourage dramatic play, which allows children to use their imaginations, play with other children, and use language skills.
While playing, talk about how some animals live on land, some in the water, and some live on both! You can even have children sort the animals based on where they live: land, water, or both.
Also discuss ways we can make planet Earth a thriving environment for animals: adopting rescued animals, reducing trash on the ground and in water, and being respectful towards animals.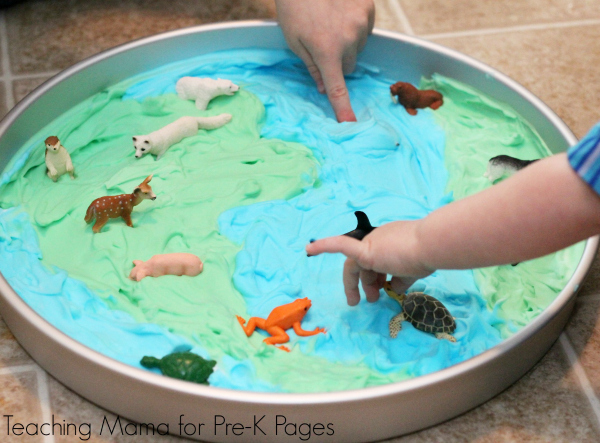 Of course, kids will mix the colors- that is part of the fun of this hands on activity. You can introduce the activity and discuss animals, their habitats, and caring for our planet, what happens after that is up to them!
This tray is a messy play activity, so make sure to either do it outside or on a hard surface that you can easily clean. I also recommend having a bucket nearby with warm water for children to clean the shaving cream off of their hands.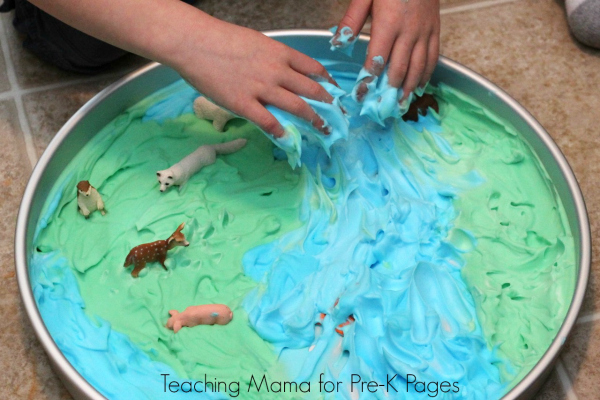 When finished with the activity, dispose of the shaving cream and wash the pan and animals off.
Preserving our planet to help animals thrive is so important. I hope your children will enjoy learning about Earth through this sensory play activity.
BIO: Angela is the writer and creator at Teaching Mama, where she shares hands-on learning activities for babies, toddlers, and preschoolers. She is a former teacher, turned stay-at-home-mom to 3 wonderful boys. Angela is the author of the Alphabet Formation Rhymes, which are a great way for teaching correct letter formation. You can connect with her on Facebook, Pinterest, or Instagram.
More Earth Day Activities For Kids
Earth Day Paper Plate Weaving (Pre-K Pages) – Paper plate weaving is a fantastic fine motor challenge. With Earth Day right around the corner, this simple paper plate weaving activity is a fun way to spark discussion with your students about stewardship of the earth while encouraging creativity!
Alphabet Clean Up (Pre-K Pages) – Earth Day is the perfect time to teach children about the environment and how they can help care for our planet. Today I'm sharing a way you can help your kids learn about the environment and the importance of not littering.
Homemade Seed Paper (Pre-K Pages) – A great way to celebrate Earth Day for Kids is by making homemade seed paper. It makes a great process art activity for preschoolers, requiring very simple materials. It is also a great fine motor skill challenge and makes for fun sensory play with a little science mixed in, too.
Celebrating Earth Day (Pre-K Pages) – Most preschool and kindergarten teachers teach their students about fire safety and dental health; but teaching students to respect our planet is just as important.