Earth Day is a great time to teach preschoolers about recycling. Making a recycling center for the classroom is a simple way to get kids involved. Recycling teaches students to about caring for the environment and teaches many other skills.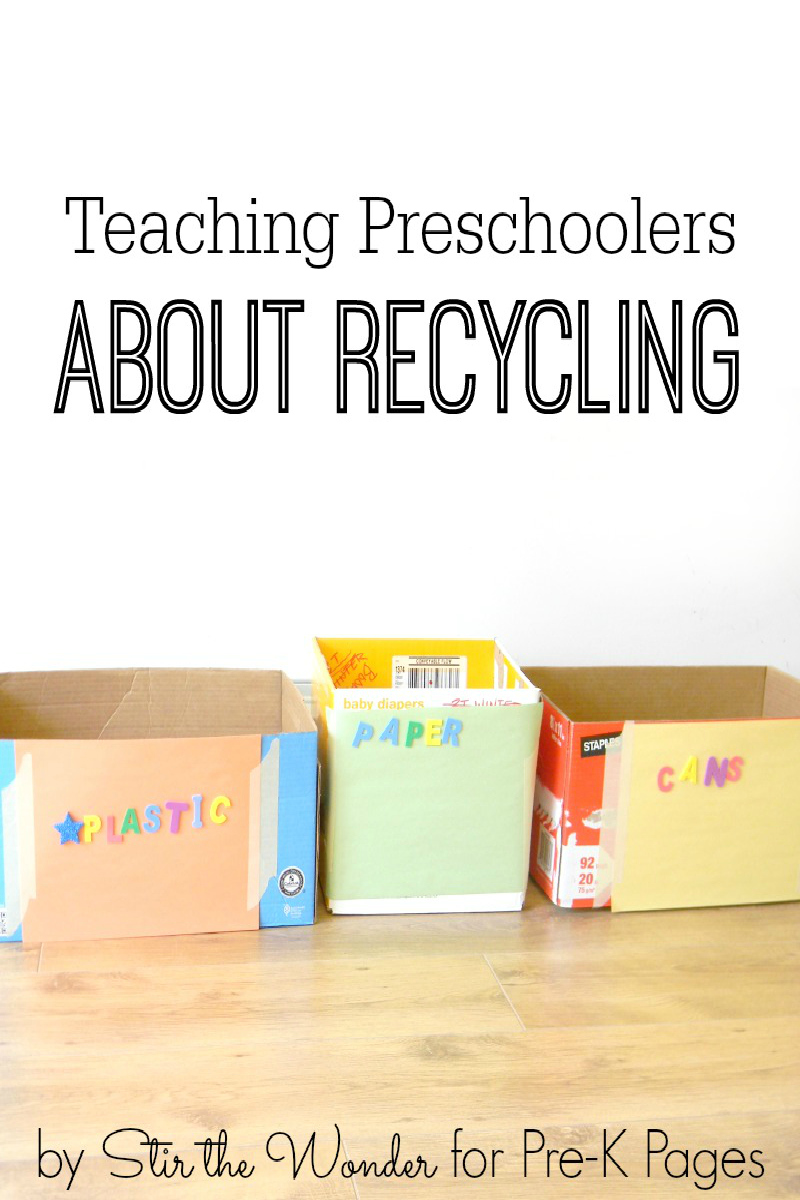 Benefits of Teaching Preschoolers about Recycling
Recycling with preschoolers is a simple way to teach them about taking care of their environment. Whether it be in the classroom, at home, or outside.
Talking about recycling also provides the opportunity for kids to learn about where products come from. How they are made. And how they can be reused.
This simple activity also promotes letter recognition, fine motor skills, and sorting by attributes.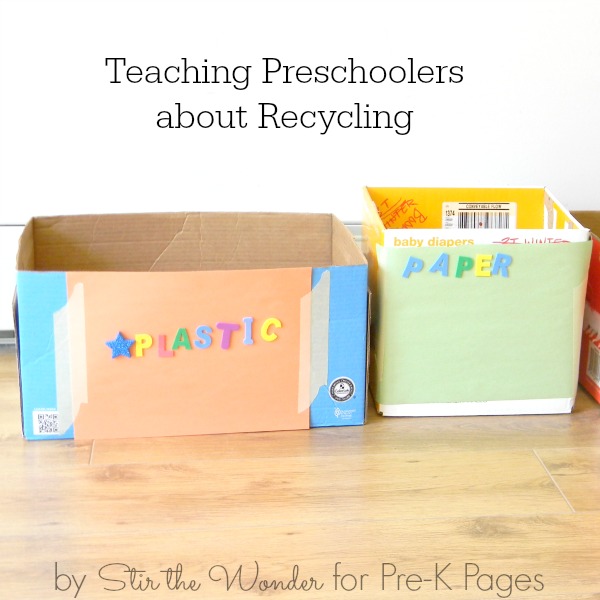 Supplies & Materials
Recycle! A Handbook for Kids by Gail Gibbons
Recyclable items, such as plastic bottles, newspapers, cardboard boxes, cans, and so forth
Small or Medium sized boxes
Construction paper
Alphabet stickers
Tape
There are many ways to teach preschoolers about how to reduce, reuse, and recycle. One way is to bring kids along as you clean up a park or playground.
Another simple way is to create a recycling center for the home or classroom. To do this, gather the necessary supplies and invite the children to help make some signs for your recycling bins. Preschoolers can help make signs for the recycling bins. Have them place alphabet stickers on construction paper. Include signs for paper, plastic, cans, and glass. Tape the signs on the boxes and set up a recycling center near the wastebasket.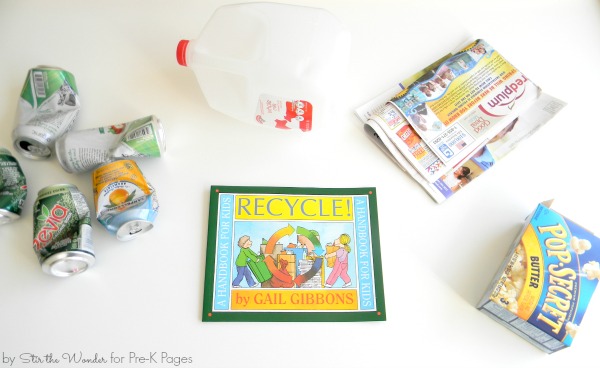 When the recycling center is all set up, invite children to help sort the recyclables into the bins. As they do this, talk about what is and is not recyclable and what happens to recyclables when they are taken by the recycling truck.
This is also a great opportunity to discuss other ways we can care for the environment by reducing what we use, reusing what we can, and recycling!
You may want to invite preschoolers to bring in some recyclable items from home. They can add their items to the recycling center in the classroom.
BIO: Samantha writes at Stir the Wonder, sharing creative, hands-on learning activities for preschoolers including fine motor, STEM, and book-inspired activities. She is also a co-author of the book 99 Fine Motor Ideas for Ages 1 to 5 and the brand new 100 Fine Motor Ideas for Parents, Teachers & Therapists! You can follow her on Facebook, Twitter, and Pinterest.
Earth Day Paper Plate Weaving (Pre-K Pages) – Paper plate weaving is a fantastic fine motor challenge. With Earth Day right around the corner, this simple paper plate weaving activity is a fun way to spark discussion with your students about stewardship of the earth while encouraging creativity!
Alphabet Clean Up (Pre-K Pages) – Earth Day is the perfect time to teach children about the environment and how they can help care for our planet. Today I'm sharing a way you can help your kids learn about the environment and the importance of not littering.
Sensory Play for Earth Day (Pre-K Pages) – Animals are a vital part of planet Earth and it's a wonderful idea to celebrate them on Earth Day. This sensory play activity for Earth Day is a great way to engage the senses while also talking about creatures that live on Earth.
Homemade Seed Paper (Pre-K Pages) – A great way to celebrate Earth Day for Kids is by making homemade seed paper. It makes a great process art activity for preschoolers, requiring very simple materials. It is also a great fine motor skill challenge and makes for fun sensory play with a little science mixed in, too.
Celebrating Earth Day (Pre-K Pages) – Most preschool and kindergarten teachers teach their students about fire safety and dental health; but teaching students to respect our planet is just as important.
Painting with Recycled Objects (Pre-K Pages) – Earth Day is a time to think about caring for the world we have. Reusing and recycling materials are ways to be responsible. In this art project activity children can recycle materials to use for painting and can explore the letters of the alphabet, too.
Upcycled Plastic Egg Music Shakers (Pre-K Pages) – Earth Day is a great time to talk about recycling and reusing (or upcycling) materials. Recycle plastic eggs after Easter and make upcycled plastic egg music shakers out of them. They are easy to make and you end up with the perfect little instruments for music time!
Simple Earth Suncatcher (No Time for Flash Cards) – With some glitter and glue your preschoolers will have a fun time making these easy Earth Suncatchers in this hands on activity.
Recycled Art (No Time for Flash Cards) – Using a collection of recycled objects this is a great Earth day process art activity.
Cardboard Tube Marble Run Building Activity (Little Bins for Little Hands) – Save those cardboard tubes instead of throwing them away and then turn them into this hands on marble run building activity.