Earth Day is a great time to talk about recycling and reusing (or upcycling) materials. Recycle plastic eggs after Easter and learn how to make upcycled plastic egg music shakers out of them. They are easy to make and you end up with the perfect little instruments for music time!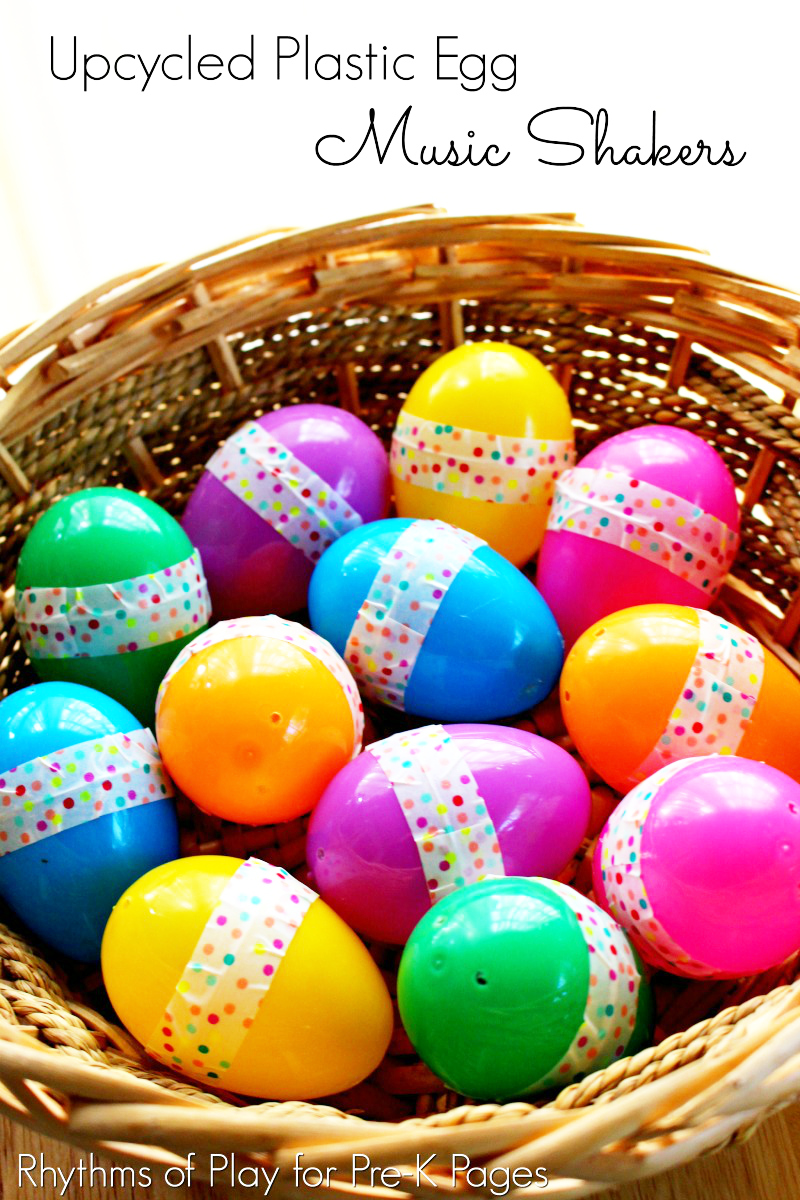 Music and Education
Including music in education has many benefits. Research has found that music enhances learning and language development.
Music education can also help children improve social skills, integrate learning, and improve memory. Using these shakers with recorded music can help develop listening skills and can work motor skills as children shake rhythms in a controlled manner.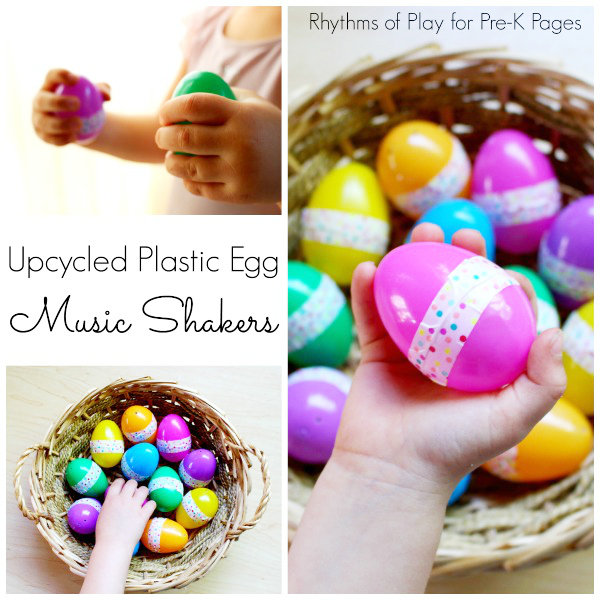 How To Make Upcycled Plastic Egg Music Shakers
Supplies
Plastic Eggs
Glue gun or super glue
Washi tape, electrical tape, or duct tape
Filler – ideas include: rice, beans (coffee, pinto, black, etc.), popcorn kernels, lentils, small pebbles, pony beads, seed beads, or anything else you'd like to try.
Directions
1. Play with different fillers to decide which you will use.
2. Remove hinges from plastic eggs.
3. Fill each plastic egg with 1 to 2 teaspoons of filler.
4. Place glue from a glue gun along the inside edge of the top of the egg or quick drying super glue on the "shelf" of the bottom of the egg. Work quickly to glue the eggs shut.
5. Wrap with tape for added security. (Washi tape does not add the most security.)
6. Allow to dry and shake away!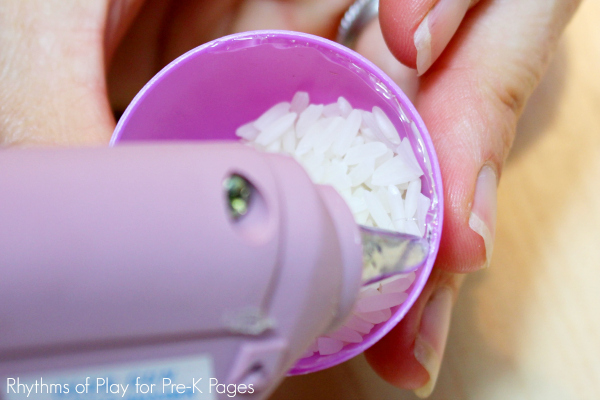 Because these are homemade musical shaker eggs, they may present a choking hazard for little ones.
Please don't give these to children still mouthing objects and make sure you supervise children when using them.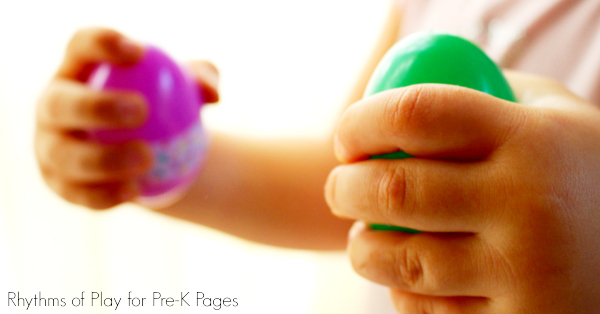 Experiment with Sound
Add a science component to your music making by playing with the fillers you use in your egg shakers. The type and amount of filler used, and the size of your eggs will all affect the sound quality produced.
Have fun playing and experimenting with the sound produced by placing different types and amounts of fillers in each egg before you glue them shut.
Make sure small fillers are not able to shake through the small holes in the eggs. Don't use fillers that are able to shake out. You can use a glue gun to seal these holes if you like.
You may find that you prefer one type of filler and decide to make your upcycled plastic eggs music shakers with only that one filler. Or, you may decide to use several types of fillers to produce different sounds. Play with it and have fun!
Invite children to gather around as you shake a simple pattern with your own egg, for example, short, long, long. Then, invite the children to repeat the pattern with their eggs.
You could also fill pairs of eggs with the same filling and have children find the two eggs that make the same sound as an extension activity.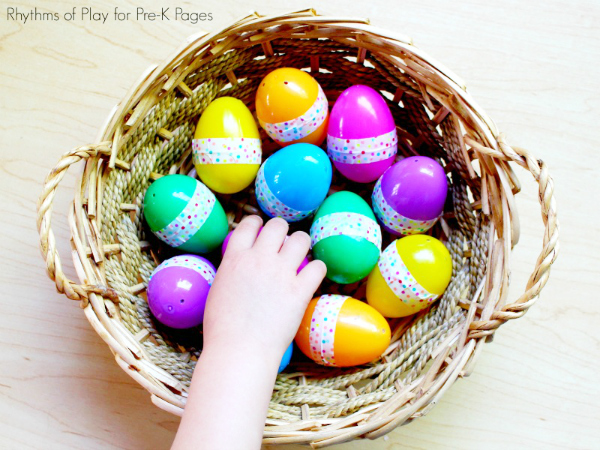 Enjoy the benefits of music education, learning about sound, and creating music by making upcycled plastic egg music shakers. Your kids will love it!
BIO: Nell believes in the magic of childhood, spending more time outdoors than indoors, and making this world a greener place to live. She is the creator of Rhythms of Play — where parents can find simple tips, crafts and activities to keep the kids busy all day. Check out her amazing All Season Hand and Fingerprint Tree. You can connect with her on Facebook, Pinterest, and Instagram.
Earth Day Paper Plate Weaving (Pre-K Pages) – Paper plate weaving is a fantastic fine motor challenge. With Earth Day right around the corner, this simple paper plate weaving activity is a fun way to spark discussion with your students about stewardship of the earth while encouraging creativity!
Alphabet Clean Up (Pre-K Pages) – Earth Day is the perfect time to teach children about the environment and how they can help care for our planet. Today I'm sharing a way you can help your kids learn about the environment and the importance of not littering.
Sensory Play for Earth Day (Pre-K Pages) – Animals are a vital part of planet Earth and it's a wonderful idea to celebrate them on Earth Day. This sensory play activity for Earth Day is a great way to engage the senses while also talking about creatures that live on Earth.
Homemade Seed Paper (Pre-K Pages) – A great way to celebrate Earth Day for Kids is by making homemade seed paper. It makes a great process art activity for preschoolers, requiring very simple materials. It is also a great fine motor skill challenge and makes for fun sensory play with a little science mixed in, too.
Celebrating Earth Day (Pre-K Pages) – Most preschool and kindergarten teachers teach their students about fire safety and dental health; but teaching students to respect our planet is just as important.