What do your preschoolers know about the environment? Often teachers will talk about animals or plants or other parts of the natural world. In these themes or learning times, they may talk about how to take care of the world.  April 22 is Earth Day, a natural time to talk about caring for the world. During this time teachers can also talk about recycling, reducing, and reusing. The Earth day activities range from art projects to hands on activities provide some ways to explore caring for the earth and recycling.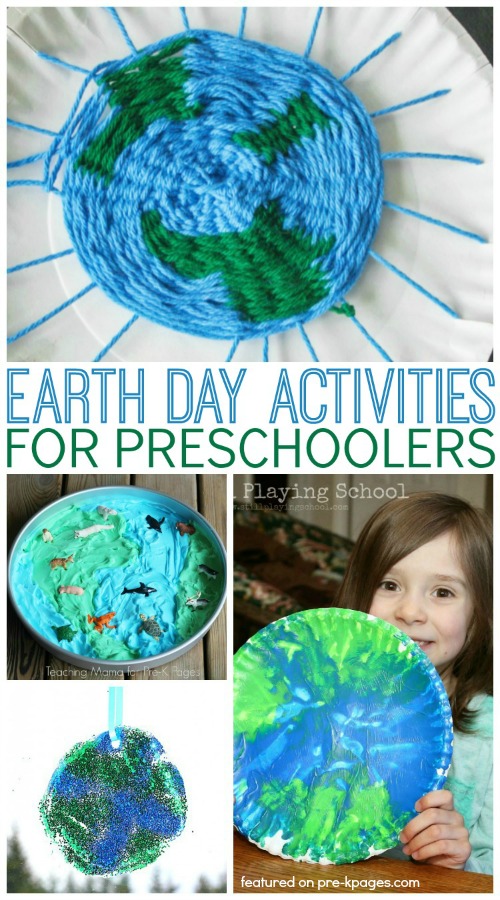 Earth Day Activities for Preschoolers
These Earth Day activities for kids will  not only have them learning about Earth Day, but also excited about it! From making paper plate weavings, to sensory play, and songs to celebrate these activities will definitely have your preschool kids excited about saving the planet.
Earth Day Paper Plate Weaving (Pre-K Pages) – Paper plate weaving is a fantastic fine motor challenge. With Earth Day right around the corner, this simple paper plate weaving activity is a fun way to spark discussion with your students about stewardship of the earth while encouraging creativity!
Alphabet Clean Up (Pre-K Pages) – Earth Day is the perfect time to teach children about the environment and how they can help care for our planet. Today I'm sharing a way you can help your kids learn about the environment and the importance of not littering.
Sensory Play for Earth Day (Pre-K Pages) – Animals are a vital part of planet Earth and it's a wonderful idea to celebrate them on Earth Day. This sensory play activity for Earth Day is a great way to engage the senses while also talking about creatures that live on Earth.
8 Earth Day Songs for Kids -Need some song ideas for celebrating Earth Day in your classroom? Using songs and videos can be a great way to engage your little learners and enhance your curriculum for any theme!
Homemade Seed Paper (Pre-K Pages) – A great way to celebrate Earth Day for Kids is by making homemade seed paper. It makes a great process art activity for preschoolers, requiring very simple materials. It is also a great fine motor skill challenge and makes for fun sensory play with a little science mixed in, too.
Celebrating Earth Day (Pre-K Pages) – Most preschool and kindergarten teachers teach their students about fire safety and dental health; but teaching students to respect our planet is just as important.
Painting with Recycled Objects (Pre-K Pages) – Earth Day is a time to think about caring for the world we have. Reusing and recycling materials are ways to be responsible. In this art project activity children can recycle materials to use for painting and can explore the letters of the alphabet, too.
Talking About Recycling (Pre-K Pages) – Earth Day is a great time to teach preschoolers about recycling. Making a recycling center for the classroom is a simple way to get kids involved in caring for the environment and teaches many skills.
Upcycled Plastic Egg Music Shakers (Pre-K Pages) – Earth Day is a great time to talk about recycling and reusing (or upcycling) materials. Recycle plastic eggs after Easter and make upcycled plastic egg music shakers out of them. They are easy to make and you end up with the perfect little instruments for music time!
Simple Earth Suncatcher (No Time for Flash Cards) – With some glitter and glue your preschoolers will have a fun time making these easy Earth Suncatchers in this hands on activity.
Recycled Art (No Time for Flash Cards) – Using a collection of recycled objects this is a great Earth day process art activity.
Cardboard Tube Marble Run Building Activity (Little Bins for Little Hands) – Save those cardboard tubes instead of throwing them away and then turn them into this hands on marble run building activity.
Earth Day Snack Idea (Educators' Spin on It) – Celebrate Earth Day with this healthy snack. Grab some blueberries, green grapes and let's create the water and land with an Earth Day Snack! This kid made recipe can be made into individual Earth for each child or you can make one large Earth!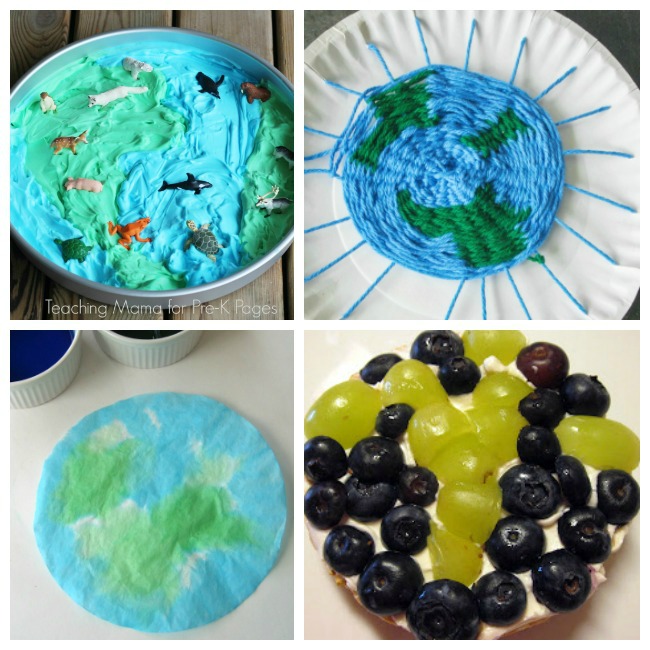 Recycling and Earth Activities
If you are teaching about Earth day in your classroom, then one of these activities about recycling and celebrating the holiday will help get your kids involved and excited!
Around the World Earth Day Game (Teach Preschool) – Take your Earth day unit outdoors on a bright and sunny day and play a game called, "Around the World"
Books to Celebrate Earth Day (Growing Book by Book) – There are so many great Earth Day books that have been published for children.  It's actually pretty exciting to see this topic covered so well.  Check out this great list of Earth Day books.
Give the Earth a Little Spin (Teach Preschool) – This book is super simple and does a wonderful job illustrating ten simple ways the children can help take care of the earth. At the end of the book is a poster that you can review with the children and even take it out of the book to hang up on your wall…
Recycled Planter on a String (JDaniel4's Mom) – This hands on activity combines the desire to plant and grow in the spring with the need to find ways to recycle items from our recycling bin. It was inspired by the book, The Adventures of a Plastic Bottle: A Story About Recycling .
Coffee Filter Earths (JDaniel4's Mom) – This Earth Day craft for kids helps illustrate that the effect doing something to or for the Earth in a big or small way can spread quickly.
Homemade Crayons (Carrots Are Orange) – Make these fun DIY Earth Day crayons. Children love crayons and most children love science. So, making DIY Crayons with kids is a sure win.
Mess Free Earth Painting (Still Playing School) –  If you are looking for a quick and easy Earth Day art project for kids then this mess free Earth craft is perfect!
Recycling and Sorting Activity (Little Pinch of Perfect) – This is a perfect hands on activity that will have your child sorting and cleaning up the Earth. Included  are some free printable recycling signs to make this activity easy to set up and fun to do!
Recycle Sorting Fine Motor Game (Stir the Wonder) – Grab some miniature recycling bins from the Dollar Store and have your preschoolers sort different objects into the bins.
Recycled Building Blocks (B-Inspired Mom) – Put recycling into action by turning cardboard tubes and soap boxes into DIY building blocks!
Landfill and Recycling Factory Play (One Time Through) – Use some common household items and recycle some old ones to create a landfill and recycling factory.
Earth Day Songs (Prekinders) – Here are some fun Earth Day songs for kids – get them moving and singing along! Earth Day songs can be hard to find, but here are nine great songs to go along with your Earth Day & Recycling lesson plans.