St. Patrick's Day is an exciting holiday to celebrate with kids!
We are always attempting to strengthen little hands as we create and play.
This process based shamrock craft is beneficial for fine motor skills and festive!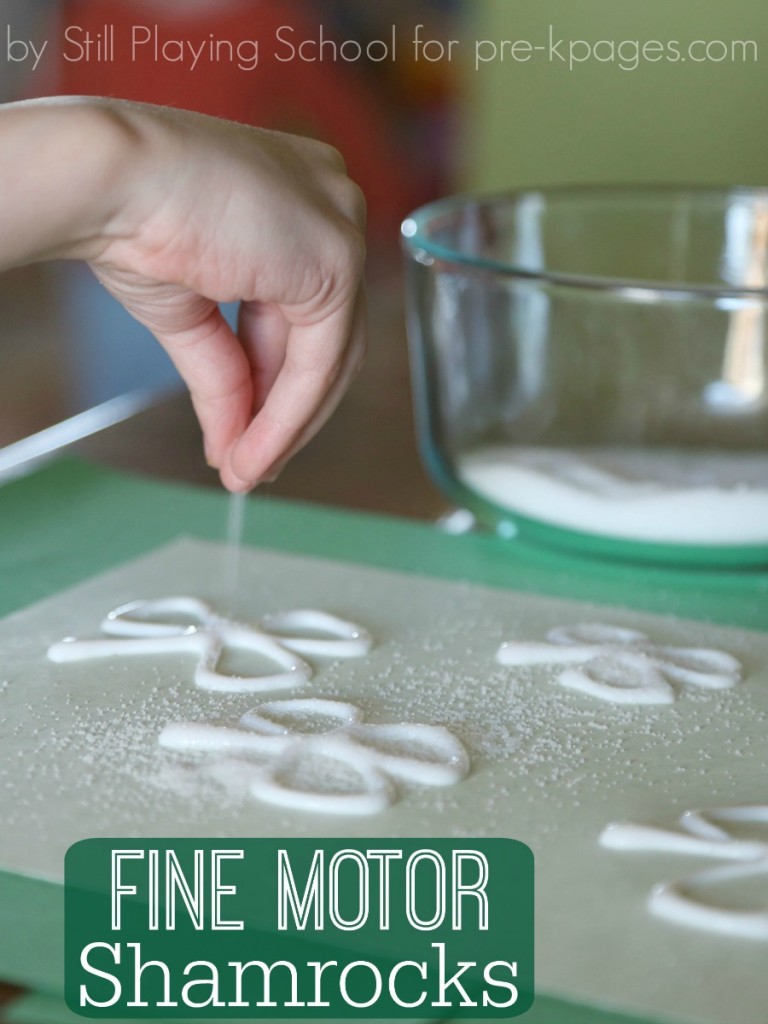 Fine Motor Shamrock Craft
Fine motor skills are a vital precursor to early writing skills for children!
Strengthening this dexterity requires the repeatedly practiced coordination of the small muscles in the hands and wrists.
Fine motor tasks that strengthen hands for later writing include any work that requires kids to pinch, squeeze, twist, or sprinkle with their hands!
Children who are reluctant writers are likely to engage in enjoyable fine motor crafts and games.
They are practicing writing in the process without ever even picking up a pencil yet!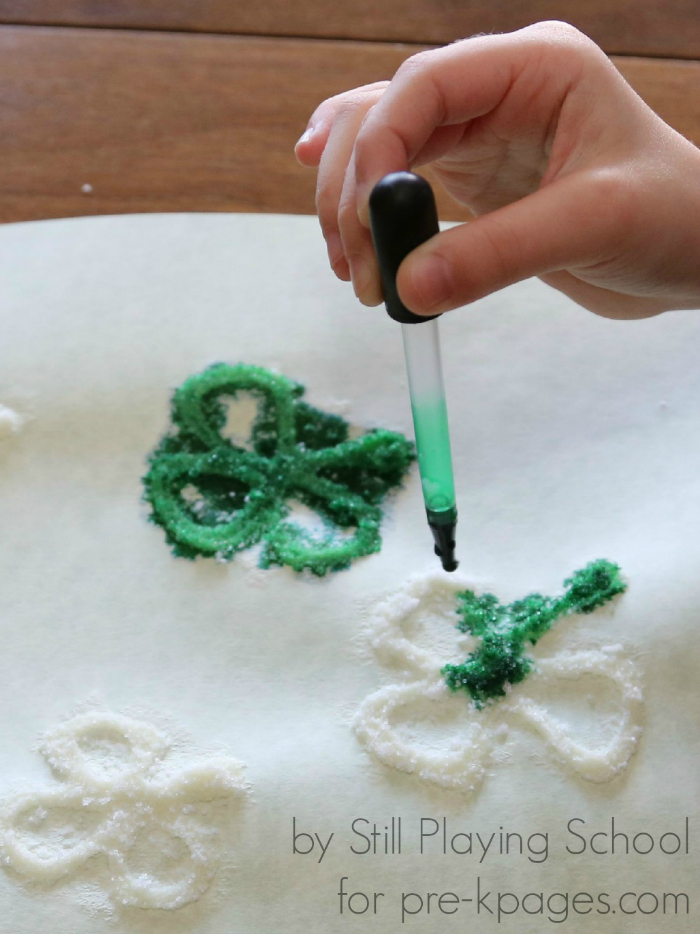 Shamrock Craft Supplies
Here are the supplies you will need to create this fine motor shamrock craft:
white glue
cardstock
salt
eye dropper
green liquid watercolor paint OR water with green food dye
First, an adult will draw shamrock shapes on a piece of cardstock paper. Older children may be able to do this step independently, too.
Put the cardstock in a box lid or rimmed tray. Invite children to pinch a bit of salt to sprinkle over the wet glue. Repeat until all of the glue is covered.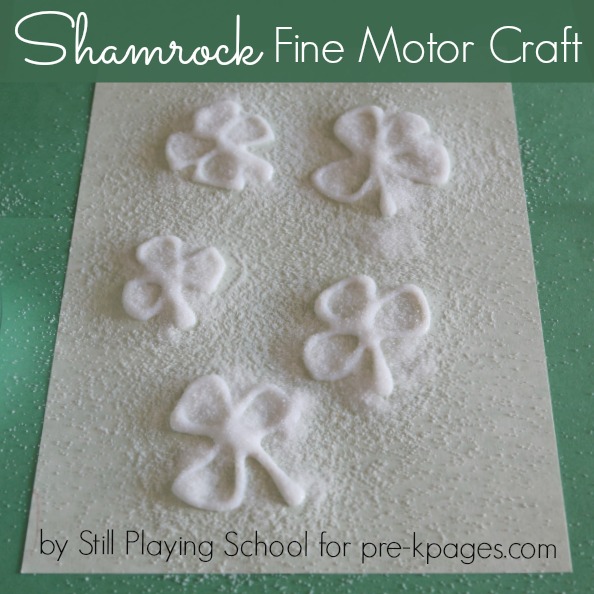 St. Patrick's Day Fine Motor Craft
Gently lift the cardstock. Shake from side to side so any loose salt will adhere to any remaining glue. Then shake the salt down into the tray or lid. You can pour this salt back into a container for another activity!
Put green liquid watercolor paint in a shallow container. Alternatively, you can add a bit of green food coloring to water in the place of the liquid watercolor paint. Demonstrate to the children how to use the eye droppers if this is a new technique for them. I like to remind them to put it in the liquid, then squeeze, then lift.
Allow the kids to drip a drop of green coloring at a time on the salted glue shamrocks. This process is so visually appealing as the color is absorbed into the salt!
BIO: Devany LeDrew is a former kindergarten teacher who writes at Still Playing School where she shares play based learning activities. She specializes in fine motor activities and has co-authored the book 99 Fine Motor Ideas! Follow Still Playing School on Facebook, Pinterest, and Twitter!
More St. Patrick's Day Ideas