Do your kids need help putting on their winter gear for outdoor recess? It's no secret that when it comes to dressing for winter weather it can take young children forever! And even when they do get their winter clothing on, they often have difficulty putting it on in the correct order – am I right?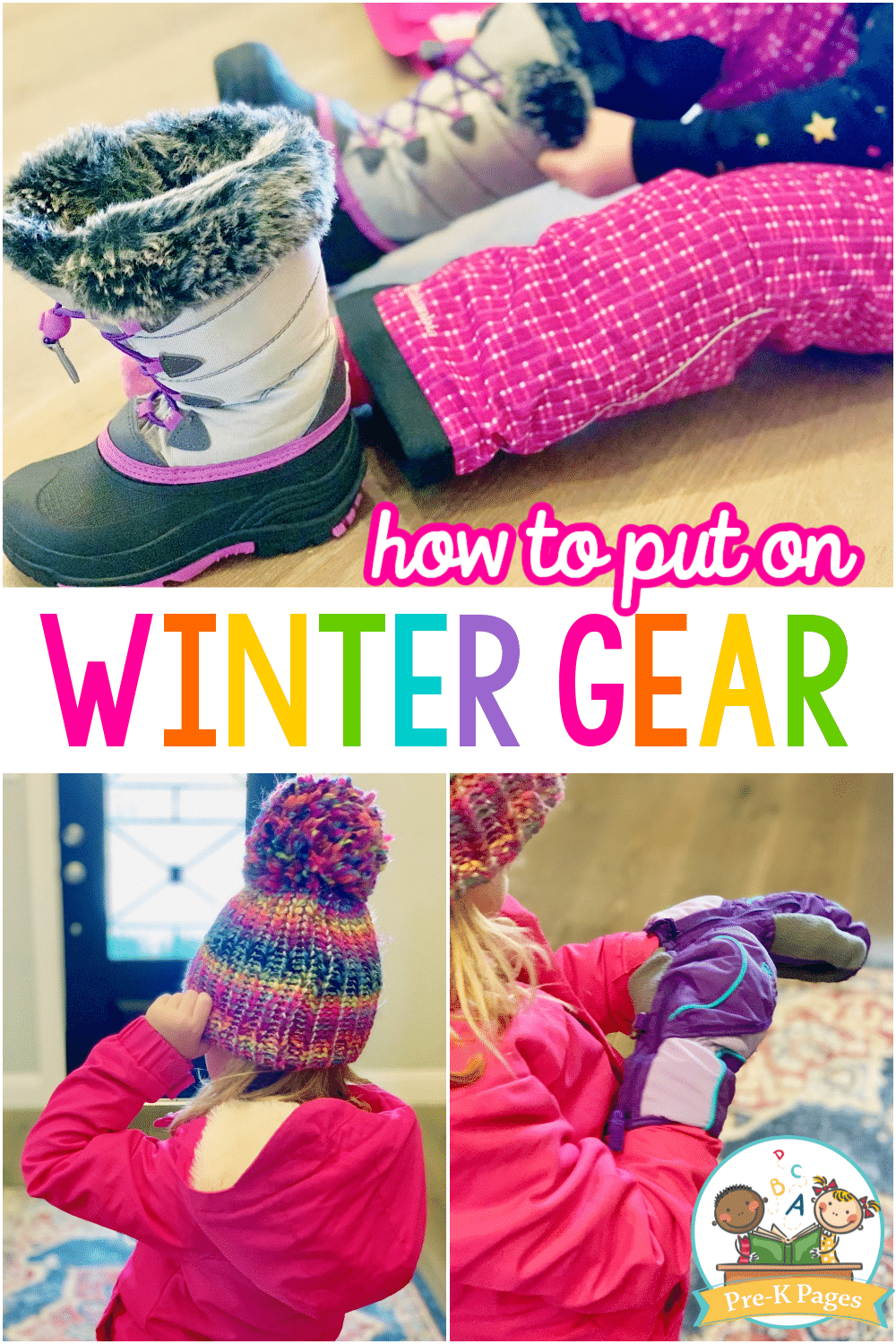 How to Get Dressed for Winter
The younger the child, the more susceptible they are to the cold because the smaller the body, the more quickly it loses body heat. Young children aren't the best at realizing and verbalizing when they're not feeling well or when they're too cold. It's important that we, as adults, ensure they stay warm and are properly bundled up against the cold weather.
But getting your preschoolers ready for outdoor play can be very chaotic and time-consuming. One thing that most young children struggle with is putting on their gear independently and in the correct order. How many times have your kids put on their mittens first, and then struggled with putting on the rest of their gear because they couldn't use their hands? #earlychildhoodproblems
The reason your preschoolers may have difficulty putting on their winter clothing in the correct order is that they're not developmentally ready to sequence more than 3 or 4 steps. They need us to scaffold for support and teach them how by using lots of visuals and tricks – I'll get to those soon, keep reading!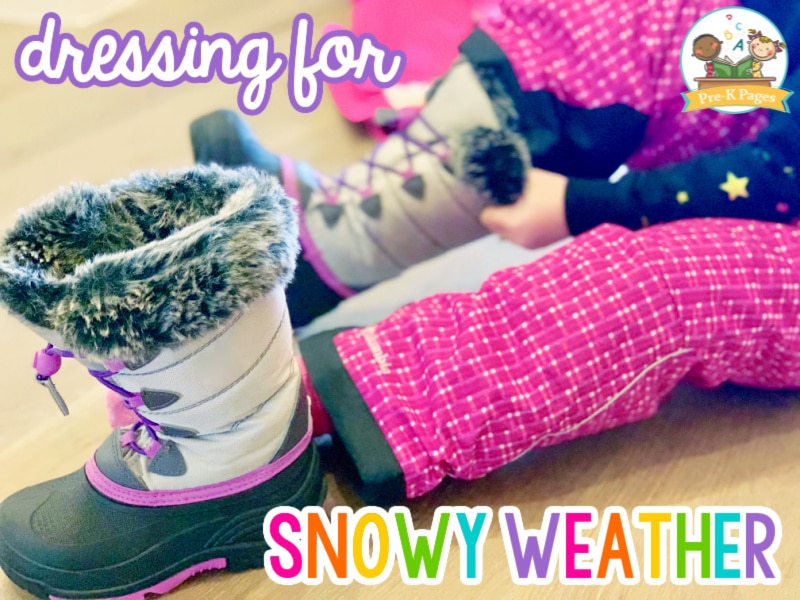 How to Teach Kids to Get Dressed for Winter Weather
Assuming each of your students has their own space to store their belongings, such as a locker, cubby or a hook, the first step is to introduce a storage solution for their boots. Place a plastic dish tub from the dollar store in each child's personal space and label the tub with their name. Your kids can put their boots in their very own tub, no more stray boots leaving puddles all over the floor! Any other gear that gets wet at recess can also be placed in this tub.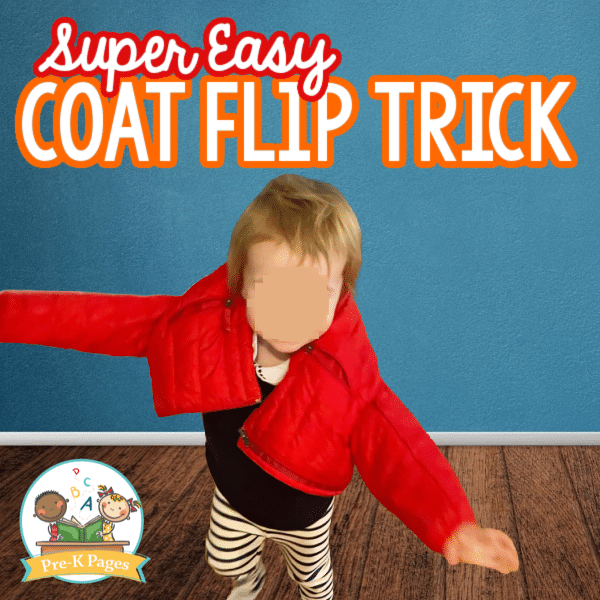 How to Teach Kids to Put on Their Coats Fast
This trick for teaching kids how to put on their winter coats independently works like a charm! Even your toddlers can learn how to put on their own coats this way.
To teach your kids the coat flip trick, have them place their coat on the floor with the opening (zipper) facing upwards towards them – yes, I said the floor!
Next, have them stand near the tag or hood of the coat with their toes pointing towards the tag.
Then, have them bend over and place their arms in the arm holes.
Finally, have them stand up, keeping their arms over their head and flip the coat on their body – easy peasy!
Pictured above is my husband's 23 month old niece, little G. You can see that she successfully put on her own coat, she just needs help with which direction to lay it on the floor. Still, I think it's impressive that even a young toddler can dress independently using this magic coat flip trick. Your older kids will pick this trick up in a flash!
I wrote a song you can use in your classroom to help your kids get it right every time, just click on the big green button at the bottom of this post to grab your free copy.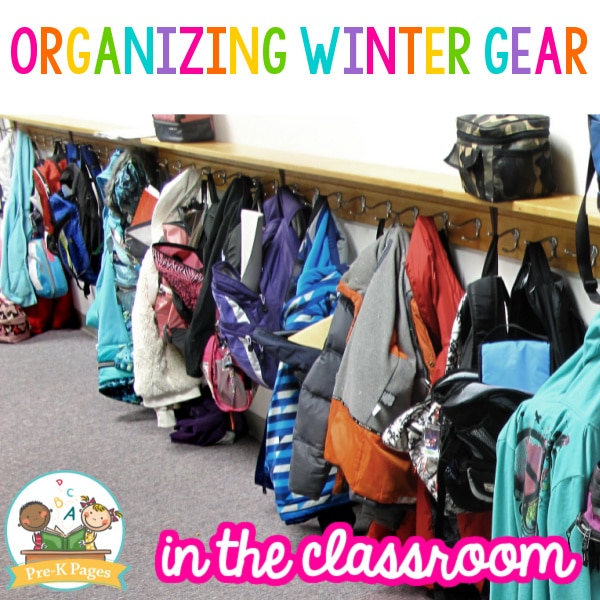 Hanging Up Coats in the Classroom
You might also be wondering how to get your kids to hang up their coats in their cubby or on their hook. While you're teaching them the coat flip trick, call attention to the tag on the coat. Often, coats have a tag or a loop of fabric that can be used to hanging on a hook. Of course, it's easy to use the hood to hang up a winter coat, but it usually ends up dragging on the ground and falling off onto the floor. If you spend just a little bit of extra time up front to teach your kids how to hang their coats up using the "hang tag" you'll end up saving yourself from a lot of future headaches.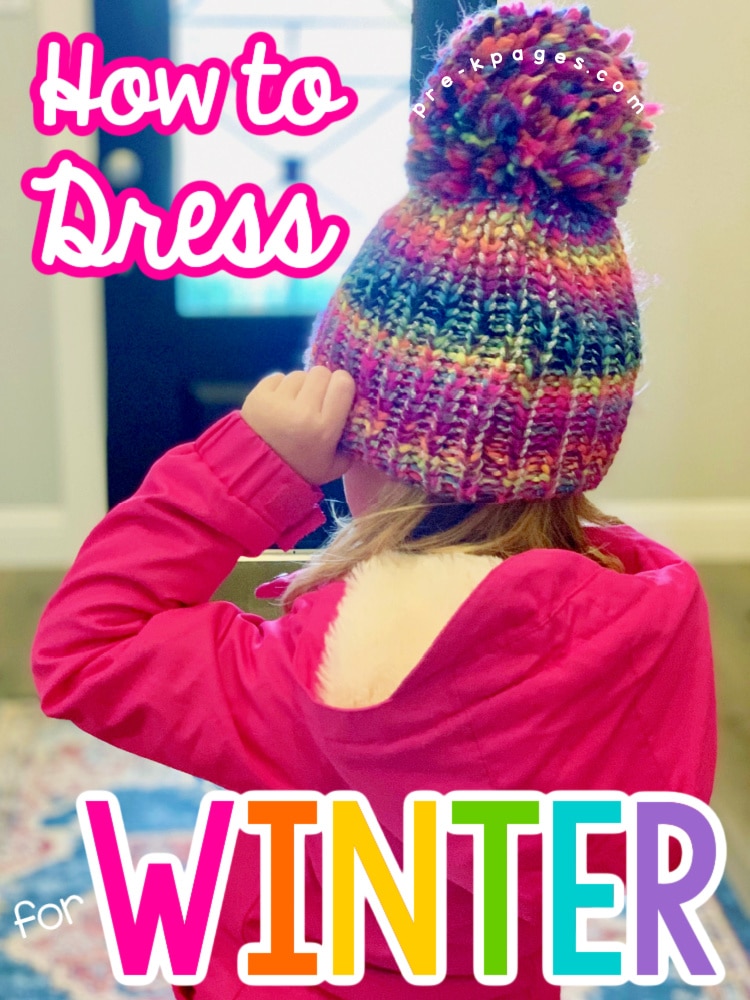 Dressing for Winter Weather – Clothing Sequence
Do your kids lose their mittens and hats? Do they get confused about which winter boots are theirs? The first step in setting your kids up for success is to help them get organized.
To cut down on lost mittens and hats have your kids place their mittens inside their hats. Then they can stuff the hat and mitten combo into one arm of their coat when they arrive each morning. If they have a scarf, have them place it inside the other sleeve.
Not only will this cut down on the amount of time it takes your kids to get ready for recess, but it will also reduce the number of lost hats and mittens in the lost and found – you're welcome! Of course, you'll also want to be sure that every single piece of their gear is labeled with their initials or a number too.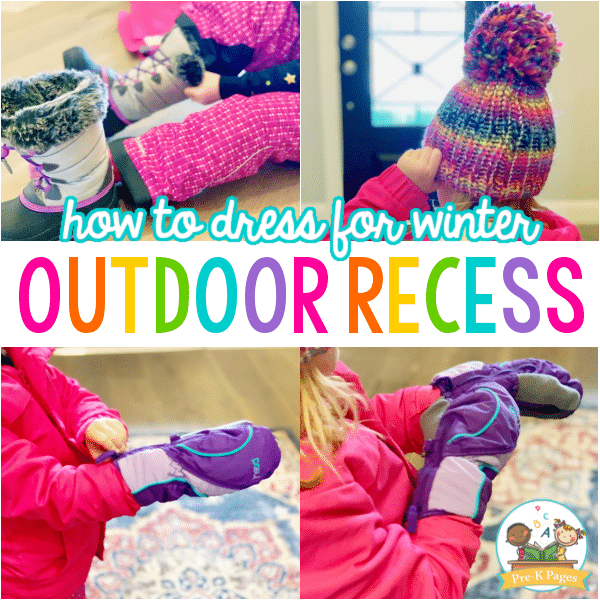 How to Dress for Winter Outdoor Play
Now that you've got some of the organizational aspects of winter gear down, it's time to start modeling. Young children haven't had as much time and practice dressing for winter weather as you have. Their fine and gross motor skills are also not as developed as yours. When you take the time to model each step of the getting ready process for them, and you invite them to practice the process then you won't be an exhausted, sweaty mess before you even get to the playground.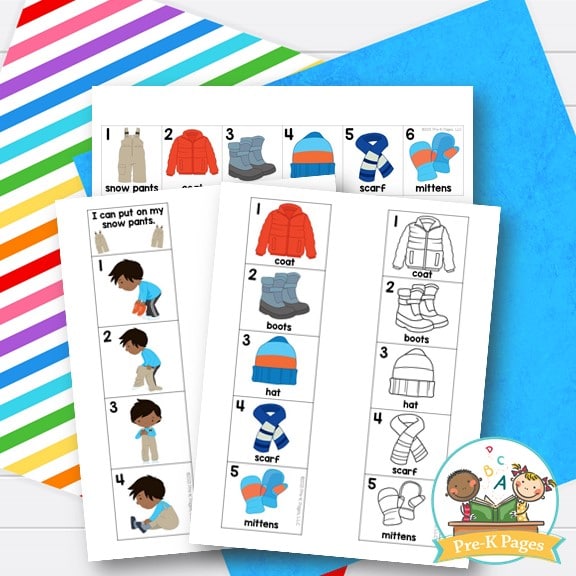 You can use visual picture cues in the form of charts, posters and step-by-step sequence cards to help your kids remember the different steps and put on their gear quickly.
It's also important to leave a little extra time in your schedule for bundling up before recess and undressing afterwards. When you make time in your schedule to allow for the putting on and taking off of gear you'll be less stressed about getting off schedule.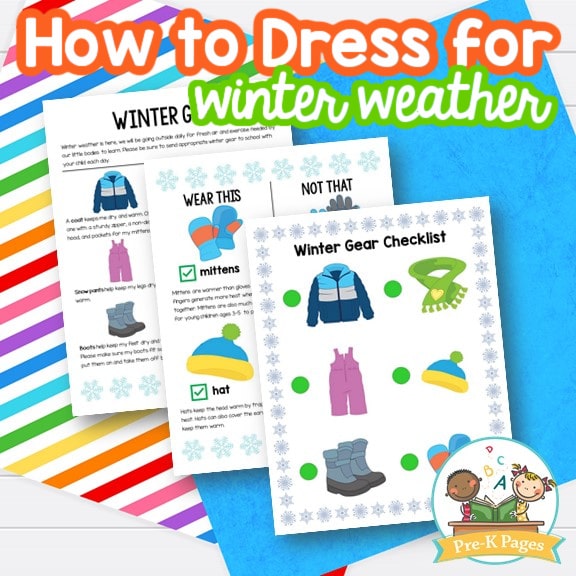 How to Put on Winter Gear for Outdoor Recess
Just in case you're wondering how to let parents know which winter gear their child needs and why, or the importance of sending it daily, I've got your back! In the Winter Gear bundle you'll also find a parent note about why children need certain types of winter gear, why mittens and hats are preferred over gloves and earmuffs, a winter gear checklist and even a bulletin board template so you create a visual reminder for parents.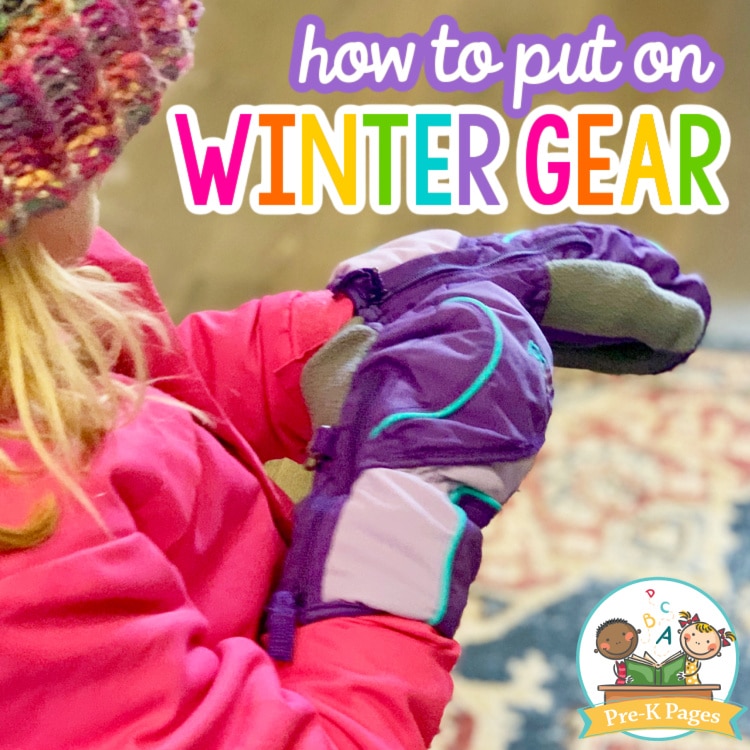 After your kids come in from the cold, they'll love warming up in this pretend play hot cocoa stand!
Dressing for Winter Videos
Here are some videos on YouTube you may find helpful when you're teaching your kids about winter and putting on their winter gear.
Winter Clothes Song for Kids
, by Shawny – This is an adorable and catchy song that gets the winter clothing sequence correct, your kids will love this one!
Winter Mittens Song
, by The Kiboomers – A classic movement song with a fun winter twist.
A Winter Song
, by Nancy Kopman – This is a great song to introduce your little learners to the winter season.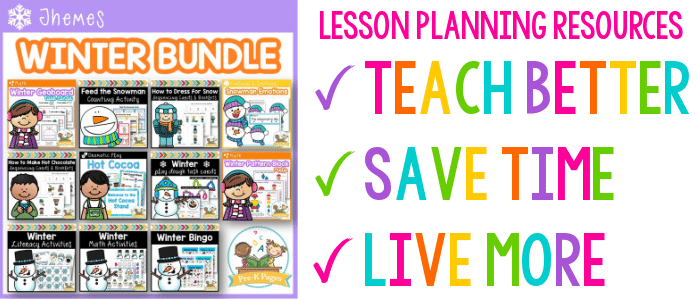 More Winter Ideas for Preschool