When it comes to math in the preschool or kindergarten classroom it's all about hands-on learning. Kids just love using 3-D tools and toys, and the best part is they don't even know they're learning!
Here are some of my favorite math tools to stock your math center.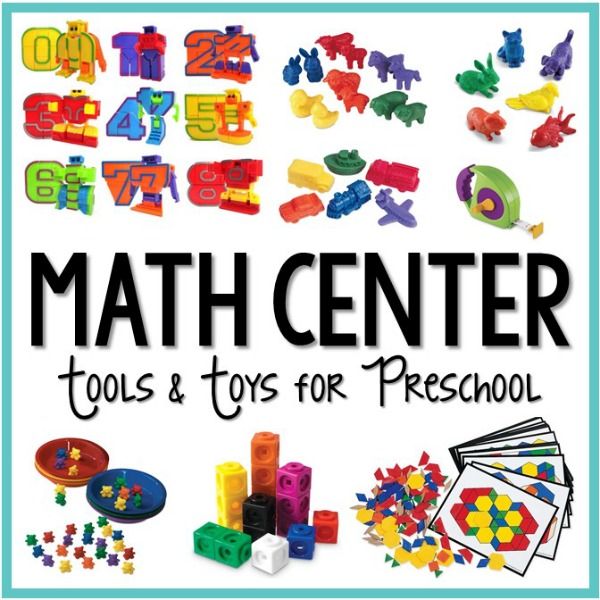 Math Center Tools and Toys
Here are some of the items
Balance Scale
This sturdy bucket balance is perfect for exploring and comparing weights and volume. Help your kids build observation, estimation and predication skills in the math center with a balance scale.
Pattern Blocks
Your kids will love exploring geometry and measurement concepts with pattern blocks. Pattern blocks help reinforce shapes and build an understanding of symmetry. Use them for sorting, classifying and attribute recognition too!
Counters
Small counters like teddy bears, transportation, and farm animals can be used to practice recognizing and sorting colors, counting, and creating patterns.
And, small counters like these will also help your children develop hand-eye coordination and pincer grasp.
Mathlink Cubes
These linking cubes are perfect for counting and developing one-to-one correspondence skills. They're also great for developing fine motor skills as kids link the cubes together and take them apart using the small muscles in their fingers and hands.
Number Bots
Each number transforms into a super-cool robot! Number-Bots are highly engaging and help boost
number recognition and counting skills while having fun.
Measuring Tape
Your children will develop a basic understanding for how measurement works and how it is used in their daily lives with this kid-friendly tape measure.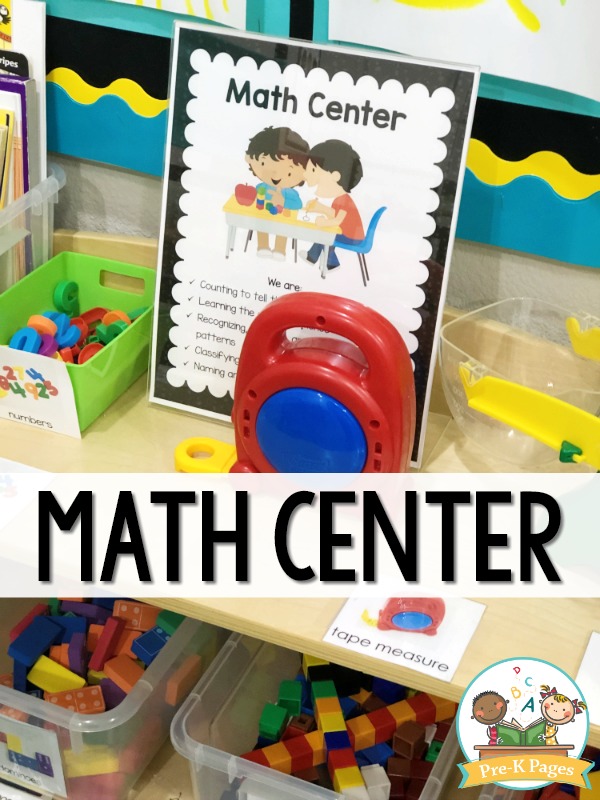 Math Center Signs
Having a sign in each center is a highly effective way of not just labeling the center, but it can also provide children with a visual of what a clean center looks like. Additionally, a center sign can serve as a reminder to adults about what skills are being learned in the center.
Counting Birthday Cakes
This highly engaging birthday cake set helps kids recognize, order and count numbers from 1-10. These stacking birthday cakes will also help kids build fine motor skills while learning about the counting sequence, one-to-one correspondence skills, and numeral identification.
Math Picture Books
Having picture books in each center is a very important part of immersing young children in literacy. Here are my favorite math picture books for preschool.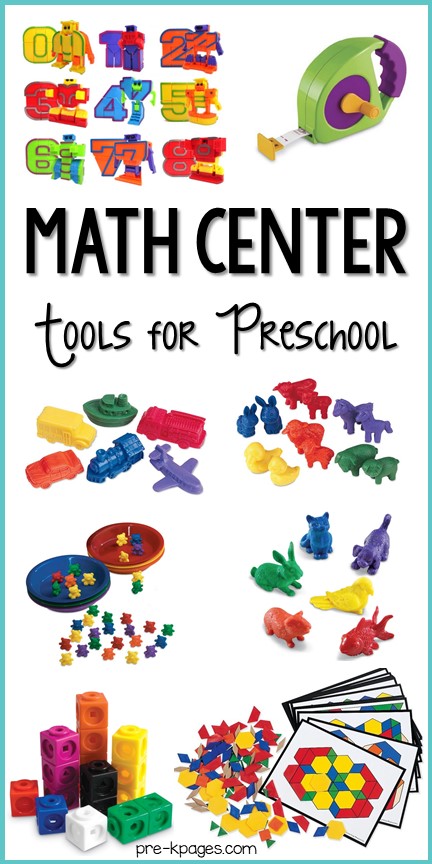 More Math Ideas