Preschool Daily Schedule and Visual Schedules for Preschool and Pre-K Classrooms
Do you have to come up with a daily schedule for your classroom each school year? Being a preschool teacher is tough enough without having to recreate the wheel each year – am I right? Have no fear, you'll find everything you need here to help you quickly and easily create a daily schedule for your Preschool or Pre-K classroom.
Your little learners will feel safe and secure when you have a predictable and consistent daily schedule in place.
When they know which activity comes next and exactly what your expectations are for each activity, you'll have fewer behavior problems in your classroom.
When young children feel safe and secure in their classroom environment, they'll ultimately learn more.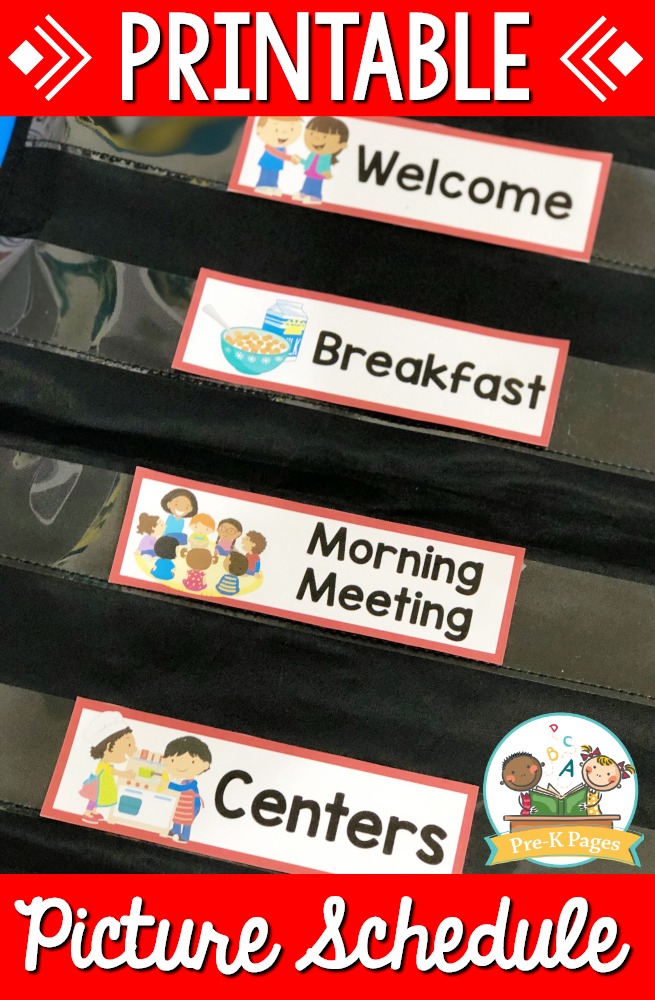 Example Half-Day Preschool Schedule
What does a typical daily schedule look like in a preschool or pre-k classroom? The answer to that questions is going to depend on the length of your day and how often you see your students.
The schedules below are those which I have used successfully in my public Pre-K classroom, a five day a week program, but you can totally use them in any early childhood program.
You can print these editable daily schedule templates to use for your full-day or half-day program below. You can use them as-is, or use the editable template included and just type in the times specific to your classroom and program.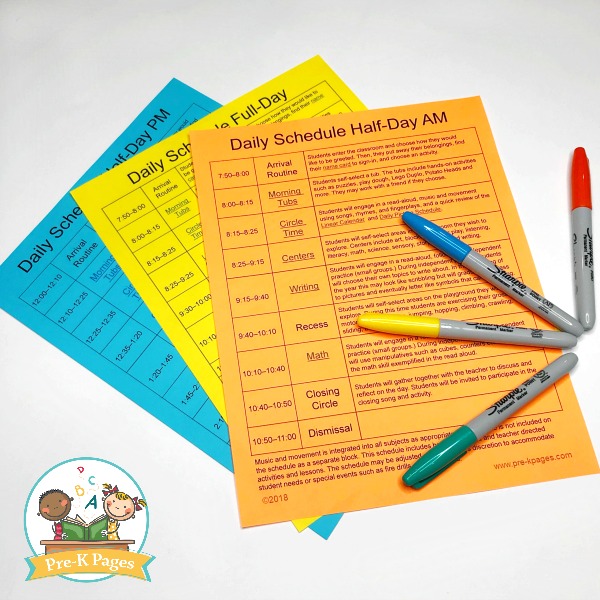 Of course, your daily schedule may need to be adjusted slightly for any special events such as picture day or fire drills.
I've taught both full and half-day schedules and I've included free editable templates of both types for you here.
Please keep in mind that these are the schedules that have worked best for me and my students, in my particular program. What works for you, your students, and your program may differ.
And don't forget if you need more back to school help, be sure to check out these Back To School Theme Lesson Plans For Preschoolers and 2020 Back to School Bundle: Classroom Edition!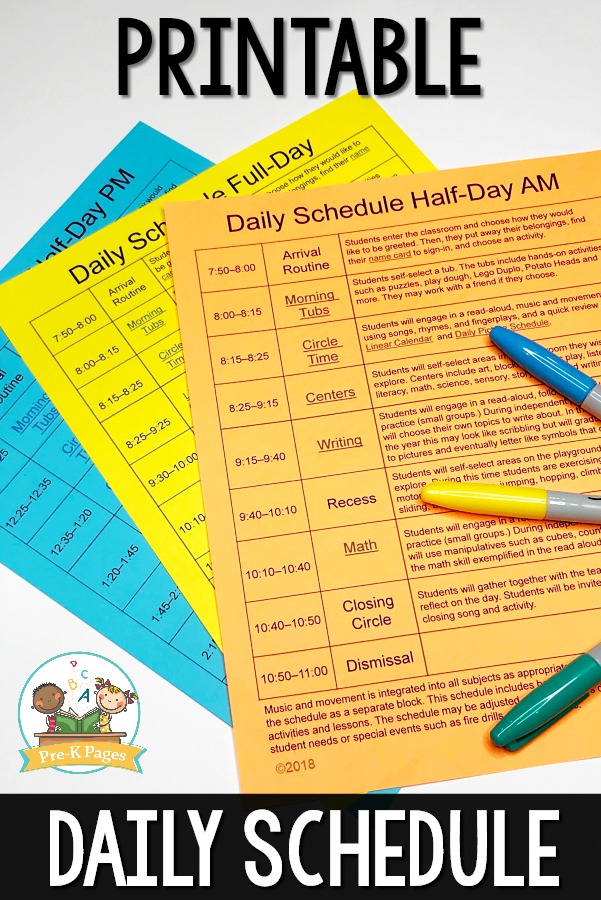 AM Class
PM Class
12:00-12:10 Arrival
12:10-12:25 Morning Tubs
12:25-12:35 Circle Time
12:35-1:20 Center Time/ Free Play
1:20-1:45 Writing
1:45-2:15 Recess/ Outdoor Time
2:15-2:45 Math + Small Group Activities
2:45-2:55 Closing Circle
2:55-3:00 Dismissal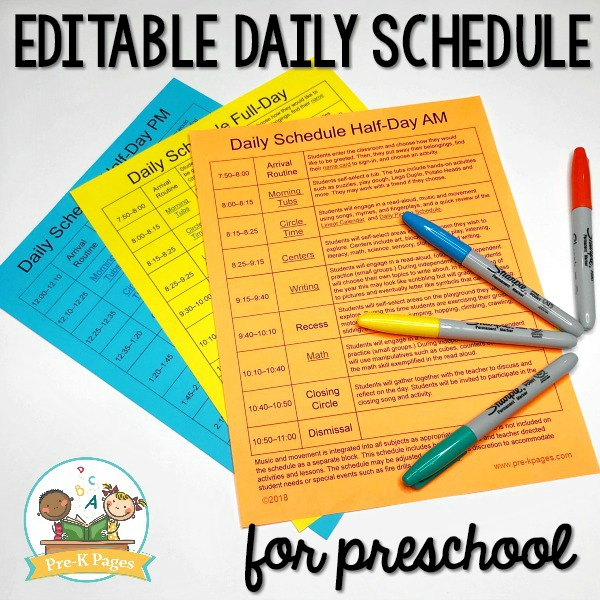 Example Full-Day Preschool Schedule
7:50-8:00 Arrival
8:00-8:15 Morning Tubs
8:15-8:25 Linear Calendar and Circle Time
8:25-9:25 Centers + Small Group Activities
9:30-10:00 Recess/ Outdoor Time
10:10-10:50 Math + Small Group Activities
11:00-11:30 Lunch
11:45-12:45 Nap
1:00-1:30 Writing
1:30-2:00 Recess
2:00-2:15 Snack Time
2:15-2:45 Centers/ Free Play
2:50-3:00 Closing Circle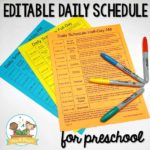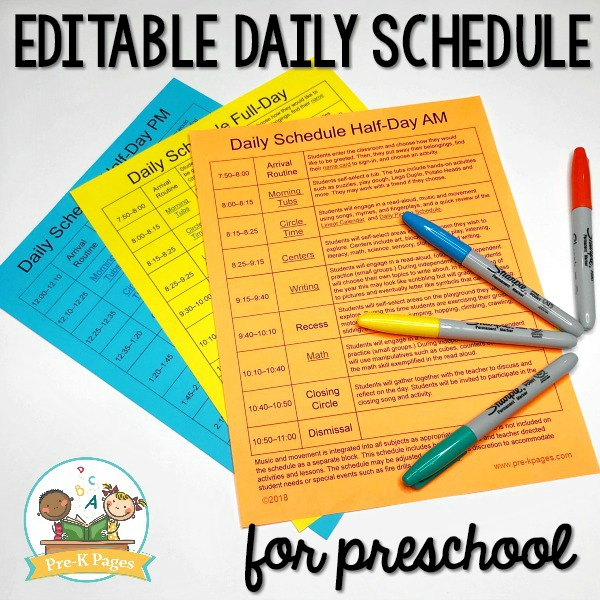 Editable daily schedule for preschool. Templates for both full and half day programs are included, just type in your own times, print, and go!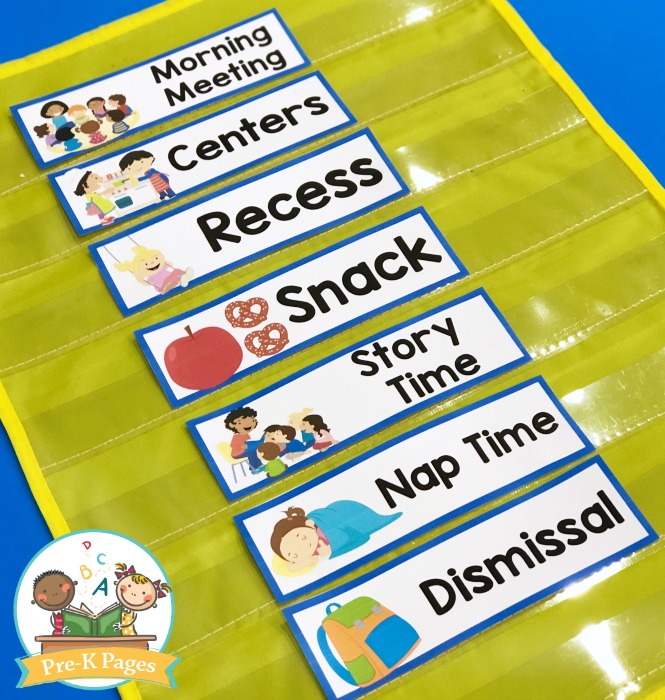 Why Use a Preschool Daily Schedule?
Have you ever had a student who cried all day for his or her mommy? What about kids who have a super hard time transitioning from one activity to another?
Using a visual schedule in your classroom daily will help those criers because they can see exactly "how many more" things have to happen before it's time to see Mommy (or Daddy!) Pro tip: invite the crier(s?) to turn the picture around on the chart each time an activity is complete and count with the child to show how many more steps remain.
And those kids who run around like little tornadoes whenever it's time to clean-up, they'll benefit big time from a visual schedule too! If you follow the methods I've laid out for you here, then your clean-up time should go more smoothly when you start using your schedule as a tool to help improve behavior rather than a decoration on the wall.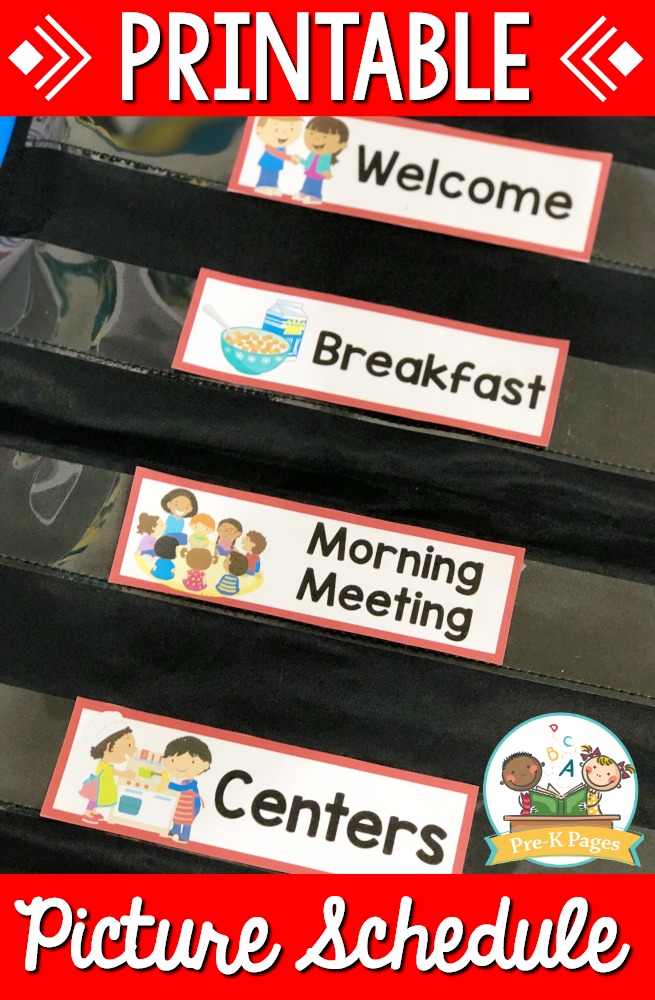 Visual Schedule
Using a visual picture schedule will help your day go much more smoothly by giving your students a visual cue for each activity, which will help them understand what is happening now or will happen next.
And all that "learning" that's in your lesson plans? You'll actually get to the teaching part when you start using a visual schedule consistently.
In the schedules listed here I didn't include things like social skills or clean-up time. Social skills are taught throughout each day as they become relevant to the children, there's no need for a social skills block on the schedule. And you can certainly add the time it takes to clean-up into your schedule, it will help keep the schedule more realistic.
Music is integrated into all subjects as appropriate and is not included on the schedule as a separate block.
Phonemic Awareness activities are integrated into all subjects as appropriate and are not included on the schedule as an individual block.
Public Pre-Kindergarten in the state of Texas does not fall under the purview of any childcare licensing agency. Public Pre-K is administered under the authority of each individual public school district.
More Teaching Tips from Pre-K Pages