Before we start discussing center time, first let's define what it is. Centers are clearly defined areas of the classroom grouped by topic, such as blocks, dramatic play, art etc. Center time is a part of your daily schedule, it's a time when your students visit the centers in your classroom.
The way centers are managed will look differently depending on the ages of the students in your class and where you teach. Certain early childhood programs have very specific guidelines when it comes to center time, and others leave it up to the individual teacher to decide how to run centers.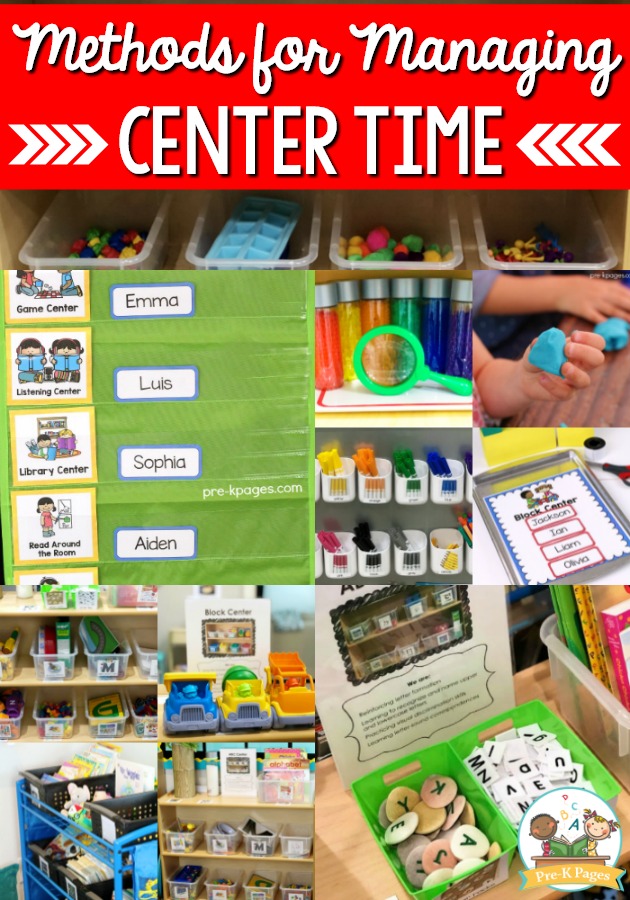 Center Time Management
I'm not going to lie, center time management can be very challenging in the early childhood classroom. It doesn't matter which center management system you use, what's most important is that your little learners understand the expectations during center time. This means it's up to you, as the teacher, to introduce centers to your students as well as your expectations for each one.

You'll want to answer the following questions first before choosing a center time management method to use in your classroom:
Do you have a full-time assistant in the classroom?
How many students do you have?
How many centers do you have?
What ages are the children you teach?
What are your expectations during centers?
What do you consider an acceptable noise level? Is this expectation appropriate for the age of the children you teach?
Do you teach in a full day or half-day program?
Your answers to these questions above will determine which center time plan will work best for you and your students.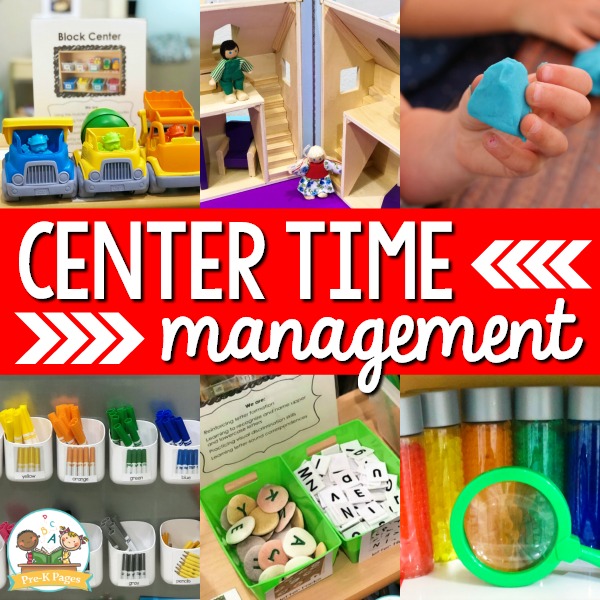 Making Choices at Center Time
Our daily schedule provides children with a balance of teacher-directed and self-directed activities. Large and small group times are more teacher-directed activities, while center time is more self-directed. It's important for your little learners to have daily opportunities to make their own choices. They also benefit from making their own plans for what they will do during center time.
While some classrooms may hold small groups during centers, I prefer to do small groups during our math centers and literacy center times.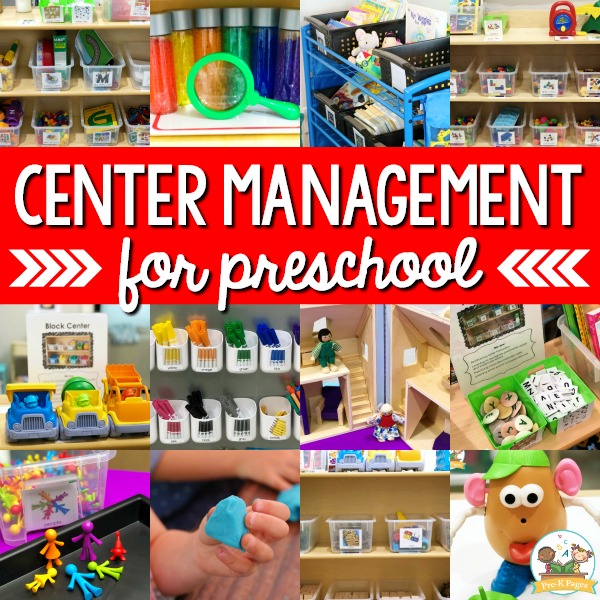 Classroom Centers
Here are the centers in my classroom, some of them can also be used for literacy or math centers, or you can combine them to create fewer choices. You can learn more about what's in each center and see more pictures of the centers by clicking on the links below.
All of the centers listed above are available and open every day.
Methods for Managing Center Time
There are many different methods out there for managing center time in the classroom. The most important thing to remember when choosing a method for your classroom is that it allows for the children to make choices about where they go. The more you try to control who goes where and when, the more difficulty you will have implementing and maintaining your plan.
My preferred method of managing centers includes choices, but also some boundaries to help manage kid traffic in a small classroom. This method has worked well for me in my public Pre-K classroom of 20+ students with limited assistance for many years. If you have more adults and fewer students then free choice centers may work best for you.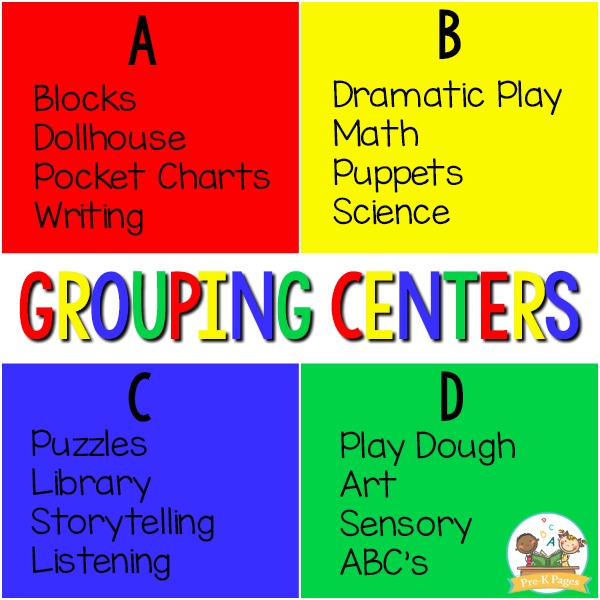 Grouping Centers
First, divide your centers into groups of 4 or 5 and then group the children into groups of 4 or 5 as well. When grouping centers, it's important to take into consideration the physical location of each center in your classroom. Try grouping the centers that are near each other together, so the children assigned to those centers are not moving from one end of the classroom to the other to reach their centers.
Printable Center Rotation Sign System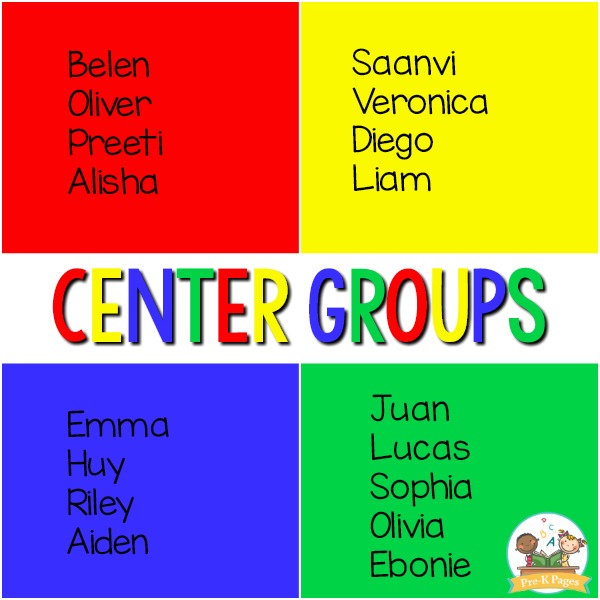 Next, I divide the children into color coded groups since many don't recognize letters in the beginning of the year. When grouping the children you'll want to take two things into consideration; boy/girl ratio and behavior. Try to have at least one responsible, mature child in each group. If you have four groups of centers, group the children into four groups as well; one red, one yellow, one blue, and one green group.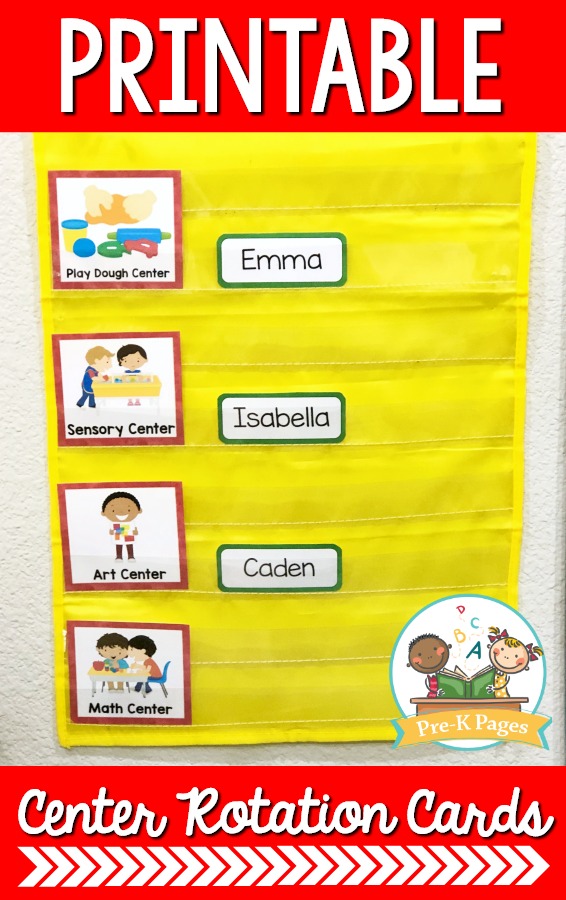 Next, color coded student name cards are placed in pocket charts. Each day the student name cards are moved to to the next group of centers. Editable name cards are included in the Center Rotation System packet.
The groups may move freely between their assigned centers for that day. This method allows the children to make their own choices, but also provides some structure to avoid total chaos.
This center system helps eliminate potential behavior problems before they can occur.
Printable Center Rotation Sign System
Center Questions
Where did you find the pictures for the center chart?
The images pictured here are included in the Center Rotation Sign System.
I teach full-day, would this method work for me?
Yes, absolutely! You can divide your centers into different groups for different times of the day. This same system will work for literacy centers and math centers in the mornings and also for more traditional developmental (play) centers like blocks and home living at another time, just make a different center chart for each time and change pictures to match the centers and activities during each block.
Are students able to use this system independently?
Yes, absolutely! It usually takes only 2 full weeks for most Pre-K children (ages 4 and up) to really grasp the concept. When first introducing the system to the class it is best if you spend extra time explaining and demonstrating each day before center time. It also depends on the level of your class. I have had very young classes that took 3-4 weeks to learn the rotations and more mature classes have only needed one full week.
What age group does this work with?
I've successfully used this center method in my public Pre-K classroom where students are age 4 and up. I have had some 3 year old teachers tell me they have used this method successfully, but I haven't tried it myself.
What does the teacher do while the children are at centers?
In the beginning of the year I spend most of my time circulating around the room at center time to make sure that everything is running smoothly and reinforcing good behaviors. As soon as everything settles down (usually around week three or four) you can interact with the children more because you'll spend less time redirecting. Some teachers choose to meet with small groups or individual students during center time to work on a variety of skills. Some teachers may also do individual assessments during this time.
How long should my students be at centers?
The answer to this question depends on the length of your day and the age of your students. If you are full day Pre-K or Kindergarten you are probably going to have two or three center times during your day and the amounts of time spent at centers may be dictated by your school. A general rule of thumb is 45 minutes to one full hour for centers in a half-day program. A full day schedule in both Pre-K and Kindergarten may allow for literacy centers, math centers, and developmental centers. Typically the morning center times are more academic and the afternoon center time allows for more free choice. We have 45 minutes in our schedule for "developmental centers" at the end of the day.
More Questions
What to do about kids who don't clean up?
Transition Tips
Do you have center signs?
What do you put in each center?
Printable Center Rotation Sign System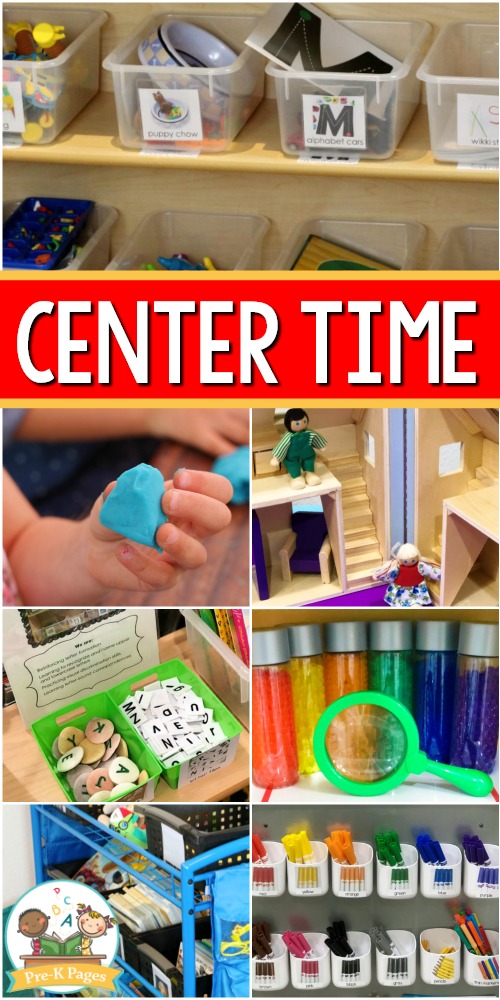 The Teaching Tribe
Having a center time that runs smoothly is awesome! But let's face it, center time is only one small part of your day. If you really want to become a better teacher, the best place to discuss teaching best practices and get the support you need is in the Teaching Tribe. We have many printable lessons and on-demand video trainings to help you become the best teacher you can be! If you want to get on the waiting list for the Teaching Tribe, do it soon so you don't miss the next open enrollment period!
Printable Center Rotation Sign System
More Teaching Tips from Pre-K Pages