Are you looking for an age-appropriate list of books about measurement? You can easily combine math and literacy with these must-have measurement books that your little learners will love. You're sure to find some new favorites on this list that includes more than 20 engaging picture books about measurement concepts like length, height, weight, capacity – and more!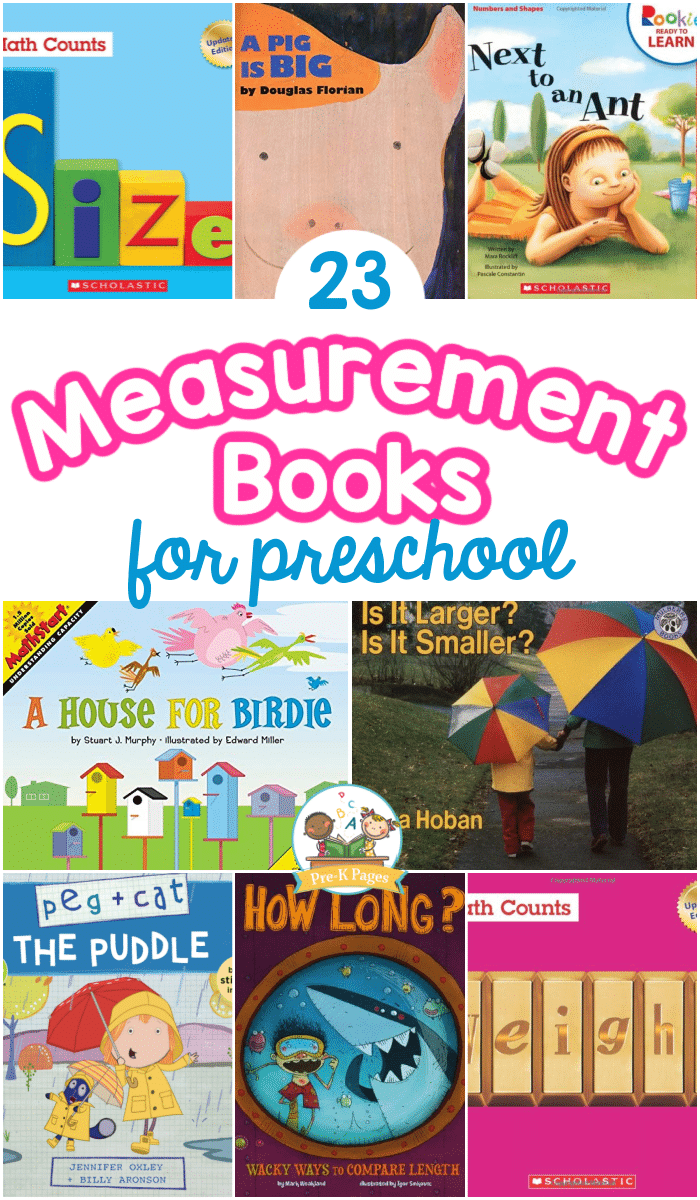 Measurement Books for Preschool
There are some people who may think that teaching young children about measurement is too advanced, but that's simply not true. When you present measurement in fun and playful ways that they can relate to, your preschool, pre-k, or kindergarten kids will be so much more successful.
The list below includes some of my favorite books about measurement to help you teach this important math concept to the young children in your classroom. These books are perfect for your classroom library, circle time, or to accompany your math lessons about measurement.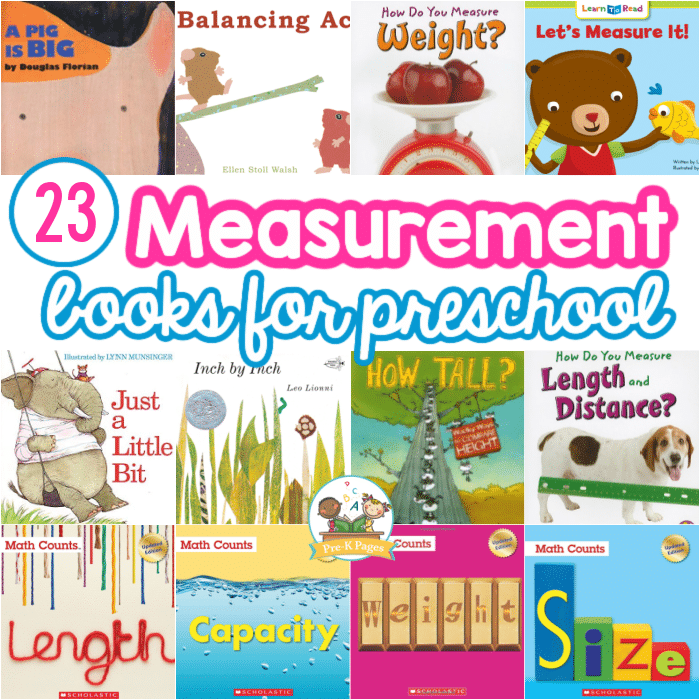 Best Children's Books to Teach Measuring Skills
Length
, by Henry Pluckrose
The Math Counts series is the perfect place to start when introducing standard and non-standard units of measurement to your kids.
Weight
, by Henry Pluckrose
Another in the Math Counts series, perfect for introducing the concept of measurement of weight.
Size
, by Henry Pluckrose
Introduce your little learners to the math concept of size with this non-fiction picture book from the Math Counts series.
Capacity
, by Henry Pluckrose
Introduce capacity to your little learners with this non-fiction book filled with photographs.
Inch by Inch
, by Leo Lionni
A Caldecott winner from beloved children's author Leo Lionni featuring a brave and clever little worm who can measure anything, but can he measure the nightingale's song?
The Best Bug Parade
, by Stuart Murphy
Stuart J. Murphy makes understanding math concepts a breeze for kids using concrete examples of how math works. All the bugs in Ladybug's garden are getting ready for the bug parade! Do you know which bug is the biggest? Which bug is the longest?
Children's Books That Teach Measurement
Peg + Cat: The Puddle
, by Jennifer Oxley
How deep is that puddle? Help Peg and Cat figure out how to determine if the puddle is too deep to cross.
How Tall?
by Mark Andrew Weakland
Your little science lovers and budding mathematicians will love this whimsical read-aloud which is the perfect introduction to the concept of height.
How Long?
by Jessica Gunderson
Full fun facts and playful comparisons about length.
Just a Little Bit
, by Ann Tompert
Elephant and mouse are playing on the seesaw – what better way to learn about measuring weight and balance?
A Pig is Big
, by Douglas Florian
This is the perfect book for teaching a lesson on big, bigger, biggest!
How Big is a Foot?
by Rolf Myller
Do not let the publication date scare you off! This is a fantastic book for teaching measurement skills. While there may be more text than normal, this story is the perfect companion for a fun activity where children are invited to create beds for stuffed animals out of cardboard boxes.
Measurement Books to Read Aloud
Is it Larger? Is it Smaller?
by Tana Hoban
Tana Hoban is the master of teaching math with her children's books featuring vibrant photographs, and this one is no exception.
Let's Measure It!
by Luella Connely
Need an age-appropriate read-aloud story for teaching measurement to your little learners? Let's Measure It! fits the bill nicely.
Marta Big and Small
, by Jen Arena
What do you get when you combine the jungle, Spanish words, and a curious little girl named Marta? Explore measurement with this super fun picture book!
How Do You Measure Weight?
by Heather Adamson
Introduce standard units of measurement like balances and scales to your little learners with this non-fiction book.
How Do You Measure Length and Distance?
by Heather Adamson
This non-fiction book with real photographs is perfect for introducing measuring skills in your classroom.
What Will fit?
by Grace Lin
The Storytelling Math series makes teaching measurement concepts fun and relatable for your kids. Olivia is looking for things at the farmer's market to fill her basket, can you help?
Teaching Measurement with Children's Picture Books
Balancing Act
, by Ellen Stoll Walsh
Beloved children's book author Ellen Stoll Walsh has done it again with yet another engaging picture book that also helps teach important math concepts. Can these two mice make room for one more friend on their teeter-totter?
A House for Birdie
, by Stuart Murphy
Can you help Birdie find a house that isn't too tall, too thin, too short, too fat, too wide, or too narrow?
Next to an Ant
, by Mara Rockliff
Easy to understand text in this picture book makes it the perfect fit for a measurement lesson in your classroom.
Up to My Knees!
by Grace Lin
Mai plants a sunflower seed and watches it grow. How tall will it get? A wonderful lesson in length your kids will enjoy.
Lia & Luis: Who Has More?
by Ana Crespo
Twin siblings, Lia and Luis, argue over who has more of their favorite snack, sound familiar? The scenario will be familiar to many of your little learners, which will make this more or less lesson a smashing success.
More Math Ideas