Exploring pumpkins and decorating them can be a fun part of fall or Halloween activities. But decorating a pumpkin and using it to decorate your space does not require great carving skills (or any carving skills at all). You and your preschoolers can create fun decorated pumpkins with no carving at all. Check out these fun no carve pumpkin decorating ideas.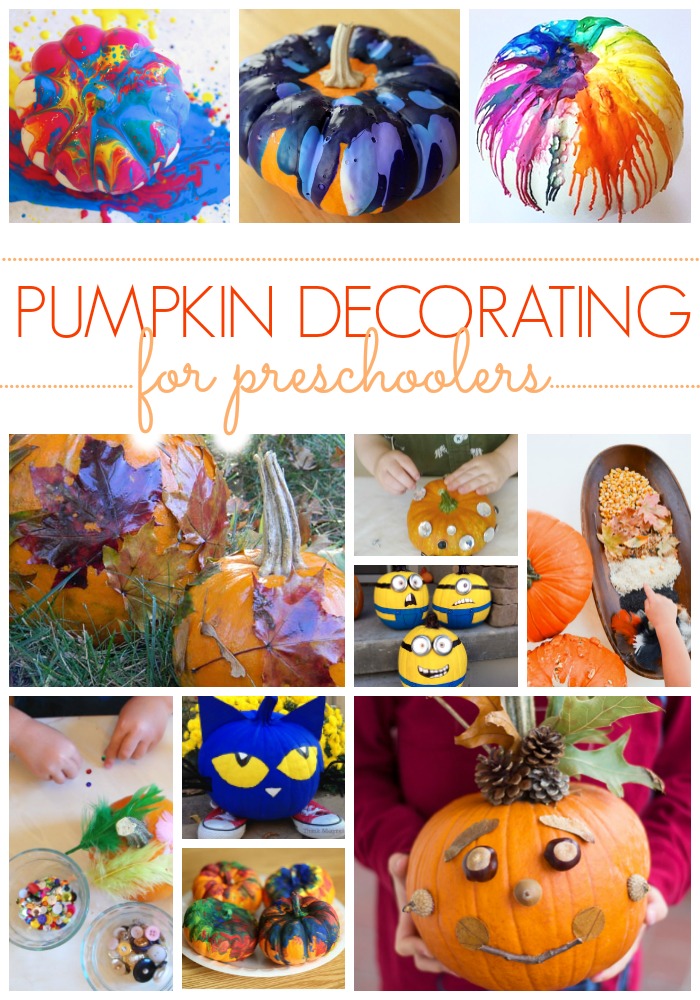 No Carve Pumpkin Decorating Ideas for Preschool
With these ideas, your preschoolers can decorate pumpkins themselves, in lots of creative ways.
1. Decorate with Markers (Pre-K Pages) – This Halloween idea is very simple yet so much fun! If you're anything like me you're always on the lookout for center activities that are inexpensive and easy, and this one certainly fits the bill!
2. Sensory Pumpkin Decorating (Little Pinch of Perfect) – Create a fun sensory pumpkin with things found in nature!
3. Decorate with Washi Tape (Educators' Spin On It) – Have fun decorating a pumpkin with some washi tape. If your toddler loves using tape they will love this pumpkin decorating activity.
4. Decorate with Collage Materials (TinkerLab) – Grab some glue, feathers, buttons, and other fun items to make these fun pumpkins.
5. Fizzy Pumpkin Painting (Toddler Approved) – Paint a pumpkin by making your own fizzy paint using baking soda and vinegar.
6. Melted Crayon Pumpkins (Pre-K Pages) – Melted Crayon  Pumpkin decorating is a fun experience for kids (and adults) of all ages. This no-carve crayon art pumpkin decorating project is gorgeous and it's also lots of fun to make!
7. Pumpkin Mummies (Hands on As We Grow) – Grab some gauze and googly eyes and turn your pumpkin into these super fun adorable mummies.
8. Decorate with Pushpins and Brads (Craftulate) – Using pushpins and brads, you can make these fun glittery polka dot pumpkins
9. Decorate with Drip Painting (Gift of Curiosity) – Forget carving, grab some paint and create these drip painted pumpkins instead.
10. Yarn and Ribbon Wrapped Pumpkins (Imagination Tree) – Use yarn and ribbons to wrap around your pumpkins this year. This is a great fine motor activity as well that encourages creativity!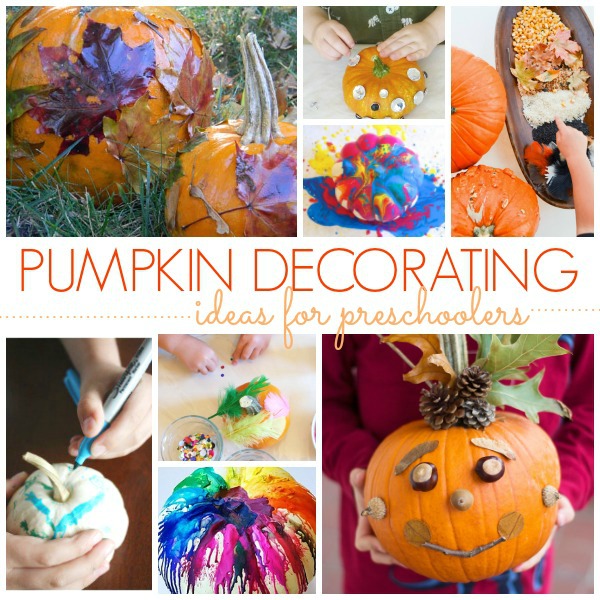 No Carve Creative Pumpkin Decorating Ideas
You and your children can create fun character pumpkins and other creatively decorated pumpkins with these ideas.
11. Chicka Chicka Boom Boom Pumpkins (They Are Like Stars on Earth) – Read the book and then create a pumpkin to represent the book!
12. Pumpkin Faces With Play Dough (Artful Parent) – Instead of carving faces into the pumpkin, make a face out of play dough and create one on the outside!
13. Curious George Pumpkin (Paper Perfection) – Read Curious George, and then use some paint and googly eyes to turn your pumpkin into George!
14. Minions Pumpkins (Crafty Morning) – Recycle some Coke cans for these Minion pumpkins!
15. Book Character Pumpkins (Teaming Up to Teach) –  Clifford, Cat in the Hat, Pout-Pout Fish, and more!
16. Storybook Pumpkins (Sunny Days in Second Grade) Rainbow Fish, Elmer, Skippyjon Jones, and others!
17, Storybook Characters (Twenty-Sixth Year) – The Pigeon, Lilly, and others
Pumpkin Decorating Ideas
18. Storybook Inspired Pumpkins (Educators' Spin On It) – The Pigeon, The Lorax, Pinkalicious and more
19. Book Character Pumpkins (Elementary Nest) – Olivia, Pete the Cat, Interrupting Chicken, and many others
20. Skippyjon Jones – Here is a quick photo to inspire you to create a pumpkin based on the children's book.
21. Teal Pumpkins (Parenting Chaos) – Launched last year as a national campaign the Teal Pumpkin Project™ raises awareness of food allergies and promotes inclusion of all trick-or-treaters throughout the Halloween season.
22. No Carve Nature Pumpkins (Fireflies and Mudpies) – Go on a nature walk and look for leaves, pinecones, acorns, maple seeds, and twigs that can be used to create your own nature pumpkin. Nature pumpkins are easy to assemble and look cute for fall.
23. Fine Motor Pumpkins (Little Bins for Little Hands) – Grab some white pumpkins and sharpies and have fun decorating your pumpkins this Fall.
24. Pour Pumpkins (Home Grown Friends) – Use a white pumpkin and tempera paint to create the beautiful poured painted pumpkins.
25. Nature Pumpkins (Stir the Wonder) – Gather some Autumn leaves and other natural elements and glue them onto your pumpkin for an easy no carved nature pumpkin.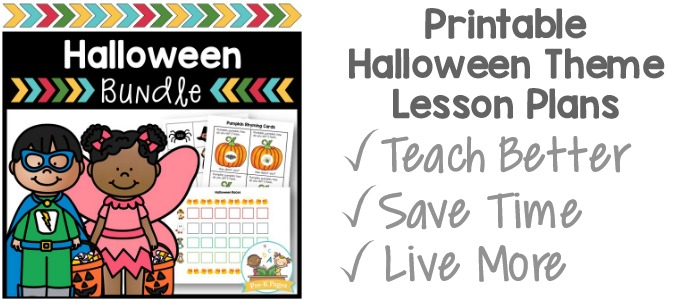 More Halloween Ideas