Exploring pumpkins and decorating them can be a fun part of fall or Halloween activities. But decorating a pumpkin and using it to decorate your space does not require great carving skills (or any carving skills at all). You and your preschoolers can create fun decorated pumpkins with no carving at all. Check out these ideas.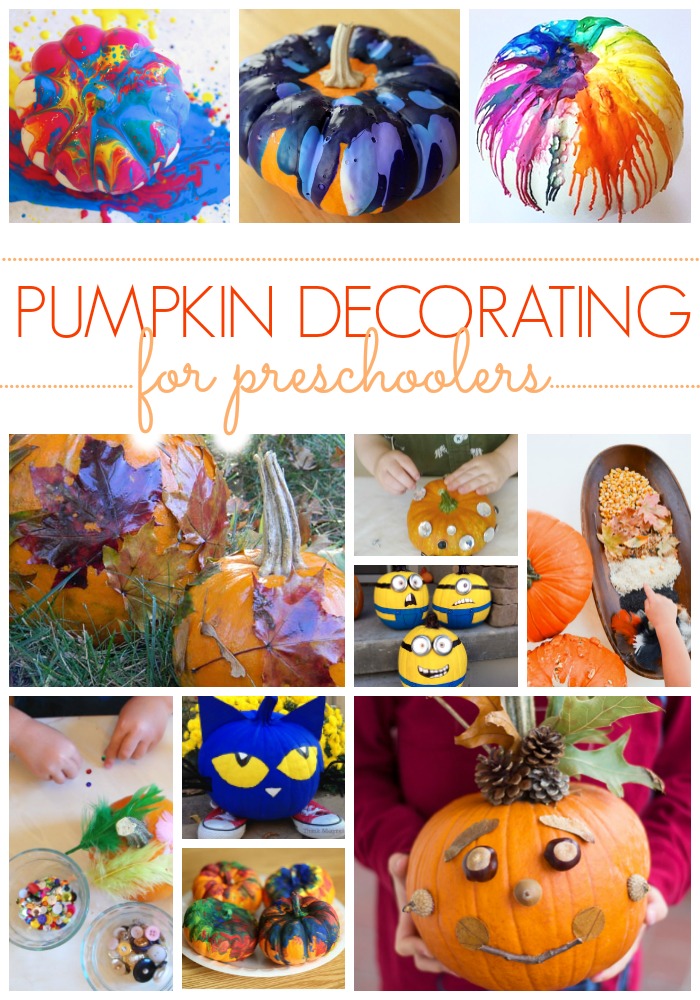 No Carve Pumpkin Decorating Ideas for Preschool
With these ideas, your preschoolers can decorate pumpkins themselves, in lots of creative ways.
1. Decorate with Markers (Pre-K Pages)
2. Sensory Pumpkin Decorating (Little Pinch of Perfect)
3. Decorate with Washi Tape (Educators' Spin On It)
4. Decorate with Collage Materials (TinkerLab)
5. Fizzy Pumpkin Painting (Toddler Approved)
6. Melted Crayon Pumpkins (Crafty Morning)
7. Pumpkin Mummies (Hands on As We Grow)
8. Decorate with Pushpins and Brads (Craftulate)
9. Decorate with Drip Painting (Gift of Curiosity)
10. Yarn and Ribbon Wrapped Pumpkins (Imagination Tree)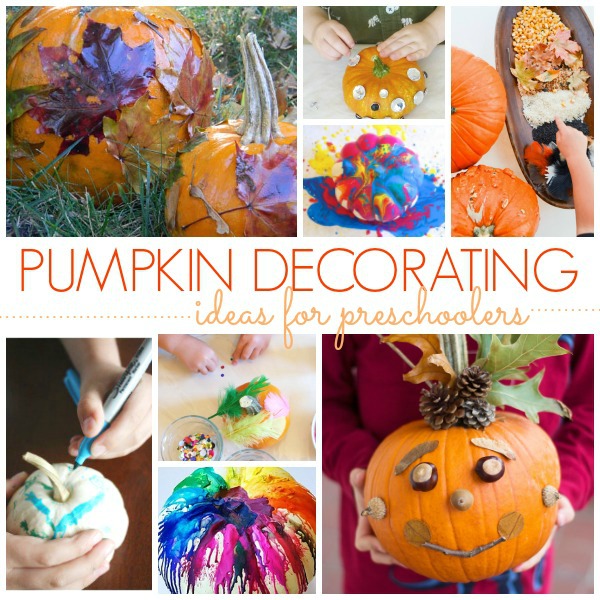 No Carve Pumpkin Decorating Ideas
You and your children can create fun character pumpkins and other creatively decorated pumpkins with these ideas.
11. Chicka Chicka Boom Boom Pumpkins (They Are Like Stars on Earth)
12. Pete the Cat Pumpkin (Think Magnet)
13. Curious George Pumpkin (Paper Perfection)
14. Minions Pumpkins (Crafty Morning)
15. Book Character Pumpkins (Teaming Up to Teach)
Clifford, Cat in the Hat, Pout-Pout Fish, and more!
16. Storybook Pumpkins (Sunny Days in Second Grade)
Rainbow Fish, Elmer, Skippyjon Jones, and others!
17, Storybook Characters (Twenty-Sixth Year)
The Pigeon, Lilly, and others
18. Storybook Inspired Pumpkins (Educators' Spin On It)
The Pigeon, The Lorax, Pinkalicious and more
19. Book Character Pumpkins (Elementary Nest)
Olivia, Pete the Cat, Interrupting Chicken, and many others
20. Skippyjon Jones
21. Teal Pumpkins (Parenting Chaos)
22. No Carve Nature Pumpkins (Fireflies and Mudpies)
23. Fine Motor Pumpkins (Little Bins for Little Hands)
24. Pour Pumpkins (Home Grown Friends)
25. Nature Pumpkins (Stir the Wonder)
More Halloween Ideas