Invite children to create patriotic process art inspired by the American flag! They will learn the colors and symbols that represent our country while simultaneously experimenting with artistic processes and materials. This activity is great for July 4 or community-related themes. Or just a fun art exploration.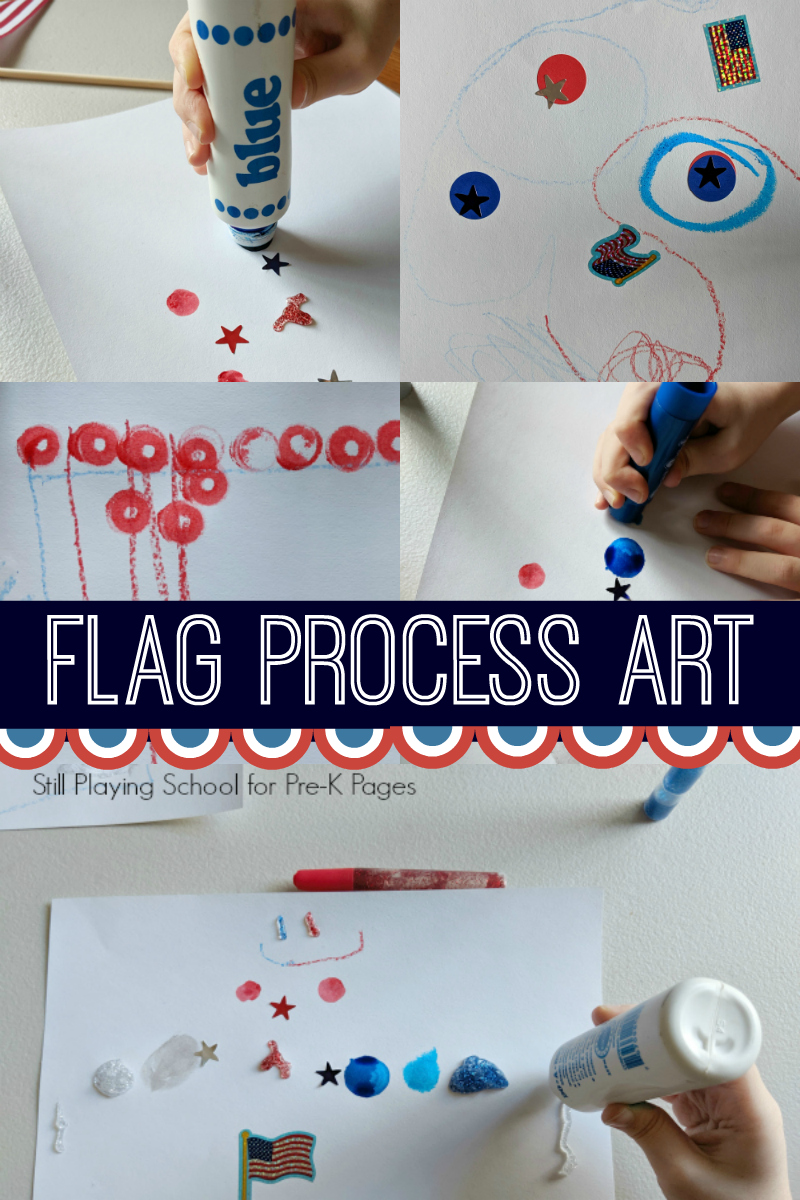 Flag Process Art Activity
Process art is a creative invitation that focuses on the experience rather than the product. The teacher's role is to provide the materials and tools rather than step-by-step instructions and a sample to copy. By selecting high quality red, white, and blue themed art supplies, children are provided an unscripted opportunity to create art that is developmentally appropriate and meaningful to them.
You will need:
American flags (ideally ones that the children can touch)
Other patriotic themed materials for display
Paper
Red, white, and blue crayons, paint sticks, glitter glue, and/or dot markers
Patriotic stickers, hole punches, or stamps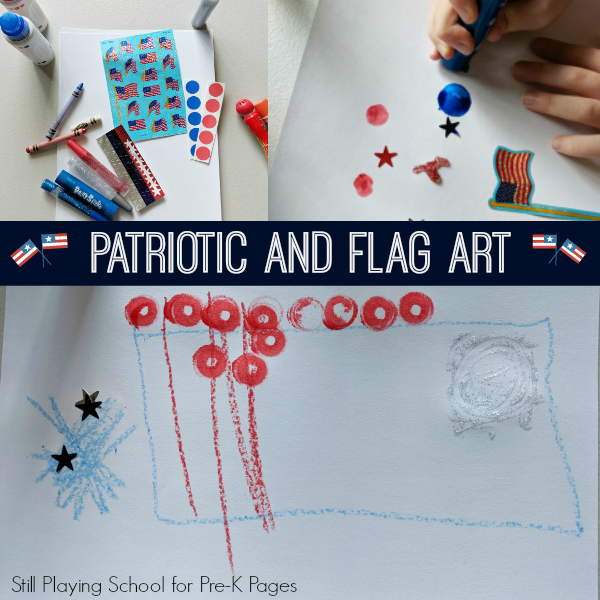 Explore and Create with Red, White, and Blue
Since this is a patriotic-inspired process art experience, begin by passing out the miniature American flags to the children. Ask them to describe what they notice on the flag. Invite them to identify the colors–red, white, and blue. Talk about the stars and stripes.
Examine other patriotic items such as pinwheels, streamers, or tableware. Point out that, when we decorate for a holiday like the Fourth of July or Flag Day that celebrates our country, America, we often see these same colors and patterns (stars and stripes) on other decorations and even clothing. They might not look exactly like the flag but these materials are inspired by it.
Invite the children to create their own patriotic-themed designs with the materials provided. While we were creating, the children naturally began to discuss balloons, fireworks, and even stamps that have the American flag on them. What an authentic opportunity for a dialogue as we create artwork!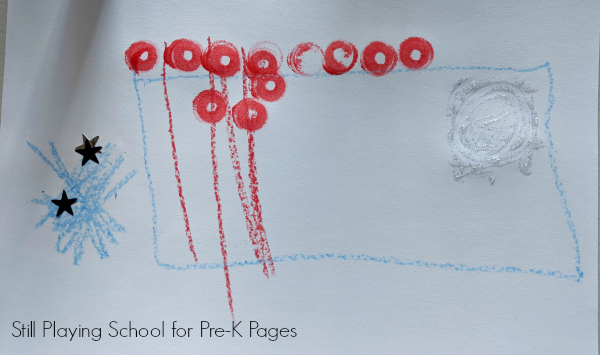 Display all the designs. Encourage the preschoolers to examine all the creations. Find similarities and differences. Ask a child to talk about what he did or how he created a certain effect. Often we create and set it aside. Encourage children to examine and talk about what was done. This type of conversation can encourage more creativity and expanded thinking among your young artists.
BIO: Devany LeDrew is a former kindergarten teacher who writes at Still Playing School where she shares play based learning activities. She specializes in fine motor activities and has co-authored the book 99 Fine Motor Ideas! Follow Still Playing School for more engaging educational ideas on Facebook, Instagram, Pinterest, and Twitter!
More Art Ideas