When the warmer weather comes, flowers and trees begin to sprout and bloom. Spring is a great time to explore flowers, plants and growing. Your preschoolers can use flowers for a variety of activities. One of my favorite activities is using paint to explore flowers. Maybe you have painted flowers or even created still-life paintings. But we didn't paint pictures of flowers. We painted WITH flowers instead. This flower painting activity is easy and inexpensive to set up.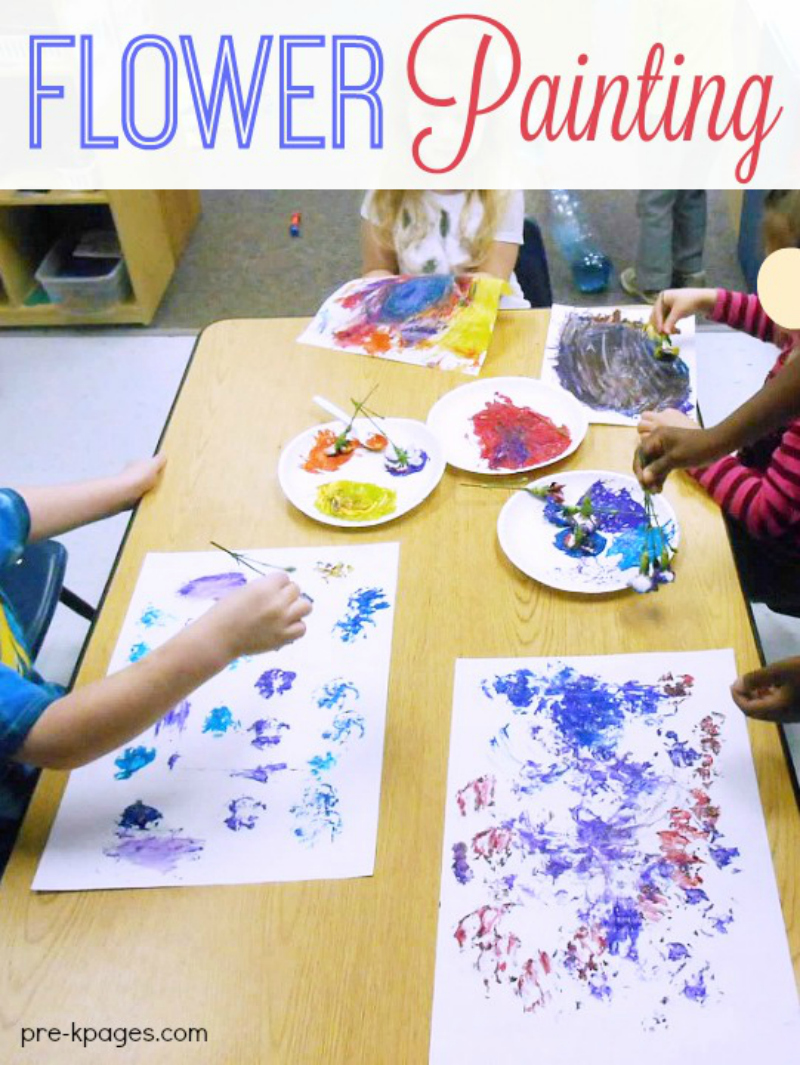 Flower Painting Activity
Materials for this flower painting art activity:
tempera paint
paper plates
flowers – You can use any colored flowers you want. White flowers, colorful ones, that's fine!
My favorite place to get flowers for painting is from the grocery store – when they're on sale. You could also check your local floral shops for deals on flowers that may be past their prime.
How to make this flower painting activity mess-free!
Pour paint onto paper plates. Paper plates allow space for preschoolers to lay down flowers that they have used.
A common problem with painting is what to do with items that have paint on them. If you choose to use shallow pans or other paint containers, make sure you place some newspaper in the area for children to place their flowers with paint on them. Otherwise, flowers will go on the table and paint can get all over things.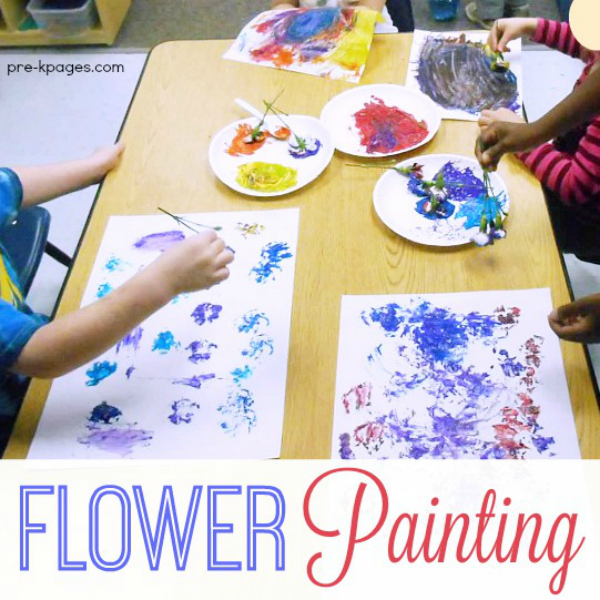 Explore the Paint and Flowers
Invite children to explore. Some preschoolers will make prints with the flowers, pressing them down to make flower shapes on the paper. Some preschoolers will use the flowers as they use brushes and make paint strokes on the paper. You may even have a child that uses the stem end to paint or make dots. All of these ways are appropriate choices.
Encourage creativity with this flower painting activity. Focus on the process – the doing of the activity. The purpose of this type of art activity is exploration. Let them be Van Gogh and unleash their inner artist!
Painting with preschoolers allows the preschoolers to explore the properties of the paint and how they can use the flowers and the paint. The end result is secondary. As you talk with preschoolers, focus on what they are doing. Ask, "How did you do this?" Or say, "Tell me about what you are doing."
Enjoy your children's creativity as you explore flowers this spring.
BIO: Kristy Pulcher is currently a Pre-K Teacher in Plano, Texas. She has worked in the early childhood education field for 23 years. Kristy was a recipient of the Teacher of the Year award from CCAEYC. She is very passionate about working with young children and they delight her daily as they explore and learn about the world around them.
More Spring Ideas
Preschool Mural Ideas For Spring – In our area right now the weather is unpredictable. We've had a few days of really nice spring-type weather. And we've had some really cold days. One day we even had snow on the ground when we woke. It's technically still winter, but we are seeing the signs of spring. Recently my preschoolers thought about spring as we made murals using only green materials. These preschool mural ideas are perfect for Spring using green materials!
Process Art Painting Activity for Spring or Easter – Invite kids to create with this open ended Spring or Easter process art invitation. Instead of creating a craft that is designed to look like the teacher's sample, preschoolers can paint with the materials provided in any way they'd like to focus on the process.
Spring Flower Math Game for Preschool – Games and play are perfect ways to develop math skills with preschoolers. Handling objects and counting help make number concepts more concrete. This game is perfect for spring and perfect your preschoolers to grow in their number sense.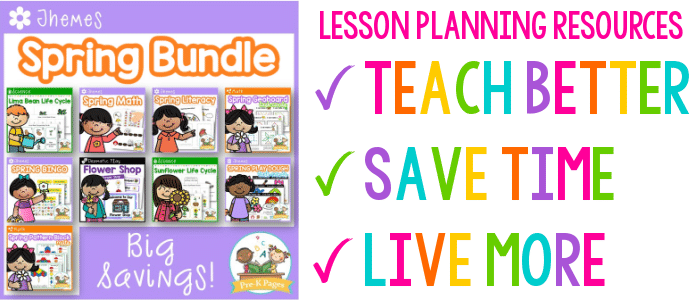 More Spring Ideas