In the spring, birds seem to be everywhere. A bird study is perfect accompaniment to a spring theme (or just a fun science exploration for kids). Preschoolers can discover where birds live, what they eat, what their nests look like. They can begin to look for these birds around your school or home. These 20 bird books for kids will help your preschoolers learn some bird facts or think about things they do.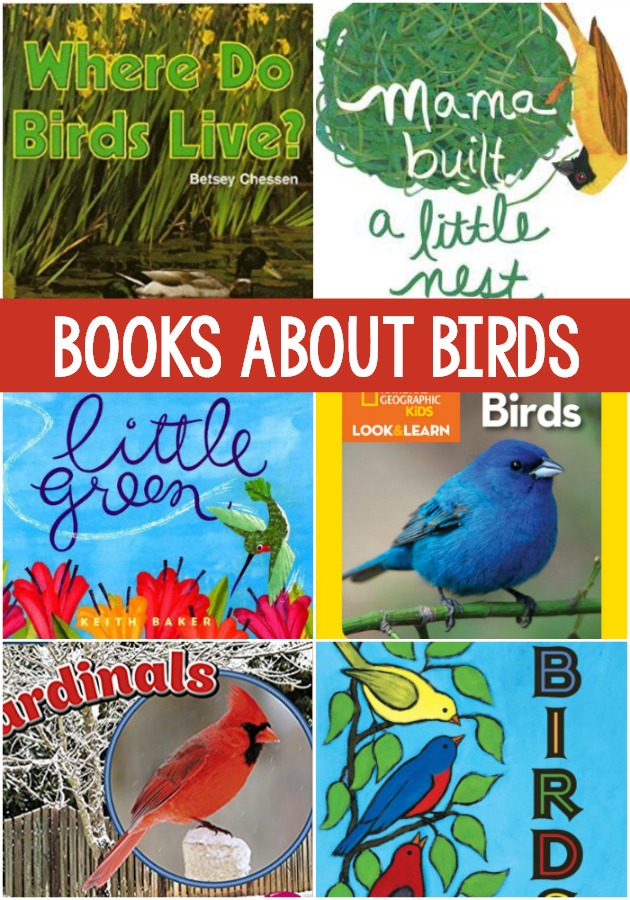 Bird Books For Kids To Read
These children's book about birds are great educational (and fun!) reads for your preschoolers to enjoy when you are teaching a bird theme in your classroom. Your preschoolers and kindergartners will learn about nests, different kinds of nests, and so much more bird fun!
Mama Built a Little Nest by Jennifer Ward
This rhyming book will help your preschoolers think about the different kinds of bird nests.
Birds by Kevin Henkes
Birds come in all colors; they are big, and little, and every size in between. This simple book will encourage preschoolers to think about birds around them.
Birds (Look and Learn) by National Geographic Kids
Photographs and simple text provide an introduction to different kinds of birds.
An Egg is Quiet by Dianna Hutts Aston
A look at all kinds of eggs and the ways they look and feel.
A Nest is Noisy by Dianna Hutts Aston
Nests are noisy, filled with babies. This book examines all kinds of nests (and not only bird nests).
The Best Nest by P.D. Eastman
Mrs. Bird is tired of her old house so she and Mr. Bird search for a new one. But things don't work out quite as they plan.
Feathers for Lunch by Lois Ehlert
A cat gets out of the house and tries to eat something wild for lunch. He stalks all kinds of birds in the backyard but only gets feathers for lunch.
Hooray for Birds by Lucy Cousins
A fun rhyming bird book.
Noisy Bird Sing-Along by John Himmelman
Every kind of bird makes its own sound. While reading this book, you can make the sounds with them.
Little Green by Keith Baker
A boy watches a hummingbird fly around his backyard. This book is full of great verbs to describe how the hummingbird is moving.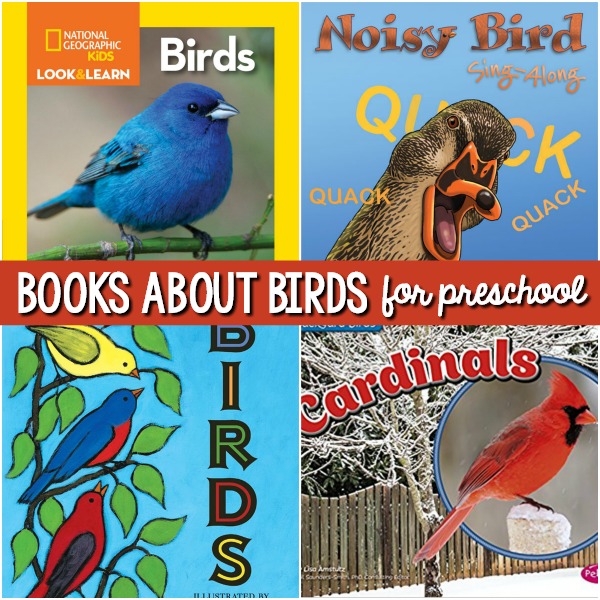 More Bird Books For Kids
Do your preschoolers and kindergartners want to learn about a specific type of bird? Then this bird book list is perfect for you kids. Learn about cardinals, blue jays, robins and so many more types!
Cardinals (Backyard Birds) by Lisa J. Amstutz
This nonfiction book examines cardinals, how they live, what they eat, and other facts.
Blue Jays (Backyard Birds) by Lisa J. Amstutz
Discover how to identify blue jays and learn what they eat and how they live.
Robins (Backyard Birds) by Lisa J. Amstutz
Learn all about robins–what they look like, how they live, how their eggs look, and much more.
Hummingbirds (Backyard Birds) by Lisa J. Amstutz
This book tells you all about the hummingbirds that may be flitting around your backyard.
Mourning Doves (Backyard Birds) by Lisa J. Amstutz
What does a mourning dove look like? What does it eat? How does it live? This nonfiction book will give preschoolers all the facts.
American Crows (Backyard Birds) by Lisa J. Amstutz
This nonfiction book helps preschoolers learn all about the crows that may be in their backyards.
House Sparrows (Backyard Birds) by Lisa J. Amstutz
Learn all about how house sparrows live.
Goldfinches (Backyard Birds) by LIsa J. Amstutz
Discover what goldfinches look like, how they live, and what they eat.
Where Do Birds Live? by Betsey Chessen
Simple repetitive text and photographs show all different types of bird habitats.
Birds, Nests, and Eggs by Mel Boring
This book has lots of text. It's a book that would be more for looking rather than reading to younger children. But there are pictures of different types of birds, their nests, and their eggs. A good book for comparing and contrasting. And a good book for reference if you see any in the wild.
Keeping a full classroom library can get costly. Use your local library or shop for used books to keep your costs down.
More Bird Theme Fun In The Classroom
Of course if you are teaching about birds in your classroom, you don't just want to read about them! Try making a peanut Butter Bird Feeder and Observe Birds.  Explore Feathers on the Light Table. Or try this Spring Book Activity: Birds in the Trees.
More Book Lists for Preschoolers