Making a peanut butter bird feeder with kids is a wonderful opportunity to discuss bird habitats and their needs. Bird feeders also provide kids with the chance to observe birds in their natural environment. and a fun way to feed the birds. This activity is a simple science exploration for spring (or anytime!) that kids will love!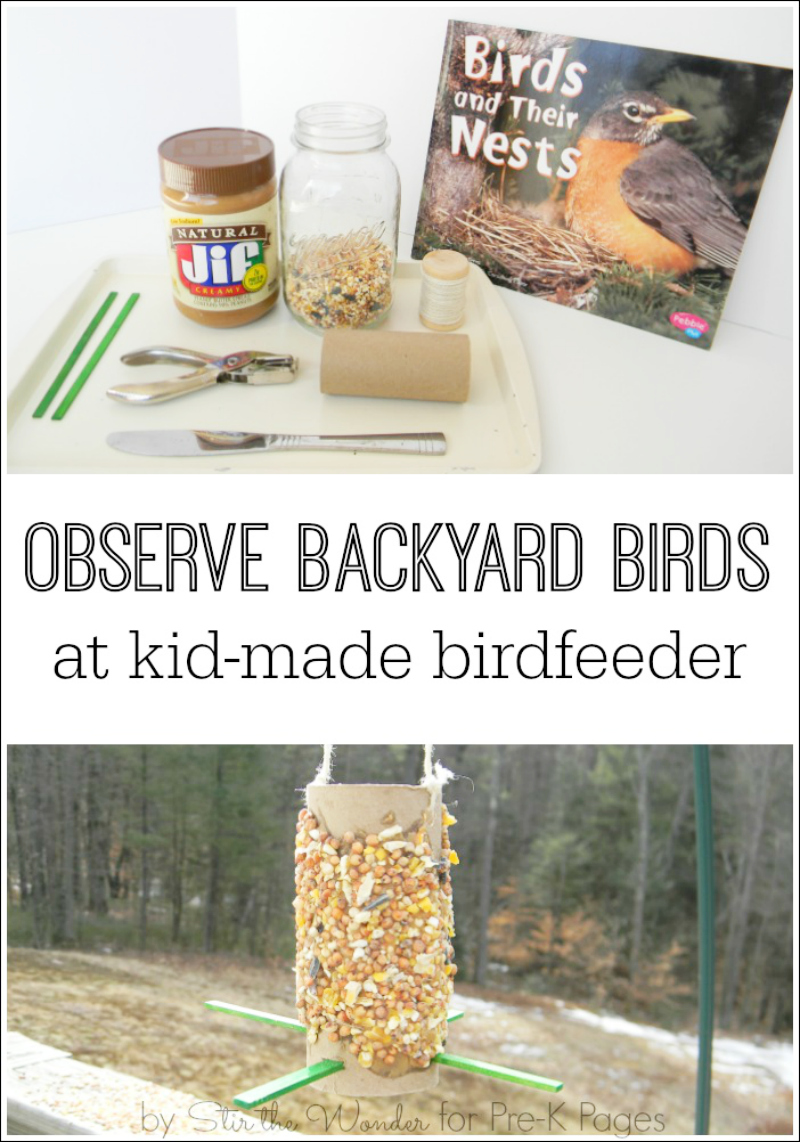 Bird Feeder Benefits
Making a bird feeder to attract backyard birds is a great way for kids to get up close with nature and make some observations! Kids will love noticing the different types of birds and feeding the birds.
It is also a great time to talk about birds, their habitats (nests), and what they need to live (food, water, etc.) Read Birds and Their Nests by Linda Tagliaferro to help get this conversation started.
Making a cardboard tube bird feeder is also a fun and purposeful way for preschoolers to work on fine motor skills.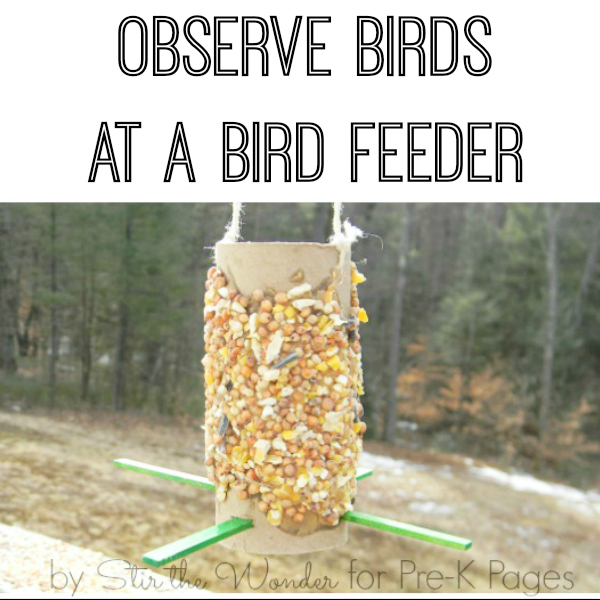 Peanut Butter Bird Feeder Supplies
Book: Birds and Their Nests
cardboard tube
birdseed
peanut butter or sunbutter
two skinny craft sticks
butter knife
hole puncher
scissors
string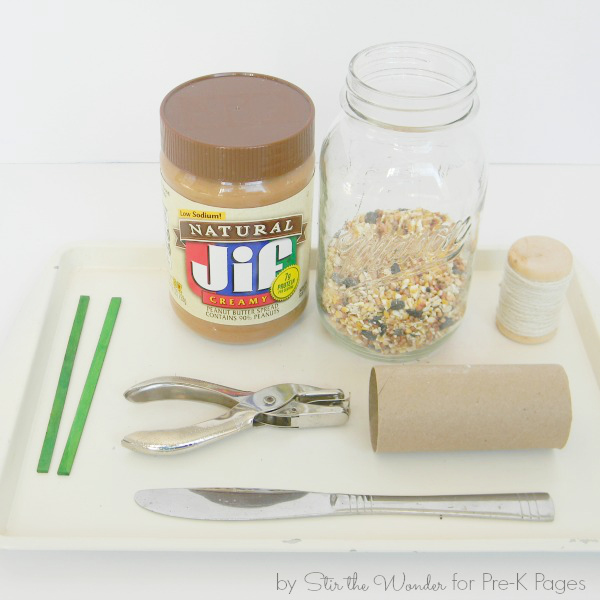 Making a Homemade Bird Feeder with Kids
To get started with this activity, you'll need to gather the above supplies and arrange them on a table. Then, prepare the cardboard tube by punching two holes in the top on opposite sides and cutting four slits into the bottom to insert the skinny crafts sticks to complete the bird feeder. Some children may be able to help with this prep work.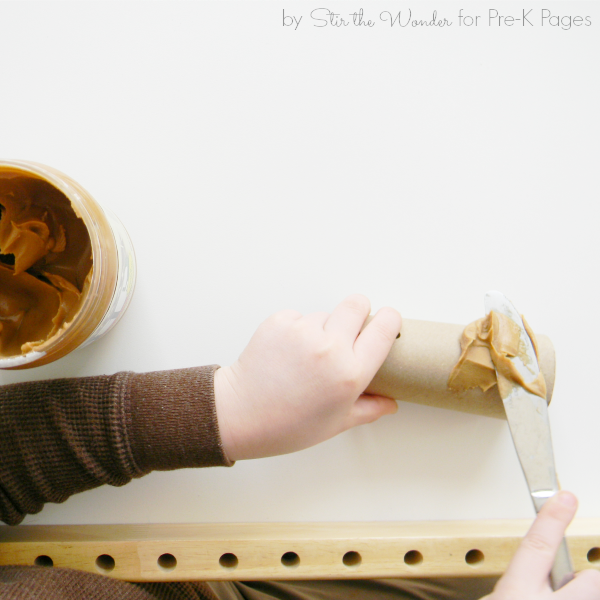 Make the Peanut Butter Bird Feeder
To create this bird feeder, children spread the peanut butter or sunbutter (using a butter knife) onto the cardboard tube.
Pour some bird seed onto a tray and roll the cardboard tube in the bird seed, covering all the peanut butter or sunbutter.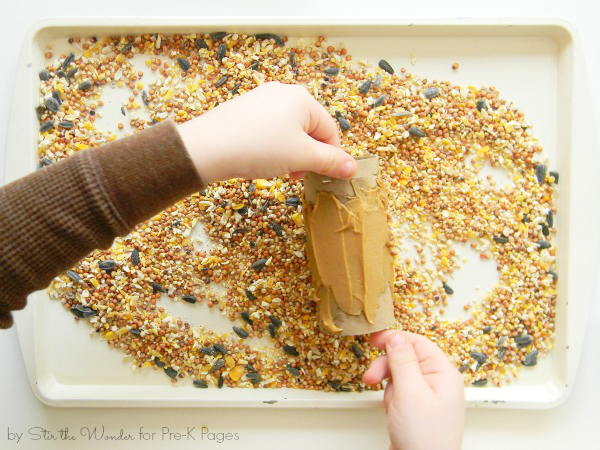 A parent or teacher can help tie the string through the two holes in the top and poke the two skinny craft sticks through the slits in the bottom of the feeder to create a little perch for the birds.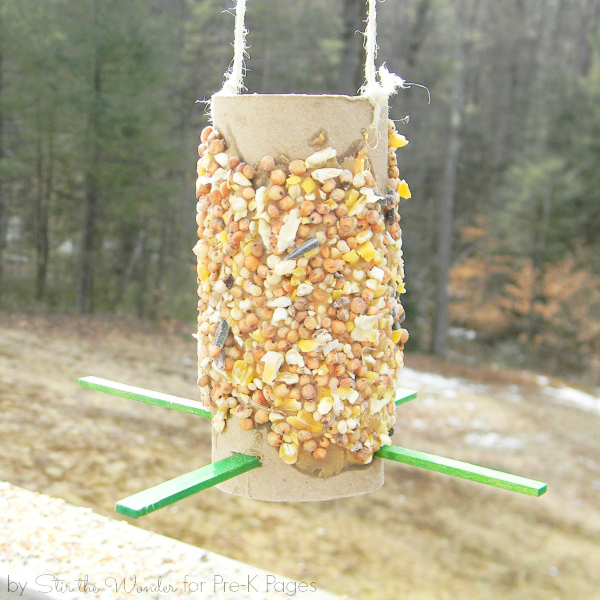 Hang the bird feeder outside a window so children can watch the birds eat! It didn't take long for our peanut butter bird feed to attract birds and become curious about the new feeder and check it out!
BIO: Samantha writes at Stir the Wonder, sharing creative, hands-on learning activities for preschoolers including fine motor, STEM, and book-inspired activities. She is also a co-author of the book 99 Fine Motor Ideas for Ages 1 to 5, and the brand new 100 Fine Motor Ideas for Parents, Teachers & Therapists! You can follow her on Facebook, Twitter, and Pinterest.
More Science Ideas
Science Center Books for Preschool– Science is exploring and discovering more about the world. Your science center offers hands-on experiences with the world.Investigating, exploring, and using senses are key for preschoolers to learn about science and the world. Books can build knowledge and vocabulary as well as expand the preschoolers' experiences. These books would be great additions to your science center.
Science for Kids: Ice Cream in a Bag– Making ice cream in a bag is the perfect recipe for preschoolers! There is fine and gross motor work involved plus you get a yummy treat! Try this as a team building activity or a fun special science experiment for kids.
Color Changing Flowers Science Experiment– This color changing flowers science experiment is so easy to do and your kids will love watching the flowers change colors! Your kids will love learning about how plants drink water with this simple experiment. Perfect for a plants theme in your preschool, pre-k, or kindergarten classroom.
Dinosaur Eggs Fizzy Science Experiment– Dinosaurs are always a fun topic or theme to explore with preschoolers. Something about dinosaurs seems to grab the mind and imagination of children. This fun dinosaur science experiment is something your kids will love and add even more excitement to your dinosaur explorations.
Ocean Octopus Science Exploration in Preschool– Learning about the ocean and sea creatures is a popular topic in preschool. But without real life experiences, it can be difficult for young children to understand sea life and sea creatures.  Today I'm sharing one way I like to bring real world experiences into my classroom to help my students question, learn, and explore.
Science for Kids: Nature Investigation Table– Take science outdoors! Set up a nature investigation table for preschool science and allow your kids to experiment and observe the natural world around them with simple materials suitable for kids to explore at their own pace.