Making a bird feeder with kids is a wonderful opportunity to discuss bird habitats and their needs. Bird feeders also provide kids with the chance to observe birds in their natural environment. This activity is a simple science exploration for spring (or anytime!).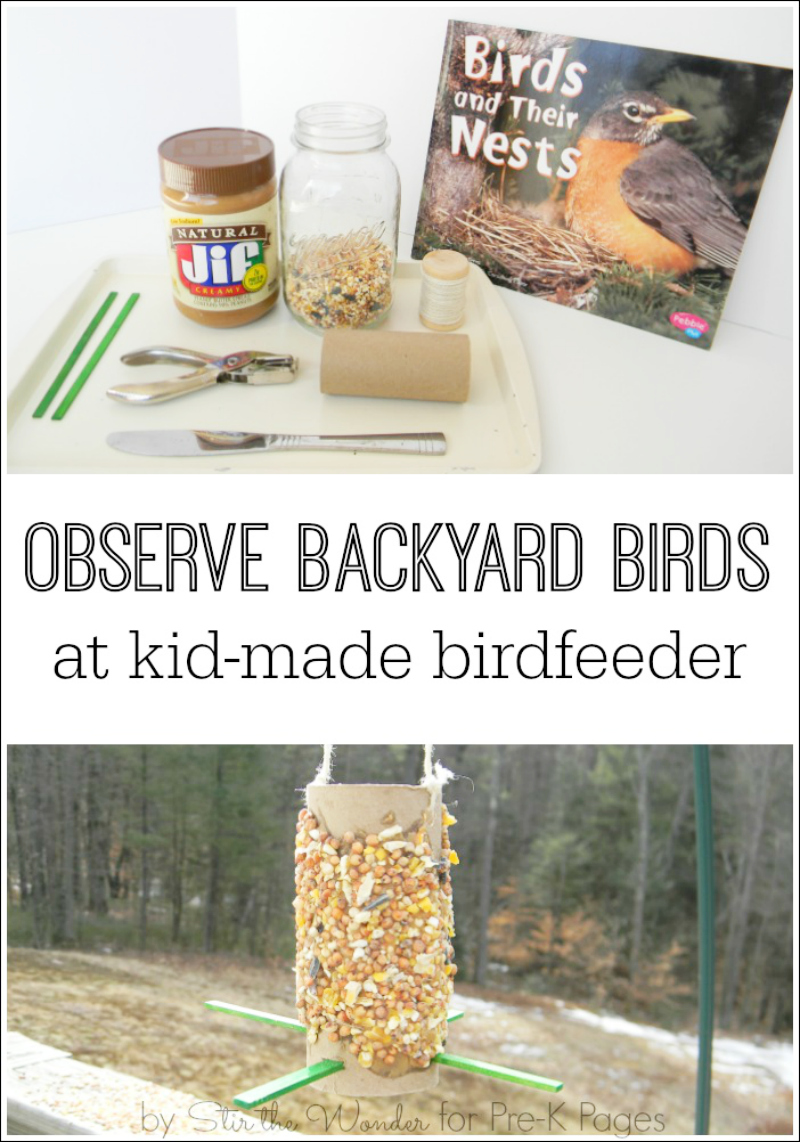 Bird Feeder Benefits
Making a bird feeder to attract backyard birds is a great way for kids to get up close with nature and make some observations! Kids will love noticing the different types of birds feeding on the birdseed.
It is also a great time to talk about birds, their habitats (nests), and what they need to live (food, water, etc.) Read Birds and Their Nests by Linda Tagliaferro to help get this conversation started.
Making a cardboard tube bird feeder is also a fun and purposeful way for preschoolers to work on fine motor skills.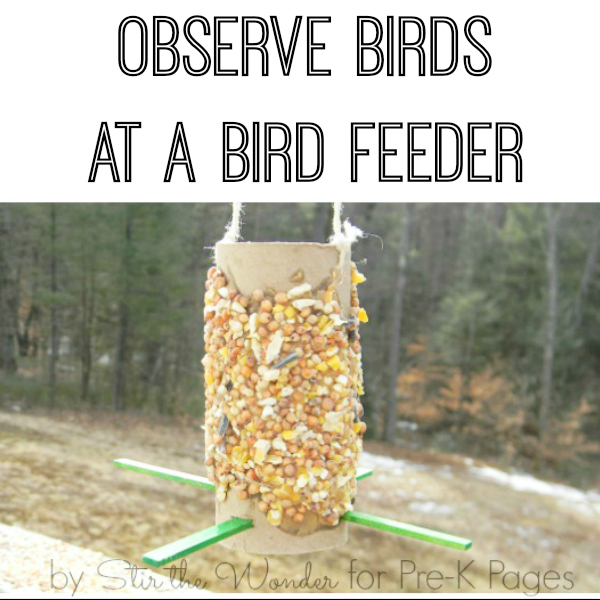 Bird Feeder Supplies
Book: Birds and Their Nests
cardboard tube
birdseed
peanut butter or sunbutter
two skinny craft sticks
butter knife
hole puncher
scissors
string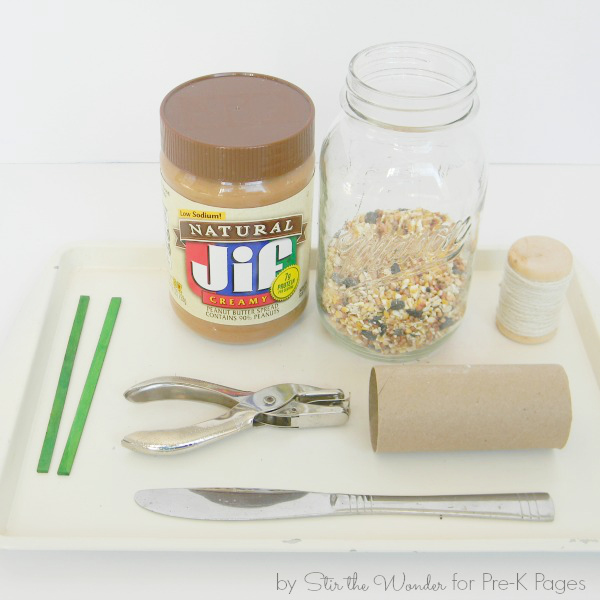 Making a Bird Feeder with Kids
To get started with this activity, you'll need to gather the above supplies and arrange them on a table. Then, prepare the cardboard tube by punching two holes in the top on opposite sides and cutting four slits into the bottom to insert the skinny crafts sticks to complete the bird feeder. Some children may be able to help with this prep work.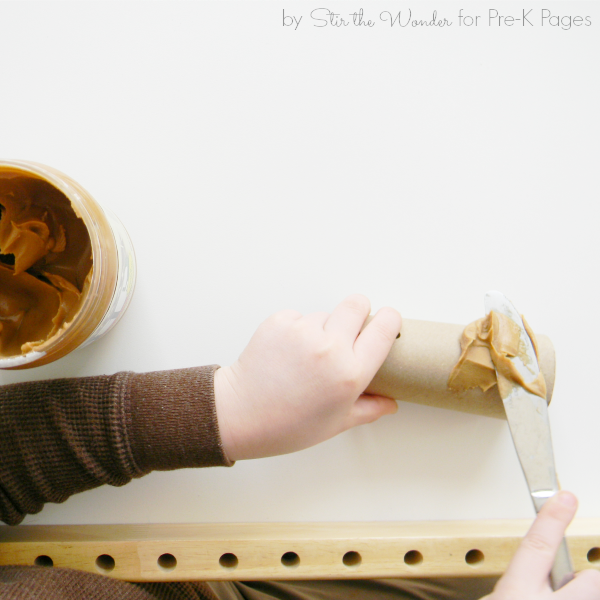 Make the Bird Feeder
To create this bird feeder, children spread peanut butter or sunbutter (using a butter knife) onto the cardboard tube.
Pour some birdseed onto a tray and roll the cardboard tube in the birdseed, covering all the peanut butter or sunbutter.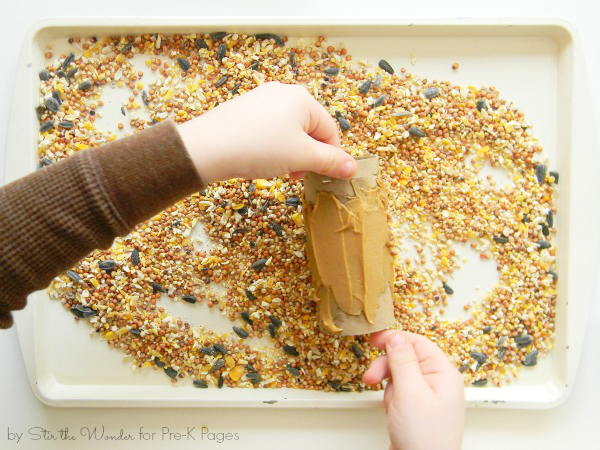 A parent or teacher can help tie the string through the two holes in the top and poke the two skinny craft sticks through the slits in the bottom of the feeder to create a little perch for the birds.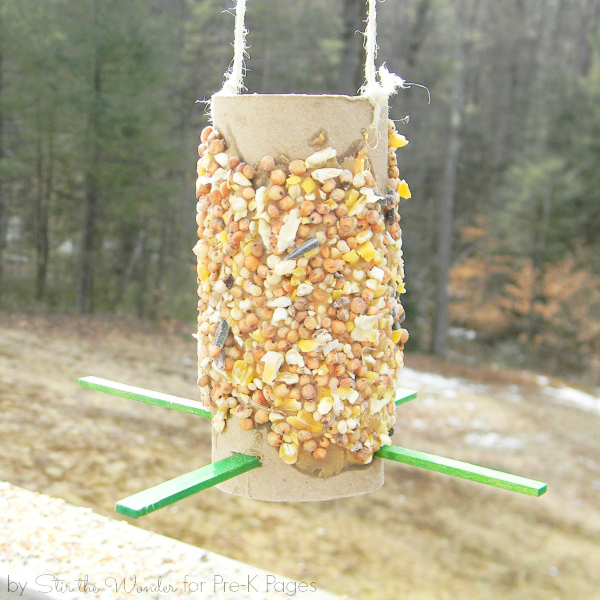 Hang the bird feeder outside a window so children can watch the different birds coming and going! It didn't take long for our backyard birds to become curious about the new feeder and check it out!
BIO: Samantha writes at Stir the Wonder, sharing creative, hands-on learning activities for preschoolers including fine motor, STEM, and book-inspired activities. She is also a co-author of the book 99 Fine Motor Ideas for Ages 1 to 5, and the brand new 100 Fine Motor Ideas for Parents, Teachers & Therapists! You can follow her on Facebook, Twitter, and Pinterest.
More Science Ideas