Forget spooky or scary, these Halloween skeleton gloves are just plain fun!
As teachers and parents we know the importance of making learning fun for kids. The more hands-on activities we provide the longer kids will stay engaged and on-task!
The cheaper the better, so when I found these fun gloves at the dollar store I knew they would make a fun learning activity.
Skeleton Syllable Activity
Syllables are the parts in words, such as the three parts we hear in the word banana (ba/na/na).
Syllabication is the ability to hear and count, blend, segment, and delete syllables in words.
Syllabication is one of several crucial components of phonological awareness skills which create a strong foundation for future reading.
When children in pre-k and kindergarten can hear and identify syllables in words they will be ready to decode unknown words they encounter in text later, when learning how to read. Without syllabication skills a child may struggle with reading later.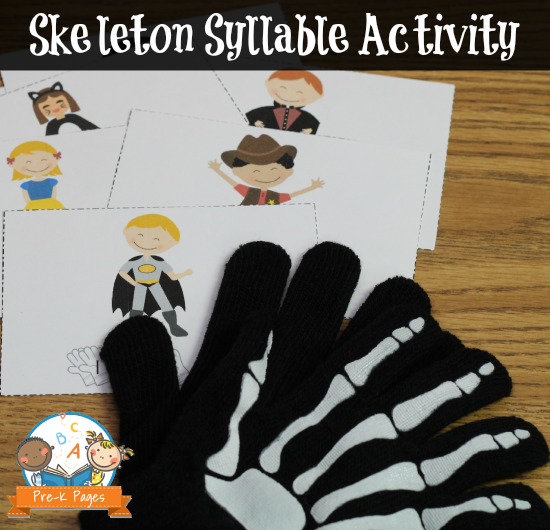 Skeleton Syllable Supplies
Here are the supplies you will need to create your own skeleton syllable activity.
I found the skeleton gloves in the Dollar Spot at Target.
Skeleton Syllable Activity Directions
First, print and laminate your syllable cards. Next, cut the cards apart and place in front of your small group.
Then, show the children each card and ask them to identify the costume pictured.
Now, show them the cards again and invite them to identify the syllables in each word by clapping their hands.
Finally, demonstrate how to put on the gloves and clap syllables.
Your students will have buckets of Halloween fun drawing cards and clapping syllables while wearing these skeleton gloves!
After each child draws a card they can place it in a bag or basket labeled with a number to indicate the number of syllables.
Could you do this activity with regular gloves or mittens? Absolutely!
More Halloween Ideas