Your preschoolers are building math skills from the very beginning with this snowflake activity. Subitizing is an important math skill that you probably use every day (but I bet you don't call it that). Subitizing is identifying small quantities of images or objects without counting.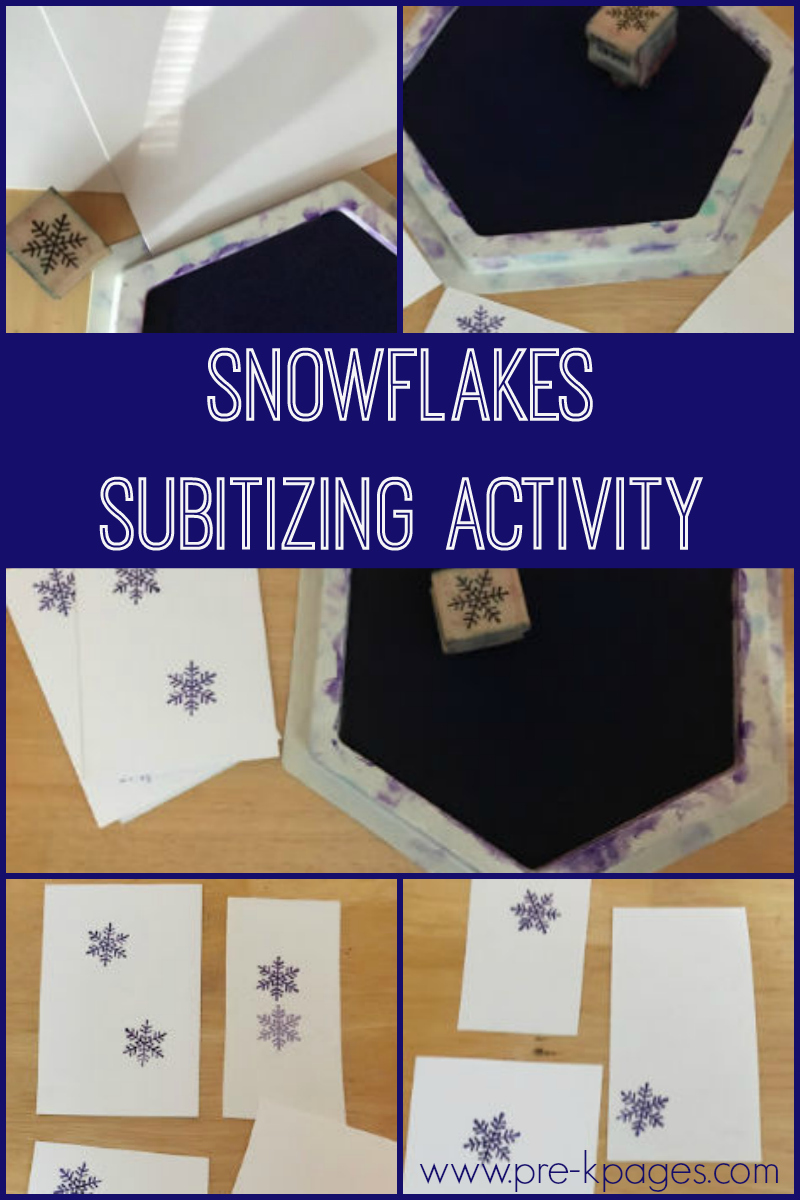 What Is Subitizing In Kindergarten?
Adults can quickly recognize how many dots on the side of a die or the ends of a domino. We recognize the familiar patterns. If a group of objects is not in a familiar pattern, we see smaller groups and add them together. ("Two there and three there make five all together.")
We have had lots of practice with quantities and collections so we do this automatically, without thinking about it. That's what we want to help our preschoolers do.
Preschoolers are just developing their understandings of quantity and number. They must have lots of practice handling objects, counting them, and transferring that knowledge to counting images or symbols. In the classroom, provide as many different opportunities to practice counting and numeracy as possible. This activity will help build skills in quantity and in recognizing familiar quantities (subitizing).
Snowflake Subitizing Activity
What you need:
Stamp pad
Snowflake stamp
White cards
To introduce this snowflake activity, make several cards, about half stamped with one snowflake and half stamped with two snowflakes. Do not stamp all the snowflakes in the same place on the cards. Mix up the orientation of the snowflakes. Preschoolers will begin to understand that all the cards with "two" are the same quantity even if they do not look the same. (That's subitizing.)
Lay the cards all on a table or the floor. Lead your group to find all the cards with one snowflake and make a stack (or set). Then group all the cards with two snowflakes into a set. Mix and repeat this activity. You are building visual discrimination skills as well as subitizing skills with this activity.
Note: You can adapt this activity for any season or theme. Use stamps or small stickers of pumpkins, flowers, animals, or whatever to create cards for your centers or small groups.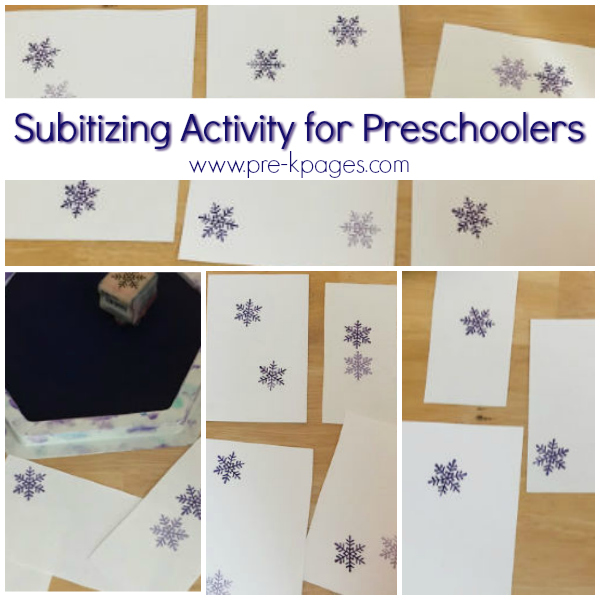 Expand the Snowflake Activity
As your children develop their skills, introduce different elements to challenge and increase their learning. Here are some ideas:
Add a few cards with quantities of three, four, and five. Remove a few of the quantities of one. (And maybe add some additional quantities of two.) Then lead your kids to group the cards in to "Two" and "Not Two." (This will strengthen the concept of "two" or whatever quantity you focus on.)
Use your cards with the one and two snowflakes. Add other cards with one and two circles and cards with one and two squares. Lead preschoolers to sort into quantities of one and two. (This helps them understand that "two" is the same no matter what the symbol is.)
Make an even number of cards with the same quantities. You could limit to just two quantities (one and two) or include pairs with other quantities up to five. Mix the pairs and lay them face down on the table. Lead preschoolers to take turns turning over pairs of cards to find matches. A match is the same quantity, not the same configuration.
Make several cards with quantities that match the sides of a die. (Use the same patterns initially; then add same quantities in different arrangements.) Lay cards face up on a table. Roll the die and ask the child to find a card with the matching quantity.
Math concepts are child's play! Look for ways to help your preschoolers develop understanding of numbers and quantity. This activity is great in a center or in small groups. Make cards with larger images and you could use this activity in circle time. I love versatile activities that build skills for preschoolers.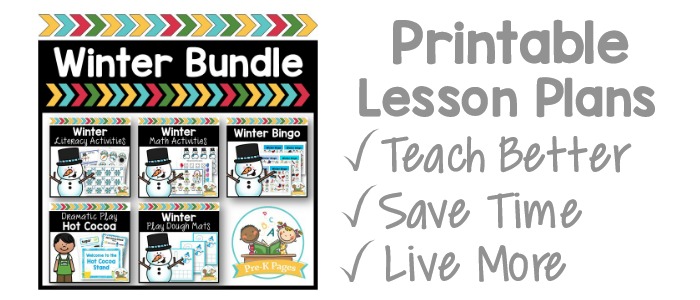 More Math Ideas